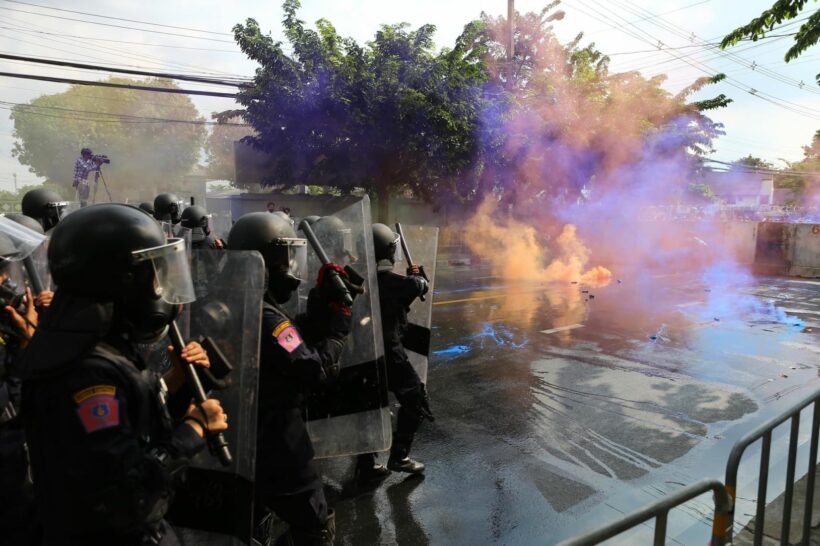 As various protest groups, both pro and anti-establishment, gathered near the Parliament building in Bangkok yesterday, tensions were high, and things eventually turned ugly. By mid-afternoon, as pro-democracy activists tried to reach the Parliament building where a debate on draft charter amendments was taking place, police resorted to a combination of tear gas and water cannons laced with chemicals to drive them back.
From early morning, roads were closed in the area, with motorists prevented from entering Samsen Road and Thahan Road bordering the new parliament building. At around 1pm, the Army had assembled 20 boats at the river pier behind the Parliament building, ready to evacuate MPs and senators if necessary on the Chao Phraya. Meanwhile, protesters continued to gather in the surrounding streets.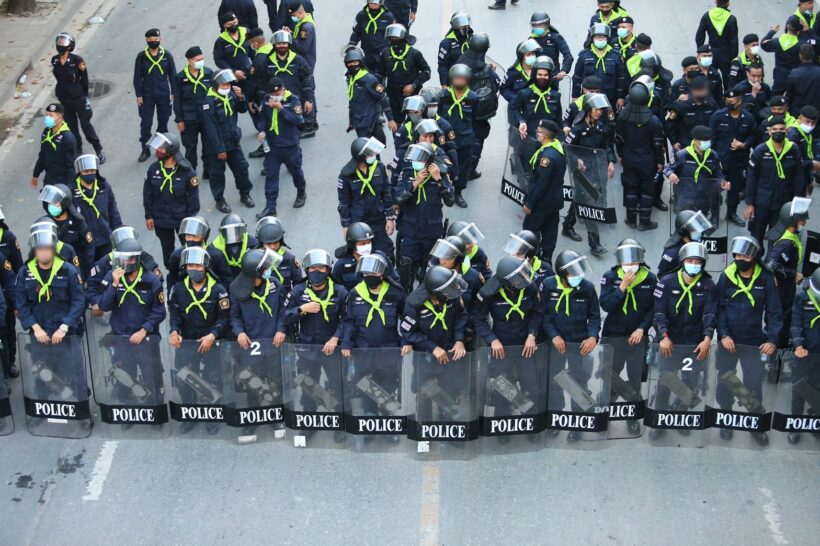 A number of groups issued instructions to their members, with the United Front of Thammasat and Demonstration calling on its followers to assemble at the Kiakkai intersection, next to the Parliament building, at 3pm. The Free Youth Group told its members to bring large inflatable ducks to ride in front of Parliament. Meanwhile, activists reiterated their demand for Parliament to pass a draft charter amendment submitted by the human rights non-profit organisation, iLaw. Theirs is the only draft amendment not proposed by government or opposition MPs.
By 2.30pm, protesters were attempting to dismantle a police barrier erected by the Boon Rawd Brewery building, which was designed to safeguard the Parliament building. The barrier was made from huge concrete blocks and razor wire. Police responded by issuing a warning, then proceeded to deploy water cannons. The action was repeated at the Kiakkai intersection, with officers warning protesters to stay away from the barriers. As activists continued with their attempts to remove the barriers, police again fired water cannons.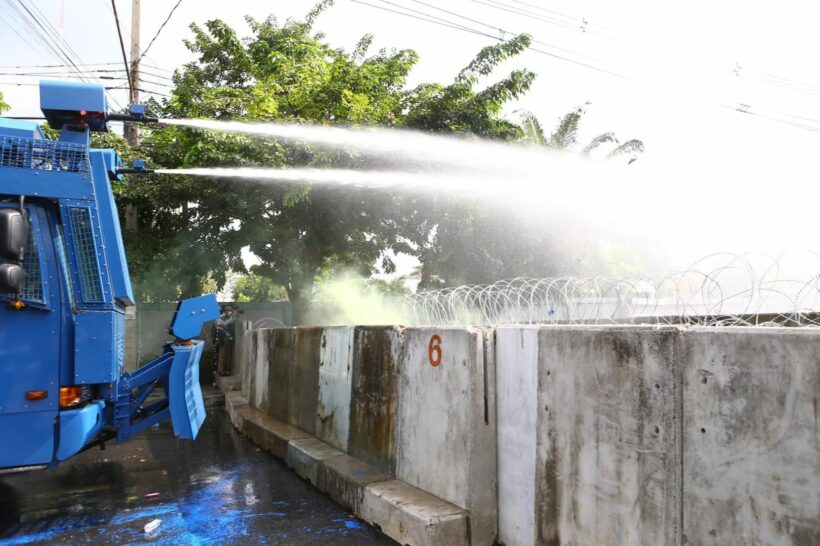 Responding to claims that the water was laced with chemical irritants, police spokesman Kritsana Pattanacharoen said the water was free from chemicals the first time, but tear gas was added after protesters continued to ignore orders to stop dismantling the barriers. Activists used umbrellas, large, inflatable rubber ducks and rain jackets in an attempt to protect themselves. The cheap pastel-coloured raincoats (20 baht at any convenience store), eye goggles and hard hats were passed around to protesters as things took a turn for the worse.
By 3.30pm, the police's efforts to hold back protesters with water cannons and tear gas were continuing, with one protester responding by throwing a smoke bomb in their direction. Meanwhile, inside the Parliament building, opposition MP Wiroj Lakkhanaadisorn from the Move Forward party, called on officials to hold back from using violence against activists, pointing out that they were exercising their right to protest.
By 4pm, some senators and other politicians had been evacuated by boat, as police continued to spray water cannons at protesters attempting to reach the Parliament building. The capital's Chao Phraya Express boat service advised passengers to avoid the area. Meanwhile, Shinawatra Chankrachang from the New Generation Network of Nonthaburi protest group, led a number of boats to Kiakkai pier, as police continued to block people from entering the Parliament building.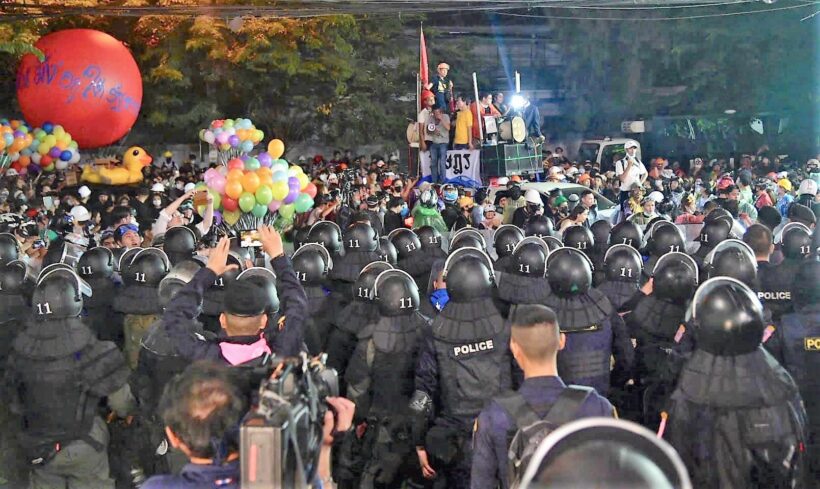 Shortly after 5pm, protesters managed to break the barrier at the Kiakkai intersection, firing objects at police. They then clashed with pro-government/royalist yellow-shirt activists, with both sides hurling bottles and rocks. As the situation escalated, opposition MPs, still inside the Parliament building, called for the violence to stop.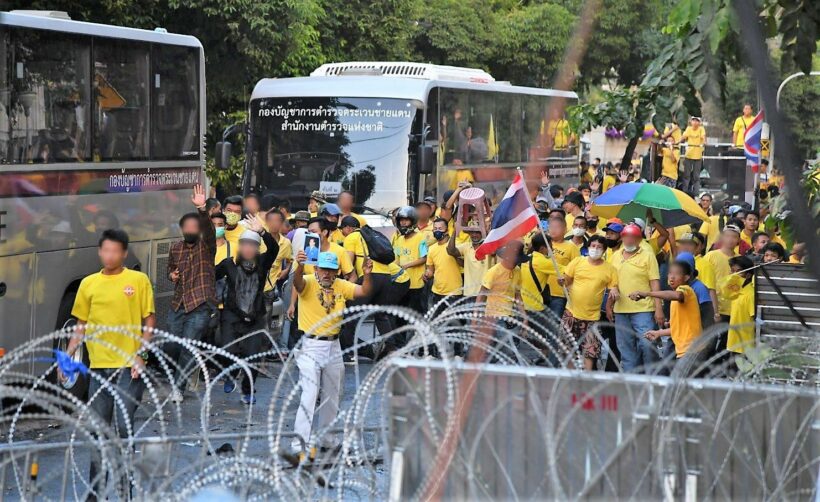 Around 5.30pm, Piya Tawichai from the Metropolitan Police Bureau gave a statement, saying police used tear gas and water cannons to protect the Parliament building from potential damage, accusing protesters of having thrown a flare and firecracker at officers. Officials say only 3 of 4 groups present had been given permission to rally, adding that the Ratsadon (People's Party) group had not applied for authorisation, as the current emergency decree dictates.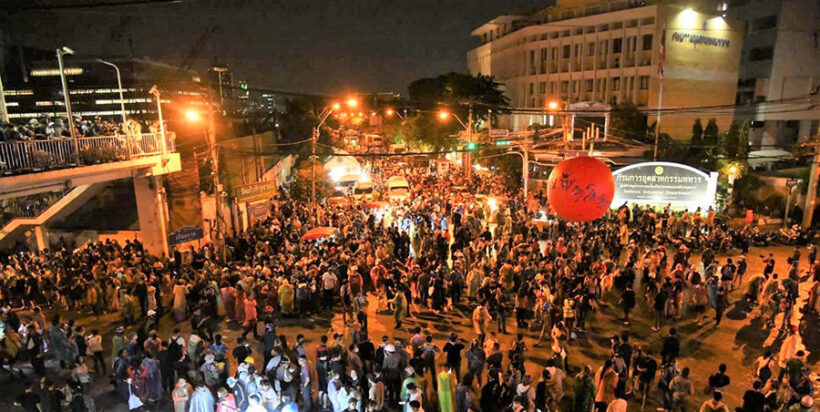 By 9pm, things were winding up, with protesters heading home. However, protest leader and human rights lawyer Anon Nampa has called for "1 million" protesters to gather at the Ratchaprasong intersection at 4pm today. The Ratchaprasong intersection is the intersection of Ratchadamri Road and adjacent to Central World and the Erawan Shrine.
The debate on 7 draft charter amendments continues in the Parliament building today, with the session expected to run until around 10pm. Political commentators doubt that any of the controversial amendments will be cleared for further discussion.
SOURCE: Nation Thailand