Costs rise for northerners as they struggle with smoke haze – Nida Poll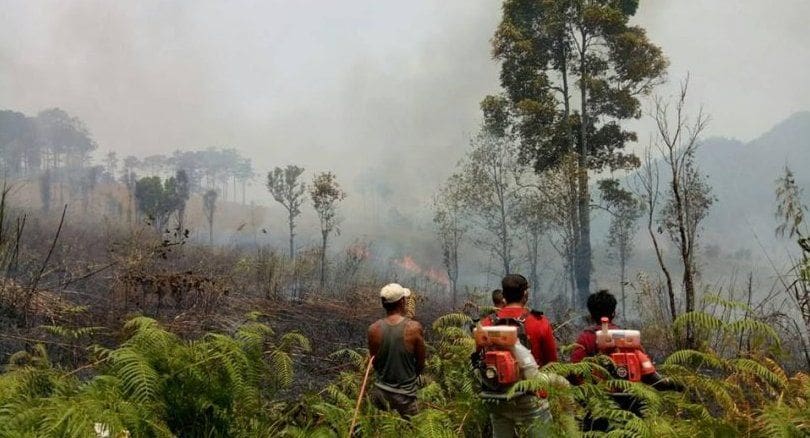 People in the North are being hit by additional costs as they struggle with the ongoing haze crisis even as more forest fires erupted in some areas of the north yesterday.
A Nida Poll survey of 1,253 respondents shows that nearly 57% of respondents are having to bear additional costs to protect themselves from the pollution. It was not revealed how much more they had to spend.
The survey was held on April 4 to 5. About 43% say they did not have to spend anything extra to take care of themselves. The poll also found that 36% of the respondents say they were seriously affected by the problem, while only 9% per cent said they were unaffected.
(Figures rounded up to nearest percent)
About 60% say they were allergic to the haze, with some suffering from colds and runny nose, while 49% say they faced respiratory difficulties. About 48% said they had sore eyes.
Nearly 84% say they had used facemasks to protect themselves and 29% say they preferred to stay at home.
Meanwhile, the Pollution Control Department yesterday tried to downplay the situation while forest fires kept erupting in several areas.
PCD director-general Pralong Damrongthai said that as of 9am yesterday, the concentration of fine dust particles (PM2.5 microns) had reduced in several areas compared to the previous day. The overall air quality had improved to moderately fine to health-affecting.
Three areas in Chiang Rai and Chiang Mai were severely affected by the haze during the past weeks and were identified as the most dangerous for health. The concentration of PM 2.5 microns in 24 hours were measured at 47 to 123 micrograms per cubic metre, still exceeding the safety limit of 50mcg.
From Chiang Rai to Mae Hong Son, new forest fires still erupted along the mountain ridges bordering Thailand and Myanmar and parts of Laos.
This morning's readings from AirVisual.com. Chiang Rai registered a reading of 181 this morning. Chiang Mai comes in at #3 in the world rankings of the world's most air polluted cities today.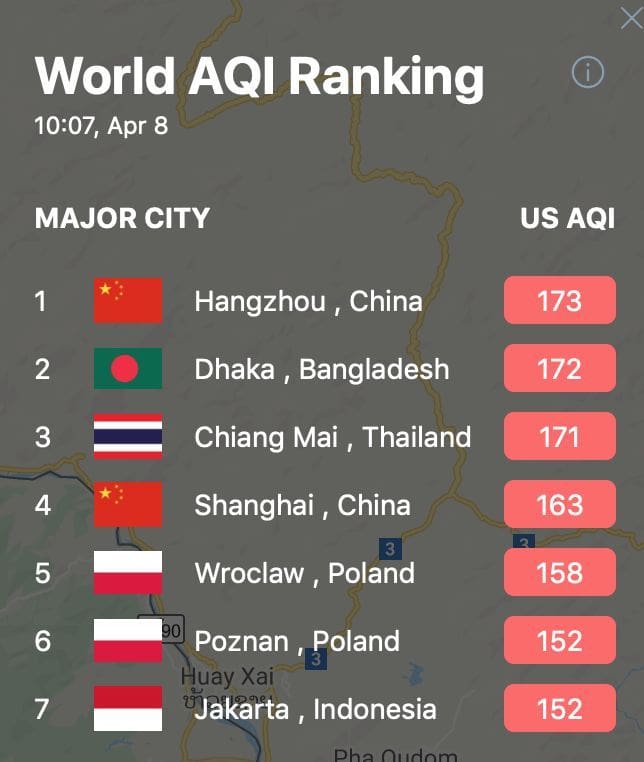 Keep in contact with The Thaiger by following our
Facebook page
.
Chiang Mai chokes as fires rage in the north of Thailand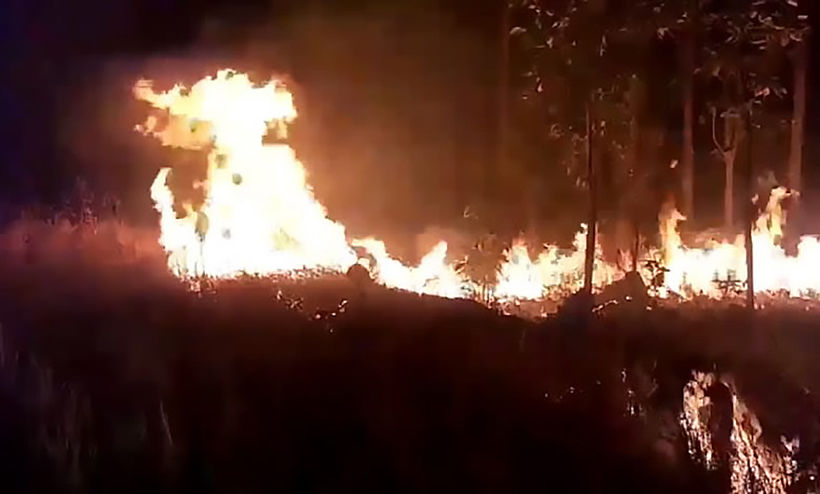 Northern Thailand is choking under a toxic shroud and it's not getting any better. Air pollution across the upper North remains "at critical levels," in many areas, including some of the main population centres. Authorities are monitoring almost 400 active hotspots in Chiang Mai alone yesterday.
The air quality didn't improve this morning, with IQAir recording "very unhealthy" air quality and hazardous PM2.5 dust levels at around 200 in parts of Chiang Mai and up to 270 around Chiang Rai today (below).
Thailand's official safe level is 50: the World Health Organisation sets it at 25. Though it's improved somewhat during the day, Chiang Mai once again rated world's worst for air quality.
According a 2019 report, PM2.5 caused 23,800 premature deaths in Thailand in 2017.
Government spokeswoman Narumon Pinyosinwat says fires have definitely affected air quality, with 17 provinces in the North reporting an increase in levels of PM2.5 pollutants yesterday. Only two, Nakhon Sawan and Uthai Thani in the north-east reported PM2.5 readings below the Pollution Control Department's "safe" threshold.
Chiang Dao district in Chiang Mai reported the highest PM2.5 reading in the North yesterday at 360.
Narumon says the worsening pollution is due to a combination of factors which include arson, drought and wind patterns which trap pollutants right over Thailand. Others say agribusiness, with its annual plantation field burnings, continues to exacerbate the problem.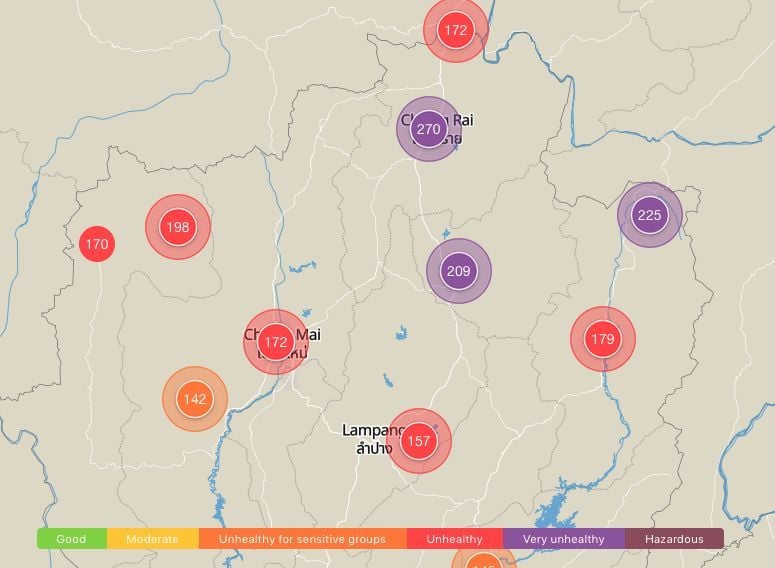 According to satellite data, on Saturday there were 3,809 hotspots in Thailand, 5,061 in Laos and 10,061 in Myanmar. As of yesterday, 398 hotspots, nearly 10% of the country's total, were found in Chiang Mai.
Most of the blazes were related to a continuing bushfire in Doi Suthep-Pui National Park, which suddenly raged out of control late on Saturday after burning for about a week.
SOURCE: Bangkok Post
Keep in contact with The Thaiger by following our
Facebook page
.
Northern Thailand's air pollution reaches hazardous levels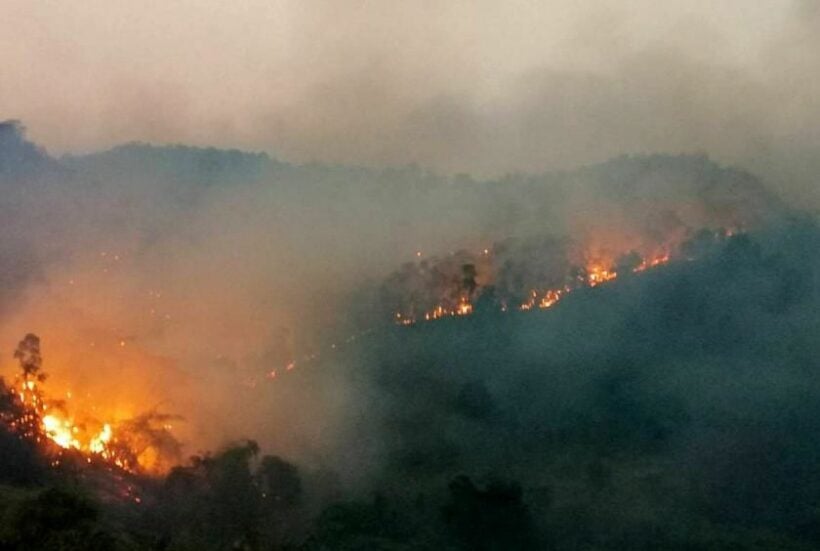 Air quality in the north of Thailand is actually 'hazardous' today, as bushfires in Chiang Mai's Doi Suthep-Pui National Park have caused air quality to become nearly 20 times higher than Thailand's already lax "safe" limit of '50'. PM2.5, (dust particulate matter with diameter of 2.5 microns or lower), rose to 925 micrograms per cubic metre in some locations yesterday. It has dropped this morning but still remains 'hazardous' in many locations around the region.

Due to the Covid-19 coronavirusoutbreak, all national parks, wildlife sanctuaries and other protected areas in Thailand are closed until further notice. Some tourist destinations such as the Similan Islands and Surin Islands are within national parks and are also closed.
The bushfires in the parks and crop burning, in plantations and farms in the region and in neighbouring countries, has pushed air pollution readings in Chiang Mai and other provinces in the region up to nearly 1,000 micrograms for short periods, specifically near the areas of the fires.
Not helping the situation is a week of temperatures around 40C every day (with more on the way), and no rain (the temperatures are from stations in the city area, not in the mountains surrounding the main town). The fire at the national park near Chiang Mai also poses dangers to residents as it has raged near communities in and many landmarks, such as temples.
Hundreds of officials and soldiers have been called in to fight blazes over the past week. Helicopters have dropped water to control one fire that's been raging since Wednesday evening around the Doi Suthep area, north west of Chiang Mai city, in the Doi Suthep Pui National Park.
"They've spent more than 14 hours a day trying to being the blaze under control."
Local officials say the massive fire has now been "brought under control," but the air pollution persists with more smog from plantation fires burning in the area and to the north in neighbouring Myanmar.
PM Prayut Chan-o-cha has expressed concern over massive damage caused by the fire, primarily for the health of the elderly and children. He's asked them to avoid going outside because of the smoke and poor air quality.
Chiang Mai isn't the only northern province plagued with air quality issues. The PM2.5 dust index also revealed severely unhealthy levels of air quality in Chiang Rai, Mae Hong Son and Nan provinces.
The government says it's working with Myanmar officials to address the issue.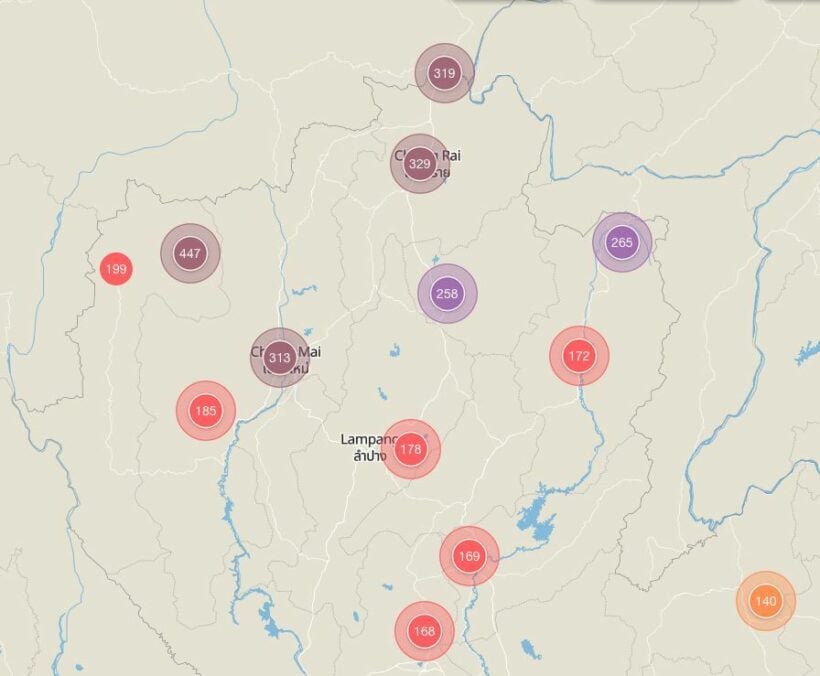 Airvisual.com (Sunday morning 9am – Thai Time)
SOURCE: Chiang Rai Times
Keep in contact with The Thaiger by following our
Facebook page
.
Chiang Mai fire spikes air pollution up to 20 times 'safe' levels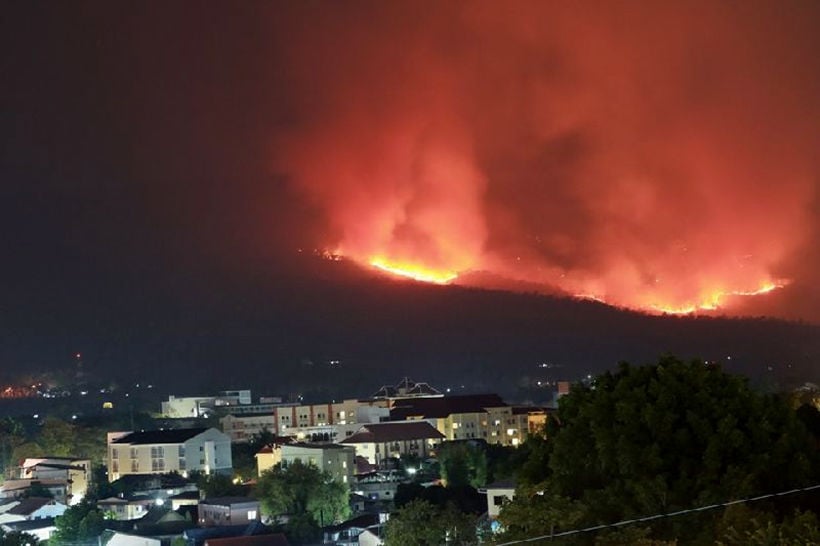 A bushfire roaring away in the Doi Suthep-Pui National Park in Chiang Mai is causing continued concerns for Chiang Mai residents because of the dangers to nearby villages and the smoke filling the skies of the city. 500 local officials and soldiers from the 3rd Army Region were called in to fight the blaze and spent 14 hours bringing it under control, including calling in helicopters to drop water as they tried to control the spread.
It also pushed air pollution readings in the region up to record highs.

The large fire, which started sometime early on Wednesday evening, has now been brought under control.
"The damage it left behind is extensive," according to Chiang Mai's governor, Charoenrit Sanguansat.
The bushfire sent PM2.5 levels in the immediate area to "record levels" of around 1,000 micrograms per cubic metre, a massive 20 times above levels considered safe in Thailand.
Thailand's PM Prayut Chan-o-cha says he's "gravely concerned by the fire in Doi Suthep-Pui National Park", and ordered Interior Ministry officials to work with the Royal Thai Army to control any smaller fires and ordered helicopters to assist.
Chiang Mai, Chiang Rai, Lampang and Mae Sot were all affected in the past few days as the result of the large forest fire, as well as hundreds of other plantation fires burning in the north, and over the border in Myanmar.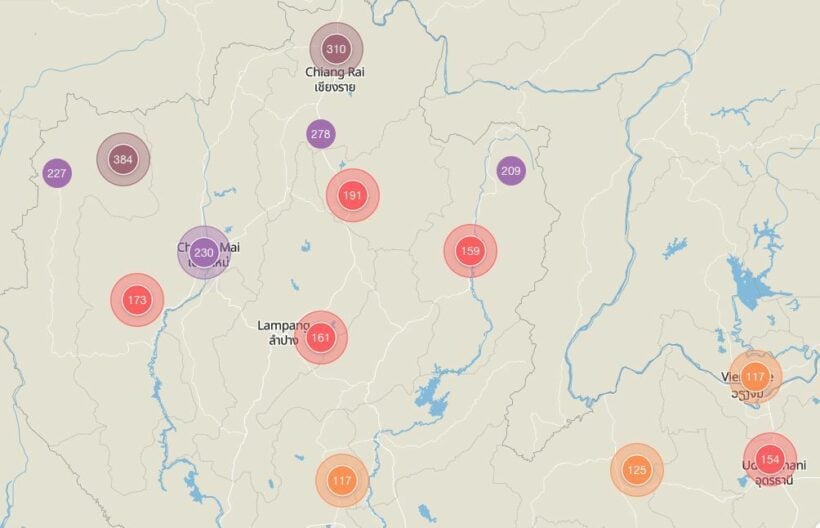 airvisual.com
Pralong Dumrongthai, Pollution Control Department director-general, says the air pollution in the North can partly be blamed on fires across the border, and the government is working with Myanmar to help address the issue.
SOURCE: Bangkok Post
Keep in contact with The Thaiger by following our
Facebook page
.