Thai Life
Coboat: Combining business with pleasure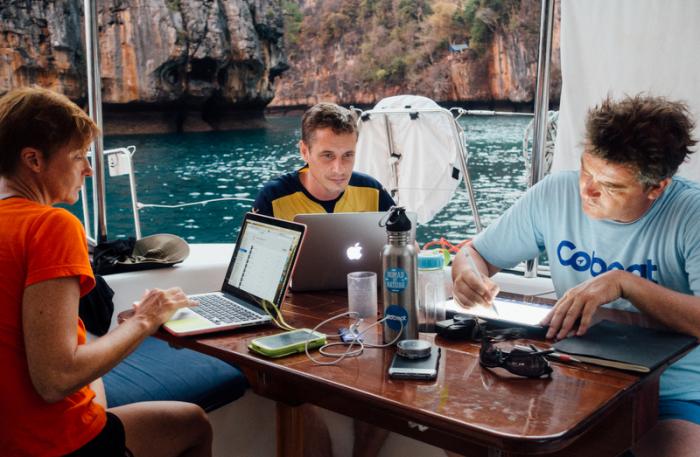 PHUKET: Imagine running your business from almost anywhere in the world. Now imagine being on an 82-foot electric-powered catamaran and sailing around the world while doing that. That's the idea behind Coboat, which combines co-working with sailing, travel and adventure.
Many of us may be familiar with the concept of co-working, or sharing a rented office space with others who usually don't work for the same organization, or even in the same field. Coboat, however, goes much beyond that.
Catering to those who identify themselves as 'digital nomads' or 'location independent', they aim to bring together entrepreneurial, innovative and creative people who want to give back to whichever part of the world they're in, explained Becky Mellor, a marketing professional who has booked nine weeks on Coboat.
The idea was hashed out by four friends who started the project in 2015. Two of them are stiil on the team: Gerald Schombs and Karsten Knorr.
"You can buy tickets in weekly slots and in return you get to work and sail with like-minded individuals, often 'skill-swapping' areas of business expertise with those on the team. The concept is to spend three to six months in one region and then move on to another location," said Ms Mellor.
"We believe Coboat serves as a platform for much bigger things. Karsten has sailed most of his life and has seen first hand the impact of ocean pollution. It is one of the biggest threats facing our planet. As a co-working space, Coboat will be home to very creative, entrepreneurial minds and so the opportunity we see, is to invite the community to contribute towards protecting our home – the ocean. Coboat will serve as a platform to connect, educate, innovate and kick start social businesses in regions we visit."
The Coboat community also takes part in beach cleanups to prevent rubbish going back into the ocean. So far, they have organized three beach clean ups on Mai Khao Beach and collected more than 50 bags of rubbish around the Andaman.
"On one of our recent sailing trips we stopped at one of the islands near Phi Phi. It was a tiny little beautiful bay, but covered in rubbish. So we dropped anchor there that night and used the 20 bin bags we had on board to swim over, pick up as much rubbish as we could, and take it back to Phi Phi to dispose of it," said Ms Mellor.
To further their mission on cleaning up the oceans, they also collaborate with Trash Hero, which has a chapter based in Koh Lanta.
"They [Trash Hero] are trying to encourage hotels to stop using plastic by providing refillable stainless steel containers. We are collaborating with them to establish Coboat as a Trash Hero Chapter" said Ms Mellor.
For information about their events, application process and more, visit www.coboat.org.
— Sahar Aftab Paliwala