A word from the cockpit – end of year report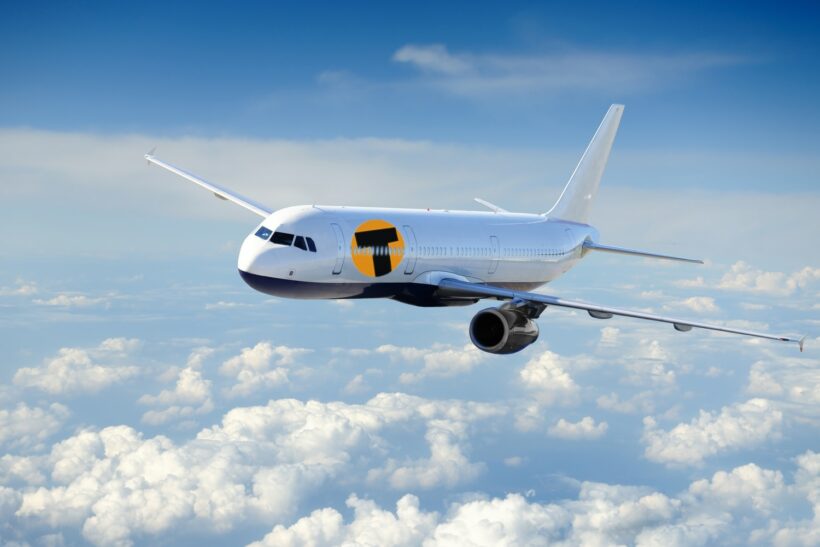 In a bit of a break from the usual news, here's a quick update about what we've been doing in the past 12 months and what we're up to in the next few months.
For those of you that have returned from the moon, a joint venture company and The Thaiger Co. Ltd., acquired the digital assets of Phuket Gazette Co. Ltd. at the end of July this year. Since then we've redesigned the web-platform to provide a better web experience with a combination of local news, lifestyle & travel information, Top Ten 'stuff' around Phuket and our daily TV news 'Thaiger Today'. You'll notice the new platform works really well on your smartphone and is super easy to navigate.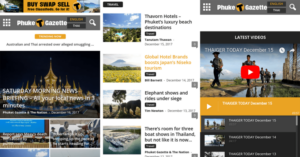 It's been an almost vertical learning curve and we continue to learn more about what you want and better ways of delivering it to you.
Since August we've launched 'Thaiger Bites', the single most definitive list of eateries, coffee shops, cafés and bars around the island – over 2,400 on the list and very interactive on your laptop or smartphone. In months to come it will get even better with new reviews and updates with photos and info from our participating restaurants.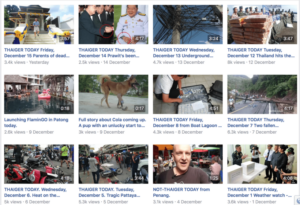 We've also launched our free classifieds and jobs pages, already the island's most popular 'click' for classifieds and jobs with some more refinements on the way to make it even easier to list and find things on the two pages.
At the start of December we launched our Thai-language news page which is an important product as we reach out to our Thai peers along with the accompanying Facebook page. Our Thai-language products will continue to grow organically as we take on more Thai staff to deliver the news and information from the island. We're very proud to be offering both English and Thai news and information for the island we call home.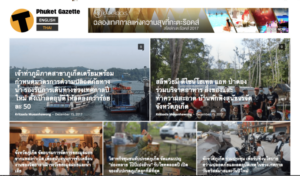 We've also snuck in a new 'Daily Morning News Briefing', a quick and convenient guide to all the day's important local news stories at 8am – seven days a week. It's designed to be read in 3 minutes – maybe 4 minutes if you're enjoying a cup of coffee at the same time.
In the next three months we have two very powerful new additions to the website – an event/social page where you'll be able to list events, search for coming events and then see all the photos and videos after the event's over. The other mega news is the launch of our very own Thaiger Property page which will provide free listings for Phuket properties and kick off with an astonishing 8,200 property listings on the island (yes, there's plenty for sale and some bargains to be had!). Thaiger Property will give buyers and sellers an unprecedented reach for local property, in Phuket and Thailand's other hot spots.

Our original radio station, The Thaiger 102.75 FM, is now 14 months old and continues to thrive. It will have a new sister early in 2018.
Three things about our business as it continues to grow…
Firstly, it's all about YOU. With the benefit of instant feedback, good and bad, we're acutely aware of what you want and we listen when we get things wrong and appreciate your positive feedback when we get it right. Our business is completely transparent – the clicks and views on our stories and videos are open public knowledge, there's no making up numbers or faking this information. It's a good thing and allows us to fine-tune the product to better suit your needs.
Secondly, we are consumers too and we know that advertising on some websites can really detract from the experience. We promise never to insert ads in the middle of stories and ruin your reading experience. We also have a limit on the number of ads on our pages – there's never more than two ads on any page – these are premium positions for our advertisers and we hope you take the opportunity to enjoy their products and services. Pop-ups and pop-offs are just a part of our new digital life but you'll notice that we've kept advertising to a minimum to create the least disruption to our readers and the best opportunities and value for our advertisers.
Finally, you see a lot about 'The Thaiger' brand creeping into the Phuket Gazette webpage. Whilst the Phuket Gazette brand has been around for 24 years as Phuket's news leader, it's also time for a single brand to cover all our assets – web pages, Facebook pages, Apps, YouTube channels and our radio stations. The Thaiger is a national brand that allows us to scale our products into other markets – it's difficult to have 'Phuket Gazette' in Chiang Mai or Pattaya! This will be a gentle evolution, not a revolution, and we promise to preserve the archive of the Phuket Gazette's stories and articles that served an entire generation of readers on the island.
Sit back, secure your tray table and hang on for the ride ahead. The entire team at Phuket Gazette and The Thaiger are very excited to have you come along with us on the journeys ahead.
On behalf of Noom, Sert, Donna, Garry, Gerry, Kamin, Kritsada, Sue, Darren, Alex, Keri, Matt, Randy and our affiliates, we would like to sincerely thank our sponsors, listeners, readers and viewers for their support throughout 2017, wish you a merry Christmas and a happy and healthy 2018.
Tim Newton, Managing Director, The Thaiger Co. Ltd.
Keep in contact with The Thaiger by following our
Facebook page
.
Never miss out on future posts by
following The Thaiger
.
Air Asia seeks to mitigate economic losses with launch of "super app"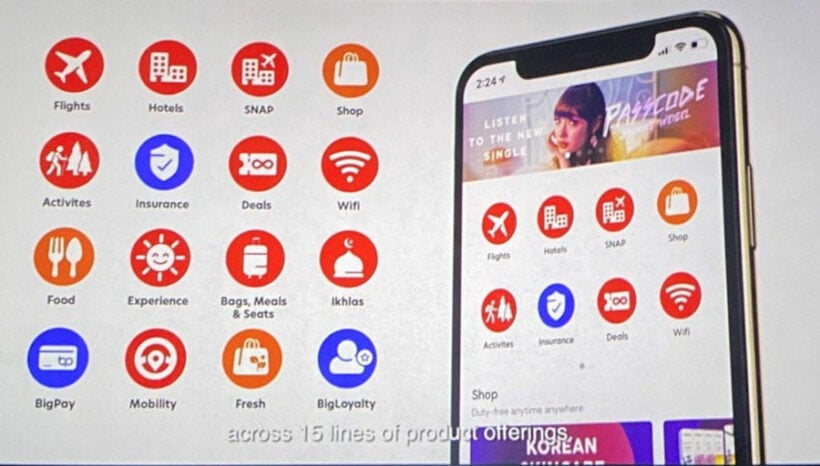 Air Asia is introducing a super app, in an attempt to off-set – at least partially – the significant financial losses brought about by the Covid-19 pandemic. The mobile application shuffles Air Asia's model as a flight and accommodation provider, to a broader platform of complimentary services. The app will offer users a variety of options, including digital payment services, delivery services, and an e-commerce platform. Chief Executive Tony Fernandes says the idea for the app was floated prior to the pandemic, but Covid-19 hastened its development.
"This journey didn't start during the pandemic, this journey started 2 years ago, but it was accelerated because of the outbreak. This is not a Plan B, this was always our Plan A, but we still think aviation will definitely come back."
Air Asia was hit with losses of US$238 million in the second quarter of 2020 and says it desperately needs to seek new sources of revenue while the economic effects of Covid-19 continue to be felt around the globe. The Bangkok Post reports that from October 8, users in Thailand and the wider ASEAN region can access the new app through the company's website or through its existing mobile app.
Fernandes says payment and logistics services will be provided by the airline's subsidiary operation, Air Asia Digital. Users will be able to book flights (including those of other airlines) and hotels, as well as enroling in a rewards programme.
"Air Asia's roots are from moving people from A to B and moving cargo from A to B, and that is the basis of Air Asia Digital and the basis for our platform AirAsia.com."
The app is expected to face tough competition from super apps Grab and Gojek, currently understood to be in merger talks. Should a merger go ahead, the combined operation would create a monopoly on food delivery and car-hailing services in the ASEAN region. However, Fernandes remains optimistic, with the airline hoping to complement existing services.
"I don't believe we are here to compete, but here to complement. Airlines always see us as competitors, but we complemented the full service and created a new market that was not there. Before, only a few people could fly, now everyone can fly, and in the same way we will complement the market."
SOURCE: Bangkok Post
Catch up with the latest daily "Thailand News Today" here on The Thaiger.
Keep in contact with The Thaiger by following our
Facebook page
.
Never miss out on future posts by
following The Thaiger
.
Chiang Mai man charged with murdering baby daughter because he wanted a son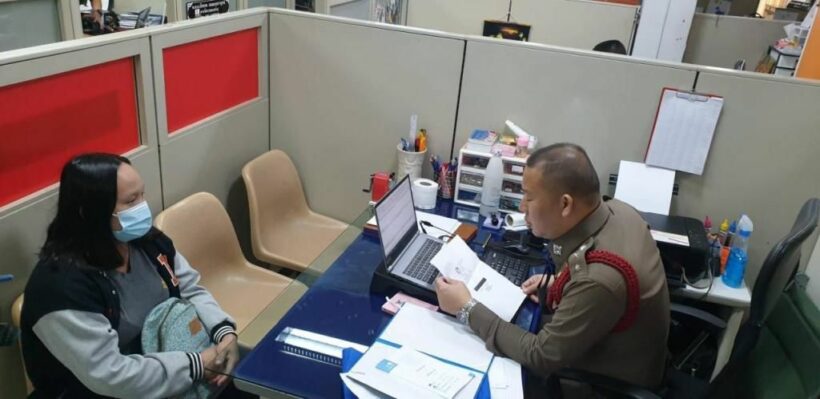 A man has been arrested in Chiang Mai after confessing to poisoning his 7 month old daughter. 45 year old Anuphap Jaipanya, a hilltribe member, says he was influenced by his cultural beliefs and, having 2 daughters already, had hoped for a son to carry on the family name and take over his business.
The Pattaya News reports that the girl's mother, 29 year old Malee Sinprai, originally reported the child missing to Chiang Mai police. She had been led to believe that her husband was taking the girl to visit relatives but became concerned when she could not reach them. Later that evening, Anuphap came home and confessed to the murder, presenting himself to police the following day.
In his confession, Anuphap told police he didn't want another daughter and is experiencing financial trouble due to the Covid-19 situation. He has admitted to poisoning his daughter by force-feeding her an entire bottle of bathroom cleaner. He then buried her body at a Chinese cemetery in Chiang Mai's Doi Saket district.
He is now in custody and has been charged with premeditated murder and concealing a corpse. His daughter's body is being sent to Maharaj Nakorn Chiang Mai Hospital to allow the family to hold a religious ceremony.
SOURCE: The Pattaya News
Catch up with the latest daily "Thailand News Today" here on The Thaiger.
Keep in contact with The Thaiger by following our
Facebook page
.
Never miss out on future posts by
following The Thaiger
.
Charter vote delayed, committee formed and Senators escape Parliament by boat – VIDEO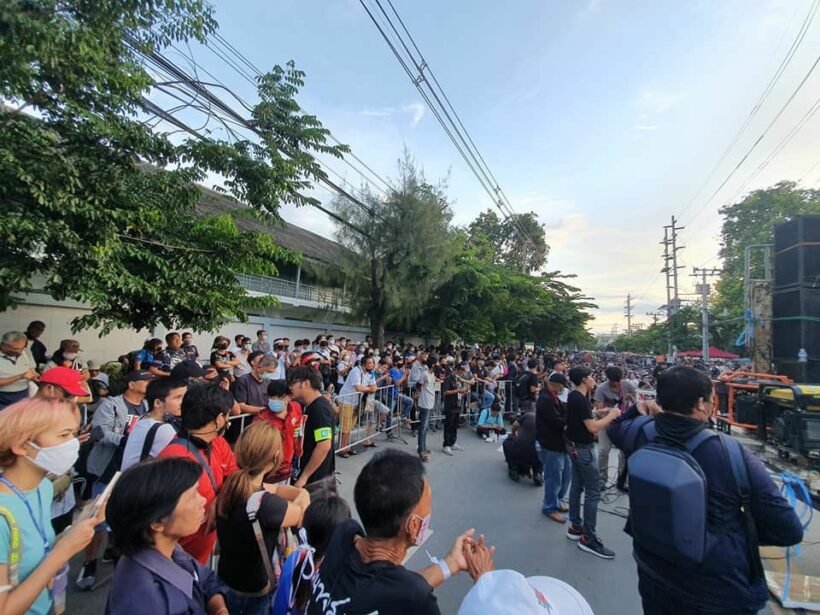 Thailand's MPs and Senators have kicked the constitutional can down the road at least a month after the parliament failed to agree on charter amendments. A panel will be sent up to examine 6 motions that were proposed and debated over the past 2 days. Meanwhile, up to 2,000 protesters were gathered outside the unfinished parliamentary buildings as an act of solidarity for the MPs supporting the changes to the current Thai Constitution.
The reality of the vote, and the setting up of an investigative committee, could push any votes on real reform well into 2021.
The 2 Houses of Parliament voted 431-255 to delay the vote. Opposition Pheu Thai and Move Forward MPs stormed out and missed the opportunity of nominating anyone to the new 45 member parliamentary committee to examine the motions, whilst the remaining members chose members for the committee. Move Forward Party's, Pita Limjaroenrat, described the vote as "a way to stall for time" complaining that the decision "was moving the country towards a dead end".
It was not known how the NCPO hand-picked Senators would vote on the bills. Many were thought to side with the idea of constitutional reform but the reality was that, in most scenarios, they'd be voting themselves out of a job if any reforms went ahead. Thailand's entire upper house is a military-appointed rump of conservative former businesspeople and Army officials, mostly men.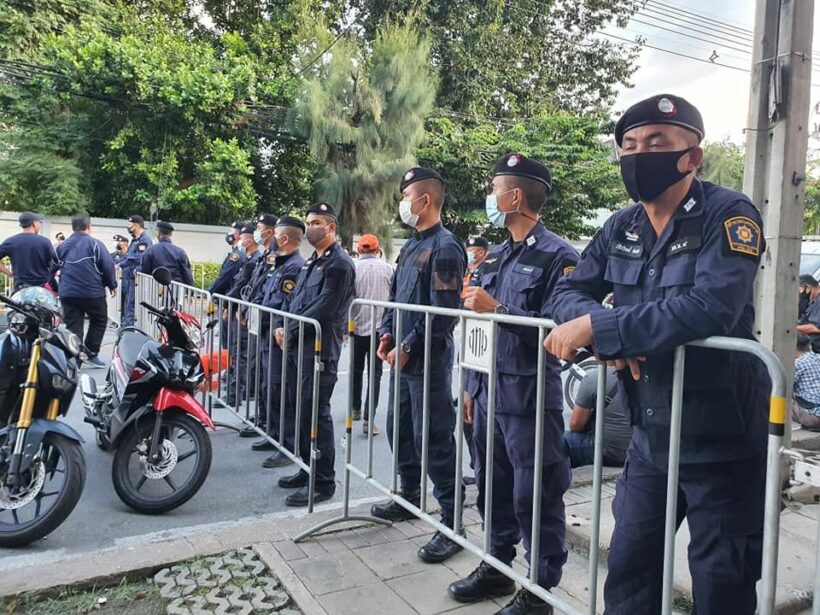 The protesters viewed the afternoon's proceedings as a blunt stalling tactic to keep the current parliament, and its unelected senators, in power. The session ran until 8.30 last night. Rather than face the angry mob of anti-government protesters at the front of the building, most of the senators escaped on boat at the rear of the building, which backs onto Bangkok's Chao Phraya River.
The demonstrators, with a consistent theme of reform over 3 months of rallies, are demanding changes to the current constitution because it was drafted by the NCPO who kicked out the elected government of Yingluck Shinawatra in 2014.
The protesters specifically point to the NCPO-appointed senate and the power they wield to elect the country's prime minister, even though none of them were elected (nor was Prayut Chan-o-cha).
Protesters say they will now organise the next lot of rallies in October. Meanwhile, the Parliament is now is recess.
PROTESTSLive scenes from today's protest rally to lend their voices, albeit from outside the The Parliament, to the debates inside about amendments to the Thai Constitution. The Thai parliament buildings are unfinished and, so it seems, are the student and anti-government protesters.

Posted by The Thaiger on Thursday, September 24, 2020
Keep in contact with The Thaiger by following our
Facebook page
.
Never miss out on future posts by
following The Thaiger
.