Phuket public hospital denies any responsibility in expat nightmare ordeal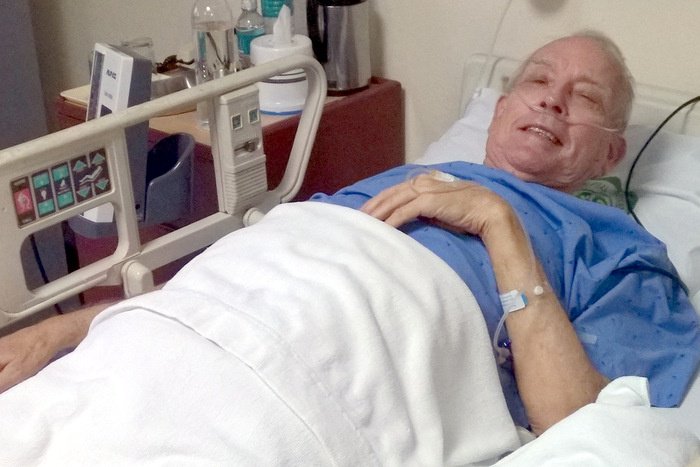 ALLEGATIONS of neglect and mistreatment at Vachira Phuket Hospital levelled by a long-term Phuket expat who has since died, pose grave questions about the state of public healthcare at the island's main government hospital – many questions about which remain unanswered. Here, the Phuket Gazette investigates what counts for healthcare in Phuket.
SPECIAL REPORT
PHUKET: Top staff at Vachira Phuket Hospital have denied allegations of malpractice and mistreatment of a 79-year-old Australian man who was allegedly tied to his hospital gurney by a male nurse and left for hours screaming in agony and in dire thirst for water.
The allegations by long-term Phuket expat Anthony Lawson – now dead from undiagnosed colon cancer – remain unanswered despite Vachira Hospital Deputy Director Somnuek Jirayuth meeting with Mr Lawson's 23-year-old son, Ashton, on January 29.
Dr Jessada Chungpaibulpatana, who has served as Vachira Hospital director for the past 11 years, was unavailable to attend the meeting. Instead, leading the defense against the claims was Methavee Maneesri, head of the International Department.
THE NIGHTMARE
Mr Lawson's complaint, filed at Phuket City Police Station on his behalf by Ashton on November 27, was detailed and comprehensive.
Mr Lawson was admitted to Mission Hospital at about 10pm on November 18. He had undergone a routine hernia operation at the hospital without incident weeks earlier, but was now experiencing discomfort, difficulty getting in and out of bed and was unable to sleep.
However, he was transferred to Vachira Hospital at about midnight for a suspected pulmonary embolism, for which Mission Hospital had no resident expert. Under the advice of doctors at Vachira, Mr Lawson had a CT scan at about 3pm, after which doctors instructed him to drink a lot of water to help flus
h out the contrast media from the CT angiogram.
However, three hours passed and no attention from medical staff was forthcoming. With Ashton leaving his father's bed at about 6pm that night, and now thinking that the staff had forgotten him, Mr Lawson began calling out for a nurse for water to drink and to change his IV tube. No one came.
He kept shouting out for help. Still no one came. By 9:30pm, he got out of his bed and walked to the nurse's station and asked for water, someone to change his IV tube, his prescribed sleeping pills and to inquire when his doctor would check on him.
The male nurse on duty ignored him, said Mr Lawson. Stunned by the lack of response, Mr Lawson began trudging his way out of the ward in hope of finding help.
That was when the nurse realized that his charge was apparently attempting to escape, Mr Lawson said in his complaint, adding that was when the nurse leaped to his feet and, with the assistance of three security guards, escorted him back to his bed.
To ensure that Mr Lawson wouldn't attempt to flee again, the nurse tied him to the bed with sheets, Mr Lawson alleged. Photos of the bedsheets still tied to the gurney, visible with another patient in the background, were sent to the Gazette on December 12 – less than a month before Mr Lawson died.
The aged Mr Lawson sustained a back spasm in his attempts to free himself, he said, leaving him in excruciating pain. Again, for hours, his calls for help, water, sleeping pills and now painkillers went unanswered.
At 11:30pm, the same male nurse finally brought him water, but force-fed Mr Lawson – whose arms were still restrained – so quickly that he began to choke.
"But the nurse just walked out of the room," he said.
A NEW DAY
By 7:30am the next day, Mr Lawson had finally freed himself from his binds and made a break for the exit. However, he made it only as far as the car park.
"The security guard saw me and said I was not allowed to leave yet, then escorted me back to the ward," he noted in his complaint.
A new nurse soon arrived on duty. Mr Lawson asked his new carer to call his son and ask him to come to the hospital, which he did.
Also soon to arrive at the hospital was Dr Jarutat Kanjanaphan, a specialist at Vachira since 2008, who was assigned Mr Lawson's case. Mr Lawson noted in his police complaint that Dr Jarutat, after hearing of Mr Lawson's overnight ordeal, expressed his concern that the hospital was overwhelmed with patients and agreed to write a referral for Mr Lawson to return to Mission Hospital to recover there.
And so, by midday, Mr Lawson was back at Mission Hospital, where he stayed for six days until he was discharged.
SILENT TREATMENT
Dr Jarutat was not present at the meeting last Thursday, and on Tuesday declined to comment about Mr Lawson's experience without the hospital's endorsement of whatever he might say.
At the meeting, Ms Methavee and her two assistants admitted that Mr Lawson had been restrained, but denied any wrongdoing by medical staff.
"Otherwise we would have to fire them," Ms Methavee said.
Mr Lawson was tied down for his own protection, she explained, though obliqued why bedsheets were used instead of more appropriate restraints.
Mr Ashton questioned whether or not his father was actually given the painkillers and sleeping pills that
were supposedly administered. Mr Lawson himself noted in an email to the Gazette that his medical chart was signed off as if he had been given the pills, despite having never received them.
"If my father were given his prescribed sleeping pills, perhaps none of this would have happened," Mr Ashton pointed out.
On this, Ms Methavee, deputy director Somnuek and the two nurses fell silent, leaving the question hanging of why a 79-year-old man would need to be restrained by staff if he were given the appropriate dose of sleeping pills.
At this point in the meeting, Ms Methavee shifted the focus, blaming Ashton.
"If you were there with your father, there would not have been any problems," she said.
Ms Methavee also claimed that the hospital had tried to call Mr Ashton multiple times that night, without success.
"No one called me that night," Mr Ashton said.
Ms Methavee did not present any phone records to the Gazette to support her claim, though Ashton provided screenshots of his phone log indicating that no calls were missed or received from the hospital that night.
NO PROBE
Officers at Phuket City Police Station have confirmed to the Gazette that they did not – and will not – investigate Mr Lawson's ordeal.
Lt Pongsak, the officer who received the complaint, said that was not "the purpose" of the complaint being filed.
"When Mr Ashton came to the station and filed the complaint on his father's behalf, we were told that the complaint was being lodged in case it needed to be referred to later in a court case," he said.
Mr Lawson's subsequent death has no bearing on the decision to not investigate the complaint, Lt Pongsak acknowledged.
"It was not the intent of the complaint," he maintained.

PASSING ON
Tony Lawson died on January 8. He was cremated on January 14 in a quiet ceremony at Wat Chalong attended by a handful of family and friends.
The official cause of death was listed as "natural causes", though Ashton confirmed that his father finally succumbed to colon cancer.
"The death of my father shocked our entire family, as he had always been very healthy and active considering his age, with the only recent hindrance to that being the inguinal hernia he developed just over a year ago," Ashton said.
"The most tragic thing is the fact that he died believing that the severe pain he was experiencing was caused by the inhumane treatment he received at Vachira Hospital, and I find the hospital's explanation and reasoning behind what happened to be flimsy at best, considering how their explanation wasn't consistent the few times I had met with them regarding it.
"The most painful thought is that we spent so much time trying to fix his back pain with physiotherapy, since our family and various doctors all thought it was muscle tearing and strain from that incident. Perhaps if it hadn't happened, we would've suspected and diagnosed the cancer earlier, in time to have more family visit to say goodbye."
— Voratuss Intasee
📱 Download our app on Android or iOS
👋 Have your say on our Thailand forums
🔔 Subscribe to our daily email newsletter
📺 Subscribe / Join YouTube for daily shows
👍 Like/Follow us on Facebook
🐦 FOLLOW us on Twitter
📷 FOLLOW us on Instagram

Join the conversation and have your say on Thailand news published on The Thaiger.
Thaiger Talk is our new Thaiger Community where you can join the discussion on everything happening in Thailand right now.
Please note that articles are not posted to the forum instantly and can take up to 20 min before being visible. Click for more information and the Thaiger Talk Guidelines.