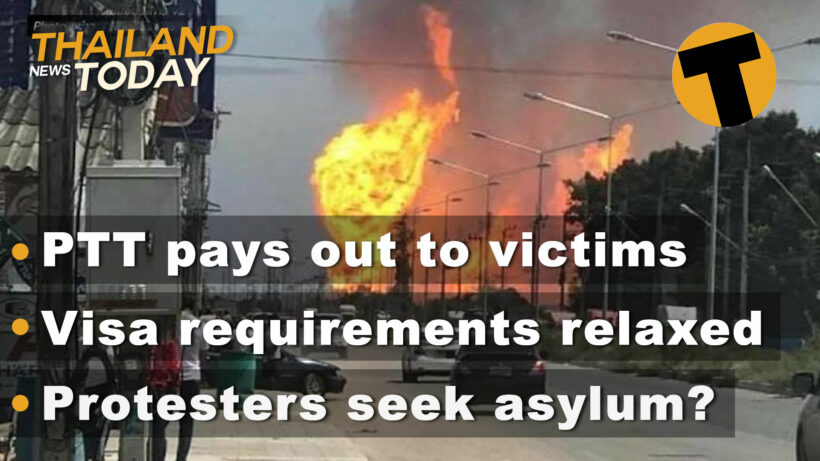 Today's rather noisy Thailand News Today. Please like our YouTube channel whilst you're there too!
PTT pays millions in compensation after Samut Prakan gas pipeline explosion
The Thai petrol company PTT has paid millions of baht in compensation to businesses and people affected by the Samut Prakan natural gas pipeline explosion last month.
The explosion at an industrial estate in the Bang Bo district killed 3 people, including 2 elderly women, and critically injured 10 people.
Another 60 received varying degrees of injuries from the incident. Homes and cars were damaged from the explosion and fire.
5 million baht was paid to each of the families of the deceased, 500,000 baht to those with critical injuries and 200,000 baht to those hospitalised with less severe injuries.
TAT says government has relaxed tourist visa criteria for European nations
The Tourism Authority of Thailand says the government has relaxed tourist visa requirements for some countries considered, "medium-risk", in an effort to kick-start international tourism.
Tourist visa holders can be admitted for up to 60 days, with the possibility of extending their stay to 90 days. As of November 5, 1,465 foreign nationals have been granted visas. The 3 most popular types are retirement visas, privileged entry visas, and the Special Tourist Visa.
While applicants for the STV must come from low-risk countries, officials are relaxing visa criteria for nationals of Scandinavia and other European countries currently considered medium-risk, to apply for other types of visas.
But applicants must fulfil some pretty hefty financial requirements, including having at least 500,000 baht in savings, health insurance coverage of at least US$100,000, and out-patient insurance of 40,000 baht.
As we've said many times before, your first port of call if you want to come to Thailand at this time is your local Thai Embassy. And yes, depending on the day you visit and the person you speak to there may be variations in the answers you get. So be persistent!
PM won't be drawn on rumour that protest leaders are seeking asylum in the US
Thai PM Prayut Chan-o-cha has refused to be drawn on speculation that 4 prominent protest leaders have applied for political asylum in the US. Online rumours circulate that 4 of the key protest ring-leaders have all applied for asylum in the US. The chairman of the House Foreign Affairs Committee has merely responded that "officials are looking into the matter".
Meanwhile, the US Embassy in Bangkok denies being involved, pointing out that the US Department of Homeland Security is the only agency that handles political asylum requests.
The PM has also repeated his stance on the importance of dialogue in resolving the current political impasse, saying he's willing to listen to all opinions. At this stage there has been no concessions to any of the protester's demands.
PM dismisses conflict of interest concern as Cabinet reviews golf quarantine proposal
Whilst we're on the prime minister, PM Prayut has today dismissed concerns over a possible conflict of interest surrounding the idea of using golf resorts as alternative local state quarantine facilities.
Public Health Minister Anutin Charnvirakul owns a golf course in the north-eastern province of Nakhon Ratchasima. The PM says using approved golf resorts as ALSQ locations is, an "interesting idea", but the proposal will need to be approved.
He has refused to be drawn on the suggestion that there might be a conflict of interest, given Anutin's ownership of a golf course, along with ties between some golf courses and government officials. The CCSA discussed the use of golf courses as quarantine locations today.
It's hoped that if the CCSA approves the proposal, it might attract golfers from places like Japan, South Korea, Taiwan, and China.
Sarasas school refuses to negotiate compensation for students allegedly abused by teachers
The Sarasas Schools Group, currently embroiled in a series of child abuse incidents, says they won't negotiate compensation with parents of students allegedly abused by their teachers.
Parents were each seeking around 5 million baht for damages, adding up to 130 million baht altogether. A meeting was scheduled today at the attorney general's office and the lawyer said they expected to meet with the school management to negotiate compensation.
But Sarasas representatives did not show up to the meeting. In a letter sent to prosecutors, the school said they do not want to negotiate and are prepared to go to court to fight the compensation demands.
A new primate discovery in Myanmar, but only 250 of the species remain
In a rare find, scientists have identified a new species of primate, a lithe tree-dweller living in the forests of central Myanmar.
The monkey-like primate has a mask-like face framed by a mane of grey hair.
The Popa langur, named after an extinct volcano, home to the largest known population, has been around for at least a million years, according to Zoological Research.
But with only 200 to 250 left in the wild today, the herbivorous primates are already "critically endangered".
The reclusive primates were finally captured on film in 2018, showing their full colouration and markings. The little creatures only weigh around 8-10 kilograms and have a metre-long tail.