Hands-on schooling setting an example in Chiang Mai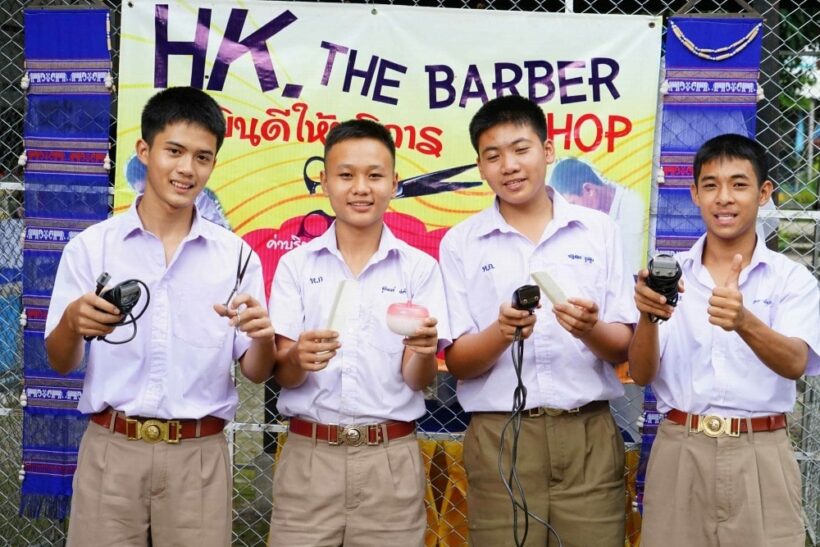 by Chularat Saengpassa
PHOTO: Padungkiat Jaiwong, far left, and fellow barbers of the "HK Barber" salon at Wat Huai Kaew School in Chiang Mai's Mae On district show off their haircutting equipment.
"Take me to your heart, Take me to your soul. Give me your hand before I'm old, Show me what love is, haven't got a clue, Show me that wonders can be true."
15 year old Padungkiat Jaiwong is proud of his rendition of the Michael Learns to Rock hit, and said he was inspired to study the English language after his teacher encouraged him to start singing Western hits. In fact, he has even won a contest singing in English.
Apart from showing off his language skills to the visitors from the Equitable Education Fund, Padungkiat also displayed his talents in hairstyling.
"He is a living proof of what impact teachers and a good school can have on children," EEF president Prasarn Trairatvorakul said.
Padungkiat, like many other children across the country, was at the risk of dropping out of school due to his family's dire financial status. Previously, Padunkiat used to sneak out of his Wat Huai Kaew School in Chiang Mai's Mae On district to play at a waterfall nearby with his friends. Truants, if ignored, usually drop out of school and miss out on a bright future.
Luckily, the Wat Huai Kaew School never took its 254 students for granted, and all 40 members of the teaching staff took it upon themselves to ensure these children have a good future. So, every year, the teachers make time to visit the home of every student, so they can learn more about the child and come up with a specific solution for the problems he or she faces.
"We learned that some students simply skip class because they cannot follow what is being taught. For them, I think vocational skills would be more useful, so I encourage them to take haircutting classes," teacher Phimrada Songchueb explained.

Padungkiat and his friends have now been successfully running the HK Barber salon, offering students haircuts for 5 to 10 baht each. The earnings are split between the young barbers and the school, which provides the equipment.
"Our young barbers spend their earnings on educational trips," Phimrada said.
Despite being a teacher, Phimrada usually treats her students like friends, so she can learn about their problems and perspectives.
"You will get a different answer if you ask questions like a teacher," she said.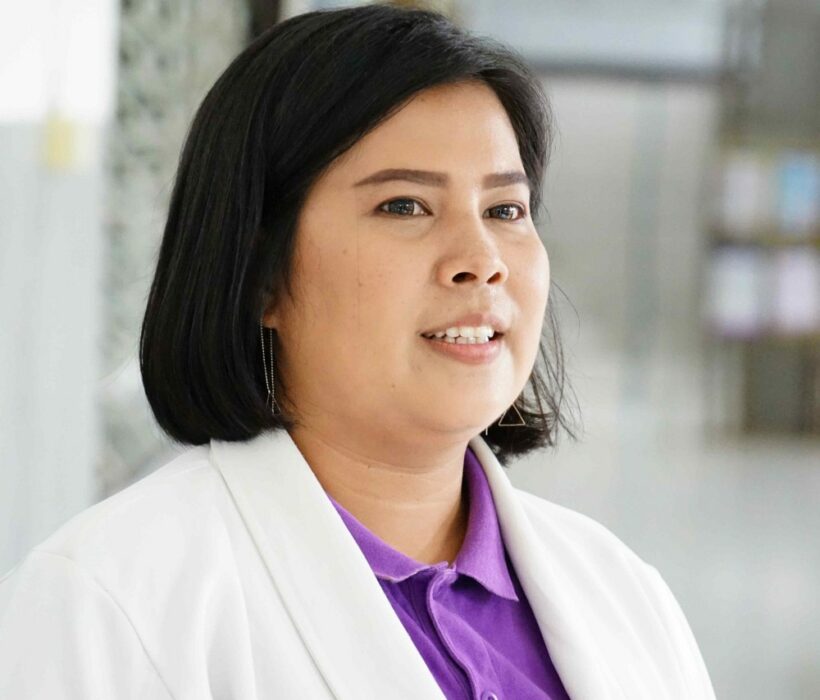 Teacher Phimrada Songchueb
According to her, children in the provinces usually fall silent when asked about their dreams because they don't really know what they should want. Most of them are from poor families and for them the most common form of making a living is by working in farms or taking odd jobs. That's why Phimrada has been trying to expose her students to different vocations, and also helps look for scholarships so they can further their studies at vocational colleges. Also, thanks to Phimrada, students like Padungkiat are allowed to spend nights in school from Monday to Friday as part of a special deal for children who need extra help and live quite far away.
Phimrada said after Padungkiat started living in school he was no longer absent during the rainy season.
"I don't think he is at risk of becoming a dropout anymore," she said.
Padungkiat has earned the nickname of "Sodsai" (bright and cheerful) in school because this term describes his character and life now. He now enjoys studying, working at the HK Barber and singing songs in English. Though he cannot understand every word he sings, he says it is fun and it is encouraging him to try harder in English class. His new found talent is also giving him hope that maybe he could earn some extra cash as a singer, while furthering his studies at a vocational college in the near future.
EEF chief Prasarn said this school has proved that having the right teachers was more important than money when it comes to child development.
"Wat Huai Kaew School pays attention to all aspects of the children," he said.
Principal Opart Intasan said teachers have been visiting their students' homes for more than two decades already.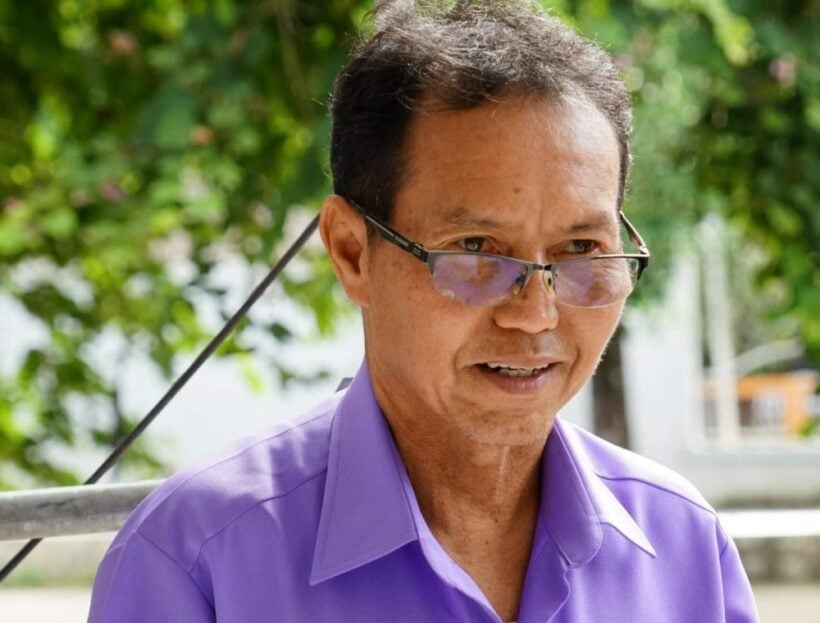 Principal Opart Intasan
"These visits are important, as it allows the teachers to see their students' living conditions and also to know more about them," Opart said.
For instance, he said, the teachers once visited a child at home to find out why he could not understand what was on the blackboard.
"In the visit, the teachers learned that the child had some eye problems. So, the teacher had the child moved to the front row and started using new techniques in the classroom," Opart said.
Opart Under his leadership, the Wat Huai Kaew School tries to help the students as much as it can. For instance, if a teacher finds out that a student doesn't have a mosquito net at home, the school will look for donors on Facebook.
"That way, we can get mosquito nets for our student," the headmaster said.

STORY: The Nation


Have something to say? Scroll down to leave a comment, or visit our Thaiger Thailand Q&A Forum to discuss people, events, to-do and more with the local community.

Read more headlines, reports & breaking news in Chiang Mai. Or catch up on your Thailand news.
Chinese tourist caught stealing GoPro from couple – VIDEO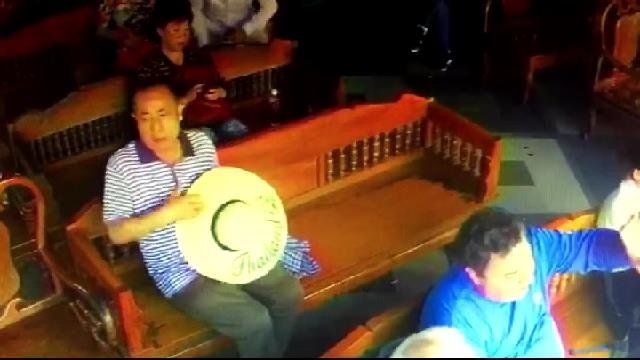 A Chinese man has been caught stealing a camera from a Spanish couple in Chiang Mai.
The incident happened on Tuesday and was captured on CCTV. The Spanish tourists had been visiting Wat Phra That Doi Suthep when they put a GoPro camera on the bench they had been sitting on. After realising they'd left the camera there, they returned but the camera was gone.
They reported the missing GoPro to police who checked the CCTV footage which shows the camera was picked up by a man wearing a large hat.
The man had been sitting behind the Spanish couple and picked up the camera after he saw it had been left on the bench. He goes to sit where the camera had been left before using his large hat and shirt to disguise the fact he was allegedly stealing the camera.
The man was part of a Chinese tour group who police later tracked down to the Old Chiang Mai Cultural Centre. When approached by police the Chinese man handed over the camera telling officers that he had intended to hand it in but wasn't sure how or where to report the matter.
Channel 7 reports that the incident seemed to have been put down to a 'misunderstanding', with the camera eventually being returned to the Spanish couple. According to Thai media the Chinese man has not been charged with theft.
Meanwhile, a British tourist, who used the same excuse after picking up a mobile phone left on the ground outside Chiang Mai Airport in February, was charged with theft and ended up in jail for ten days. Story HERE.
SOURCE: Chiang Mai News
Police defend theft charges on British backpacker Chris Dodd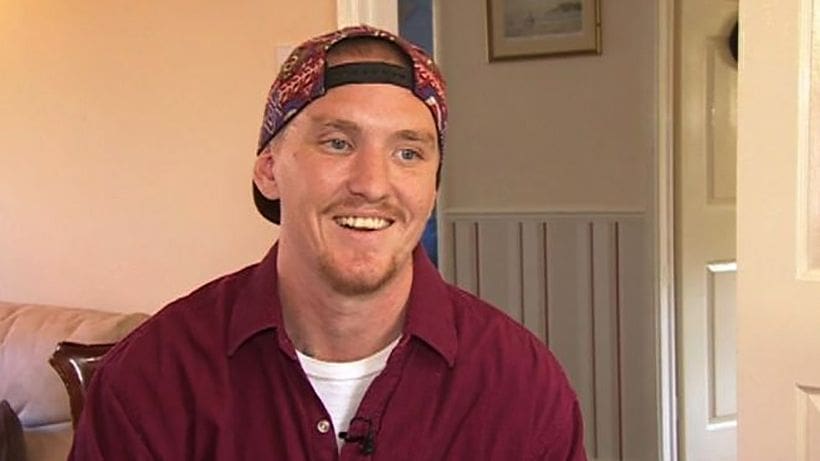 PHOTOS: Chris Dodd, BBC
Police are defending their actions when they charged a British backpacker with theft after he picked up a mobile phone at Chiang Mai airport last February.
29 year old Chris Dodd spent 10 days in jail in February after he was charged with stealing the phone belonging to a German tourist and remanded in custody by a court. Chris insists that he intended to hand the phone in when he arrived at his accommodation.
Read the original Thaiger story HERE.
The charge was dropped after his family and friends back home raised 828,690 baht to pay a fine on his behalf. Dodd has since returned home and continues to protest his innocence.
He has also complained in interviews with the local media that he was forced to have his dreadlocks shaved while he was detained and had to sleep in an overcrowded jail where nobody spoke English.
Dodd, a tattoo artist, told the BBC that he found the phone just as he was about to get into the taxi after arriving at the airport.
The broadcaster says he told them he picked it up the phone and while looking for its owner he moved it to a different location, which is considered theft in Thai law.
Pol Colonel Krissana Pattanacharoen said police at Chiang Mai International Airport had been approached at 8.40pm on February 26 by a German tourist who said she had lost her mobile phone in the terminal.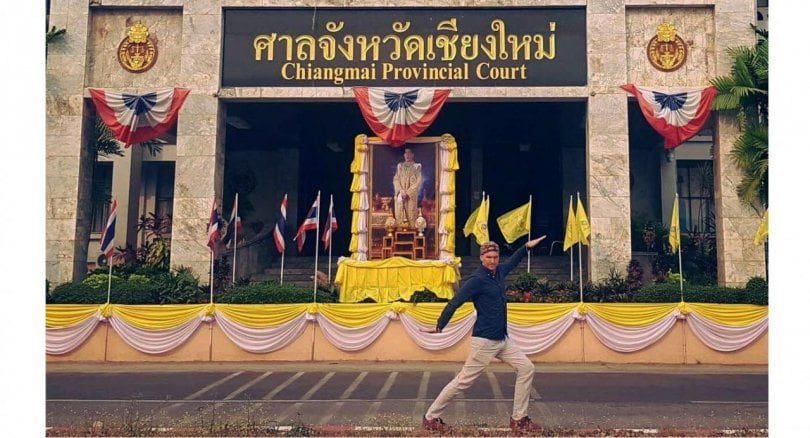 CCTV footage showed a foreigner with dreadlocks and white cap pick up the phone from the floor of the passengers' lounge before leaving the airport in a public van.
Police then traced the van to a guesthouse in Tambon Sripoom, Muang district and found the phone in the possession of British backpacker Dodd, who comes from Poole, Dorset.
"The SIM of the phone we confiscated from the British man had been removed, and the password and language changed," said Krissana.
"All the data had been wiped clean. Police then took him to the Pupingrachaniwet police station to be charged."
Based on the evidence, police charged him with theft and he was taken to Chiang Mai prison pending trial. He was freed on bail on March 11.
Krissana insisted that the shaving of the dreadlocks had been done in accordance with the regulations.
"We strictly follow the laws with respect to basic human rights," Krissana added.
"We are gathering information from his interviews to consider legal action against him."
BBC quoted Dodd as saying: "I was stripped naked, sent in, given a blanket. Then, the next thing you know you're being taken into the cells, where they house massive amounts of people.
"Nobody spoke English. It was really intimidating. You just have to fight for a space on the floor and you have people's legs all over you."
SOURCE: The Nation

British backpacker returns home for Easter after being jailed in Thailand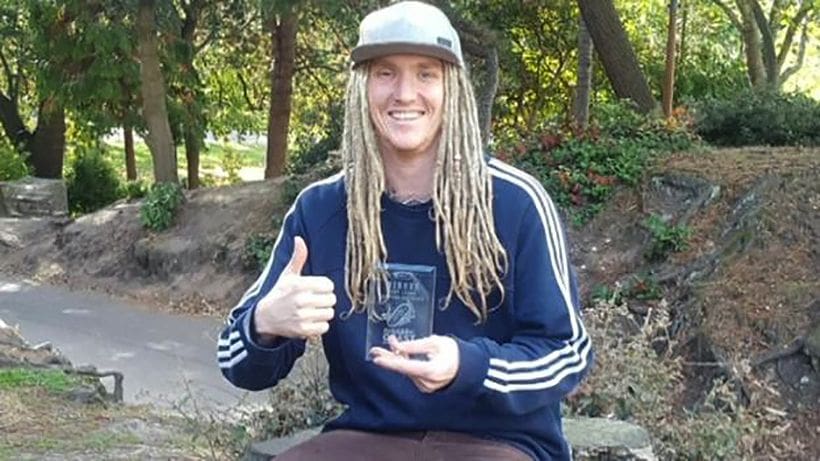 PHOTOS: Facebook.com
A British backpacker is back in the UK for Easter after being released from prison after being incarcerated for 10 days over a 'trivial' offence.
26 year old Chris Dodd told the BBC he was arrested for picking up a mobile phone he found on the ground whilst waiting for a taxi at the Chiang Mai airport. He was accused of theft after taking it with him to his accommodation.
According to Chris, he says he picked up the phone trying to find the owner. In doing so he moved it to a different location – considered theft under Thai law. He says his intention was to report it to police and find the owner when he arrived at his hostel accommodation.
Police identified him on airport CCTV. He was arrested at the hostel.
Prison guards shaved Mr Dodd's head but gave him the shaved-off dreadlocks saying he could keep them.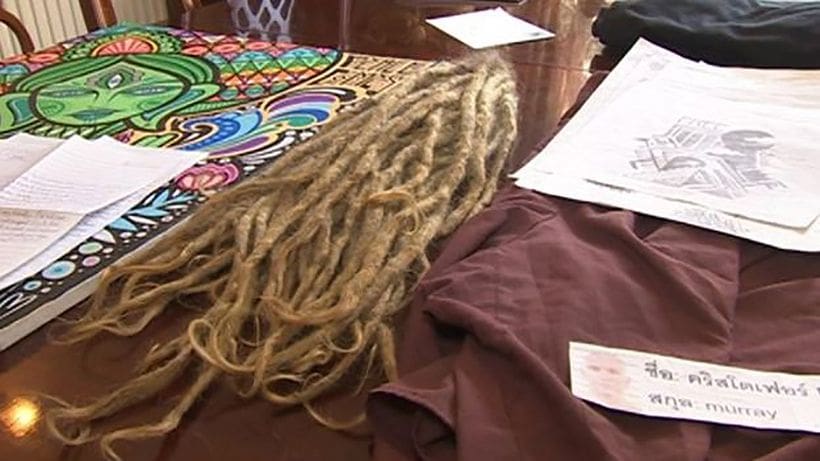 "I was stripped naked, sent in, given a blanket."
"Nobody spoke English. It was really intimidating. You just have to fight for a space on the floor and you have people's legs all over you," Chris told the BBC.
According to his lawyer he faced a five year prison sentence if convicted, but the charges against him were eventually dropped and he was able to leave Thailand. Mr Dodd was released on bail after family and friends raised £20,000 (828,000 baht).
His lawyer told Mr Dodd to leave Thailand immediately after being released. The charges were dropped last Friday.
SOURCE: BBC