Army hunting man who shot dog with a spear gun in southern Thailand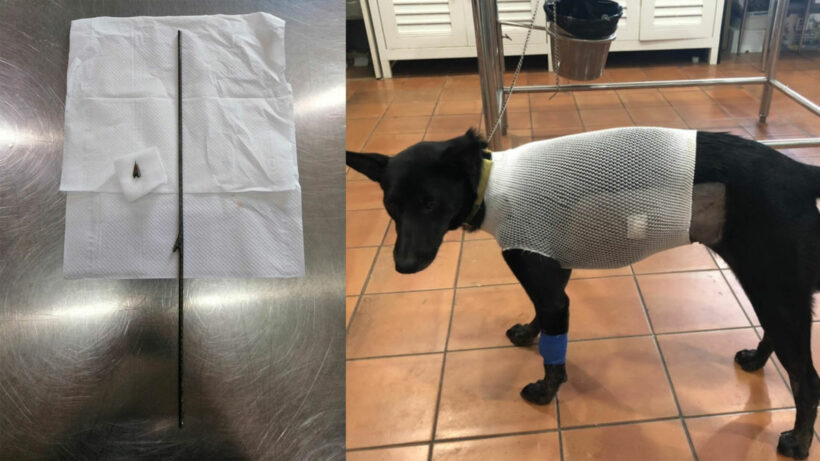 A man who shot and seriously injured a dog with a spear gun is being hunted by army officers in Songkhla province, southern Thailand.
The man is accused of shooting the dog twice, with the arrows piercing its liver and stomach. The "Smiledog Home Hatyai" Facebook page says the dog is named Mee Dum.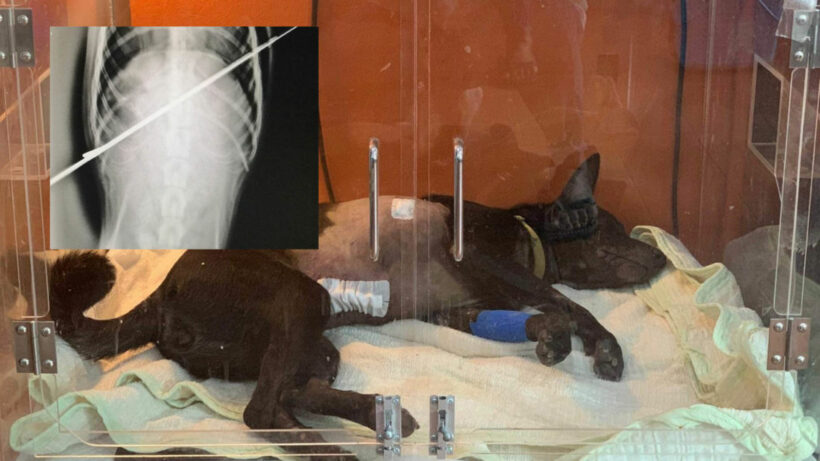 Photo:Smiledog Home Hatyai
It was rushed to a Hat Yai veterinary clinic to have the arrows removed and for ongoing medical care.
The perpetrator is believed to be a solider from the Senanarong army barracks and it's reported that he was involved in raising fighting cocks.
Representatives from the Smiledog Home are expected to file an animal cruelty charge with local police.
SOURCE: thaipbsworld
Keep in contact with The Thaiger by following our
Facebook page
.
Drug party raided in Chiang Rai for defying public gathering ban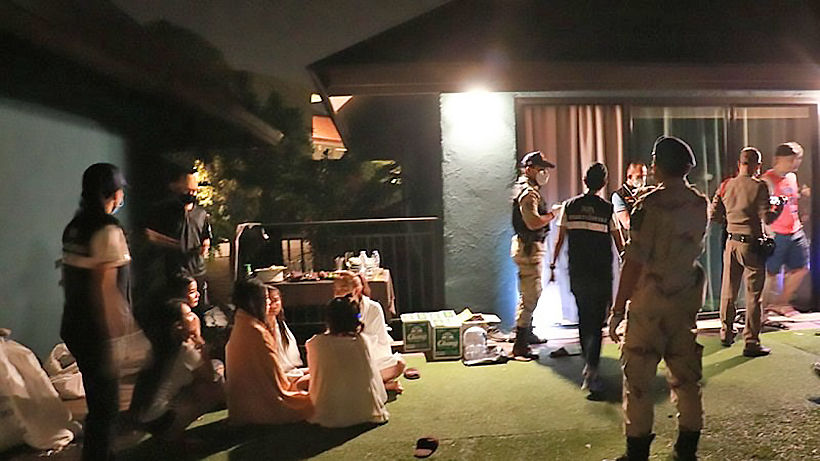 Authorities are cracking down and enforcing the ban on on public gatherings under the the state of emergency declared to fight the Covid-19 coronavirus epidemic last week. 22 people were arrested at a drug party in Chiang Rai yesterday for "gathering in defiance of the Emergency Decree". 10 men and 12 women between the ages of 20 and 30 were nabbed at a hotel in the province's main city district.
(Gamblers also arrested in Phuket, below)
The 22 were attending a pool party where alcohol and drugs such as ecstasy and ketamine were allegedly being sold. Police confiscated 237,000 baht in cash found in a bag, along with illicit drugs for evidence.
An initial investigation showed that a 24 year old man from Trat province in Thailand's east, on the Cambodian border, had been holding parties at the hotel since last Thursday. It's believed he started holding the parties because most public venues are unavailable during the virus scare.
Chiang Rai's governor says police raided the hotel in tambon Tha Sut after a tip-off.
Apart from drug charges, the detainees will also be punished for defying the Emergency Decree, which bans gatherings. The penalty is two years in prison and/or a fine of up to 40,000 baht. Chiang Rai has 5 confirmed coronavirus cases.
In a related development, 6 gamblers were arrested in Phuket near the island's Muang district yesterday.
The detainees were identified as 51 year old Natthawut, 55 year old Suwit, 40 year old Charoon, 48 year old Praiwan, 28 year old Natthapol and 39 year old Natthapong. No surnames were added to the report. Police say that while some were wearing masks to potentially protect themselves from the coronavirus, they were violating the Emergency Decree by sitting around a table to play the games. Gambling is officially illegal in Thailand, apart from the bi-monthly lottery.
SOURCE: Bangkok Post
Keep in contact with The Thaiger by following our
Facebook page
.
Northern Thailand's air pollution reaches hazardous levels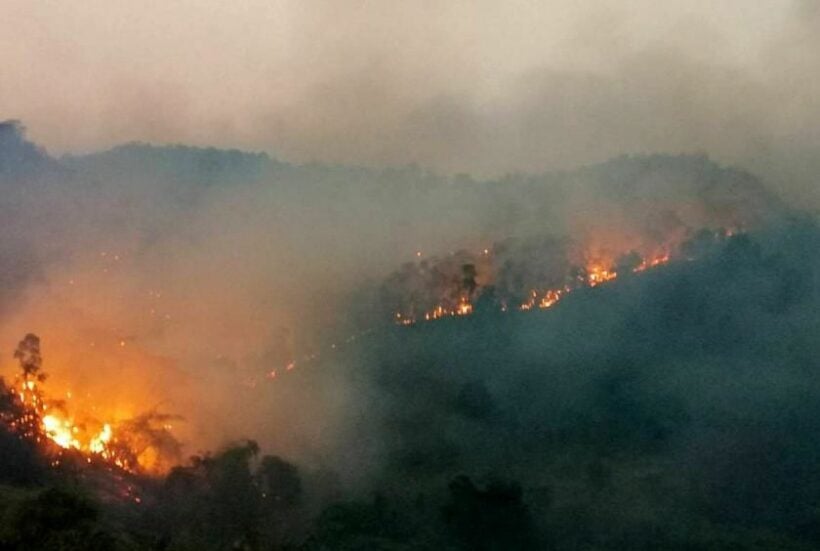 Air quality in the north of Thailand is actually 'hazardous' today, as bushfires in Chiang Mai's Doi Suthep-Pui National Park have caused air quality to become nearly 20 times higher than Thailand's already lax "safe" limit of '50'. PM2.5, (dust particulate matter with diameter of 2.5 microns or lower), rose to 925 micrograms per cubic metre in some locations yesterday. It has dropped this morning but still remains 'hazardous' in many locations around the region.

Due to the Covid-19 coronavirusoutbreak, all national parks, wildlife sanctuaries and other protected areas in Thailand are closed until further notice. Some tourist destinations such as the Similan Islands and Surin Islands are within national parks and are also closed.
The bushfires in the parks and crop burning, in plantations and farms in the region and in neighbouring countries, has pushed air pollution readings in Chiang Mai and other provinces in the region up to nearly 1,000 micrograms for short periods, specifically near the areas of the fires.
Not helping the situation is a week of temperatures around 40C every day (with more on the way), and no rain (the temperatures are from stations in the city area, not in the mountains surrounding the main town). The fire at the national park near Chiang Mai also poses dangers to residents as it has raged near communities in and many landmarks, such as temples.
Hundreds of officials and soldiers have been called in to fight blazes over the past week. Helicopters have dropped water to control one fire that's been raging since Wednesday evening around the Doi Suthep area, north west of Chiang Mai city, in the Doi Suthep Pui National Park.
"They've spent more than 14 hours a day trying to being the blaze under control."
Local officials say the massive fire has now been "brought under control," but the air pollution persists with more smog from plantation fires burning in the area and to the north in neighbouring Myanmar.
PM Prayut Chan-o-cha has expressed concern over massive damage caused by the fire, primarily for the health of the elderly and children. He's asked them to avoid going outside because of the smoke and poor air quality.
Chiang Mai isn't the only northern province plagued with air quality issues. The PM2.5 dust index also revealed severely unhealthy levels of air quality in Chiang Rai, Mae Hong Son and Nan provinces.
The government says it's working with Myanmar officials to address the issue.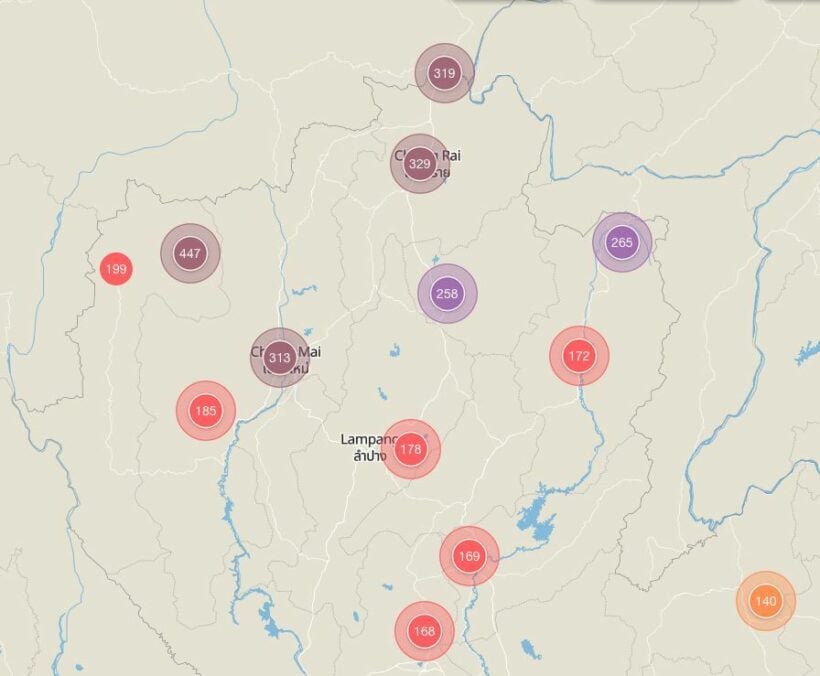 Airvisual.com (Sunday morning 9am – Thai Time)
SOURCE: Chiang Rai Times
Keep in contact with The Thaiger by following our
Facebook page
.
"Hot to very hot" in the North and Northeast, thundershowers predicted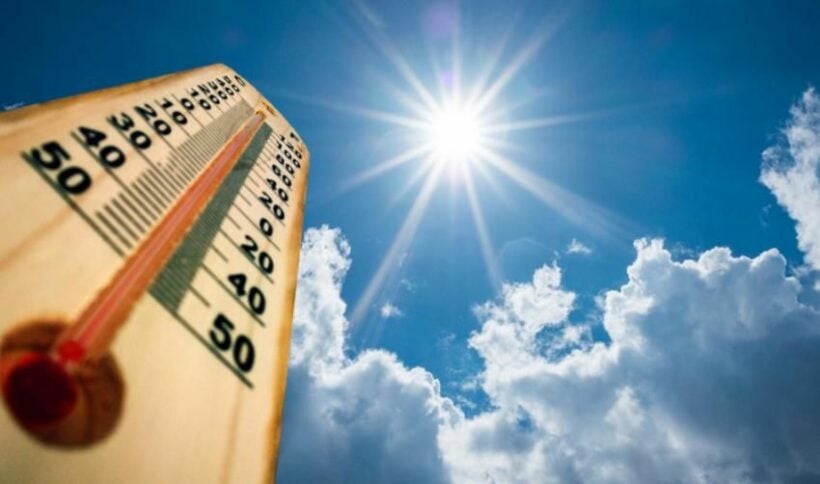 A thermal low still covers upper Thailand, while southerly and southeasterly winds prevail over the Northeast and the East regions. Thailand is now in the 'shoulder' season, between the dry season and wet season, which is set to kick in sometime in April. (Bangkok, Phuket and Chiang Mai 5 day forecasts below)
Chiang Mai is poised for another week of scorchers, each day predicted to be over 40C.
"Hot conditions still prevail over most of upper Thailand and very hot weather is forecast for parts of the North, the Northeast and the Central regions," according to the Thai Meteorological Department.
"Thundershowers and gusty winds are forecast for the Northeast and the East. People should beware of severe weather and keep off unsecured buildings and wilderness areas. Farmers should beware of crop damage."
The weather forecast for the next 24 hours is as follows:
Northern region: Hot to very hot; temperature lows of 18-25℃ and highs of 38-41℃.
Northeastern region: Hot to very hot with thundershowers in some areas; lows of 22-26℃ and highs of 36-40℃.
Central region: Hot to very hot; temperature lows of 24-26℃, highs of 37-40℃.
Eastern region: Hot with thundershowers and gusty winds in 10% of the areas; lows of 25-28℃, highs of 33-38℃; waves a metre high.
Southern region (east coast): Partly cloudy with thundershowers in 10% of the areas; lows of 23-27℃, highs of 33-36 ℃; waves a metre high.
Southern region (west coast): Partly cloudy with thundershowers in 10% of the areas; lows of 24-26℃, highs of 35-38℃; waves a metre high, higher offshore.
Bangkok and surrounding areas: Hot during the day; lows of 26-27℃, highs of 34-39℃.
Bangkok's 5 day forecast…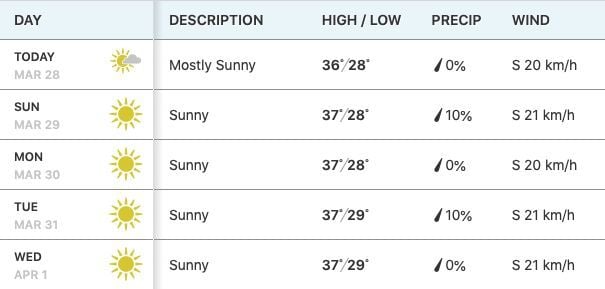 Phuket's 5 day forecast…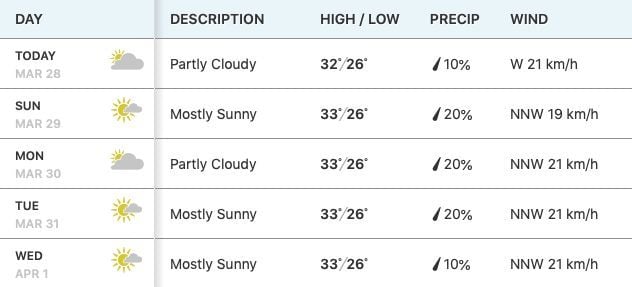 Chiang Mai's 5 day forecast (yikes!)…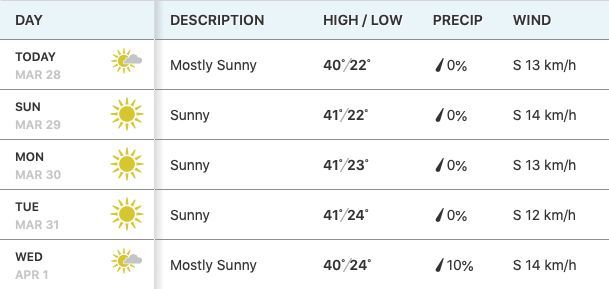 SOURCE: The Nation | Weather.com
Keep in contact with The Thaiger by following our
Facebook page
.