Army hunting man who shot dog with a spear gun in southern Thailand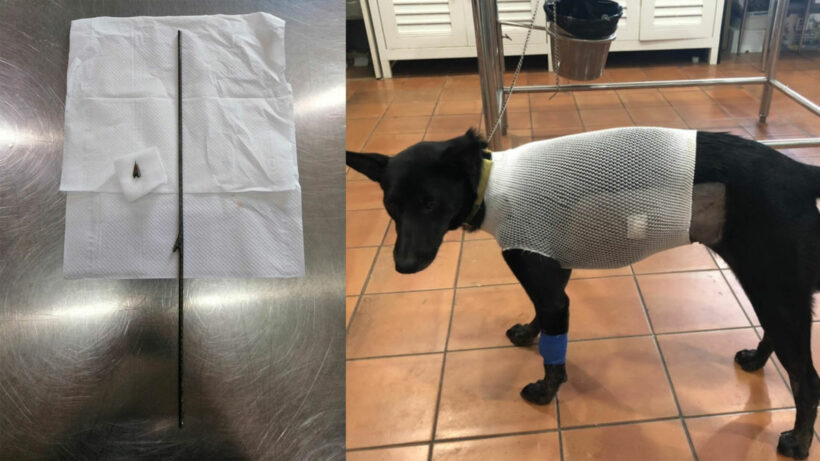 A man who shot and seriously injured a dog with a spear gun is being hunted by army officers in Songkhla province, southern Thailand.
The man is accused of shooting the dog twice, with the arrows piercing its liver and stomach. The "Smiledog Home Hatyai" Facebook page says the dog is named Mee Dum.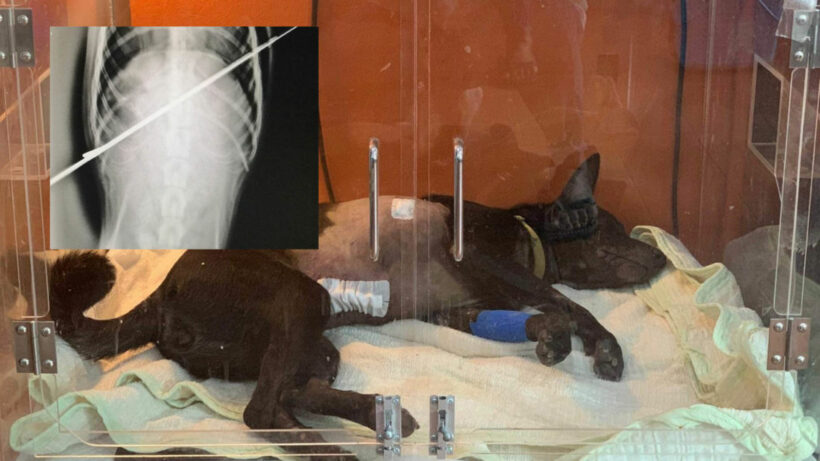 Photo:Smiledog Home Hatyai
It was rushed to a Hat Yai veterinary clinic to have the arrows removed and for ongoing medical care.
The perpetrator is believed to be a solider from the Senanarong army barracks and it's reported that he was involved in raising fighting cocks.
Representatives from the Smiledog Home are expected to file an animal cruelty charge with local police.
SOURCE: thaipbsworld
Keep in contact with The Thaiger by following our Facebook page.
Never miss out on future posts by following The Thaiger.
Pattaya cleaning up its walking street act in time for Chinese New Year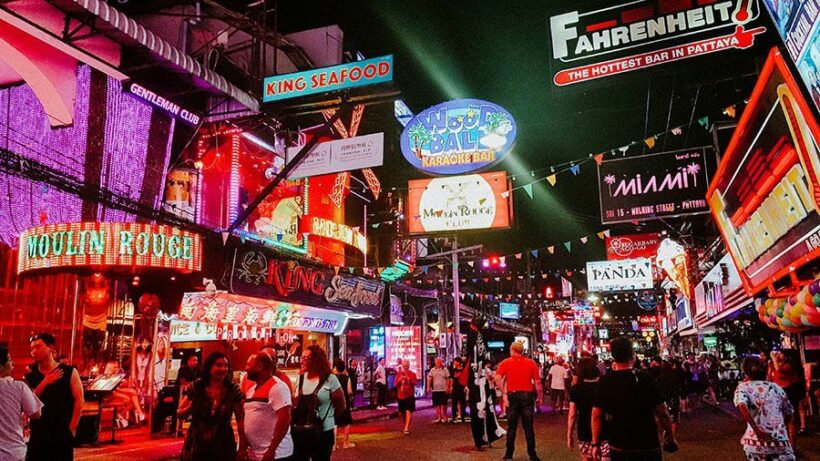 Pattaya City is planning to clean up its walking street act in time for the upcoming Chinese New Year. But, as the second wave of Covid-19 destroyed what was left of its foreign and domestic tourism industry, it might all be in vain. Thousands of businesses remain closed due to the province of Chonburi being "highly controlled" which effectively keeps domestic tourism at bay.
Banglamung has had 0 cases of Covid-19 for almost a week now with only 1 case being reported in Chonburi in the past 3 days. But the new downturn in Covid infections hasn't helped to ease restrictions that have left local businesses shuttered. Chonburi officials are indeed taking note of the recently diminishing amount of Covid cases and say they will review the strict measures probably at the end of the month, but warn it is not a promise that measures will be eased.
Even if such restrictions are lifted, Covid has had a lasting effect on tourism in Pattaya, like the rest of Thailand. Last March, borders closed to foreign tourism, only allowing those who were able to physically and financially go through a 14 day quarantine.
As a last ditch effort, it was decided in a recent meeting to clean up the walking street and place lighting and decorations for the upcoming Chinese New Year on February 12. But Pattaya's mayor says there will be no major city events for Chinese New Year, and such an effort was only to give the residents a sense of hope and a brighter atmosphere.
Needless to say, Pattaya, who in 2019 was the 19th most visited city in the world, with almost 10 million visitors, has been heavily affected by the coronavirus pandemic. City officials say they are reviewing measures to help renovate the city, and offer, what is hoped to be, a light at the end of the tunnel.
Keep in contact with The Thaiger by following our Facebook page.
Never miss out on future posts by following The Thaiger.
US Ambassador to Thailand quits after Biden inaugurated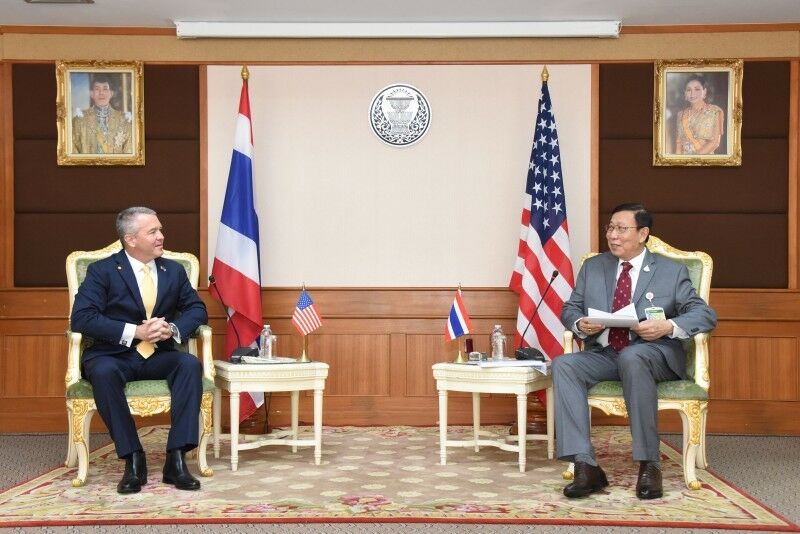 The US Ambassador to Thailand seems to have quit after only serving less than 1 year in office and moments after President Biden's inauguration. Michael George DeSombre, who was appointed by President Trump in early 2020, made the announcement of his departure on the embassy's official social media platform yesterday. A day before, he met with PM Prayut to "thank the Royal Thai Government" as is customary with departing ambassadors. DeSombre succeeded career diplomat Glyn T. Davies.
"It has been a privilege serving as the United States Ambassador to the Kingdom of Thailand. I am exceedingly proud of all we have done to strengthen the US-Thai relationship. I am signing off now from this account and leaving it in the good hands of our Embassy staff."
Now, as the US Embassy official website names Chargé d'Affaires Michael Heath as its diplomatic mission leader, it is not known when a new ambassador will be chosen by the Biden administration.
Just last year in October, DeSombre wrote, on the same day that President Trump tested positive for the virus, that he was less than supportive of a full-blown shutdown.
"The evidence over the last six months shows that the costs of a really extreme shutdown are generally worse than the benefits and it is better to keep the economy running."
According to Wikipedia, DeSombre co-founded Republicans Overseas for Americans abroad in 2013 in which the organisation focuses on tax reform. Upon his appointment as Ambassador, DeSombre stated that his office would primarily encourage the economic partnership between the two countries, with a focus on American investments and Thailand's infrastructure projects and supply chains.
He has also said that US firms were interested in increasing investments in Thailand, including in areas under the 1966 Amity treaty. Thailand and the US established relations in 1818 and later formalised the ties in 1833.
SOURCE: Khaosod English
Keep in contact with The Thaiger by following our Facebook page.
Never miss out on future posts by following The Thaiger.
Migrant workers risk losing their legal status, the Cabinet to extend work permit amnesty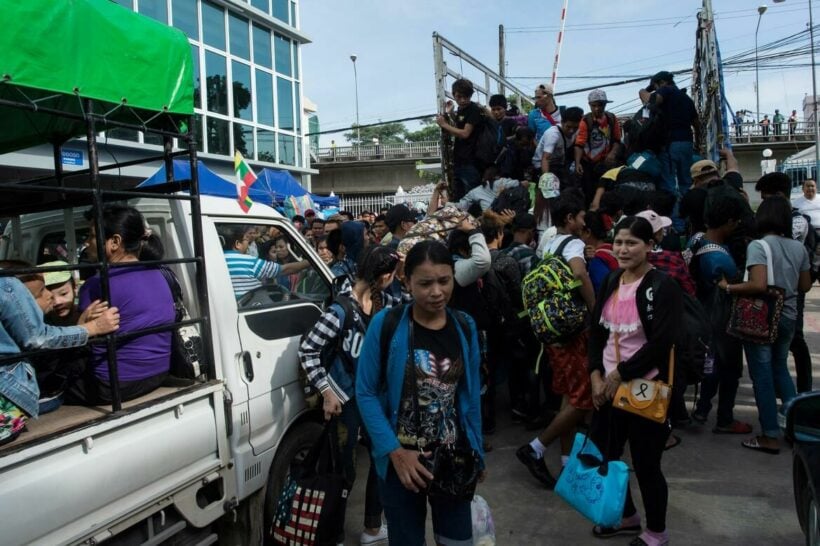 Over 1.7 million migrant workers in Thailand are going to lose their legal working status because they can't submit work permit renewal and a health certificate with Covid-19 test results in time. The Labour Ministry then proposes the cabinet will extend the registration period (amnesty) for migrant workers to help maintain their legal status. Migrant workers, including those illegal and unemployed workers, are required to register with authorities via the ministry's website from January 15 until February 13.
According to the Labour Minister, every migrant worker to renew their work permit must receive a Covid-19 test at hospitals designated by the Public Health Ministry. The Department of Medical Sciences will be responsible for the testing costs.
Illegal and unemployed workers, who registered with the Ministry, will be allowed to stay in the Kingdom for 2 years without penalties. Only those migrant workers from Cambodia, Laos, and Myanmar are allowed to overstay their current visas, but are required to register with the provincial employment office in the area they work, as part of the amnesty.
SOURCE: Bangkok Post
Keep in contact with The Thaiger by following our Facebook page.
Never miss out on future posts by following The Thaiger.