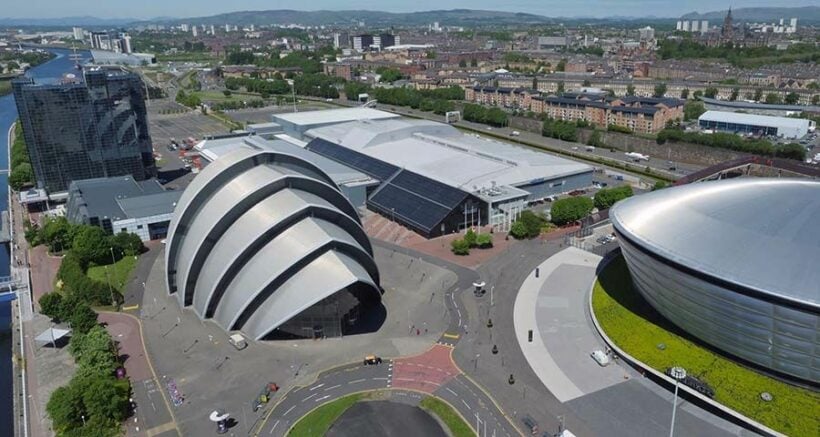 As the UK prepares to host the 26th UN Climate Change Conference, the British government is urging Thailand to sign a key pact. The UK is hosting the climate talks, known as COP26, in partnership with Italy. The event takes place in Glasgow, Scotland, between October 31 and November 12. The Bangkok Post reports that a press briefing was held at the British Embassy in Bangkok yesterday, during which the 4 goals of COP26 were communicated.
According to the report, the first goal is going net zero by 2050 and ensuring the temperature of the Earth does not rise by more than 1.5 degrees Celsius. The second goal is making changes to how we live to protect the environment and prevent natural disasters. Goal number 3 is raising U$100 million a year to fund environmental ventures, while the fourth goal focuses on getting countries to work together to achieve their individual environmental objectives.
The UK's economic and prosperity counsellor, Andrew Beirne, says while the goals are ambitious, the world is being asked to reduce emissions in line with commitments made under the 2015 Paris Agreement.
"This means, globally, trying to halve the emissions by 2030. We understand the commitment will not be spread across the countries in the same way, but we are asking all countries to do more in (terms of) increasing their greenhouse gas emissions target."
In 2015, Thailand pledged to reduce emissions by 20%. Yesterday, the Cabinet confirmed a new national energy plan that aims to achieve net-zero status sometime between 2065 and 2070. Beirne says this would put Thailand 15 to 20 years behind the COP26 deadline of 2050. He believes Thailand can do more and has called on the kingdom to increase the 20% target to 30%, a goal he believes is realistic.
"We would like Thailand to play the leading role in Southeast Asia. It does not mean that Thailand has to be the world leader. Thailand has more capability to play a really important role in the region and we believe if Thailand does, others would follow."
SOURCE: Bangkok Post