Southern insurgents likely behind the Bangkok bombings – Deputy PM Prawit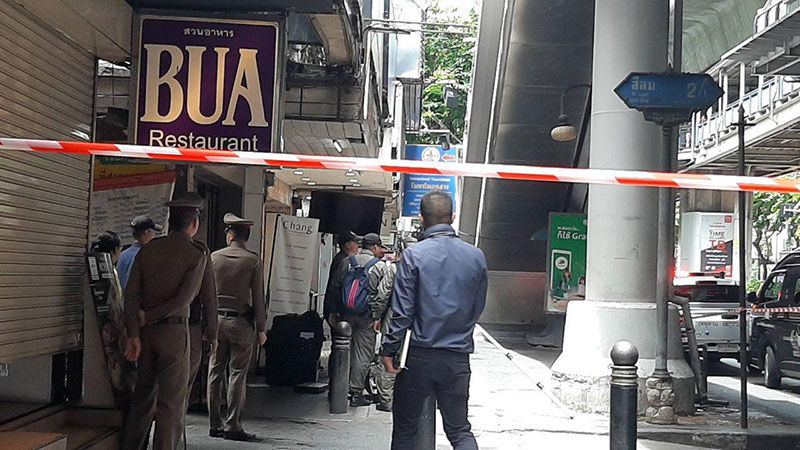 A meeting of Thai security and intelligence officials last night, chaired by Deputy PM Prawit Wongsuwan, has determined southern insurgents were likely behind the spate of 'warning' bombs that went off around the capital yesterday morning. At the same time they haven't completely ruled out political motivations despite an attempt by Thailand's army chief Gen. Apirat Kongsompong to politicise the day's explosions.
The blasts included one at Chong Nong Si BTS station, next door to the Mahanakhon building, the Government Complex on Chaeng Watthana Road (Building B), and the Royal Thai Armed Forces HQ.
The series of bombings injured four people, although it is understood that no one was seriously injured. All four are currently receiving in hospitals.
The national police chief Chakthip Chaijinda says an initial police investigation indicates that there are similarities between yesterday's bombings and attacks carried out in seven southern and central provinces, including Phuket, in August 2016.
The police chief says that authorities "can bring the situation under control".
Seven separate bombs were reported in five locations in Bangkok and Nonthaburi with five of them detonating, injuring four people. Fires also broke out at three locations – Bangkok's Pratunam market area on Phetchaburi Road, a favourite tourist and local shopping destination. One fire is suspected to be arson and bomb fragments were reported to be among the debris.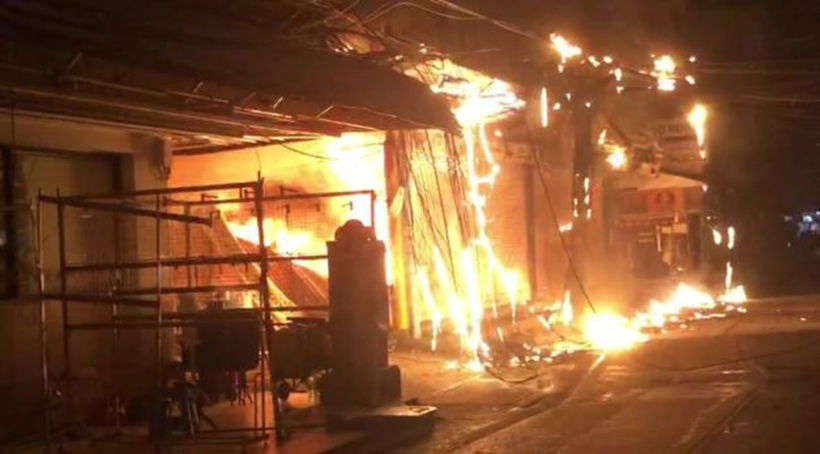 Sources report that bomb disposal experts say the bombs at several locations in Bangkok were "improvised devices" triggered by timers.
"They were designed to cause panic rather than inflict mass casualties. These bombs are similar to cluster bombs used in the serial bomb attacks in seven southern and central provinces on August 16, 2016."
The timing of the incidents, during a meeting of regional foreign ministers at a series of ASEAN meeting, running since Tuesday, support the theory that the incidents are more about embarrassing the government and security forces rather than causing damage or harm. Ministers and officials from 31 countries were in attendance including US Secretary of State, Mike Pompeo.
Much of the foreign media coverage linked the explosions with the ASEAN meetings in Bangkok…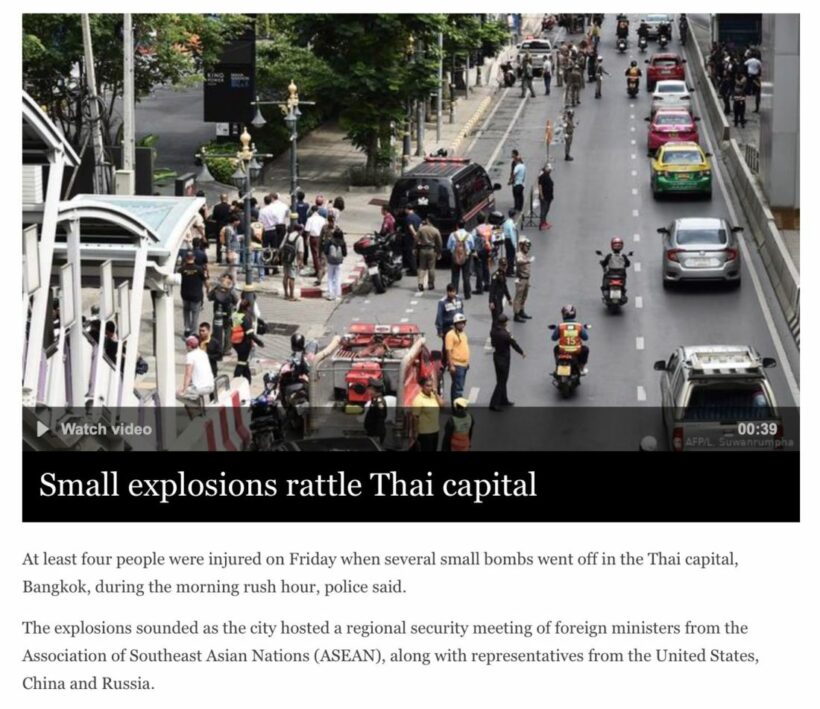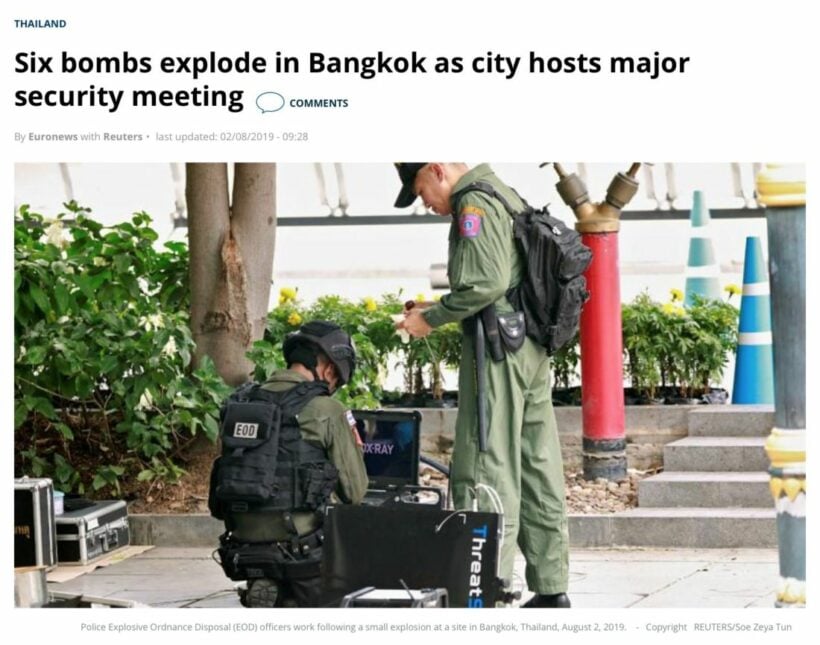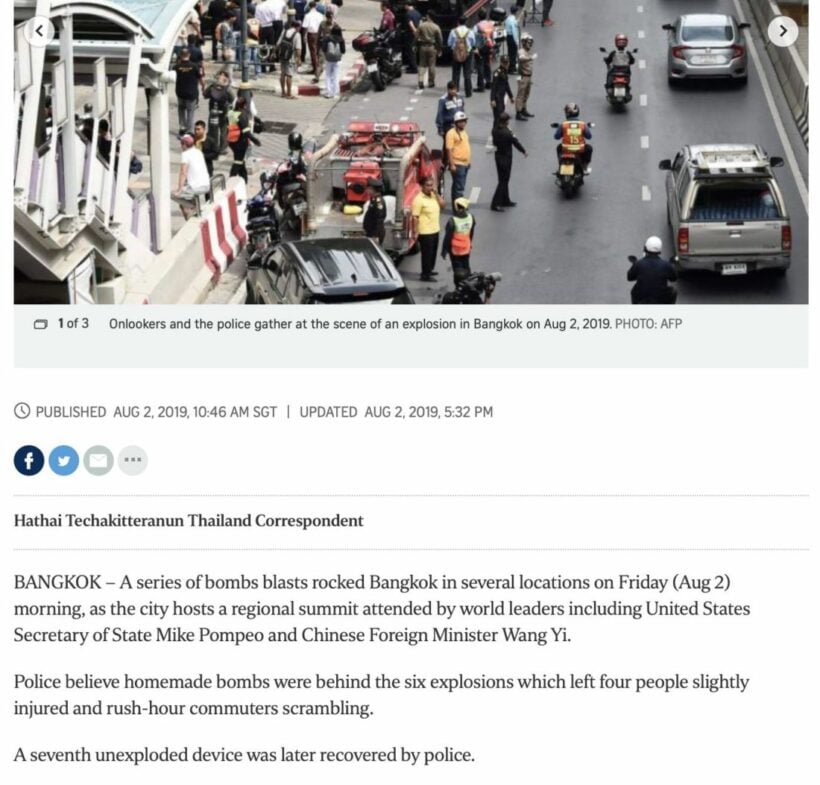 Security was tightened around the Centara Grand at CentralWorld, near to where the ASEAN meetings were under way. At a Friday evening meeting between defence and security officials, chaired by deputy PM Prawit Wongsuwan, officials didn't rule out any motives behind the bombings saying "that the attacks were intended to damage the country's reputation".
Thailand's Foreign Affairs Minister Don Pramudwinai says that the bombings had not affected the ASEAN meetings and the event proceeded as per schedule.
Keep in contact with The Thaiger by following our
Facebook page
.
Thailand and South Korea partner on development of electric buses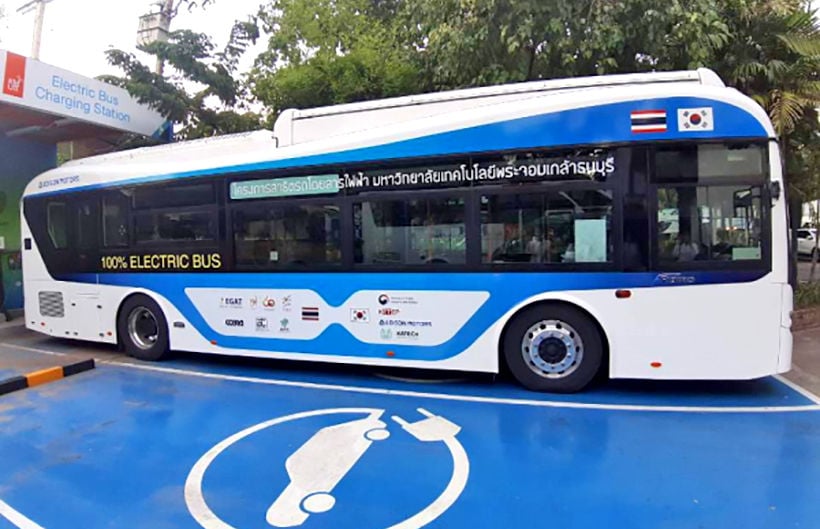 Original story by Shin Ji-hye
An all-electric bus sits on the campus at King Mongkut's University of Technology in Thonburi, Bangkok. The electric bus is a joint project between Korea and Thailand, led mainly by Korean automaker Edison Motors, which currently provides public transport services with eco-friendly buses at Namsan in Seoul and on Jeju Island.
The project involves 11 organisations from both sides, including Korea's Industry Ministry and Korean Energy Technology Evaluation and Planning. The Thai side includes the Bangkok Mass Transit Authority, the Electricity Generating Authority of Thailand and King Mongkut's University of Technology Thonburi, where the bus is being tested.
Kitchanon Ruangjirakit, a lecturer at King Mongkut's University of Technology Thonburi, says they are testing if the all-electric bus is suitable for the hot climate and traffic congestion of places like Bangkok.
"We are jointly working on traffic data collection, standards, energy consumption and battery capacity with Edison's electric bus,."
They plan to share the results of their research with the Bangkok Mass Transit Authority and the Ministry of Transport there, so the government can use the information in its future electric bus purchases.
When the systems have all been fully tested, the bus will be able to run 200 kilometres on a single charge. It uses an LG Chem battery.
The project, however, is only for research and not for commercial use at this stage. If Edison wants to produce electric buses in Bangkok, it has to take part in a bidding process. The Thai government plans to bid on 35 electric buses in the near future. Edison is willing to join the bidding, according to the government official.
Narit Therdsteerasukdi, deputy secretary-general of the Thailand Board of Investment, says Thailand is in the beginning stage of the EV industry and there is a long way to go.
"Thailand is the biggest exporter of cars (as an assembler) in ASEAN. We have 1,000 local parts suppliers. We are ready for the next step of the automotive industry. The Thai government intends to encourage its agencies to use electric vehicles in the future to create demand."
"Some companies like Samsung, LG, Posco and Hanwha have invested in Thailand for more than 30 years. We hope more Korean investors are coming in the near future."
"We are also trying hard to attract Korean battery makers, LG Chem and Samsung SDI, because we would like to build a whole supply chain of electric vehicles in Thailand. Not only car assembly, but we also want to build key parts of EVs like battery and motors."
SOURCE: The Nation | The Korea Herald
Keep in contact with The Thaiger by following our
Facebook page
.
Police seeking arrest warrants for planners of August 2 Bangkok bombs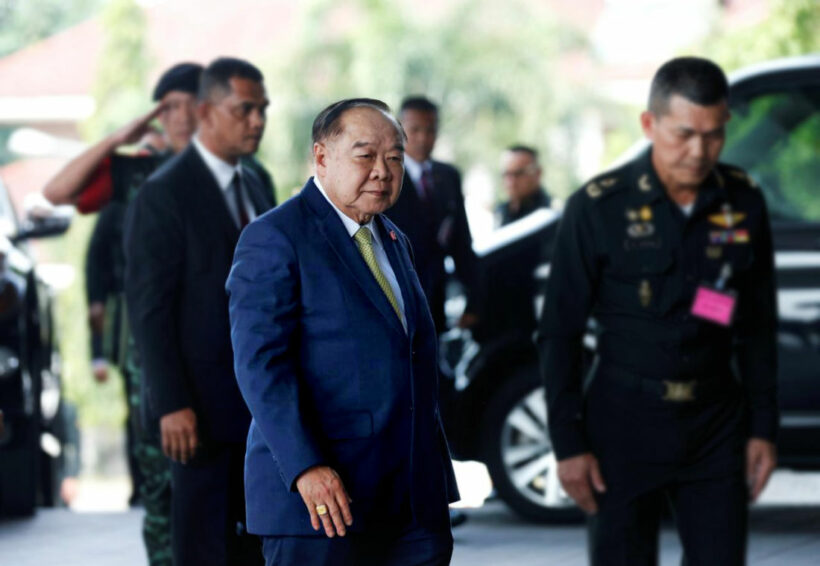 ORIGINAL PHOTO: Reuters
Police now believe that three suspects in the August 2 Bangkok bombings plotted much the attacks in a neighbouring country. Deputy PM Prawit Wongsuwon reported the latest in the investigations to the media today.
Gen Prawit reported that the three suspects were actively involved and have fled back to their country. Without mentioning the country (presumably Malaysia), Prawit said that police are seeking the assistance of their neighbouring counterparts to arrest and return the suspects to Thailand for questioning.
At this stage police have linked the attacks to insurgents in Thailand's far South where some of the Muslim-majority population remain in a long-term civil conflict with Thai buddhists and the government.
Police have also reported that the attacks were planned near the Thai-Malaysian border at a meeting of the planners, bomb-makers and attackers. A total of 15 suspects are believed to be involved in the bombings.
Meanwhile, two detained suspects in the bombings are back in Bangkok after being transported from Narathiwat. More about that story HERE. The Metropolitan Police will seek an extension to their lawful detention at the Bangkok South Criminal Court tomorrow.
Both suspects have been charged with organised crime, attempted murder, carrying explosives and illegal possession of explosives.
The two men are accused of planting two bombs on the steps of the Royal Thai Police HQ in the Thursday late afternoon. At the time authorities claimed the bombs were dummy devices. The bags contained a bomb that was set to go off at 8am on August 2 but were defused by bomb disposal officers. The other bombs went off in locations around Bangkok between 7-9am on August 2, during Bangkok's morning peak hour.
Six bombs and six incendiary devices detonated on August 2 as Bangkok hosted the ASEAN Foreign Ministers Meeting. Police believe the day was chosen to co-incide with the regional meeting to 'embarrass' the Thai government.
Keep in contact with The Thaiger by following our
Facebook page
.
Air Asia celebrates ASEAN Day with a special Airbus A320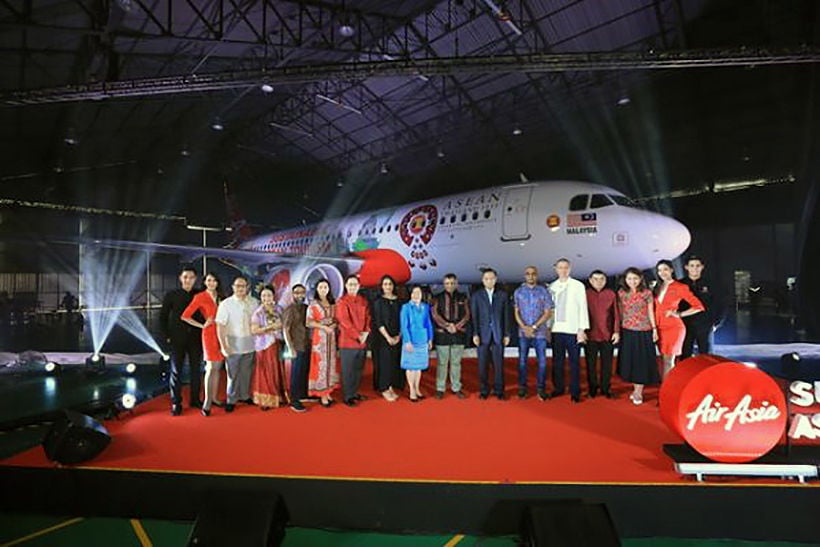 AirAsia introduced a 'Sustainable ASEAN' colour-scheme on a new Airbus A320 to mark ASEAN Day celebrations last week. Thailand is the Chair for ASEAN, the ten country south east asian trading bloc, for 2019.
Alongside the ASEAN Chairmanship logo, the livery features the best of ASEAN tourism icons, helping to advance and support AirAsia's sustainability partnership with ASEAN nations and its mission to create a globally recognised ASEAN brand.
The launch event was attended by ASEAN deputy secretary-general AKP Mochtan, Ministry of Tourism and Sports Thailand Permanent Secretary Chote Trachu and Ministry of Transport Thailand, Chaiwat Thongkamkoon, along with AirAsia Group executive chairman Datuk Kamarudin Meranun and AirAsia Group CEO Tony Fernandes.
AirAsia Group CEO Tony Fernandes said, "As a truly ASEAN airline, we're thrilled to showcase what makes our home special on one of our aircraft and to reiterate our ongoing commitment to sustainability."
AirAsia's sustainability efforts include guest education, carbon reduction and waste management through AirAsia's philanthropic arm AirAsia Foundation.
SOURCE: Air Asia
Keep in contact with The Thaiger by following our
Facebook page
.