Bounty of bras reveals a sad tale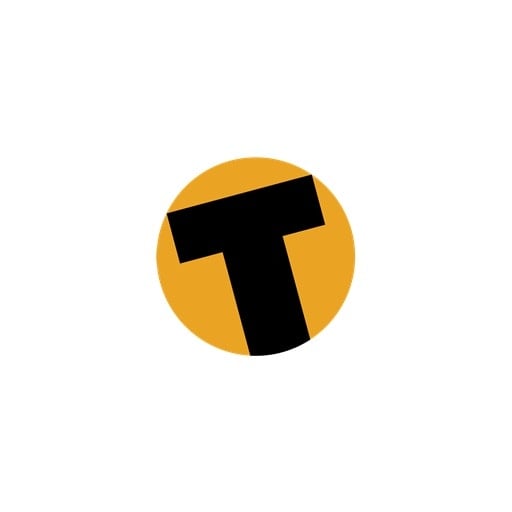 ROI-ET: Stories of men dying in strange circumstances while dressed in women's clothing are not so unusual. A few years ago the BBC reported that an up-and-coming UK Conservative Party Member of Parliament was found dead with "a black bin liner over his head and wearing stockings and suspenders".

Police in Roi-Et Town, however, were initially left a bit flummoxed by the discovery of the body of a man who had dressed himself up even more exotically than the MP. The deceased was found wearing a black miniskirt with no underwear and no fewer than 15 bras of various colors and patterns. To top it off, he had a black women's undershirt wrapped around his neck.

The find was reported to Pol Maj Sumet Laoyonkham, Investigating officer at Roi-Et Muang District Police Station. Arriving at the scene he found Jaran Khatphannoh, 43, lying face down wearing the selection of women's undergarments.

Maj Sumet reported that K. Jaran had some blood coming out of his mouth and nose, but there was nothing to indicate a struggle had taken place or that he had been assaulted. The likely cause of death was a heart attack, police concluded.

What at first appeared to be some kind of sexual misadventure was, however, revealed by K. Jaran's elder sister Sawaeng Khatphannoh, 45, to be an altogether sadder tale.

K. Jaran had once been married and worked in an optical shop in Bangkok, his sister said. After living together with his wife for a number of years, she left him for another man. K. Jaran tried to win his estranged wife back many times, but to no avail.

Eventually he decided to leave Bangkok and move back to his native Roi-Et, taking all the clothes he had bought his wife back with him as keepsakes, K. Sawaeng said.

Living with his sister, K. Jaran picked up occasional jobs laboring. Every month he returned to Bangkok to see his wife, but she never returned to Roi-Et with him, K. Sawaeng said.

To relieve the anguish this caused him, K. Jaran began drinking three or four cups a day of coffee laced with painkillers, she added.

On the day of his death, K. Jaran must have missed his wife particularly intensely and thus decided to put on all her clothes so that he could feel close to her, K. Sawaeng speculated.
JetSki crashes into shop in Kamala, Phuket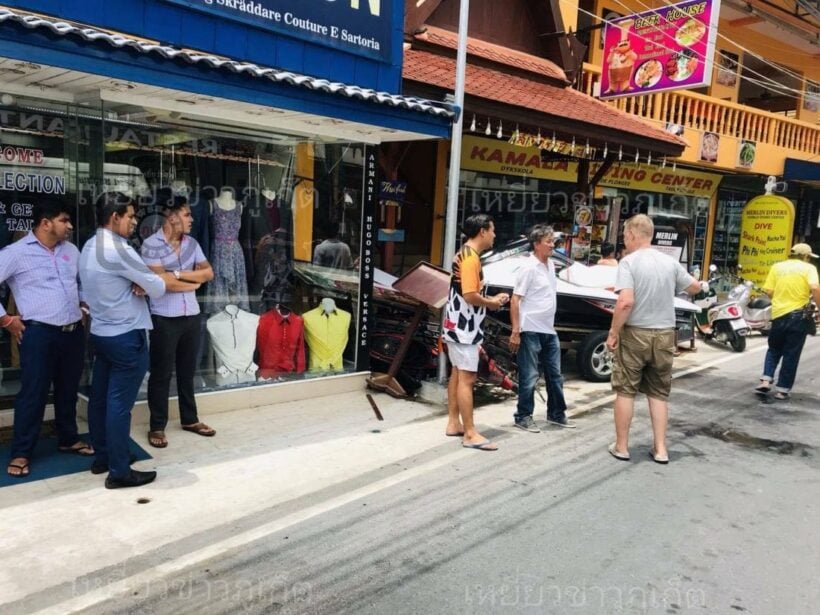 PHOTOS: Newshawk Phuket
Not often we get to write this headline… "JetSki crashes into shop in Kamala".
The jetski was being towed by a Saleng (motorcycle and side-car) through the streets of Kamala this afternoon when, for reasons we don't yet (probably brake failure), the whole shebang went AWOL and ended up running into the front window of some tourist shops.
The jetskis are a common sight going through the backroads of the various west-coast shopping areas at the start and end of each day, on their way to the beach to hire to tourists, usually in a convoy with the jetski staff riding shotgun on top.
This time it was a lone JetSki, being towed by a saleng, that somehow veered off the street and into the roadside Kamala shops.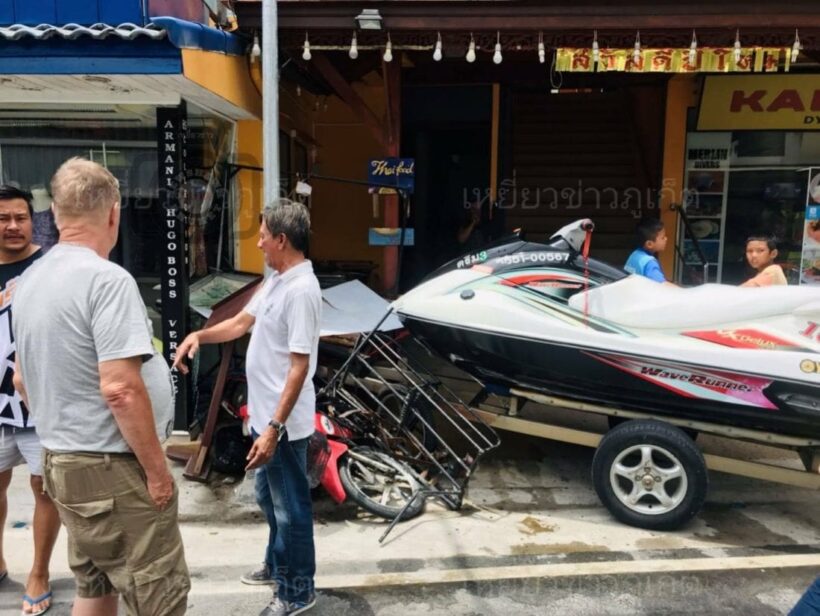 NO Plastic Bag! @ Central Phuket
China has the most atheists. Indonesia and Philippines the most believers.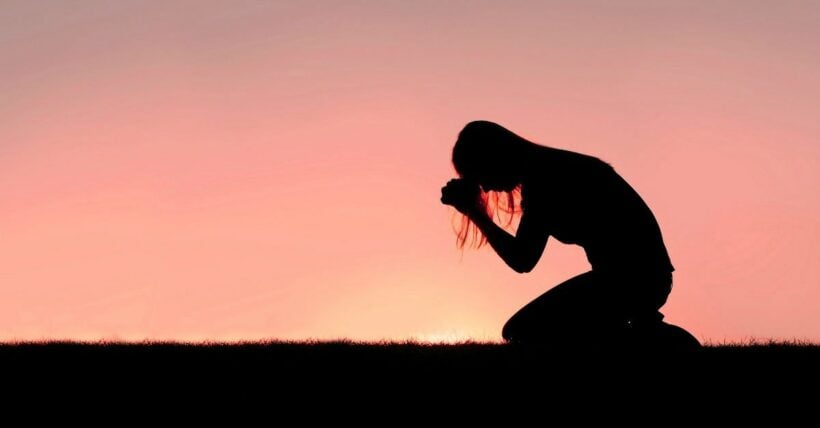 China is the least believing country in the world but belief in a God gets 100 per cent mention in countries like Indonesia, Bangladesh and Philippines, according to the survey by Gallup International.
According to the survey exploring religious tendencies of 66,000 people in 68 countries across the world, 62 per cent of people in the world define themselves as religious, 74% of people globally believe we have a 'soul' and 71% believe in a God. Another 56% believe in heaven, 54% in life after death and 49% in hell.
China has the highest percentage of atheists in the world with 67% not believing in any religion. Every seven out ten people are atheists, more than double than any other country. 23% consider themselves as non-religious. Less than 10% identify themselves as religious in China.
China's atheist percentage is followed by Japan, a long way behind in second place at 29%, Slovenia (28%) and Chech Republic (25%). Despite rapid industrialisation and urbanisation religion has stayed relevant in the South Korean region with only 23% identifying as atheist.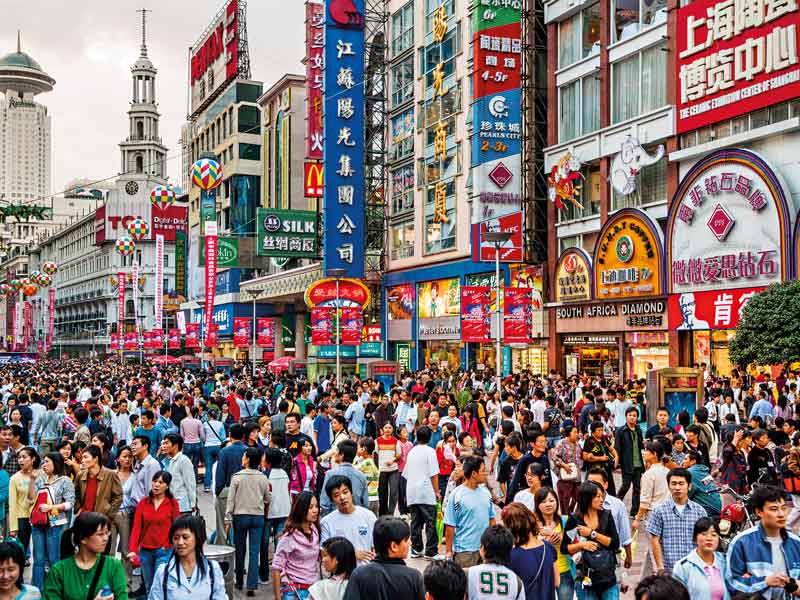 European countries like Belgium (21 %), France (21%) , Sweden (18%) and Iceland (17%) also have a large percentage of believing population.
Bangladesh, Indonesia and Philippines are the most believing countries with entire population claiming to believe in God, soul, hell and heaven. Thailand and Pakistan have 99% believing population, followed by India, Vietnam and Mongolia.
The survey shows that the levels of religiosity diminish as income and education levels increase. While 66% of people with low income affirm to be religious, this percentage drops to 50% among people with higher incomes. The same trend is verified in relation to education levels: 83% of people with lower education level are religious against 49% of higher level.
According to the survey there is a connection between religiosity, beliefs and socio-demographic characteristics like age, income and education level. As education and income levels grow higher, religiosity levels tend to go down. Also, the expression of different beliefs is higher among young people.
The level of education has a considerable influence on the perception of religion by the society. Women and young children show higher percentage for spiritual forces.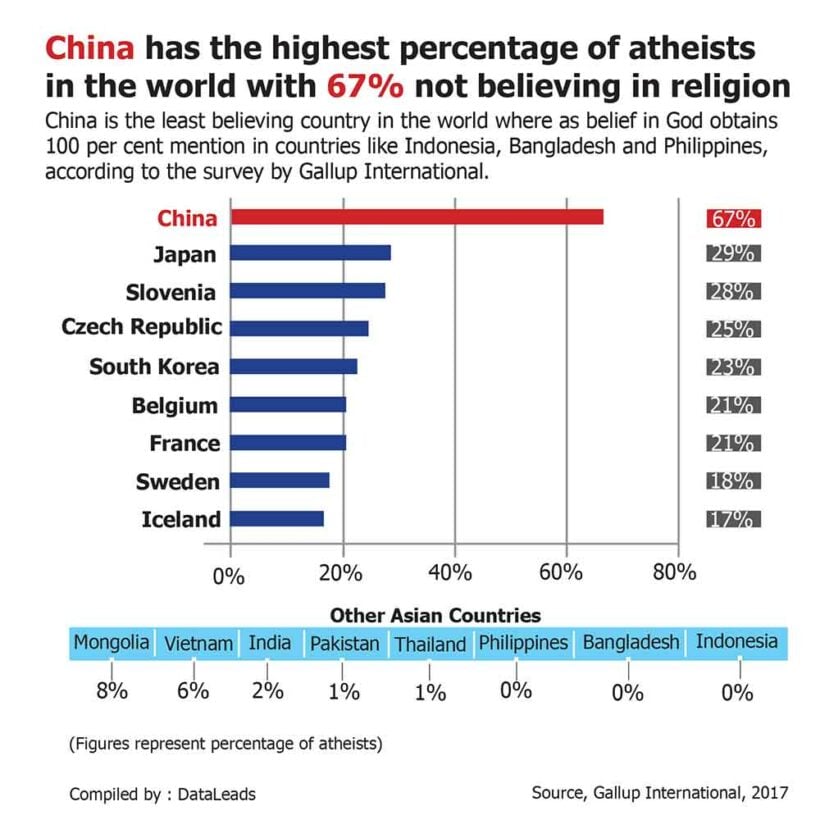 SOURCE: Data Leads