German dies after fall from condo's 27th floor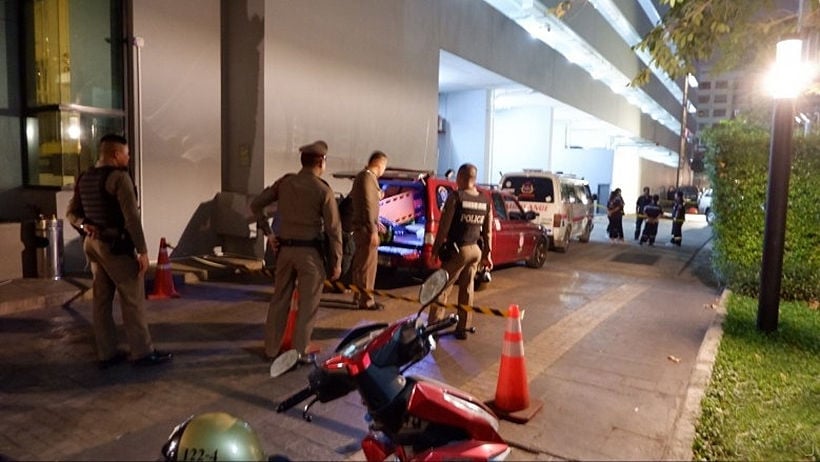 PHOTO: The Nation
Police were called to a condominium block on Sukhumvit Soi 79, Phra Khanong, following a report that man had fallen from the 27th floor last night (Friday).
They were joined at the scene by emergency responders and volunteer rescue workers and a medical examiner from Chulalongkorn Hospital. They arrived to find the body of a caucasian male, approximately 180 centimetres tall, dressed in a purple T-shirt and black shorts, laying dead on the ground.
The deceased man was 49 year old Roland Helmut Cunz from Germany. Witnesses said they saw him falling from the 27th floor of the condo. The body of the deceased man was later sent to Chulalongkorn Hospital for an autopsy.
Police have been checking CCTV footage and questioning witnesses to determine more details about the sequence of events leading to the man's fall from the condominium's balcony.
SOURCE: The Nation
Keep in contact with The Thaiger by following our
Facebook page
.
Nearly 300 bone fragments found in Bangkok pond, police searching for more bodies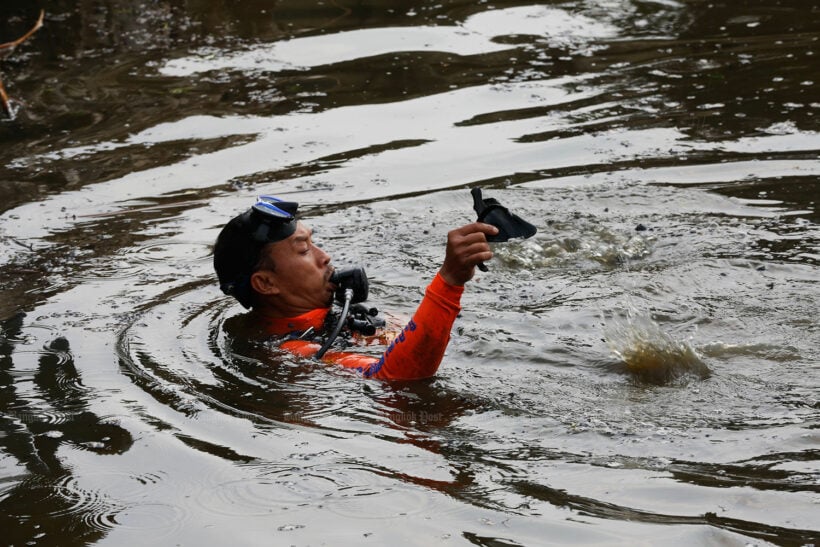 288 bone fragments have been retrieved from a pond near the home of a man who was charged last week with murdering his girlfriend and concealing the corpse. Forensic police have now identified most of the bones as 'human'. The bones are currently being examined at Siriroj Hospital. Up to 20 divers were involved in yesterday's grisly search.
Divers found the bone fragments in the pond about five metres from the location where a human skeleton was found last Thursday. The skeleton was still wrapped in clothes and a bedsheet and buried under a large metal gage weighed down with dumbbells. Police further believe that there could be more bodies, up to three, in the pond and are organising to have it drained. The home is in Bang Khae district, south west of the main city area.
Police had been speaking to a number of witnesses this week leading up to the discovery.
40 year old Apichai Ongwisit was arrested earlier this month after police found the body of his 22 year old girlfriend, 'Kik', wrapped in a plastic bag and buried on his property.
Police identified the body at the time after they recognised a tattoo of a fish on her back.
According to the Bangkok Post, the case started six months ago when Apichai and Kik filed an official complaint with the police. The complaint asked police to track down suspects who had allegedly sexually assaulted the 22 year old Kik.
Shortly after Kik's family reported the woman missing. Police were unable to make contact with Kik to take the investigation further. A 50 year old 'Chalermchai' was arrested early on who was able to provide valuable information to police over Kik's disappearance.
SOURCE: Bangkok Post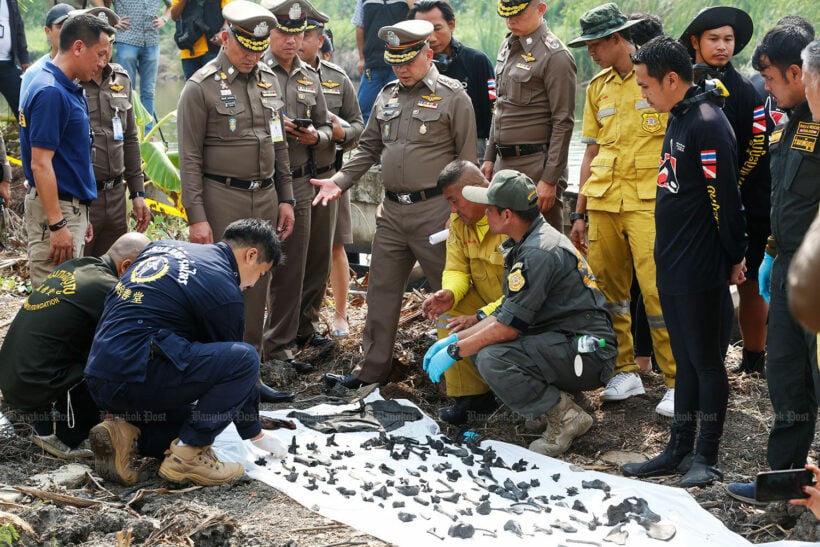 Keep in contact with The Thaiger by following our
Facebook page
.
Motorcycle 'win' drivers charge 380 baht for 4.7 kilometre trip through Bangkok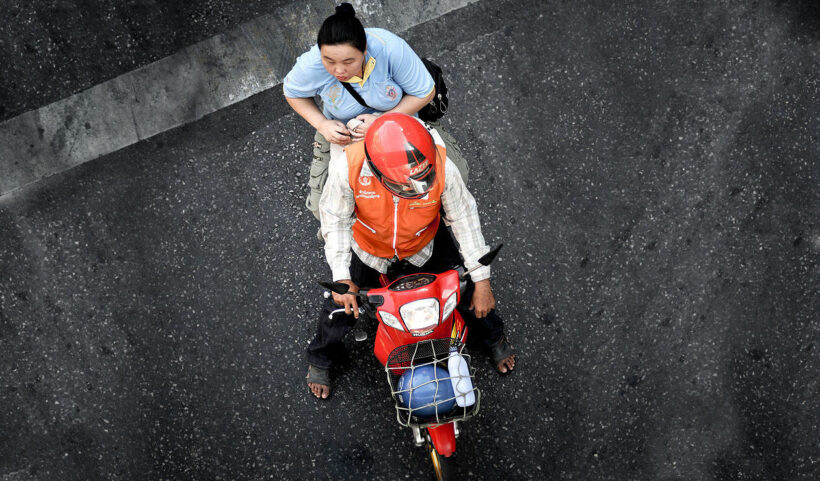 It's not just tourists that get ripped off by the notorious Win drivers in Bangkok (The Thaiger is a regular Grab Bike user but has never had any specific problems with Win drivers).
A win-motorcycle user (motorcycle taxi) has related a recent rip off on Thailand's most popular website, Pantip. The user said they were traveling with another friend from Victory Monument to the Mahanak Intersection in Bangkok on January 15. They arrived at the monument via van and decided to take a 'win' taxi or use Grab Bike as the bus service was still a long time away.
So that's 4.7 kilometres point to point. Traveling by taxi would cost them around 60 baht. The two then met up with some Win motorbike drivers as the walked along the road.
They relate that they were a bit wary of the drivers as they weren't wearing the usual regulation numbers on their jackets, designating the area they are legally allowed to operate.
But the persistent drivers kept trying to find out where the couple were going.
Win Driver: Where are you going?
Pantip User: (silence)
Win Driver: Where are you going? Where are you going?
Pantip User: Mahanak Intersection
Win Driver: Do you want to go, there's heavy traffic we can get there fast.
Pantip User: How Much?
Win Driver: I'll have to see how far it is.
Pantip User: OK (thinking it would cost a maximum of around 100 baht)
There was little traffic and they arrived at the destination in less than 10 minutes.
Pantip User: How much?
Pantip User friend's driver: 380
Pantip User: ???!!!?!?!?
Win Driver: 380!
Each.
The Pantip commenter and his friend stood on the road shocked for a moment as they felt like they had just been robbed, according to ThaiResidents.com. In total, the pair forked out 760 baht, 380 baht each, for a 4.7 kilometre ride.
The writer later revealed that he called 1584 (emergency hotline) and went to the police station for security footage from the road. The police received the driver's name from the online money transfer. Turns out both of the drivers are illegal Win Motorbikes and the police have 'invited' them in to pay a fine and 'have a chat'.
1 – Social media
0 – Win drivers
SOURCE: Thai Residents
Keep in contact with The Thaiger by following our
Facebook page
.
50% of Thai trucks checked in Don Mueang belching black smoke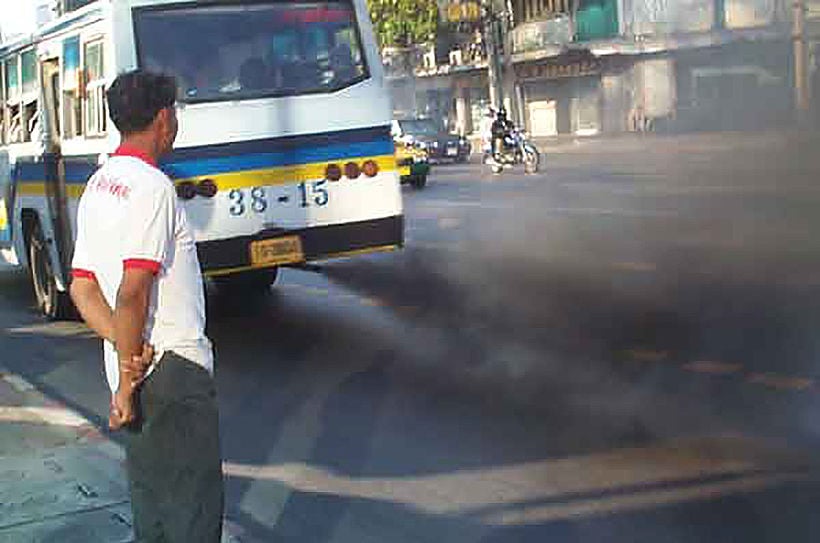 Last April Thai PM Prayut Chan-o-cha announced that those driving polluting vehicles would face arrest and fines, warning owners of transport businesses they'll be held responsible for toxic emissions. Now the Department of Land Transport announced it was stepping up measures to bring emission levels from trucks and public transport vehicles within safe limits. The measures are designed to alleviate pollution problems in Bangkok and surrounding areas. With poor air quality returning to the skies over Bangkok, residents are now demanding fewer words and more action.
Yesterday, random checks were conducted on trucks along Bangkok's Vibhavadi Rangsit Road. Inspectors included officials from the Traffic Police Division, Pollution Control Department (PCD) and the Don Mueang District Office. They spent about two hours flagging down trucks near the Don Mueang Airport. Twelve of the 25 trucks checked were belching black smoke in excess of safety standards.
A spokeman for the PCD says the department has the authority to order the drivers of the 12 trucks to keep them off the road while necessary improvements are made, which must be done within 30 days.
Operators of trucks that miss the deadline may be fined up to 5,000 baht.
SOURCE: The Nation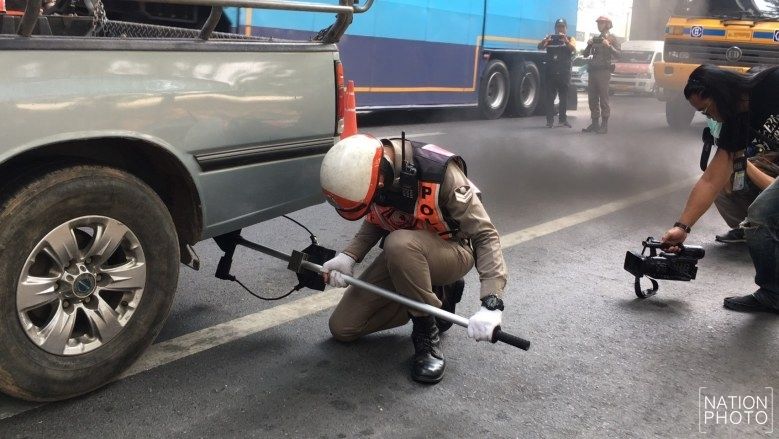 Keep in contact with The Thaiger by following our
Facebook page
.