Top Ten Phuket Bakeries and Patisseries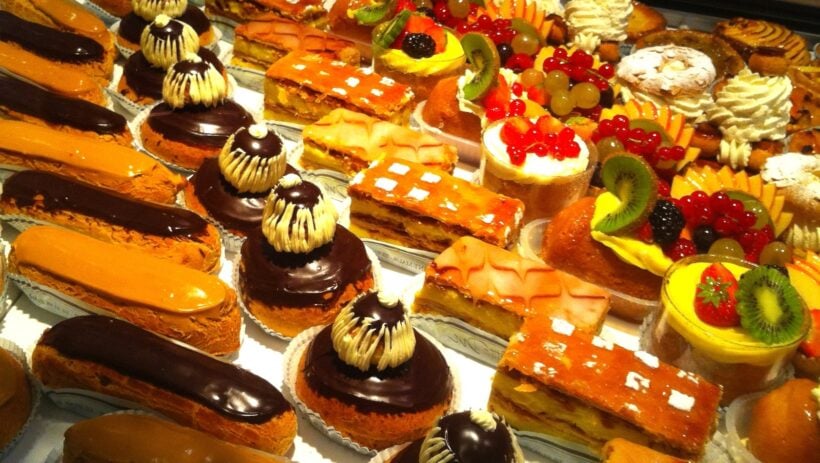 Living in Phuket we are extremely fortunate to have so much good quality fresh produce available – organic vegetables, tropical fruit and young coconuts to name just a few gems. One thing we have struggled with over the years is getting our hands (or more accurately our mouths) on fresh, quality bakery products and pastries although there have been a few long-term notables.
But now we've got you covered with a plethora of new bakeries opening on the island. In no particular order…
With 8 locations around the island of Phuket, Lucky 13 Sandwich has firmly stamped their mark on the cafe bakery market. With fresh bread baked twice daily in their production bakery in Kamala and distriubuted to all their stores, freshness is guaranteed. Flavour is also important, using recipes that have been handed down through generations. They do not use any preservatives in their bread and only use the best of ingredients including butter from New Zealand. Why not get lucky and try and Lucky 13 Sandwich today.

Located perfectly on a corner in Ban Manik, the newly opened Napoleon Bakery is making waves on the island with it's beautifully crafted artisan breads and bakery items. All items are baked on site daily by Head Chef Rolf Kurt who has 40 years experience, traditional in it's style, using only the best of produce, Napoleon Bakery is an absolute must.

3. Zurich Bread Factory and Café, Kathu
Locals drive from all over the island to buy takeaway bread and pastries from Zurich Bread Factory. Open for breakfast, lunch and dinner, the menu features its house-made traditionally European style breads and pastries. You need to try the cranberry hot cross buns, almond croissants and fruit tart (there's definitely fruit in there, along with creamy custard and chocolate 🙂 Located on the very busy Phrabaramee Road in Kathu, opposite the go-karting track. Parking is available behind the bakery.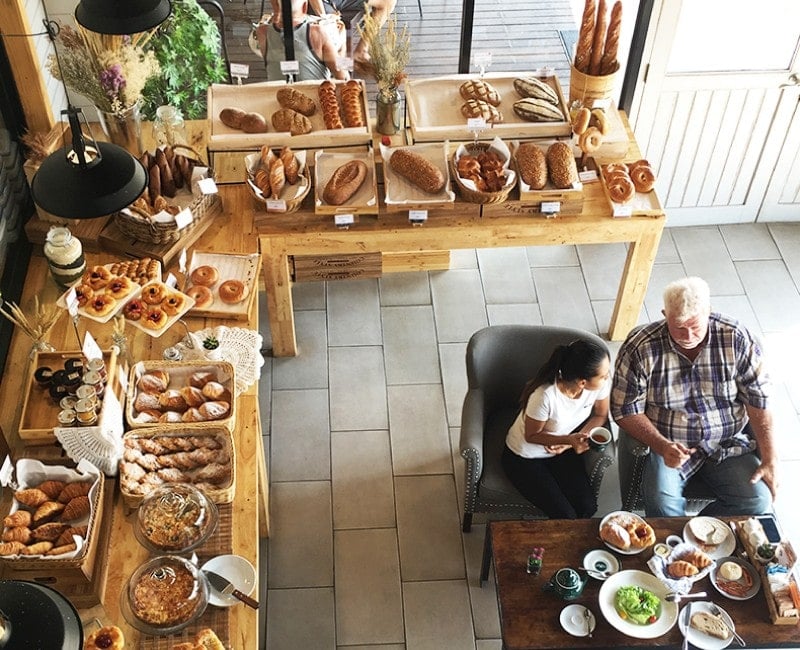 With multiple outlets on the island, Bake Cherngtalay is the home of its production kitchen which supplies bakery products throughout Phuket.  With dine in and takeaway options, their fresh pastries (apple turnover a must try) and daily baked fresh breads, their extensive list means there is something for everyone's palate. Once the kingpin on the island, but now finds itself in a more competitive market, Bake Cherngtalay continues to provide excellent quality bakery items and is very deserving of a place in our top ten list.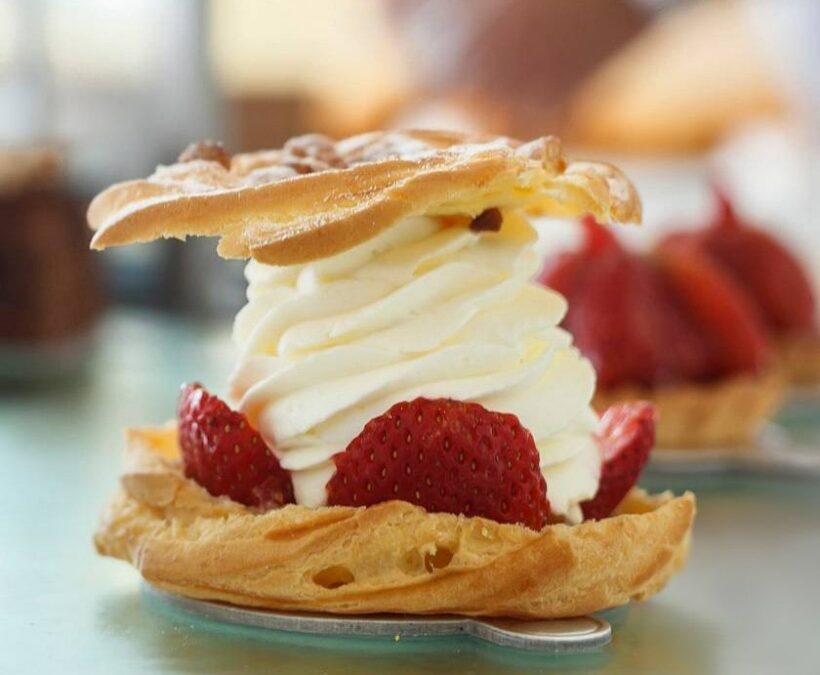 Located five minutes inland from Layan Beach, nestled amongst lush grass and native foliage, Project Artisan is the perfect escape for the entire family. A newcomer in location and style, Project Artisan is establishing itself as the place to be on the island for the hip crowd, providing excellent service, artisan food and beverages and regular workshops to educate the young and the young at heart. Project Artisan's locally sourced, and organic-where-possible breads and pastries are available in their aptly named "Grab & Go" and also feature on their evolving menu.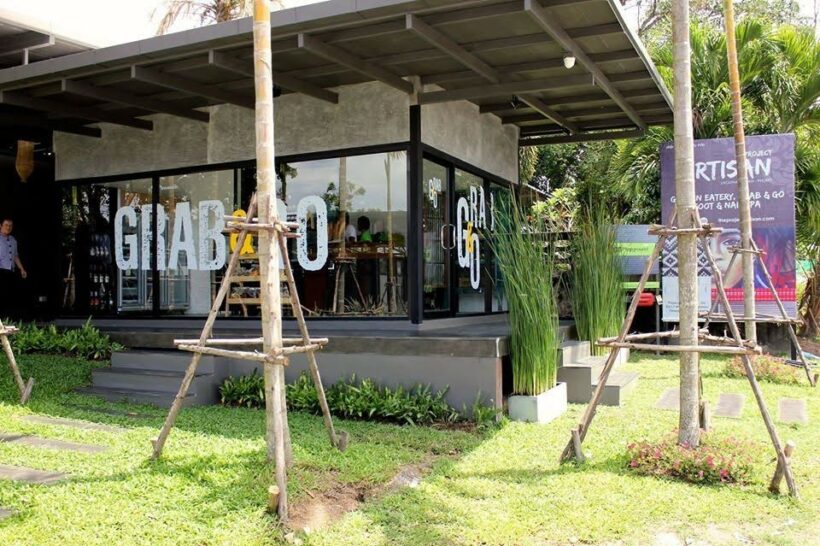 6. La Fayette French Bakery, Kamala 
With two locations in Kamala, one a cute little café and the other featuring a café but also the bakery production kitchen, La Fayette French Bakery is a wonderful addition to the formerly-sleepy Kamala village. The dine in and takeaway bakery items and rustic, traditionally crafted bread as well as their buttery and fluffy croissants are a naughty pleasure.

High Tea at Les Diables is an institution on the island just like the café's owner Peter Webber. With a larger than life personality, Peter is a master craftsman in patisserie, growing up in Devon UK, it is no wonder his scones and house made jams are divine. For ten years he held the position of Executive Pastry Chef at the famed Mandarin Oriental Bangkok. Now he's brought all that skill and precision to Les Diables in Phuket. Delicate pastries, bite size sandwiches, scones and savory pastries all feature in the afternoon tea available daily. And for special occasions Peter's bespoke cakes deserve a Top Ten category all on their own.

Off the beaten track down in Rawai (used to be in Chalong on Viset Road), Delish Café is primarily frequented by locals, our suggestion to you is to break out of the tourist trap and head south. The café is owned and operated by an Australian couple who are long term residents on the island. Already listed on The Thaiger's Top Ten Coffees, it also makes our best bakery list too, because their freshly baked products are simply the best. The cake cabinet is something you would expect in a trendy suburban café in Sydney, their latest addition is walnut, coffee flavored cake, cinnamon meringue, toasted walnuts, and maple vanilla whipped cream. Oh my goodness take my money now!!!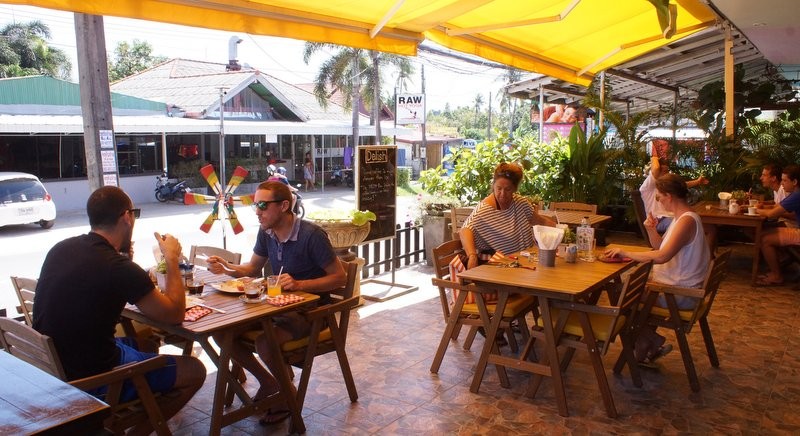 9. Anantara Layan Breakfast Buffet, Layan
Yes, I am fully aware this is not a bakery, however… Anantara Layan has the most scrumptious breakfast buffet on the island and this is largely due to the extensive and delicate bakery items on it. Executive Chef Silvano, a long time resident on the island, and his pastry team produce all items on site daily. The banana bread is especially delicious as is the light and fluffy croissants, paired with house made spreads and jams.

This cute little café in Phuket Town has very quickly established itself as a place to have good quality vegetarian/vegan bakery items. Their banana bread with a hot latte is very popular with locals! Changing menus depending on availability of healthy products keeping the café fresh, current and keeps you coming back for more.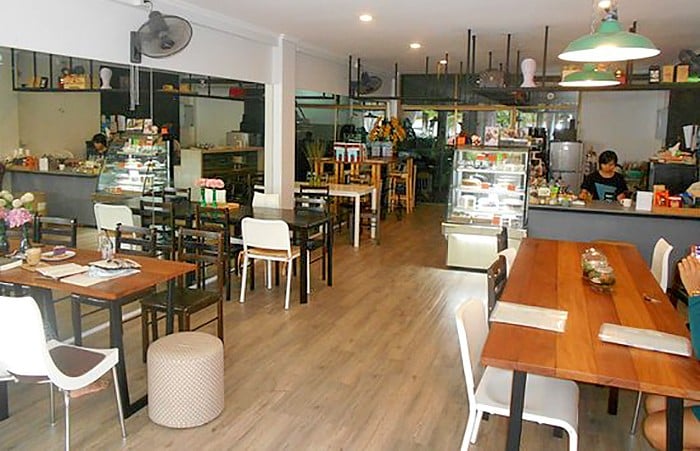 - Donna Toon
Singapore Airlines back on top. Thai Airways in 10th place.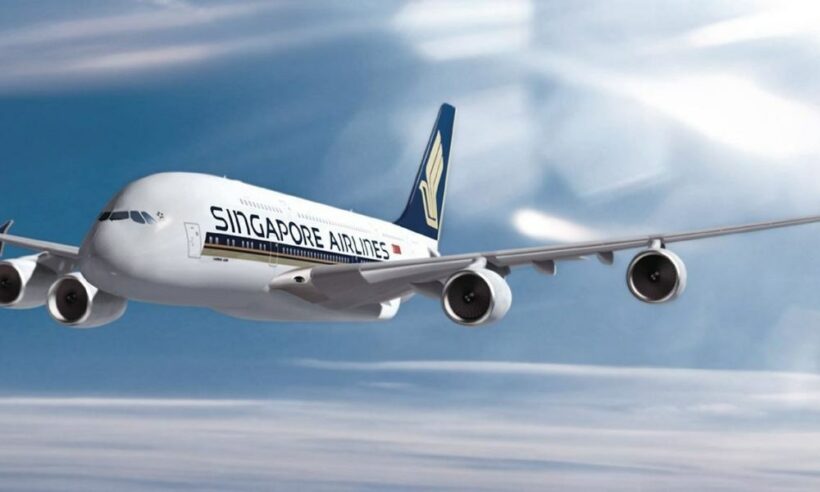 PHOTO: Flyer Talk
Singapore Airlines is back on top after a decade held out of the top airline position by middle-eastern competition. It's their fourth win since the Skytrax World Airline awards started back in 2001.
The island nation's national carrier was named Airline of the Year at the 2018 Skytrax World Airline awards. Singapore Airlines was last top of the list in 2008. This year it forced out last year's top honours winner, Qatar Airways, into second place.
Yeoh Phee Teik, Singapore Airlines's senior vice president of customer experience, said "We're very ecstatic."
The airline  also claimed best airline in Asia, best first class and best first class seat.
Asian airlines made a return to the winner's list this year with ANA All Nippon Airways receiving third place, Taiwan's EVA Air in 5th position, Cathay Pacific in 6th, Hainan Airlines in 7th, Garuda Airlines in 9th (an extraordinary achievement considering their reputation only a decade ago) and Thai Airways in 10th place.
Singapore's victory marked a resurgence in Asian carriers in the annual UK-based aviation industry review. Skytrax began its awards in 2001 and is recognised for its fairness due to passengers voting in all categories. Aside from a win by Hong Kong's Cathay Pacific back in 2014, all past seven years have all gone to middle east based airlines.
"We're glad that our work has been recognised and our customers have voted for us to be the world's best," said Yeoh.
Garuda Airlines, which has turned its service around since the early days of Skytrax, when it was banned from flying into European airspace, was presented with the prize for best cabin staff along with its 9th place overall.
Not one US airline picked up a single award.
Locally Air Asia picked up an award for Best low coast airline – Asia, Thai Airways won the award for best airline catering in Economy Class (The Thaiger thinks the voters weren't flying on the same flight when Thaiger experienced the economy class 'food') and Bangkok Ailines won Best Regional Airline – Asia.
The top 10 world's best airlines for 2018
1. Singapore Airlines
2. Qatar Airways
3. ANA All Nippon Airways
4. Emirates
5. EVA Air
6. Cathay Pacific
7. Lufthansa
8. Hainan Airlines
9. Garuda Indonesia
10. Thai Airways
Best airlines by global region
Northern Europe – Finnair
Western Europe – Lufthansa
Eastern Europe – Aeroflot Russian Airlines
Africa – Ethiopian Airlines
Australia / Pacific – Qantas Airlines
Central Asia / India – Air Astana
China – Hainan Airlines
Central America / Caribbean – Copa Airlines
South America – Avianca
North America– Air Canada
Asia – Singapore Airlines
Middle East – Qatar Airways
Europe – Lufthansa
Best low-cost airlines
Africa – Mango
Australia & Pacific – Jetstar Airways
Asia – AirAsia
Central Asia / India – Indigo
China – West Air
South America – Sky Airline
North America – WestJet
Middle East – Flynas
Europe – Norwegian
Best airline catering
Economy – Thai Airways
Premium economy – Aeroflot Russian Airlines
Business – Austrian Airlines
First class – Air France
Best airline seats
Economy – Japan Airlines
Premium economy – Air New Zealand
Business – Qatar Airways
First class – Singapore Airlines
Best regional airlines
Africa – Royal Air Maroc
Asia – Bangkok Airways
South America – Azul Brazilian Airlines
Central Asia / India – Azerbaijan Airlines
Europe – Aegean Airlines
Best airline lounges
First class – Qatar Airways
Airline alliance lounge – Star Alliance Los Angeles
Independent airport lounge – Plaza Premium Heathrow Terminal Two
First class lounge dining – Air France
Airline lounge spa facility – Thai Awards
Best airlines staff service by global region
Africa – South African Airways
Australia / Pacific – Qantas Airways
Central Asia / India – Vistara
China – Hainan Airlines
Central America / Caribbean – Copa Airlines
South America – Azul Brazilian Airlines
Asia – ANA All Nippon Airways
Middle East – Emirates
Europe – Austrian Airlines

World's Top Ten off-grid hotel stays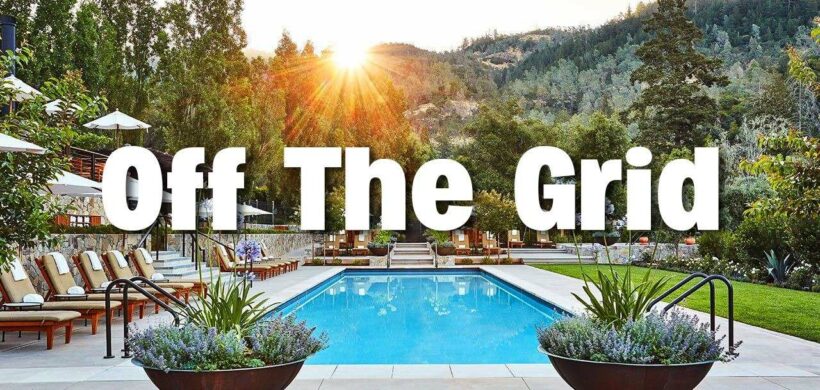 …according to booking website Hotels.com
Want to go 'off the grid'? Escape from the bustling markets, show-pieces and tourist traps around the world? Some of these places don't even have wi-fi.
Hotels.com has launched a new Hideaway Hotels category to help you escape 21st century life for a break The booking website has seen a 60% spike in guests leaving reviews of places they've raved about, specialising in off-grid getaways.
Private islands, hidden spots deep in the woods, places you didn't even know existed. From the arid deserts of the Middle East and tropical mountains of Thailand, the beaches of St Lucia and the icy tundras of Sweden, travellers are looking for new hideaways on their next vacation. There's even luxury tree-house style accommodations in the heart of Phuket.
"Thanks to our 25 million guest reviews, we've seen a huge uplift in desire to escape the city and head for the hills – in some cases, quite literally! Going 'off-grid' seems to be a trend many guests are positively highlighting more and more in their reviews," said Johan Svanstrom, president for the Hotels.com.
Desert Nights
UAE – Anantara Qasr al Sarab Desert – Hotels.com review rating: 9.6 out of 10
Sit back, relax and enjoy peace and quiet in the desert. A hotel nestled among spectacular sand dunes, Anantara Qasr al Sarab Desert is the quintessential "middle of nowhere" hotel. Shoes off, toes in the sand, this breathtaking luxury hotel with spa and safari offers plenty of space to unwind.

Icey Tundra
Sweden – Icehotel – Hotels.com review rating: 8.6 out of 10
This epic location is just the spot to rug up and take a moment frozen in time. There are endless opportunities to chill and hopefully enjoy the stunning Northern Lights. There is a selection of warm and cold room types available, including the Art Suites, each individually hand carved and kept between 5 and 8 degrees Celsius. Take something warm to wear.

Jungle Life
Bali – Four Seasons Resort Sayan – Hotels.com review ratings: 9.4 out of 10
For those seeking a romantic off-the-beaten-track getaway, this resort is a well-hidden gem, rising out of the rice fields above the Ayung River. The 60 guestroom retreat is surrounded by the lush hillside and fragrant gardens of Sayan, offering guests a spiritual epicentre. Feet up – it's time to enjoy the exquisite views and pure luxury.

Cave Dwelling
Turkey – Gamirasu Cave  – Hotels.com review rating: 9.8 out of 10
This hotel is hidden among the beautiful and rugged Cappadocia region in Turkey. The cave rooms are guaranteed to ensure guests avoid a rocky holiday. This quirky hotel offers the ultimate luxury, both underground and off the beaten path.

Treehouse
Thailand – Keemala – Hotels.com review ratings: 9.2 out of 10
This truly remarkable property is a tranquil wonderland set spectacularly above the island rainforest canopy but just minutes from Kamala, a small town north of Patong along Phuket's sandy west coast. The 38 guestroom resort offers free-standing baths, yoga classes and a poolside bar. The stunning Birds Nest villas even offer private infinity pools in the sky! This is remote luxury at its finest (but not TOO remote).

Private Island
Florida, USA – Little Palm Island resort and spa – Hotels.com review rating: 9.8 out of 10
The Little Palm Island Resort and Spa proves the adage that good things come in small packages. An exclusive resort with only 30 guest rooms, it offers spectacular water front views with a private beach, luxurious spa and 5-star restaurant. No holiday will be the same, so guests can enjoy the secluded island and be sure to brag to friends about a truly offgrid vacation in Florida sun.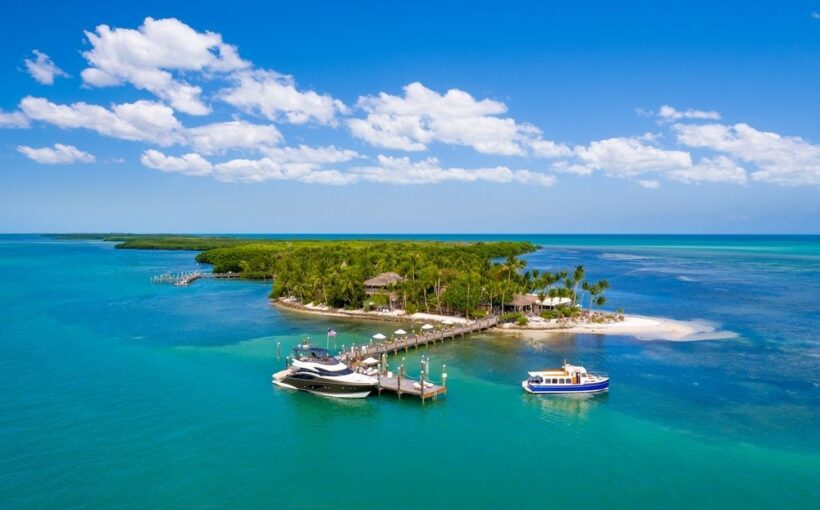 Mountain to Sea Resort
St Lucia – Jade Mountain Resort – Hotels.com review rating: 10.0 out of 10
Overlooking 600 acres of beach, this Caribbean resort is one of the most mesmerising hotels in the world. The resort features a full-service spa, fitness facilities, tennis courts and an infinity pool. Some suites even come with their own pool overlooking the mountains. Its iconic location provides guests with an exclusive sanctuary.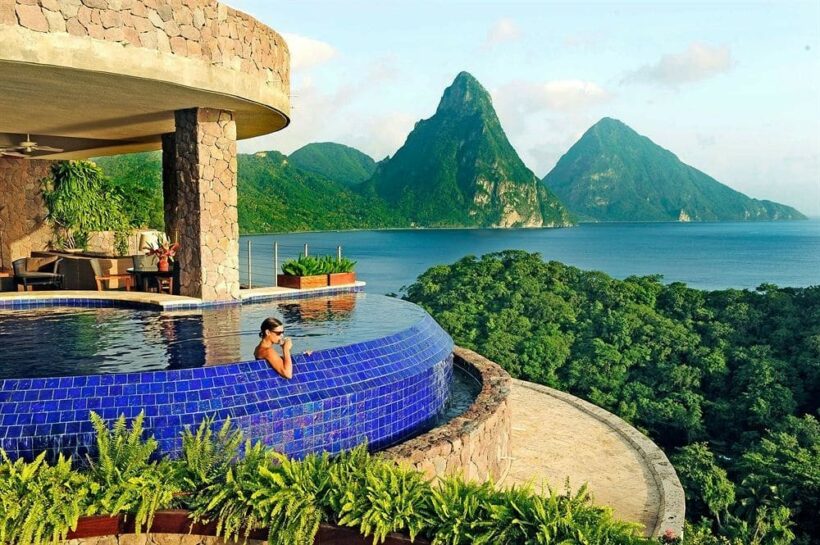 Ranch Life
California – Calistoga Ranch – Hotels.com review rating: 9.6 out of 10
Fantasise about taking a dip in a private canyon in the Napa Valley? Dreams do come true at Calistoga Ranch. The resort offers a true taste of secluded luxury, with private lakes, rolling hills and lush forests. Pull up a sun lounger and sip on some wine to celebrate a supreme holiday.

Rural Retreat
Chile – Remota Hotel – Hotels.com review rating: 9.0 out of 10
Hidden in Chilean Patagonia, the world epicentre of natural beauty, guests can enjoy breathtaking views of this remote paradise. The hotel offers a marina, spa, pool, garden and library. Guests can use this stunning hotel as a base to explore the nearby native forests, islets, ice fields and glaciers.

Silo Stay
New Zealand – Silostay Little River – Hotels.com review ratings: 9.6 out of 10
Go against the grain by holidaying in the quaint town of Little River, New Zealand. Located in the land known as the long white cloud, the refurbished grain silos bring a unique, extraordinary and peaceful experience. This innovative, ecofriendly accommodation is the only one of its kind in the world.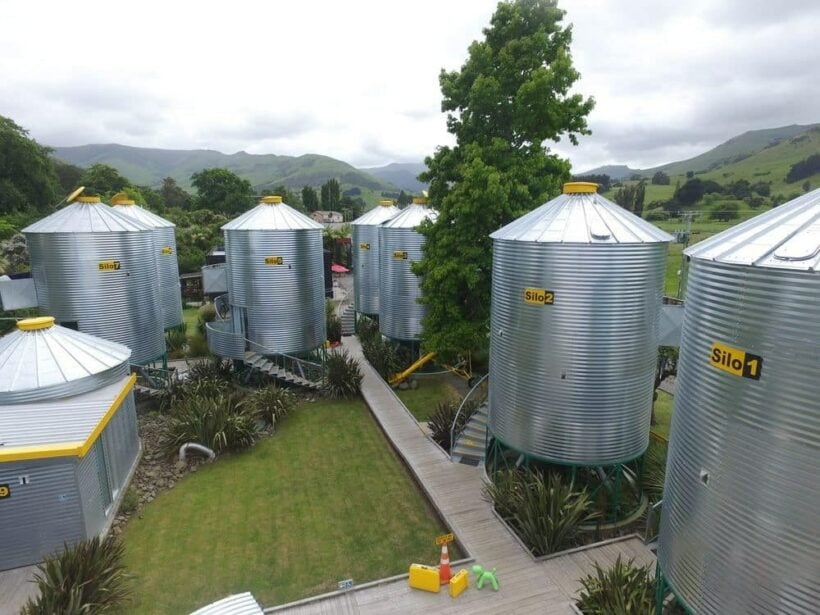 Water Park Wars – Phuket wettest battlefield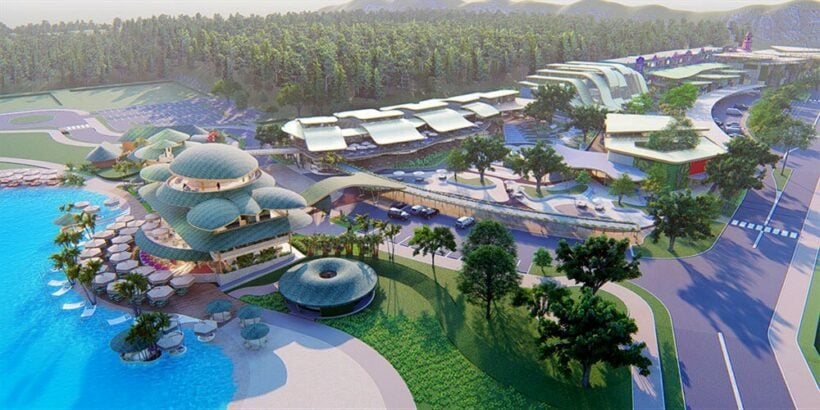 by Xinyi Liang-Pholsena of ttgasia.com
ttgasia.com is reporting that the water park battle in Phuket is getting very intense as new players enter the marketplace. Among them Blue Tree Phuket, poised to open its doors early 2019 as an upscale family entertainment and lifestyle complex.
The sprawling 22.5ha development, located around Cherngtalay, is the result of a joint venture comprising unnamed Thai and international partners, who see opportunity in the family-oriented attractions sector by pumping investment upwards of US$40 million into the project.
"Pattaya has two water parks, Hua Hin has three water parks, but Phuket has just small water parks. There's been a clear demand for inland entertainment alternatives for some time now," said Michael Ayling, general manager of Blue Tree Phuket. He was speaking to TTG Asia about the upcoming project in an exclusive interview ahead of its pre-launch in August.
"Blue Tree will offer an immersive lifestyle experience that combines the fun of water sports, family activities, retail and relaxation in one strategically located destination that will cater precisely to this demand," he added.
Facilities within the 11ha first phase, which opens to the public at the start of 2019, includes a water and entertainment park, a four-storey vertical Beach Club, Fitness Zone, Kid's Club, restaurants and food outlets, and multiple retail spaces.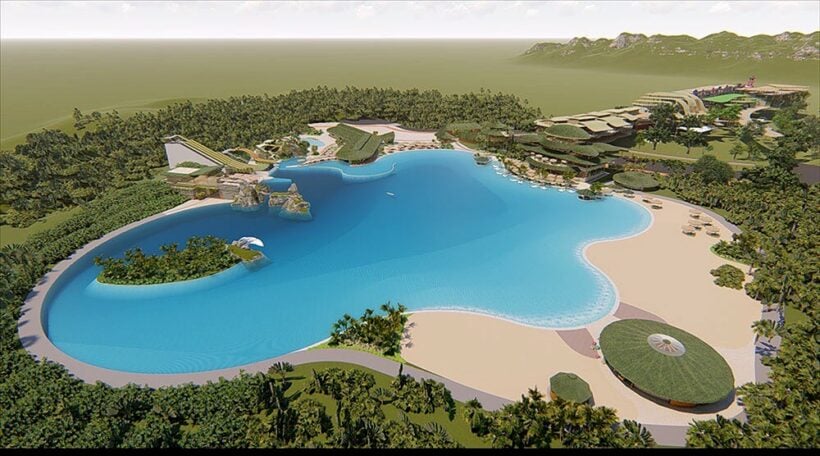 The complex's centrepiece – the 17,000 square metre man-made Blue Tree Lagoon – is flanked by artificial beaches and offers an experiential aquatic playground for families, with spaces ranging from a splash zone for young kids to adrenaline-driven activities such as Slip N Fly water slides and cliff jumping.
Ayling envisions Blue Tree to be an "accessible destination" that will appeal to "middle class Thai families and Amanpuri guests" alike. Admission fees will be kept "affordable" with a pay-and-use concept, while full access to all activities will be priced at around 1,000 baht.
Acknowledging the competition upcoming water parks like Vana Nava Phuket and Kata Water Park will bring – both of which are currently in development – Ayling thinks there is still "a lot of space for competition" in Phuket. "We will likely have the (water park) market to ourselves for a few years," he commented.
"Blue Tree Phuket will also suit the seasonality of the destination and make a great low-season product," he added, referring to the island's monsoon months from May to October when the seas experience rougher surf and strong currents.
When asked about the absence of accommodation at Blue Tree Phuket, Ayling stated: "Do we need a 120-room hotel when we have 12,000 rooms in the (Cherngtalay) vicinity already? Phuket's hotel scene is very competitive, but what isn't competitive is entertainment."
STORY: ttgasia.com