Savoury staples with a touch of the finest Swiss chocolate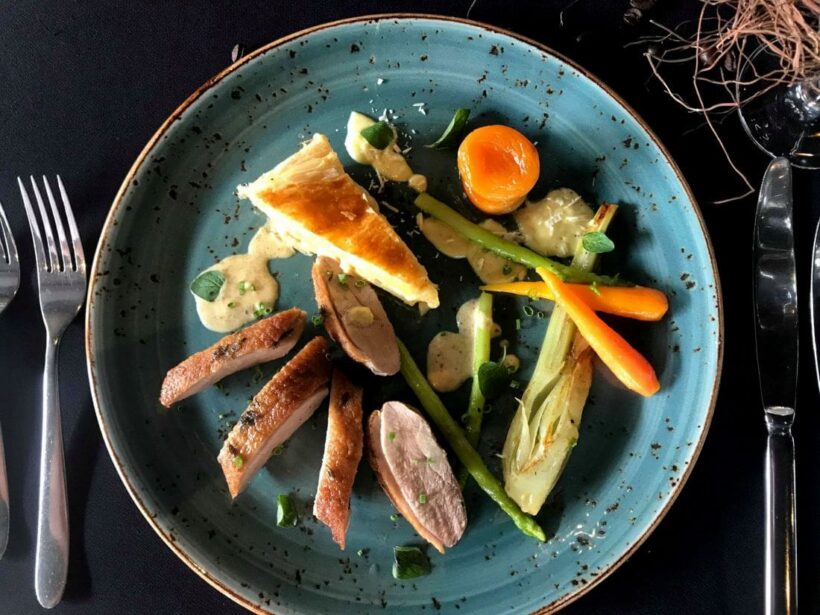 Chocolate… mmmmm. But did you consider it as part of a broader savory menu? I enjoyed an evening of chocolate-infused cuisine and, well, it really works!
Mövenpick Resort & Spa Karon Beach Phuket is treating guests to a new menu of savoury dishes with a sweet twist as Mövenpick Hotels & Resorts launches its 'Chocolate on the Salty Side' promotion.
In celebration of Swiss cuisine and the wonderful versatility of chocolate, the brand's talented 'food artisans' have made Mövenpick chocolate the hero of seven dishes in its latest global campaign, which runs to 20 November, 2018.
From salmon fillets enlivened with dark chocolate to a savoury tarte tartin with a white chocolate flourish, each new creation offers up something distinctively flavourful and showcases chocolate in new exciting ways to guests dining at Movenpick Karon Beach El Gaucho Restaurant.



The seven chocolate-inspired creations include: marinated 'beetroot salmon' with root vegetables and 72% dark chocolate to enhance the meal's rich earthiness; 'tomato tarte tartin' where 'white lemon' chocolate complements the goat's cheese, pine nuts and coffee beans; 'sea bass and green tea' – a light foam of green tea, almonds, nuts and Mövenpick 'Maple Walnut' is the star; 'minute beef goulash', with a traditionally-made Hungarian goulash sauce, enriched with dark chocolate; 'lamb shank and pesto', slow-roasted and then refined with pistachio and hazelnut chocolate pesto; and 'duck breast and potato pie', with white chocolate, lime and pepper giving the pink-roasted meat a delicate yet spicy freshness.
Whilst the dishes have been infused with chocolate, it's barely noticeable in most cases but makes for some subtle new tastes on European classics.
Less subtle are the exquisite desserts which are a blatant celebration of all things chocolate. Guests can finish their meal with a tempting 'chocolate pavés au chocolat', combining milk chocolate, crispy cocoa bean fragments, sizzling pecan nuts and slightly bitter matcha powder, all with a hint of green tea and paired with an espresso.
The quality of Swiss craftsmanship is world-famous and even the country's chocolate is produced with legendary precision. Mövenpick chocolate is made in keeping with the tradition, as well as its own culinary values that date back 70 years, and is produced in Switzerland using 100% cocoa butter.
Make a booking HERE or find out more about the El Gaucho Restaurant HERE.



Tim Newton was a guest of the management of Mövenpick Resort & Spa Karon Beach Phuket


Find restaurant and food listings around Phuket at Thaiger Bites.

Read more headlines, reports & breaking news in Phuket. Or catch up on your Thailand news.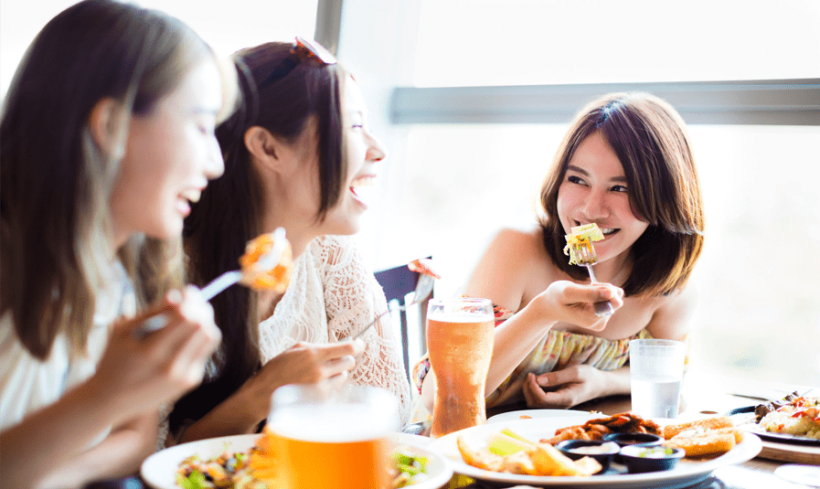 Brunch has become a weekend staple on the island and its seems everyone has their own take on this beloved mix of two meals… a chance to slow down, enjoy some amazing food and try a little bit of everything.
Whether you want something casual or prefer taking a boat to a private island, Phuket gives you the options to do it your way. 
Here are Phuket's Top 10 Brunches on the island, with options for everyone. You don't have to max out your card to indulge in a good brunch, just bring an empty stomach.
TWINPALMS SUNDAY BRUNCH
Offering a fabulous array of cuisine in a stylish setting and one of the first brunches to launch on Phuket and has a steadfast reputation of being the place to be seen.
Begin with a Bloody Mary and enjoy the freshest lobster, king crab, prawns, oysters, mussels and sushi and sashimi, all offered in abundance.
Light salads are dotted around to complement the food and for those who crave something a little heavier the roasted meats and hot dishes will not disappoint. Cheese lovers will be delighted to find that the selection is varied and suitably stinky and may be all washed down with a rich glass of port.
Of course, desserts are truly scrumptious, and the signature chocolate fountain is a devilishly delicious pot of sweetness for fresh berries to be dunked into.
Guests may choose whether to enjoy half a bottle of wine or to opt for a free flow of champagne, prices vary according to taste.
Every Sunday 12pm until 3pm.
THB 1,690++ including 1/2 bottle of wine (red/white/sparkling) per person
THB 7,380++ per couple, including a bottle of Champagne


The Naka Island : Sunday brunch on the island
Every first Sunday of the month, escape from the busy city life and enjoy the beauty of nature with the "Sunday Brunch on the Island" at Naka Yai, which is only a 10-minute boat ride from Ao Por Grand Marina. Enjoy the most exquisite culinary pleasures with fresh seafood, authentic Thai food, pastas, Live BBQ stations, variety of desserts, and much more. After the brunch, enrich your mind by lounging on the tropical beaches, splashing in the pool or exploring our Naka Yai Island by joining the destination discovery program.
Situated within lush coconut groves and stunning beaches with unobstructed views of the emerald green Andaman Sea and Phang Nga Bay, The Naka Island, a Luxury Collection Resort & Spa, Phuket invites discerning travelers to stay in elegant villas, savor gourmet dining experience at the restaurants, and enrich their life with memorable experiences and spa retreats, all enhanced by personalized service.  
THB 2,600++ Water and soft drink included 
THB 3,200++ Half bottle per person from selected wines 
THB 3,900++ Half bottle per person of Nicolas Feuillatte Champagne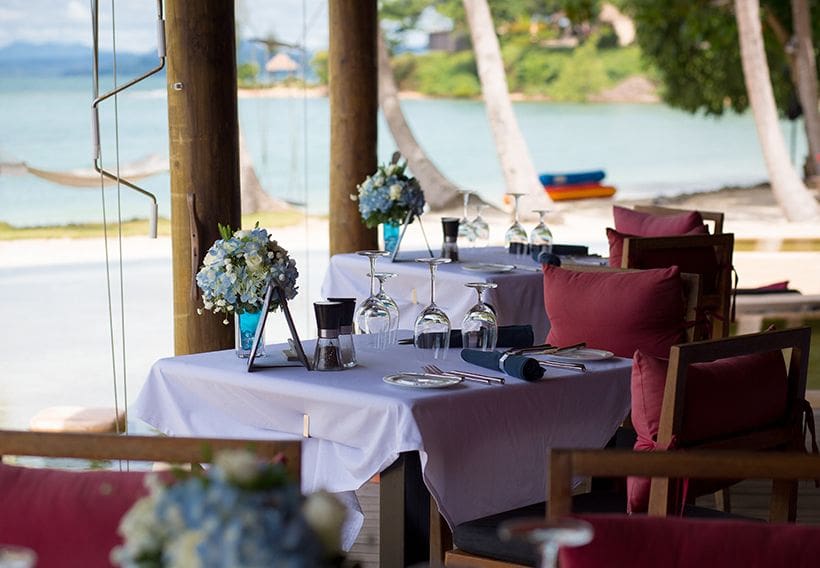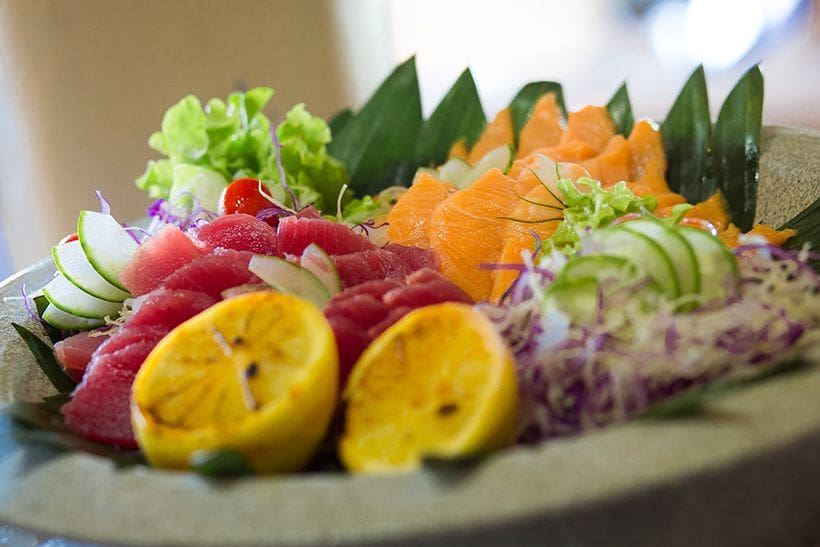 Banyan Tree
The Banyan Tree Brunch experience returns with a generous selection of live fresh, local and imported seafood with exceptional Lobster dishes, Japanese starters, mouth-watering meats, Asian wok and Western grill treats. Gourmet cuisine, exceptional service, Live Jazz and tranquil surroundings, Our brunch has something for everyone!
THB 2,800 Net – Food buffet
THB 3,400 Net – Includes free flow beer, select cocktails and soft drinks
THB 4,000 Net –  Includes free slow select wines and bubbly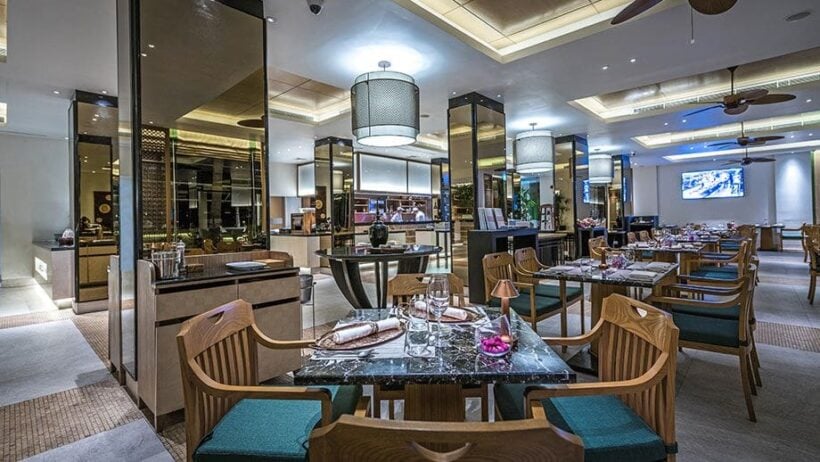 Xana Beach Club Sunday Fun Brunch
XANA's Sunday Fun Brunch is an ideal weekend escape for the whole family, with a special discount for children aged 6-12, and complimentary dining for all kids under 6 years old. What's more, a 'Kids Corner' will be set up for children to help make this dining experience a fun family activity for all. 
THB 1,450++ Sunday Fun Buffet Brunch
THB 2,250++ with free flow of house wine, sparkling wine, beer and signature cocktails
PHOTO: Hotels.com

The Nai Harn Phuket 
Guest can savor delectable creations prepared by culinary maestro, Executive Chef Mark Jones, while enjoying spectacular views over Naiharn Bay and listening to the sounds of Resident DJ Sun. For the first three Sundays in January Savoy London American Bar Legend Salim Khoury will stir and shake your martinis.
THB 2,200 NET – per child aged from 6 to 18 (with free flow juices and soft drinks)
THB 5,500 NET – per adult (with free flow Metodo Classico and Martini Bar)

Trisara 
A mid-morning repast on our sunwashed decks with live jazz and the melody of waves tumbling onto shore. A curated menu of exotic and familiar fare, delivered in small plates, the very best seafood and open Barbeque leaves plenty of room for tasting and conversation. Phuket's must-do Sunday dining experience.
THB 2,600++ Food only
THB 3,200++ Food with a bottle of wine for 2
THB 3,900++ Food with a bottle of Champagne for 2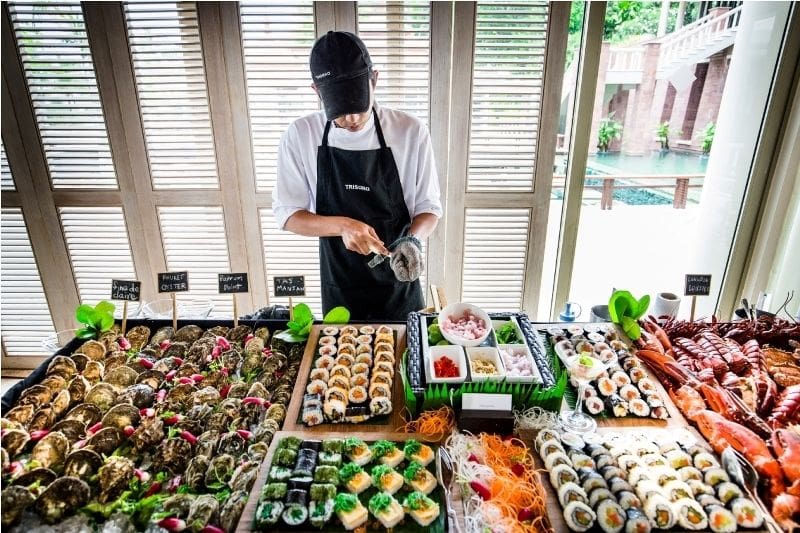 Hilton Phuket Arcadia 
The recently refreshed Sunday family brunch at Hilton Phuket Arcadia offers great culinary options for locals and foreigners with an international menu containing a wide variety of Thai and western dishes. Live music performers and a great family atmosphere complement the fantastic food selection, making this Sunday Brunch a must for families and friends staying around Karon beach.    
THB 999++ Food only 
THB 750 ++ Drink package including house wine, sparkling wine, beer 7 cocktails
Photo: A day to chill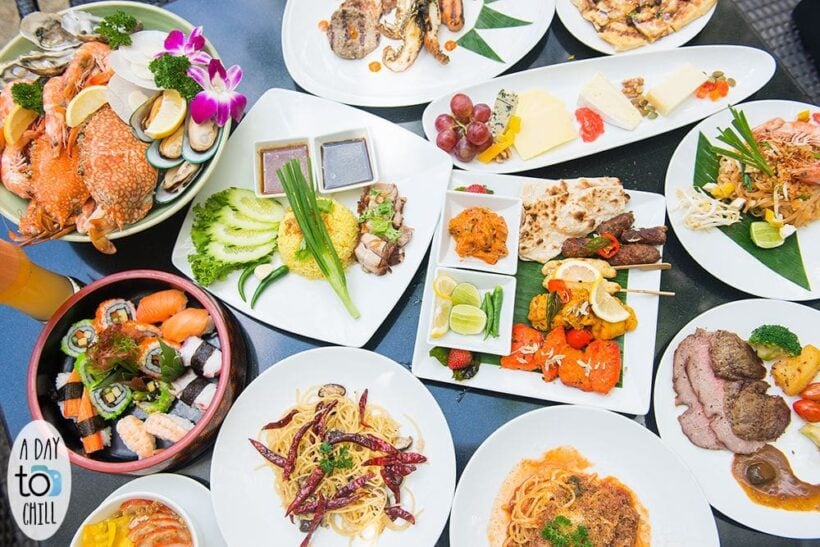 The Boathouse 
Happening every last Sunday of the month, enjoy a full gastronomic delicacies ranging from Oyster Selection, Maine Lobster, Foie Gras, Charcutiere Platter, Prime Beef, Great French Cheeses and more.
THB 1,990++ including free flow soft drinks
THB 2,990++ including free flow wines
THB 3,990++ including free flow Piper Heidseick Brut

The Slate 
A proud tradition of what is often considered as Phuket's most renowned Sunday brunch, we continue to hold strong with an exeptional landscape of gastronomy presented at the dreamscapes 'River' restaurant and poolside at Underground Cafe. 
THB 2,450++ including free flow soft drinks
THB 3,450++ Including free flow wine, sparkling, local larger and craft beer 
THB 4,050++ Veuve for 2 –  A bottle of Veuve Clicquot (75cl) to share
THB 6,200++ Including free flow Veuve Clicquot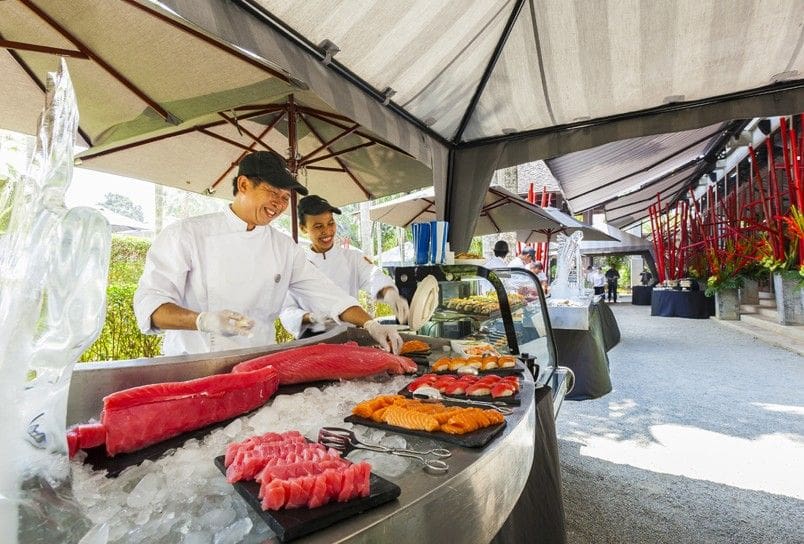 Novotel Surin
The delightful brunch features both international and Thai dishes, every Sunday from 12:00 pm to 3:00 pm. International cuisine includes the live sushi bar, Greek salad, bread corner, pizza and pasta selection. Thai dishes include Roasted chicken, Green curry with fish ball, stir-fried chicken with mushroom and cashew nuts, Tom Yam Goong, Banana Roti live station and more!
THB 599++ Including water and juices

Bangkok Tonight: La Casa Nostra restaurant pop-up at Small's Bar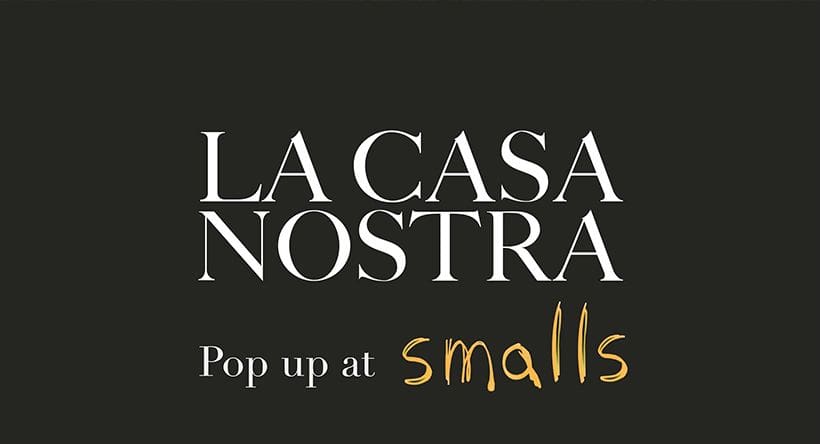 If you live in Bangkok I know that it can be easy to very overwhelmed by all the choices around you, whether it is food, drink or partying, you have a lot of options, but not tonight.
Tonight head down to Sathorn's Soi Suam Plu, for a very special pop-up event being hosted at one of Bangkok's most celebrated and award winning bars, 'Smalls'.
They will be hosting chef Nino Scognamillo from La Casa Nostra, one of the most talked about new restaurants in Bangkok, not only for its extensive wine list, but also for bringing rustic and authentic flavours of Italy to the heart of the big mango.
Nino has worked with the Jamie Oliver group in London, the iconic Sydney's Yacht Squadron and after working in Phuket now runs the kitchen in the at La Casa Nostra.
Offering a small selection of his menu's favourites, don't miss a chance to try chef Nino's famous roasted Mediterranean octopus on white truffle potato velute' (320 baht) and his Catabrian anchovies with his homemade tomato relish (390 baht).
Small's bar owner David Jacobson, has become a Bangkok icon with his cemented history in the bar and nightclub scene. A renown celebrity photographer, Jacobson has worked with stars such as  David Bowie, Robert De Niro ad Andy Warhol, recently he has been highlighting different chefs in the Bangkok food scene in his Soi Suam Plu watering hole with various pop ups.
For the Facebook Event page click HERE.
Maravilloso. Taco Bell is coming to Bangkok, but we have options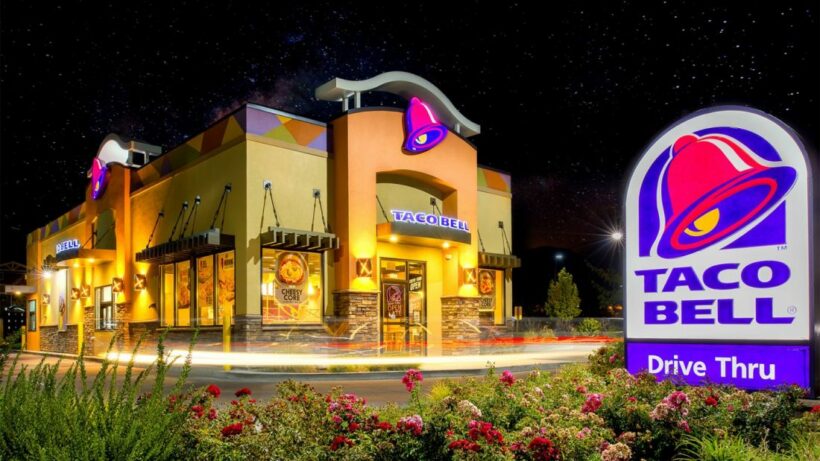 PHOTOS: BK-Asia, Taco Bell
A media release says that Taco Bell is opening its first Thailand location on the first floor of Mercuryville mall in central Bangkok. Partnering with Siam Taco Company, part of TTA (Thoresen Thai Agencies) they bring the Mexican-inspired cuisine to the big mango in early 2019.
Although we are all waiting on the edge of our seats for the opening of Taco Bell there are other options available, some would say even better. We haven't even told you about their results of weeks of in-market researching of the 'Kickin' Chicken Taco', a specialty item developed specifically for the Thai market. No matter, you'll be able to test drive it for yourself soon.
We believe there are better ways to indulge your Mexican desires, so here we propose three options to fulfill your taco cravings in Bangkok: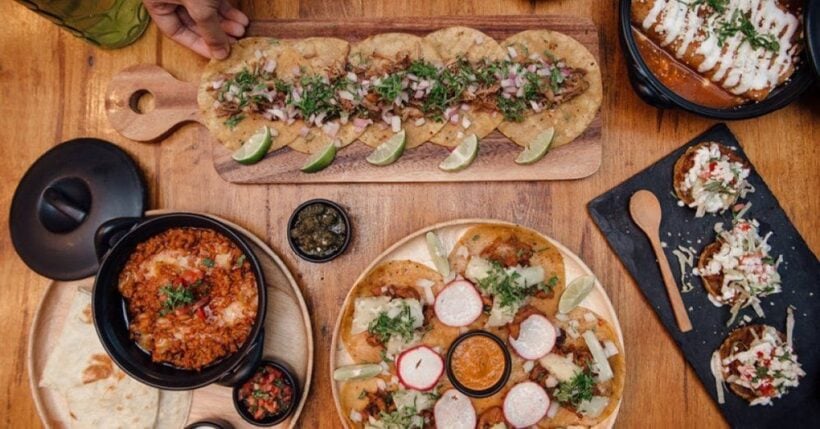 Two Mexican brothers have been making a name for themselves with their authentic Mexican cuisine, maybe its time you find out why.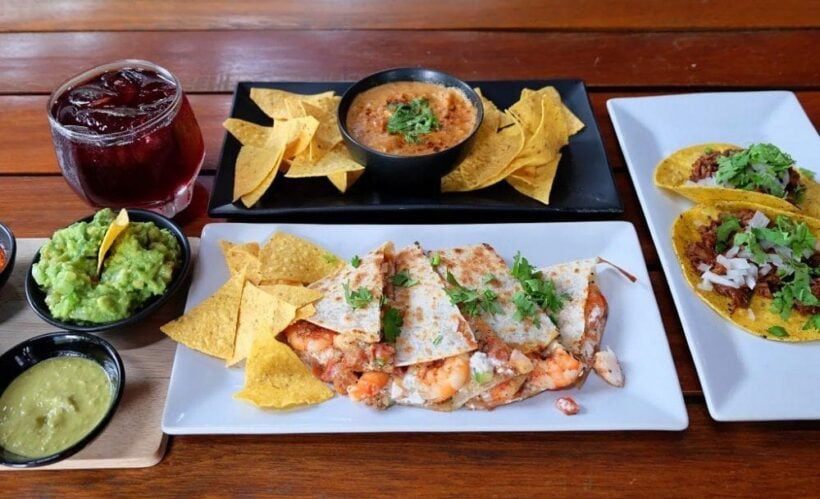 It's all about the tortillas right? Well here they are made in house every step of the way, a husband and wife team are leaving their mark in On Nut's Habito Mall.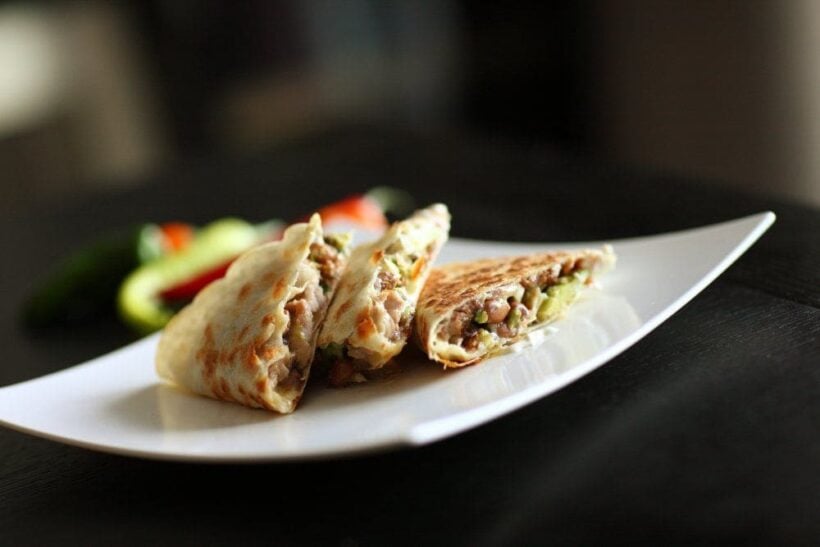 It's late, you just finished work, where do you get tacos and a beer? La Monita. They also make their tortillas in house, so go, hurry.
Buen Provecho.
SOURCE: The Nation