Myanmar's army controls vast business empire to fuel atrocities – UN report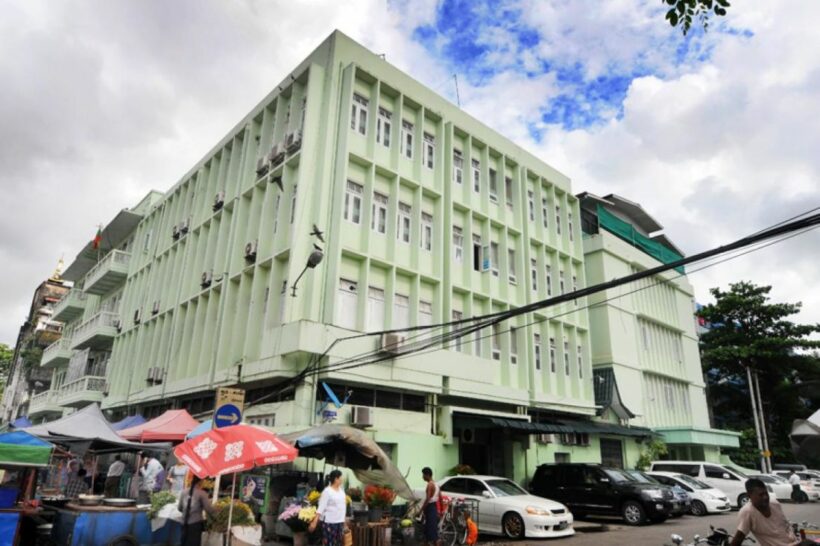 PHOTO: Front of the Myanmar Economic Holdings Limited building
UN investigators have slammed the Myanmar Government saying that tougher sanctions are needed against the country's wealthy and powerful military officials as their web of economic interests has generated a fortune that helps fund atrocities.
The report follows a US travel ban on Myanmar's army chief last month, the strongest censure yet from a Western power over the 2017 Rohingya crackdown.
They are urging the international community to sever links with the armed forces' "dizzying economic holdings". The report claims that their fortunes "dwarf those of any other civilian company in Myanmar".
Last year the same team called for Myanmar's senior army generals to be prosecuted for genocide. This follows the 2017 crackdown in the Rhakine State forcing some 740,000 Rohingya Muslims north, over the border into Bangladesh.
Many remain there is make-shift refugee camps refusing to return despite assurances from the Burmese government.
The UN report claims that, in addition to extensive local business partnerships, at least 15 foreign companies have joint ventures with the Myanmar Army (aka. Tatmadaw) while 44 others have some form of commercial ties.
Two main military-owned conglomerates, according to the report, Myanmar Economic Holdings and Myanmar Economic Corporation, as well as numerous subsidiaries have interests in everything from lucrative ruby and jade mining, property and tourism. The army also controls two large banks.
The UN probe argued the army's "business empire" allows it to evade accountability and oversight.
The 111 page report, to be launched in Jakarta this week, also details dozens of private companies donating more than US$10 million to the Burmese military during their operations against the Rohingya.
The report demands criminal investigations into these companies and urges for a complete ban on arms sales to Myanmar.
A spokesman for Myanmar's military said he was unable to comment, according to a report with AFP.
Keep in contact with The Thaiger by following our
Facebook page
.
Myanmar's death toll from landslides and floods reaches 59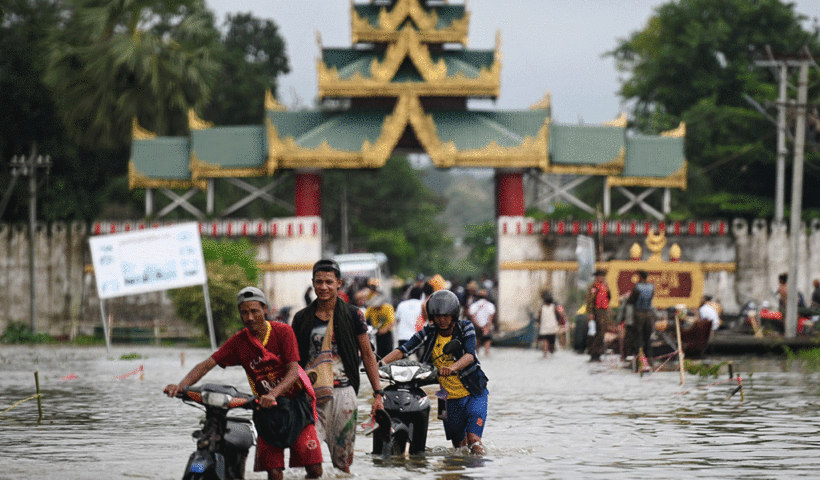 Vast regions of south and sout-eastern Myanmar are inundated with floodwaters that have already forced more than 80,000 to flee their homes. The death toll from a massive landslide has now hit 59.
Rescue and recovery teams have worked right through the weekend, with additional downpours and deep mud hindering progress as the stench of decaying bodies worsened.
There are currently more than 80,000 people sheltering at evacuation sites across the country, according to the UN Office for Humanitarian Affairs.
Rescuers say they have found more victims from Friday morning's deadly landslide when it flattened 27 homes in Mon village of Ye Pyar Kone. The Bago, Tanintharyi, and Karen states and adjoining regions have also been badly hit, leaving emergency responders stretched as the government tries to mobilise the army in the difficult conditions.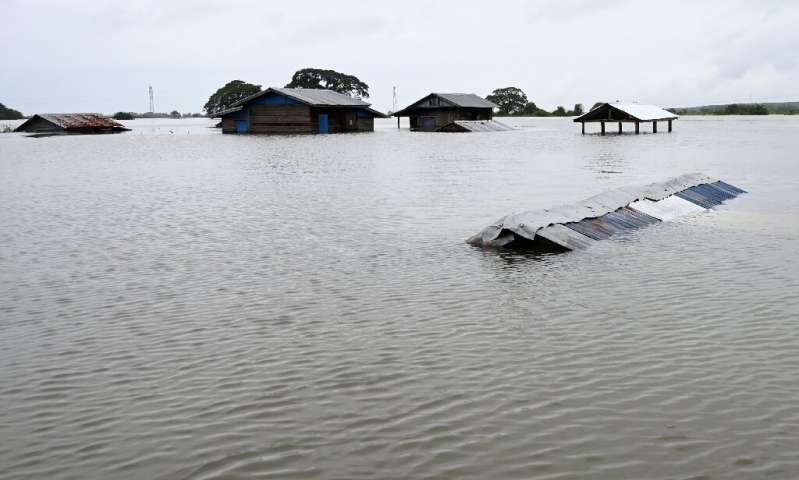 Keep in contact with The Thaiger by following our
Facebook page
.
Thailand's longest wooden bridge under threat of collapse after rains soak west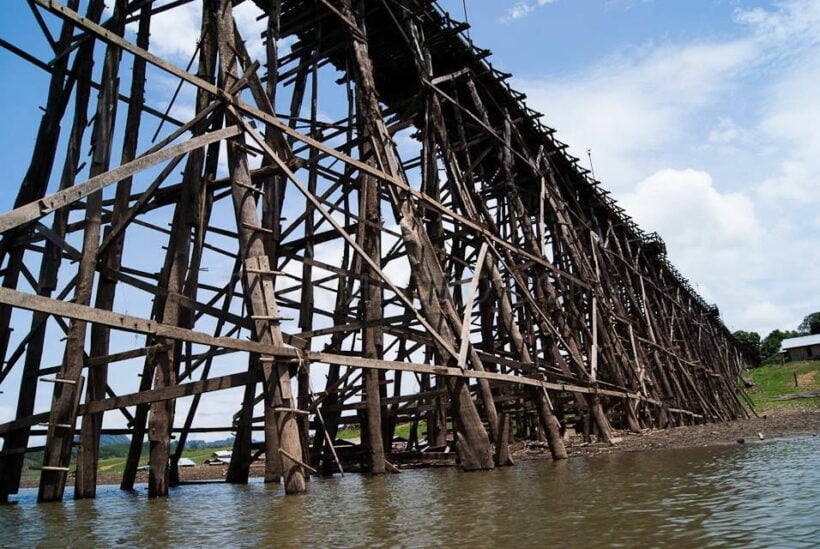 The famous Mon (Uttamanusorn) Bridge in Kanchanaburi in Thailand's west, the country's longest wooden bridge, is being watched around the clock by the Thai army for fear that it may collapse under the force of strong currents in the Songkalia River and a huge amount of debris which is piling up against the bridge's superstructure.
Uttamanusorn Bridge (Thai: สะพานอุตตมานุสรณ์; lit: 'Uttama Memorial Bridge') or commonly known as Mon Bridge(สะพานมอญ; Burmese: ဒဒန်ဆု) and Wooden Mon Bridge (สะพานไม้มอญ) is a wooden footbridge in Tambon Nong Lu, Sangkhla Buri District, northwest of Kanchanaburi Province, Thailand. It spans the Songaria River.
Using motor boats, troops and volunteers have been trying to remove the debris, mostly tree branches and logs, being washed out of the jungle and restricting the flow of water under the bridge.
Thai PBS reports that Colonel Saratvuth Chaisith, commander of the 29th infantry regiment based in the western province of Kanchanaburi, explained that the pressure of the water will increase and could force the wooden bridge to collapse, as in similar incident on July 28, 2013 when the midsection of the bridge collapsed.
Heavy rain has been falling in the Tanasserim mountain range area, bordering Myanmar, for more than two weeks, sending runoff from swollen streams into the Songkalia and Runtee rivers, said the colonel, adding that his troops are on standby to help the ethnic Mon people in Ban Sanaefong and Ban Koh Satoeng in Tambon Laiwo, Sangkhla Buri district, which are the localities most vulnerable to flooding.
Located in Sangkhla Buri district of Kanchanaburi province, the Mon Bridge is a famous tourist attraction for both Thais and foreigners.
SOURCE: Thai PBS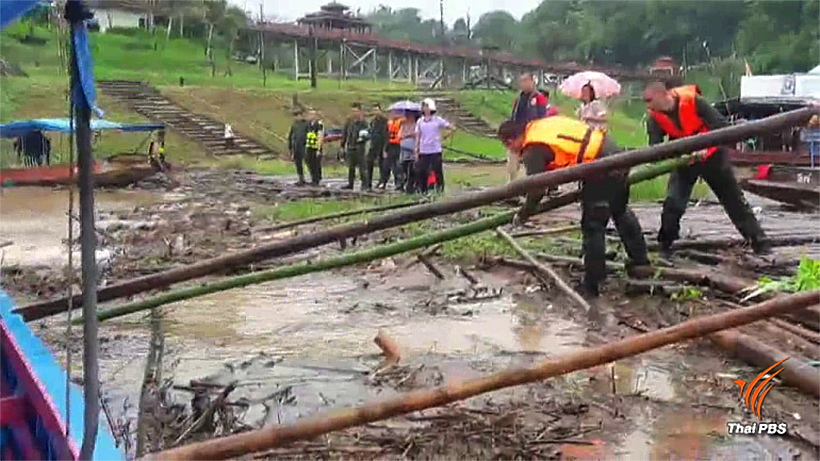 Keep in contact with The Thaiger by following our
Facebook page
.
Myanmar flood toll reaches 51 – 4,000 houses submerged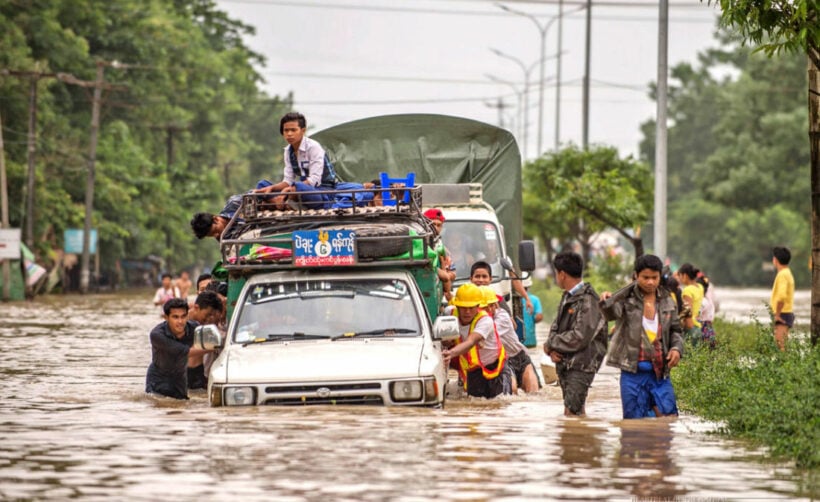 PHOTOS: Myanmar Times
Burmese troops have been deployed to flood-hit parts of Myanmar to help with relief efforts after rising flood waters have left thousands stranded, mostly in the southern parts of the country. The death toll from the landslide has jumped to 51.
This year's monsoonal floods have tested the government's ability to respond after a the fatal landslides on Friday in southeastern Mon state. That was then followed up with deluges that submerged houses, displacing thousands.
Heavy rains pounded other parts of Mon, Karen and Kachin states, flooding roads, destroying bridges and forcing families to flee by boat. Pictures from the region show residents swimming away or bundling their possessions onto small boats and rowing to higher ground.
Floodwaters have submerged more than 4,000 houses in the state and displaced more than 25,000 residents who have sought shelter in monasteries and pagodas, according to state-owned Global New Light of Myanmar.
Around 89,000 people have been displaced by floods in recent weeks, although many have since been able to return home, according to the UN's Office for the Coordination of Humanitarian Affairs.
SOURCE: AFP/Thai PBS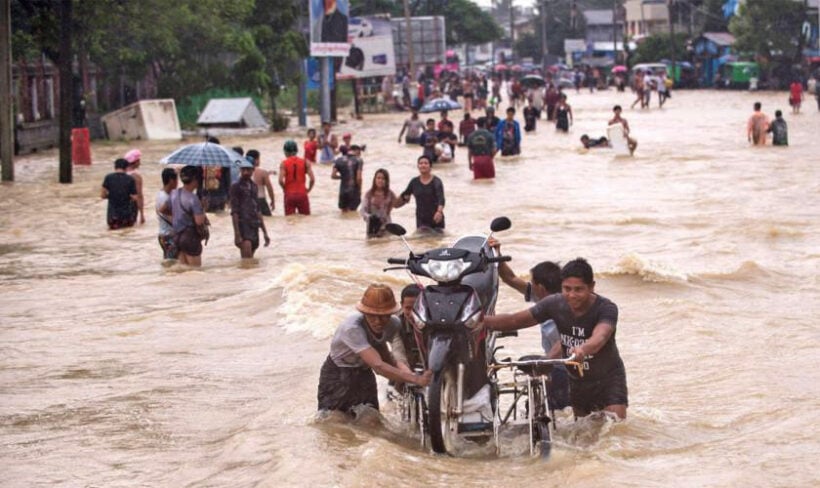 Keep in contact with The Thaiger by following our
Facebook page
.