Raffles reopens historic Grand Hotel d'Angkor in Cambodia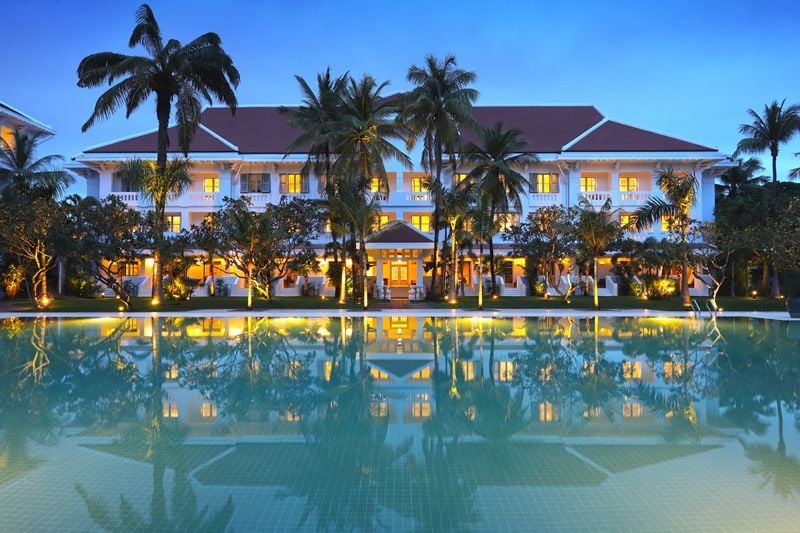 Raffles Grand Hotel d'Angkor, one of the most iconic heritage properties in south east Asia, reopened its doors to guests this week after a six-month closure for renovations and refurbishments.
One hundred and twelve of the landmark property's 119 rooms and suites have been fully refurbished, buttressing the intrinsic appeal of a property renowned for its classic facade, its expansive pool, a celebrated metal and timber elevator, and a guest list that runs from Charlie Chaplin to Jackie Kennedy.
"In the Grand Hotel, we're custodians of an incredible historical asset," said Raffles Cambodia Cluster General Manager Oliver Dudler.
"The careful restoration and refurbishments will enhance guest comfort by offering new modern amenities while staying true to our longstanding heritage and classically elegant ambience."
Among the contemporary touches, spotlights have been added to brighten up the rooms, and power ports and USB charging stations have been fitted. The French windows, which swing open to views of either charming street scenes or the plantation-style grounds of the hotel, have been upgraded, and each room now has a writing desk and vintage rotary telephone, thanks in part to the added floor space created by removing cabinets and replacing them with built-in wardrobes.
The greatest makeover is to the bathrooms, with all-new Italian tiling and fixtures, and separate rain showers.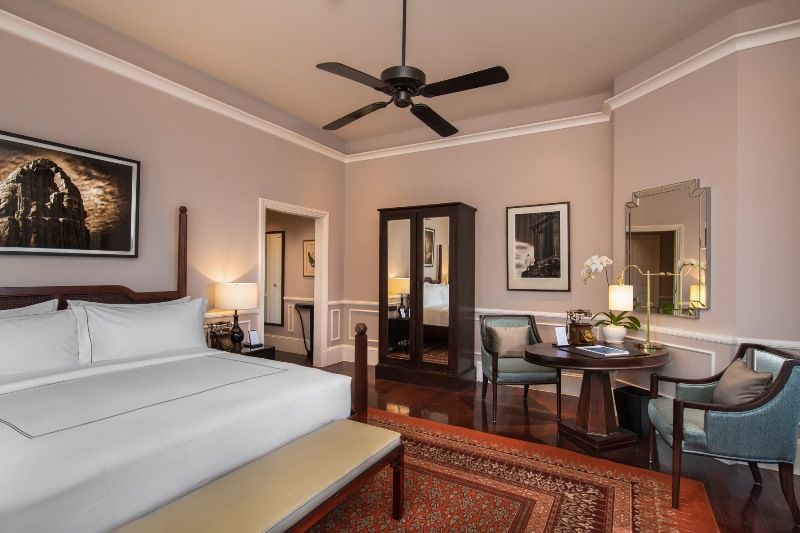 PHOTO: Raffles Grand Hotel d'Angkor's newly renovated Landmark Room features vintage touches such as a rotary telephone
The main difference that returning guests will notice upon arrival is that the façade and the entire exterior of the hotel is now painted alabaster white, rather than its former cream-beige hue which is the color of Royal Khmer architecture across the country.
The hotel's Elephant Bar, renowned for its celebrity patrons, retains the air of a bygone era. Contractors David Grace Designs have brightened up the Café d'Angkor, while refurbishing the interior design in the conservatory, famed for its afternoon teas and baby grand piano. Meanwhile, a new signature restaurant, named "1932," stands poised and polished, ready for its official launch next month.
The biggest structural addition to the property is the complete renovation of the outdoor Apsara Terrace, where Khmer performances are enacted, into a new MICE and banquets venue to be called the Raffles Marquee. With Angkorian boundary stones of laterite, and surrounded by lush gardens, the new canvas-roofed center aims to meet the growing luxury MICE business demand.
Fronted by a labyrinth of lawns, orchards and gardens, the Grand Hotel d'Angkor was designed in 1929 by French architect Ernest Hébrard, whose vision endures in many of the longstanding French colonial buildings of Ho Chi Minh City, Hanoi, and Phnom Penh. Hébrard and his contemporaries set out to incorporate facets of local architecture, which was better suited to the regional climate, into their designs, which became known as the style Indochine.
The Grand Hotel opened in 1931-2 with just 63 rooms, all with private bathrooms – a revelation in its day. Its first visitors were treated to an interior combining Khmer art and furnishings with Art Deco influences such as black and white marble floors. Many of those early guests were foreign archeologists and explorers to the nearby site of Angkor Wat.
The property, along with its sister heritage hotel, Le Royal, in Phnom Penh, was taken over by Fairmont Raffles Hotels International in 1997 at the invitation of Cambodia's King Sihanouk. The Siem Reap resort's reopening comes two months after Raffles reopened its flagship hotel in Singapore following a two-year closure for renovations.
Keep in contact with The Thaiger by following our
Facebook page
.


Looking to jettison some items before jetsetting away or chartering a yacht? Look no further than Thaiger Classifieds where you can find and post items, work, property and more for free. Be sure to check out YonderTours for things to do in Thailand and tours across the country.

Cambodia's carelessness over coronavirus could bring disaster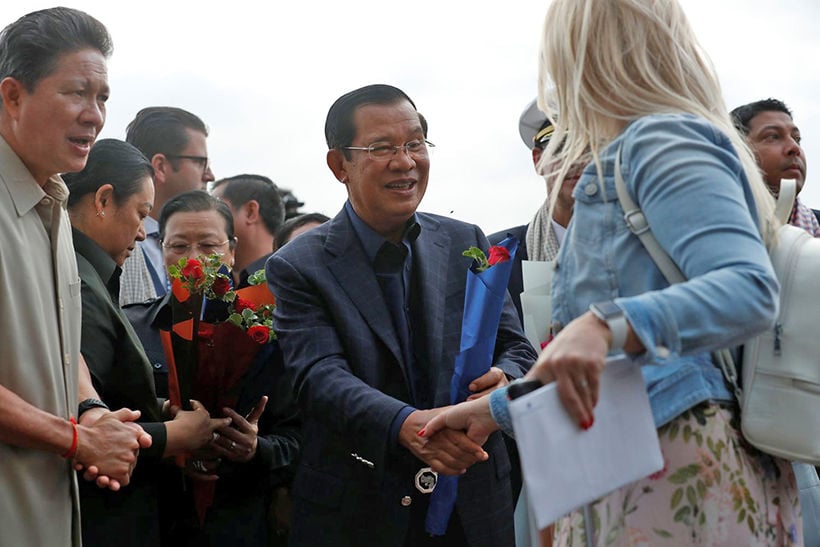 When passengers from the MS Westerdam disembarked in Sihanoukville, Cambodia on Valentine's Day last week, it was smiles and handshakes all around, as Prime minister Hun Sen greeted them with roses. Protective masks were nowhere to be seen. Not only did the PM not wear one, his bodyguards ordered people wearing masks to take them off. The next day, the US ambassador to Cambodia, W. Patrick Murphy, who brought his own family to greet the passengers streaming off the ship, also went maskless.
"We are very, very grateful that Cambodia has opened literally its ports and doors to people in need," Murphy said.
But after the hundreds of passengers had alighted, one tested positive for the COVID-19 coronavirus. Now, health officials worry that Cambodia may have opened its doors to an outbreak, and the world may pay a price as passengers from the cruise ship head to their home countries. Fearful governments in five other countries had already turned the ship away, even though the cruise operator, Holland America, assured officials that passengers had been carefully screened.
Hun Sen's decision to allow the ship to dock appeared to be a political move as much as anything else. The region's longest-serving ruler and a close ally of China, he is known for his survival skills. But critics worry that the aging autocrat might have acted rashly.
"Of course, he had to do the dictator thing: photo op, roses, exploit this for its maximum value. Whatever is in the best interest of Cambodians is completely irrelevant to him."
When the Westerdam docked in Sihanoukville, the Cambodian government and the cruise operator deemed the vessel virus-free. But the declaration appears to have been premature. Only 20 of the 2,257 on board were tested for the virus before disembarking, and that was because they had reported themselves to the ship's medical staff with various ailments. The 83 year old American woman who twice tested positive after travelling on to Malaysia was not among those 20.
It's too early to tell whether the decision to let hundreds of passengers from the Westerdam fly off has the makings of an epidemiological disaster. Cambodian health authorities say that 409 of the 2,257 passengers and crew have left Cambodia for their homes around the world. The rest remain in hotels in Phnom Penh, the capital, or on the ship.
Many health experts urge people who have been in contact with coronavirus patients to self-quarantine for 14 days, to avoid danger of contagion. But yesterday, Hun Sen directed officials in Phnom Penh to treat passengers from the Westerdam to a sightseeing jaunt.
"To tour the city is better than staying in rooms or at the hotel feeling bored or scared," said a post on Hun Sen's Facebook page.
There is widespread scepticism of the government's contention that only one person in Cambodia has tested positive for the virus, a Chinese citizen who has since returned home.
"There is a natural lack of credibility and trust associated with the Cambodian government. This is Hun Sen's Westerdam problem, because even if he was doing the right thing, purely as a humanitarian, he will be seen as the puppet of China."
Also yesterday, Hun Sen announced another publicity stunt: he wants to invite the passengers of the Westerdam to a party.
Masks won't be welcome.
SOURCE: The Bangkok Post
Keep in contact with The Thaiger by following our
Facebook page
.
Top 10 must-see towns in Asia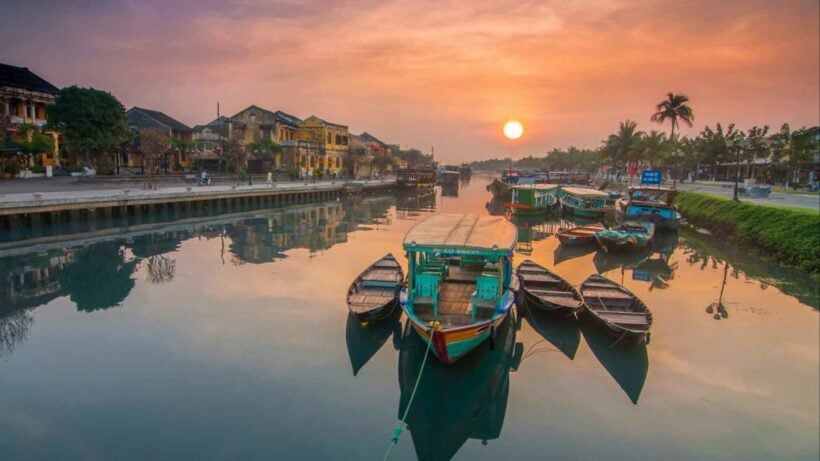 Tropical nights, curious mountain silhouettes, sprawling rice paddies and pungent cuisine. And some snow-topped mountains as well. The Thaiger has selected the Top Ten of these camera-worthy towns. Southern Asia is a concoction of the ancient, very modern, traditional and enigmatic.
Amongst the islands, megacities and spectacular scenery there are also some very pretty towns that deserve your days pottering around and investigating. Some of them you would have never heard of. Here's our Top Ten, in no particular oder…
Old Phuket Town, Thailand
Most tourists head for the beaches, but the southern Thai island of Phuket offers a lot, lot more these days up and down the west coast and across to the island's east coast as well, not just Patong.
The historic old quarter of Old Phuket Town, located in the central east coast of the island, is lined with Sino-Portugeuse colonial shophouses, built during the island's tin-mining boom of the 18th and 19th centuries.
Twenty years ago you couldn't give them away. Now the old shop-houses are hot property and getting spruced up and re-used for a new generation of tourists and culture vultures. There are plenty of hip shops, cafés, restaurants, bars, art galleries and book shops. The area is also filled with Chinese temples, crumbling mansions and cultural museums.
Check out the weekly Sunday night 'Lard Yai' market along Thalang road for some local market vibes in amongst some local ephemera, astonishing Thai street food, some local performers and a few bargains. Kicks off around 4pm. If it rains during the island's wet season (May to November), you'll get wet but it's always around 30 degrees C and you can duck undercover anywhere around the Old Town's sidewalks.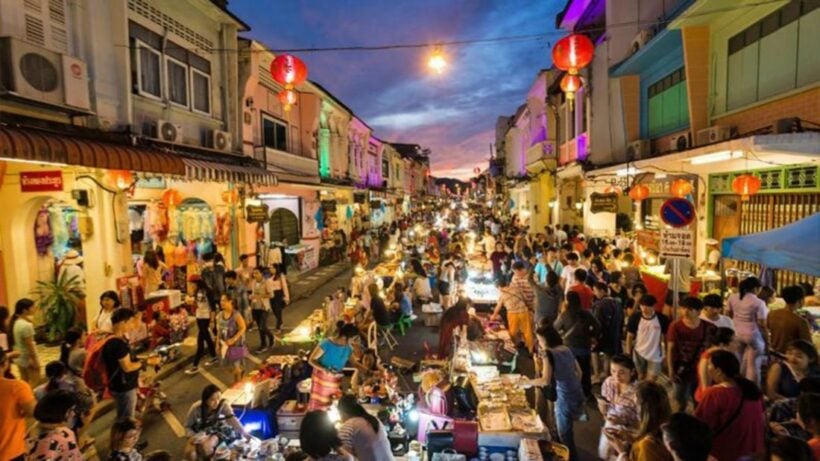 Galle, Sri Lanka
On the southwestern coast of Sri Lanka is the walled town of Galle, an important trade port for centuries.
The UNESCO-listed fortress has been through three bouts of colonial rule – the Portuguese from 1505-1658, the Dutch from 1658-1796 and the British from 1796-1948. These days, many of the old merchant houses are renovated into museums, boutique hotels, shops, restaurants and bars.
The dining scene has grown in breadth and popularity, with fresh seafood, excellent Sri Lankan curries and egg hoppers (dome-like pancakes).
There's also plenty to see as you walk off all that food. The Dutch Reformed Church, Sudharmalaya Temple, Galle Clock Tower, Galle Lighthouse, Meeran Mosque and the old Spice Warehouse.
Then head down the southern coastline to enjoy the surf, diving, whale-watching or just laying around Unawatuna Beach.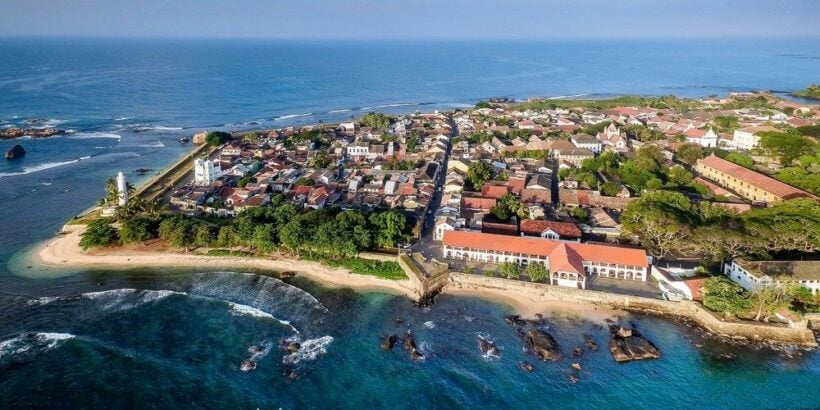 City of Vigan, Philippines
Experience a rich history of Spanish colonial-era architecture in the city of Vigan. It lies on the west coast of Luzon island in northwestern Philippines. Vigan was established by the Spanish in 1572. It's also a UNESCO World Heritage City.
Conquistador Juan de Salcedo developed a modern grid plan for the city, and Spanish architects designed beautiful churches, grand mansions and schools with unique windows and dark timber interiors.
Most of the colonial buildings are situated around the Plaza Salcedo, including the St Paul's Cathedral. This beautiful Baroque structure was first built in 1641 and then restored after several earthquakes and fires.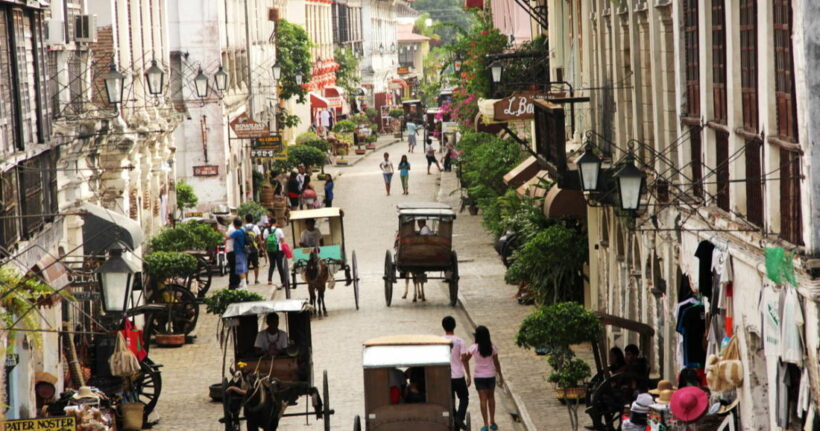 Hoi An, Vietnam
Located on the central coast of Vietnam, about 40 minutes drive south of Da Nang, Hoi An's Old Town has an international reputation as a haven for photographers, architecture lovers and lovers of food. Added to the UNESCO World Heritage list in 1999, the town was a former French colonial trading port that has been a commercially vital town for Vietnam since the 16th century. It's now more important to Vietnam as a commercially vital tourist magnet.
The rambling narrow streets of Hoi An feature rows and rows of charming mustard coloured old trading houses. Many are now trendy restaurants, bars, design boutiques, coffee shops and tailors. Seemingly with a production designer preparing the town as a set for a 'colonial asian' movie, lush foliage spills from the rooftops and silk lanterns light up the town at night. It's right out of a picture book.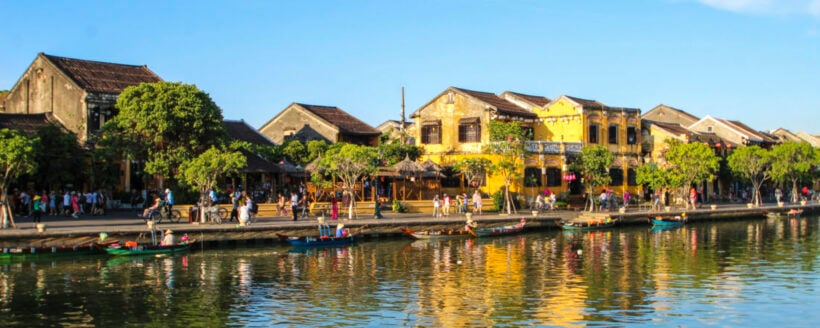 George Town, Malaysia
Designated a UNESCO World Heritage site, the sprawling historic quarter of George Town on Penang island showcases its many cultural influences over the centuries. You'll also find some similarity with Phuket's Old Town, just 600 kilometres north, but with a broader cuisine and more colonial influence.
George Town's colourful heritage traces back 500 years when the former British colony was a prominent hub of trade on the Malacca Strait, enabling cultural exchange between Malay, Chinese, Indian and European residents. The town still resinates with influences from all of these cultures.
There is an eclectic mix of pastel-hued shophouses, Chinese mansions, churches and temples, colonial buildings, food and fortresses.
George Town deserves its reputation as the "food capital of Malaysia" and remains one of the best food cities in Asia – from street food to hawker centres, chintzy local restaurants to fully renovated mansions serving up high end fusion cuisine. Like the architecture, the local cuisine captures George Town's multicultural history.
If you're heading to George Town, take your appetite.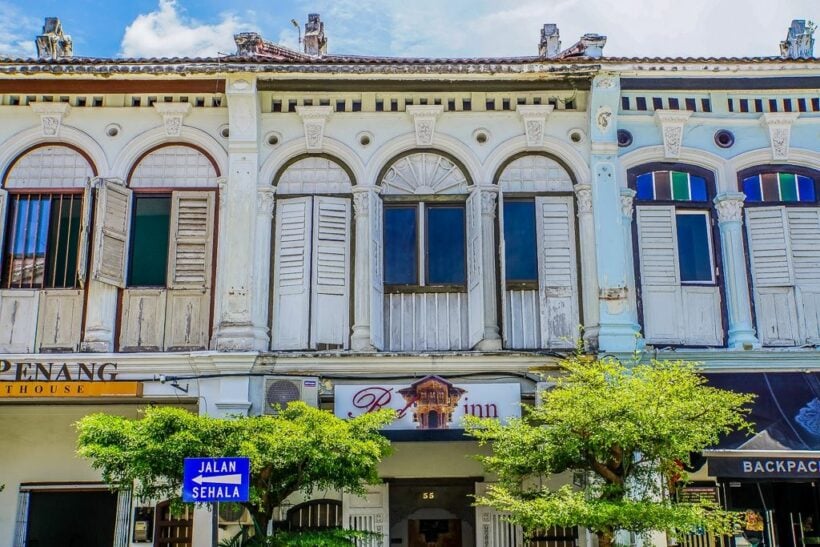 Luang Prabang, Laos
The former capital of Laos on the banks of the Mekong River, is the picturesque Luang Prabang, home to temples and dramatic natural scenery.
It's either one of Southeast Asia's most spiritual places or an emerging party town for the backpacker set, or both. Either way Luang Prabang makes a dramatic first impression.
The town is hugged by mountains as it rests at the bottom of a valley in central Laos. The location was the first kingdom in Laos from the 14th to 16th centuries, Luang Prabang was long a strategic location along the famed Silk Route. Since then the French have also had their time as colonial overlords which has resulted in a fusion of European and Laotian architecture creating a distinct townscape.
Although Vientiane, on the Thai border, is now the capital, Luang Prabang, named a UNESCO World Heritage Site in 1995, continues to be the country's cultural and artistic capital.
In addition to the graceful architecture, Luang Prabang is also home to beautiful natural attractions including the Kuang Si Waterfalls and Phousi Mountain. There are also more than 30 Buddhist temples, the Royal Palace Museum, night markets, river boat rides and biking tours.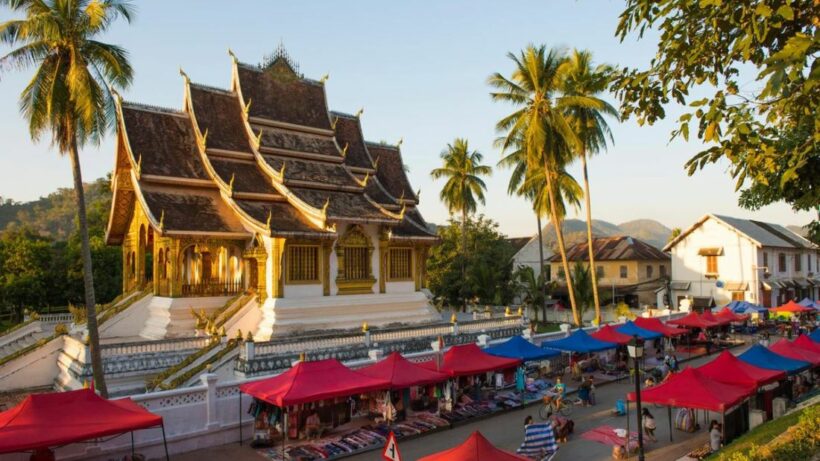 Kampot, Cambodia
Think Cambodia and you automatically think 'Angkor Wat', but Cambodian travellers are falling in love with the southern charms of Kampot.
The serene coastal town, on the southern coast along the Gulf of Thailand, is getting a reputation as one of the prettiest small towns in the region. Think colourful French colonial shophouses, tidy pedestrian-friendly streets, river activities and a feast for the cameras. You can spend your days kayaking, mountain trekking, biking, river cruises, paddle-boarding, or you could take a day trip through the countryside's lush paddy fields, cave temples and waterfalls.
Kampot has a growing foodie reputation as a culinary playground with everything from traditional Khmer cuisine to vegan delights. The town still has a bit of a 'rough' reputation but is well worth a visit and certainly deserves its place amongst the top ten prettiest towns in Asia.

Kota Gede, Indonesia
Among the oldest parts of Yogyakarta in central Java, Kota Gede is known for its silver industry, cute laneways and photogenic architecture.
The location's history goes back to the 15th century, when Yogjakarta was the seat of the Mataram Sultanate, the last kingdom before the Dutch colonised Java island. Wealthy merchants built palatial homes in the Kalang style, a mix of Dutch structural elements, traditional Javanese layouts and local craftsmanship.
Travellers in the 21st century can now walk along Jalan Kemasan and browse through boutiques, art galleries and silver workshops showcasing the famous jewellery and elaborate tableware. For a little history, travellers can also venture out to Yogyakarta's most famous UNESCO-listed landmarks – the Prambanan Temple and the eighth-century Borobudur Temple.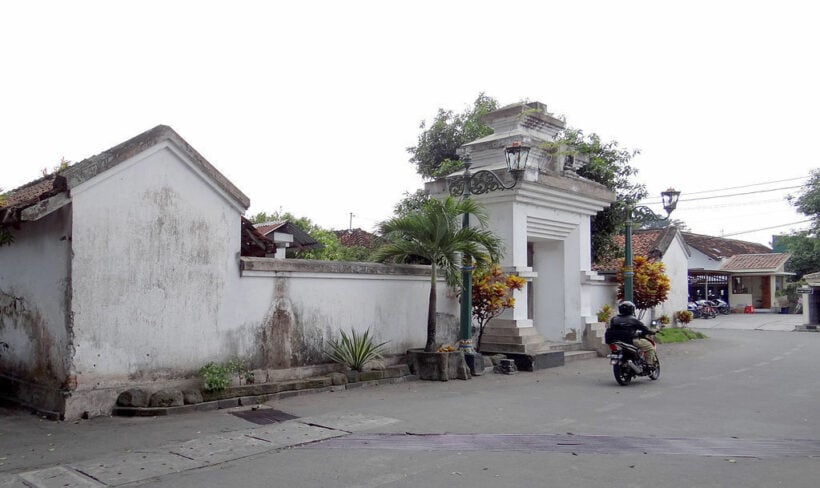 Mawlynnong, India
In amongst one of the world's most chaotic and messy countries, lies Mawlynnong, located in the East Khasi Hills of northeastern India, which has been named the "Cleanest Village in Asia". Go figure!
The village lives up to its reputation thanks to the Khasi community who call the town 'home' and take great pride in keeping the village pristine. The town is famous for its meticulously pruned gardens.
There's a popular 85 foot high tree house called Sky View constructed of bamboo that overlooks the jungle canopies all the way across the plains of Bangladesh to the south. There's also the Mawlynnong Waterfall, while a living tree root bridge creating a scene from Game of Thrones or an Indiana Jones movie.

Ghandruk, Nepal
Ghandruk is a mountain village at the foothills of the Himalayas in central Nepal. The village is more than 2,000 metres above sea level, the highest in our Top Ten list.
The village is about a five-hour hike from Pokhara, a pretty lakeside city in central Nepal that acts as the starting point for the popular Annapurna Circuit (and also worthy of a visit for a few days).
You'll find traditional tea houses, a mountain-top temple, horseback riding and the local customs of the Gurung people who live here.
Members of this Nepalese community have served in the British Army's Gurkha regiments during many conflicts and you should make time to visit the Old Gurung Museum which provides lots of fascinating historical insights.
And the village has quite a spectacular backdrop with Mounts Annapurna, Machhapuchhre and Himalchuli looming large as you look over your shoulder.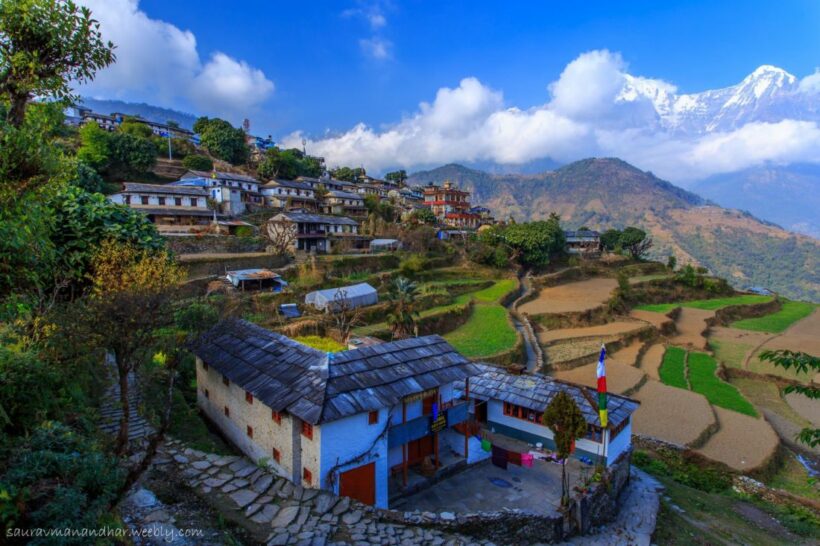 Keep in contact with The Thaiger by following our
Facebook page
.
Cambodia offers olive branch after letter from Trump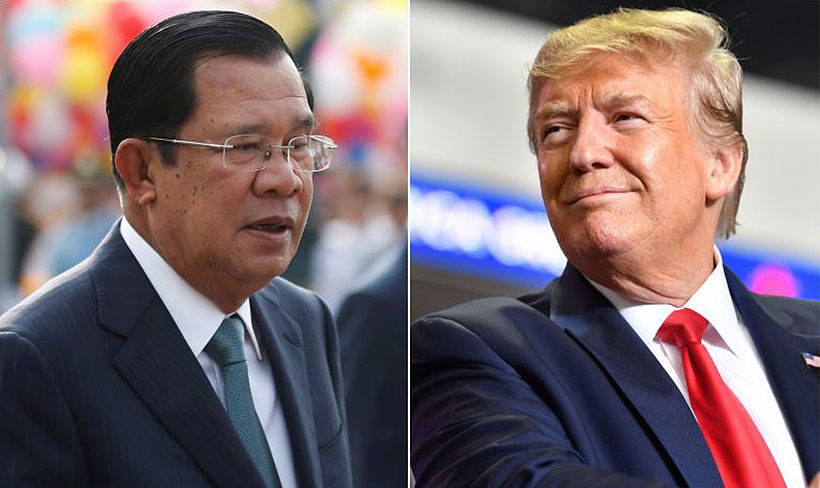 Cambodia's leader Hun Sen us offering to renew relations with the US after receiving a letter from US President Donald Trump. PM Sen's offer marks a turnaround in relations with the country he once accused of trying to overthrow him.
Hun Sen thanked Trump for assurances that Washington was not seeking "regime change" in Cambodia.
"Both countries' foreign affairs teams should now work "to restore trust and confidence, and to renew the bond of friendship between our two countries."
Cambodia is one of China's closest allies, and turned its back on the US and the EU over their criticism of its political repression.
Less than four months ago, a Cambodian official said US diplomats should "pack up and leave." This followed a US embassy statement that the 2018 election didn't "reflect the will of the people." Hun Sen's ruling Cambodian People's Party won all 125 parliamentary seats after Cambodia's Supreme Court disbanded the main opposition party.
The opposition Party was accused of plotting to take power with US help, and its leader, Kem Sokha, was arrested for treason. He has been since released from house arrest earlier this month, but the treason charges remain. His release came as a surprise because the EU is moving closer to cutting off preferential trade status over human rights.
Hun Sen's letter was a response to one from President Trump seeking to improve ties between the two nations. Trump urged the Cambodian PM to put his country back on a democratic path.
The Cambodian leader, in power for since 1985, acknowledged "tumultuous periods" in US relations, a veiled reference to the US's illegal bombing of Cambodia during its war with Vietnam…
"However, I am of the view that we should not become hostage to a few dark chapters in our history. There are so many other beautiful chapters that are worth nourishing for the greater good of both our countries and people."
PM Hun Sen mentioned US support for nation building after decades of civil war that ended in the 1990s and "generous market access," according to the Chiang Rai Times article.
"I am indeed thankful and truly appreciate these magnanimous gestures."
SOURCE: Chiang Rai Times
Keep in contact with The Thaiger by following our
Facebook page
.