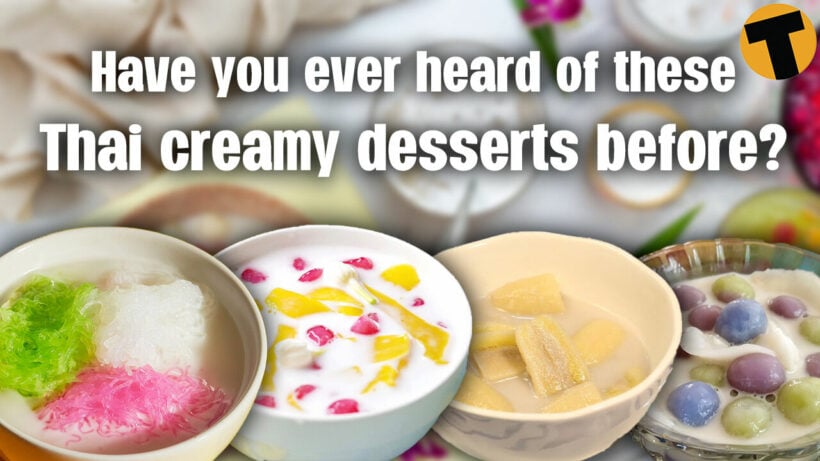 As you know, Thailand has a variety of foods and one popular ingredient in particular that Thais love to use in their dishes is coconut milk. In the last video, I recommended northern dishes you should try. And today, I'll be recommending you eight Thai desserts which consist of coconut milk. So, If you love the creamy taste of coconut milk, then you might want to take note of the following desserts!
---
"Bua Loy"
There is no actual record that it originated in Thailand. In fact, there are desserts that look like "Bua Loy" in China and Malaysia. But regardless of the origin, this dish is considered a Thai national dessert. Because it is very popular and it's been around in Thailand for a long time. It also appeared in the record of King Rama2 which described the Thai desserts. The most popular way to eat "Bua Loy" is to put an egg into the dish and we call it "Bua Loy Khai Wan". In the past, it was used as a dessert for auspicious events, weddings, or new year's ceremonies. In each region, it is different and the dessert itself has evolved over time. Nowadays, you can find "Bua Loy" with taro, pumpkin, and purple sweet potato, which are made into various shapes.
---
"Ko Nam Kathi"
"Ko Nam Kati" is an ancient Thai dessert that tastes like "Bua Loy", but "Ko Nam Kathi" has coconut fillings inside. Garnish with roasted white sesame seeds. The taste is salty, sweet, and has a strong coconut scent. It is very hard to find this dessert nowadays. So if you find one, you're definitely in for a treat!
---
"Pla Grim Kai Tao"
"Pla Grim Kai Tao" was first recorded during the reign of King Rama IV. In the past, there were 2 desserts called "Pla Grim" which is a long dough with palm sugar sauce, and "Khai Tao" which is a round dough with coconut milk. During the reign of King Rama V, history has it that Lady Plian Padsakorn combined the two desserts together. In the past, it was called "Chaeng Ma" but now everyone calls it "Pla Grim Kai Tao". It is also a dessert that is hard to find but I highly recommend this dessert because it was my absolute favorite when I was a child.
---
"Kluay Buad Chee"
This dessert is not difficult to cook. The main ingredients are banana, sugar, and coconut milk. We mostly use cultivated bananas. In the past, In the northeastern part of Thailand, people would make a big pot of "Kluay Buad Chee" for their family after a long hard day working on the farm. They would use the banana ingredients from their own homes. They also cooked it to make merit at the temple or when they were hosting guests at their houses. If you love to eat bananas, I highly recommend you try this dessert because the flavour is beautifully balanced with the saltiness and sweetness from the coconut milk and a bit of sourness from the bananas. it is so good!! But if you don't like bananas, I recommend you try "Fakthong Kaeng Buad" which uses pumpkin instead.
---
"Tubtim Grob"
The story has it that "Tubtim Grob " was originally the dessert for the local people. However, one of King Rama five's wives picked up this recipe, adjusted and served it as one of the king's meals. He was really satisfied with the taste and demanded it to become a royal recipe, the dish then became famous nationwide and spread out to other areas. "Tubtim Grob" is cubed water chestnuts covered in tapioca flour, served with sweetened coconut milk and shaved ice. The jello-like texture from the tapioca flour outside really contrasts with the crunchiness of water chestnut inside. Shredded jackfruit and coconut flesh can be added to this dessert to make it extra special.
---
"Krong Krang Nam Kathi"
The dessert has been an ancient dessert since the Sukhothai era. It kind of looks like a cockle shape. In the past, it was called "Kanom Hoi Kraeng" which "Hoi Kraeng" in Thai means cockle. Later it was changed to "Krong Krang Nam Kati" which is the name we now call today. The flavour is similar to "Bua Loy" but the dough texture is different. This dough is stickier than "Bua Loy. Nowadays, there are several styles of "Krong Krang Nam Kati" such as "Bua Loy" which are made with pandan leaves, butterfly pea, pumpkin, and more. However, its unique dough shape remains.
---
"Sarim"
It is assumed that we brought this dessert from Java, or Indonesia as we know it today, during the King Boromakot era. Some historians said that it was adapted from the "Lod Chong" dessert. The first real record describing the looks of Lod Chong can be found in one of King Rama2's famous poems, which clearly states how the dessert looked and tasted back then. The dough is like "Vun Sen" (Rice Vermicelli) in sweet coconut milk. Typically they come in three classic colors, which are white, green, and pink. Thais sometimes add shredded jackfruit and coconut flesh into the dish. The taste is similar to "Lod Chong" but Sarim's dough is slightly crispier. If you prefer a softer texture, I will recommend "Lod Chong" but if you like it crispy, then I will recommend "Sarim". But if you can not choose, you can order the Thai dessert "Ruam Mit" which combines Lod Chong, Krong Krang, Tubtim Grob, Sarim, Corn, Jackfruit, and Coconut flesh together. and there are "Ruam Mit" ice-creams in some restaurants as well.
---
"Sago Nam Kathi"
"Sago Nam Kathi" is a Burmese and Thai dessert. The main components of this recipe are sago and coconut milk. In Thailand, we mostly add corn, longan, taro, and coconut flesh. Almost 100% of the "Sago Nam Kathi" found in the market nowadays are made with tapioca pearls and not the real sago pearls. This is because it takes sago palms at least 8-10 years to reach the right maturity, and then the harvesting and processing are super labour intensive. This makes The pearls limited in quantities and is much more expensive, so people started using tapioca pearls as a substitute. The real sago pearls are dark brown but tapioca pearls are white. However, the tapioca pearls also taste good and are almost identical to the real ones. "Sago Nam Kathi" has a marshmallow texture, and is warm and moist which you should try if you find it in any restaurants in Thailand.

Join the conversation and have your say on Thailand news published on The Thaiger.
Thaiger Talk is our new Thaiger Community where you can join the discussion on everything happening in Thailand right now.
Please note that articles are not posted to the forum instantly and can take up to 20 min before being visible. Click for more information and the Thaiger Talk Guidelines.