Australian cave medic emerges to his own tragic news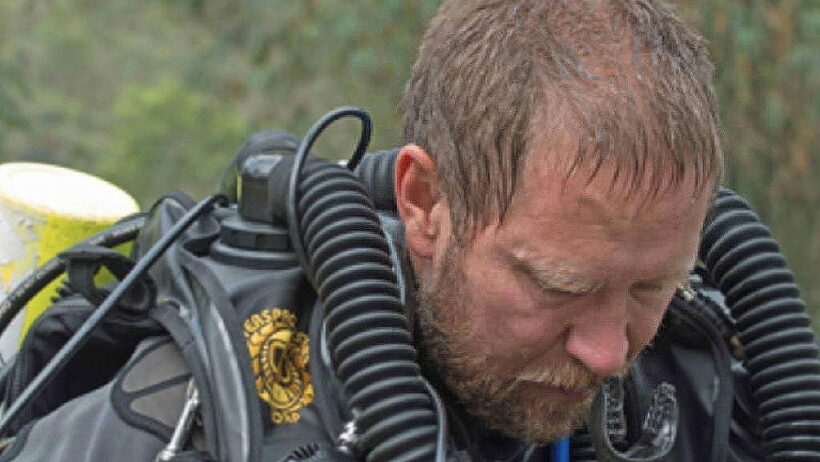 In the wake of yesterday's euphoria following the final five team members being successfully evacuated from the Tham Luang caves, a sad epilogue.
An Australian doctor, Richard Harris, partly responsible for looking after the Thai football team during their cave ordeal, emerged last night, exhausted but relieved they job was over. Some sad news awaited him.
He was told that his father had died overnight.
Richard, a world-renowned medic and diver whose presence in the dramatic rescue of the Wild Boars squad was specifically requested by experts and Thai officials, was reportedly the last person to leave the water-logged caves yesterday.
"Harry", his nickname amongst the caving community, cancelled his holidays to fly into northern Thailand – just one of the enormous international contingent to get the young team out of the Tham Luang caves, alive.
His expertise was called in because he knows caving, the risks, the medical threats and the knowledge to assess people who have been inside for extended periods. He put his own life at risk to head into the flooded cave where the 13 members of Mu Pa had just been found, six days before their extraction began.
Harry braved the a four kilometre slog through cramped, craggy spaces, much of the journey under metres of muddy water, several times.

Australia's national broadcast, the ABC, says Adelaide-based Harris was the person responsible for choosing the order in which the team would be selected to leave the cave. His specialty in anaesthesia would come particularly in handy as the decision was made to ease some of the team's anxiety with light stress-reducing medication. The boys would be fully conscious and alert during their evacuation – they had to be – but would have some of their obvious anxiety and potential for panic reduced because of Harry's knowledge of the medications available.
Harris, part of a 20+ team of Australian caving specialists, was the last person to emerge from the cave at the same time the final five team members were arriving at the Chiang Rai hospital.
Andrew Pearce, head of clinical services at SAAS MedSTAR, where Harris works, announced to the media…
"It is with great sadness that I confirm that Harry's dad passed away last night a short time after the successful rescue operation in Thailand."
Andrew said he had spoken with Harry saying that this was "…a time of grief for the Harris family, magnified by the physical and emotional demands of being part of this week's highly complex and ultimately successful rescue operation."
Australia's foreign finister Julie Bishop hailed Harris for being an "integral part of the rescue attempt" saying his role had been extraordinary. Minister Bishop said the Australian government would formally honour all Australians who took part in the rescue.
SOURCES: AFP, The Nation, The Thaiger


Read more headlines, reports & breaking news in Chiang Rai. Or catch up on your Thailand news.
Severe localised storms predicted for central, north and north-east until April 16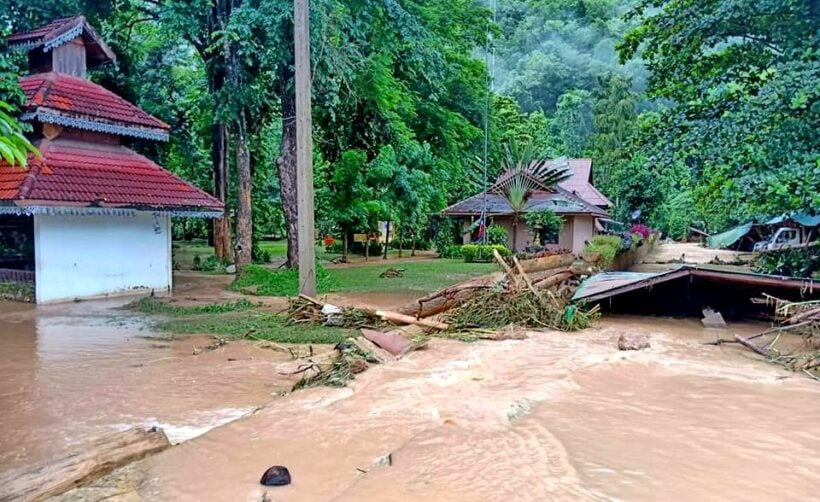 FILE PHOTO
The meteorological office (TMD) says there could be localised severe thunder storms for the entire upper area of the country until Tuesday.
The north, north-east, eastern seaboard and central regions, including Bangkok and surrounding areas could all be randomly hit by tropical thunderstorms.
The TMD office director Phuwiang Prakhammin has warned of rain storms, thunder and lightning, high winds and even hail.
"People were warned to avoid open spaces, not to stand under trees as it is a lightning strike hazard and be careful of unstable advertising hoardings."
Farmers have also been warned about protecting their livestock and crops in the agriculture-heavy northeastern provinces. Here are the provinces that may be affected…
Northeast: Bueng Kan, Sakon Nakhon, Nakhon Phanom, Mukdahan, Khon Kaen, Chaiyaphum, Kalasin, Maha Sarakham, Roi Et, Yasothon Loei, Nong Bua Lamphu, Khon Kaen, Chaiyaphum, Nakhon Ratchasima, Buri Ram, Surin, Si Sa Ket and Ubon Ratchathani
Northern region: Chiang Mai, Chiang Rai, Phayao, Phrae, Nan, Lampang, Tak, Sukhothai, Uttaradit, Phitsanulok, Kamphaeng Phet, Phichit and Phetchabun
Central: Nakhon Sawan, Uthai Thani, Chai Nat, Sing Buri, Ang Thong, Ayutthaya, Lop Buri, Saraburi, Suphanburi, Ratchaburi, Kanchanaburi, and Bangkok.
East: Prachin Buri, Sa Kaeo, Nakhon Nayok, Chachoengsao, Chon Buri, Rayong, Chanthaburi and Trat
SOURCE: Daily News
Forest fires destroy 2.7 million rai of land whilst Chiang Mai is back on top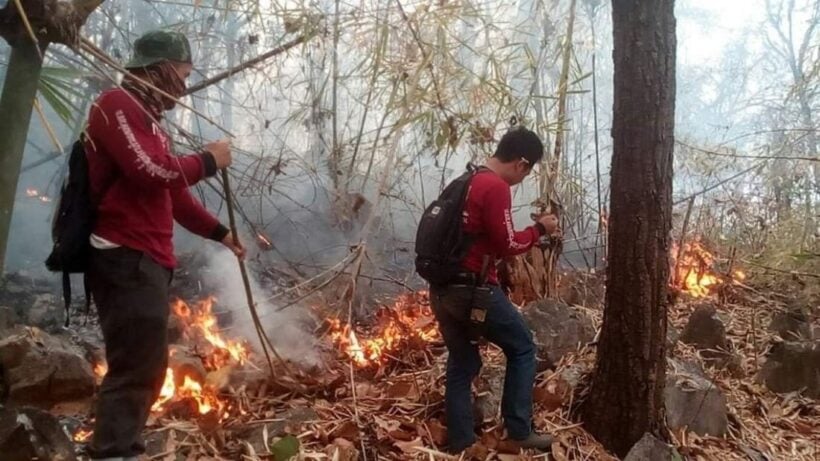 by Tossapol Boonpat
Bush fires have devastated nearly 2.7 million rai (there are 2.5 Rai in an Acre) of forests in nine northern provinces.
The Mae Hong Son forest fire and haze control centre says that satellite imaging from the Geo-Informatics and Space Technology Development Agency shows that from January 1 to March 16, 2,680,634 rai was destroyed by wildfires.
The devastation included 102,268 rai in Chiang Rai, 374,313 rai in Chiang Mai, 791,301 rai in Tak, 221,300 rai in Nan, 150,995 rai in Phayao, 176,107 rai in Phrae, 203,889 rai in Mae Hong Son, 470,009 rai in Lampang and 190,452 rai in Lamphun.
As of yesterday, the daily satellite image showed Mae Hong Son had 124 hotspots (10 in Pang Mapha, 17 in Pai, 30 in Muang, 16 in Khun Yuam, three in Mae La Noi, 26 in Mae Sariang and 22 in Sop Moei districts).

But a source from the Royal Forest Department says people should not be overly alarmed by such high figures, as the wildfires had swept through dried, flammable materials on the floors of the forests, and most trees will once again start producing new leaves.  The source said the fires had also thinned the hard shells of pods, so when the rains come, seedlings can sprout faster.

Unhealthy levels of smog were again recorded in the nine northern provinces and one province in the Central region, with Chiang Mai once again reaching the dubious honour as the world's Number One worst polluted city.

Pralong Damrongthai, PCD director-general, said hazardous levels of air pollution were detected in Chiang Mai, Chiang Rai, Lampang, Lamphun, Mae Hong Son, Nan, Phayao, Phrae and Tak provinces, as well as in the Central province of Nakhon Sawan.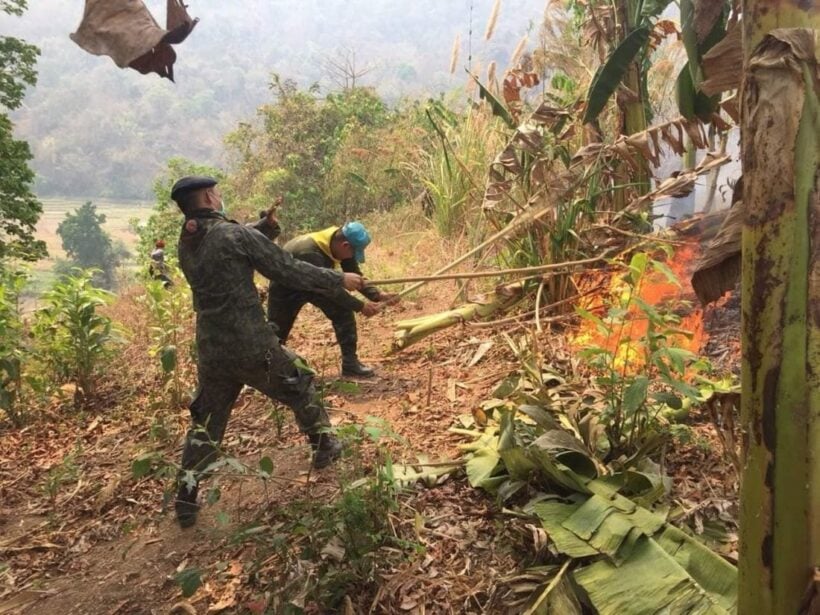 SOURCE: The Nation
Northern smoke haze easing slowly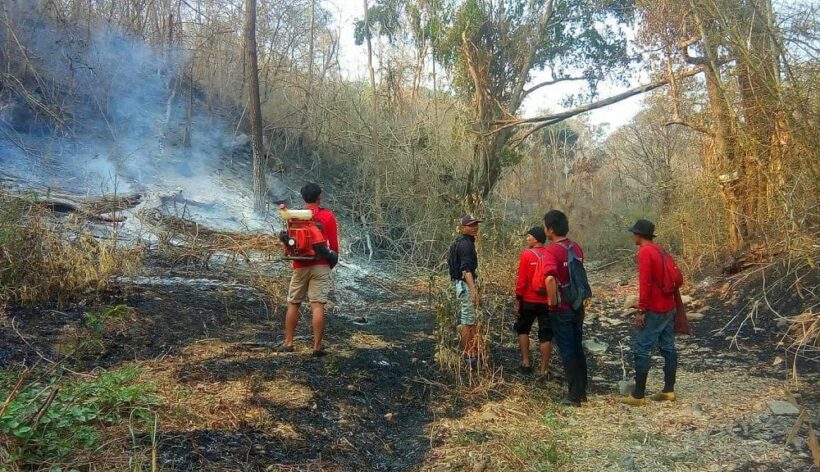 Either by hard work, serendipity or pure luck, the smog and haze in the North has eased considerably within the seven-day timeframe set last Tuesday by the Thai PM General Prayut Chan-o-cha.
The PM flew into the smoke-stricken Chiang Mai last Tuesday to meet with northern provincial governors to work out active solutions. During the visit, the premier made clear that he expected clear results within seven days and promised to take action against officials who failed to meet the target.
Prayut also directed relevant authorities, as part of short-term measures, to focus on reducing the number of hotspots, as they were the main polluters. His intervention has led to intensive efforts to combat forest and plantation fires.
The Third Army Area organised more than 100 helicopter flights to help extinguish wildfires during the week. Meanwhile the GeoInformatics and Space Technology Development Agency's fire-monitoring system reported that the number of hotspots in nine northern provinces had dropped to 231 yesterday – a significant drop from nearly 2,000 on April 2.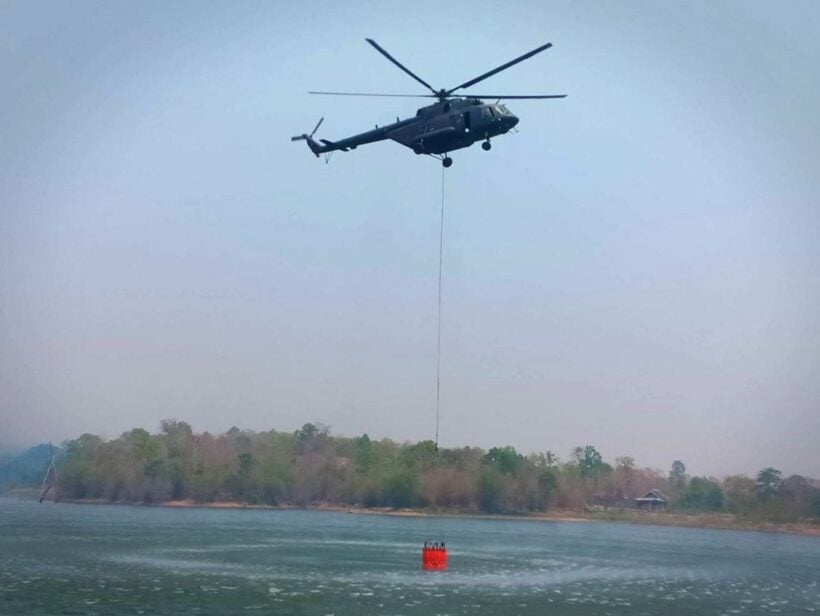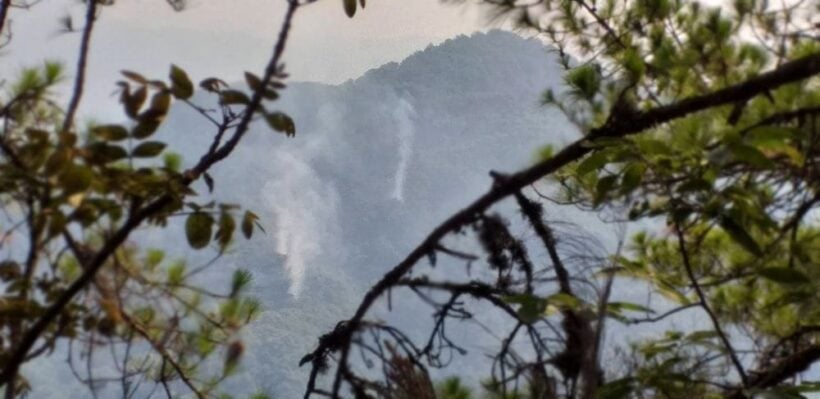 While the intensified efforts have apparently improved air quality in the smog-hit North over the last week, the progress is bittersweet.
Siriwat Srisapha, a senior official based in the northeastern province of Nakhon Ratchasima, revealed yesterday forest-fire responder Wichien Panures had a stroke while helping fight a blaze in the northern province of Lampang.
"While there, he suffered serious stomach ache and headache. Though he was rushed to hospital, he suffered a stroke on the spot and needed to be transferred to a better equipped hospital."
According to doctors, Wichien is currently in a coma, and his body is showing no signs of response. Doctors believe there is little chance of recovery.
Many locals are complaining of respiratory and related problems with doctors and hospitals reporting a huge influx of patients related to the smog problems. This morning's Chiang Mai readings from AirVisual.com below.

SOURCE: The Nation