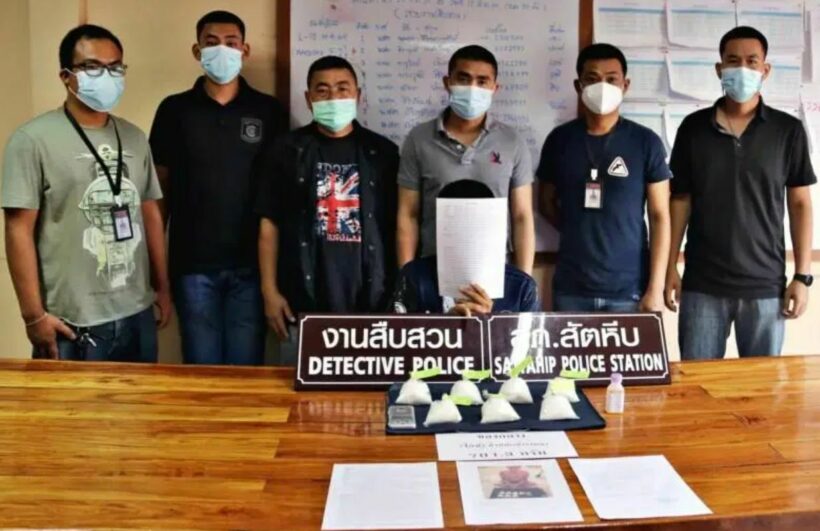 Acting on a local tip, Sattahip police took a suspect into custody in Rayong with over 700 grams of crystal meth in his possession. The man caught with the methamphetamine said that he had become unemployed due to Covid-19 and desperate to make some money, so he turned to dealing drugs to survive.
The team of police from Sattahip, a district in the southern tip of Chon Buri province bordering Rayong, arrested the 26 year old man on Tuesday and recovered 701.3 grams of crystal meth. The officers had conducted a sting operation to catch the man after a concerned local informed the police that the man was selling drugs in Sattahip.
Despite his excuse that he only turned to drug trafficking after the Covid-19 pandemic cost him his job and the economy and tourism dried up, a drug test found him to be guilty of partaking of his stash with drugs in his system. He will be charged for illegal drug use and possession of category 1 drugs with the intent to sell.
The man named a Ma Herb to Sattahip police as the source of his drug cache, saying he purchased the crystal methamphetamine from that mystery man with the intention of reselling the drugs. He was selling the meth for 500 baht a gram, making the stash police confiscated potentially worth 350,000 baht. The accused man in custody says that he does not know the real identity of Ma and has no way of contacting him.
The alleged meth dealer remains in the custody of Sattahip Police at this time, awaiting prosecution.
SOURCE: The Pattaya News