Chief Executive of Hong Kong insists she's going nowhere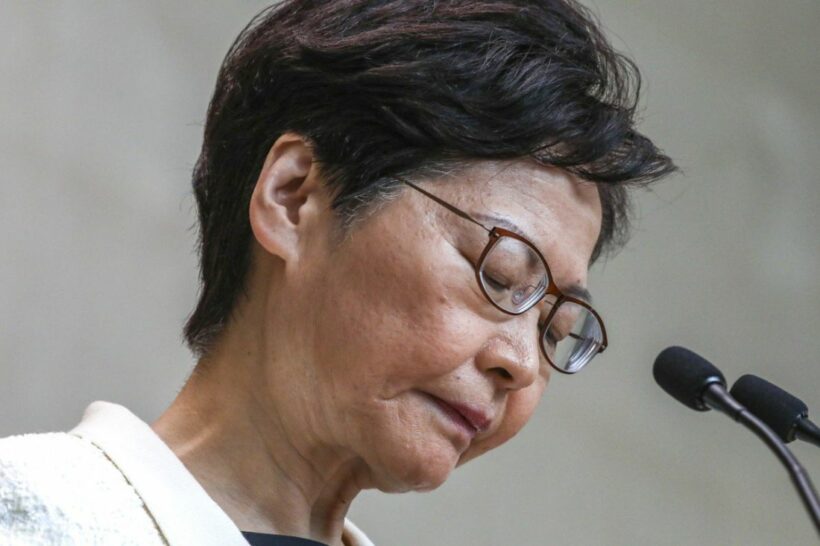 PHOTO: Scmp.com/Nora Tam
The Asean Post reports that Hong Kong Chief Executive Carrie Lam says she has no intention of resigning, despite a leaked audio recording where she says she wants to do just that.
"For a chief executive to have caused this huge havoc to Hong Kong is unforgivable. If I have a choice, the first thing is to quit, having made a deep apology."
It's understood the Hong Kong leader was speaking to business leaders at the time and that a recording was later released by Reuters.
However, at a press conference yesterday, Lam denied she had any intention of quitting.
"I told myself repeatedly in the last three months that I and my team should stay on to help Hong Kong. The conflict that I myself want to quit, but cannot quit, does not exist."
Beijing has also repeated its support for Lam, while warning that it would not allow the escalating situation in Hong Kong to continue.
"If the situation continues to deteriorate and moves into the turmoil that endangers national sovereignty and security, that is beyond the control of the (Hong Kong) government, the central government will never sit idly by."
But in the recording leaked to Reuters, Chief Executive Lam can be heard saying she believes China has no plans to send in the military, adding that Beijing has no deadline for such a clamp down.
"They know that the price would be too huge to pay."
The protests began over three months ago, in strong opposition to Lam's attempts to push through a bill that would allow for extradition to China. Since then however, they have grown into wider calls for democracy and a push back against Beijing rule.
More than 1,100 people have been arrested, including leading democracy campaigners and politicians. Many rallies have descended into violence, with Beijing repeatedly threatening to intervene.
SOURCE: The Asean Post
Keep in contact with The Thaiger by following our
Facebook page
.
Hong Kong property investors turn to SE Asia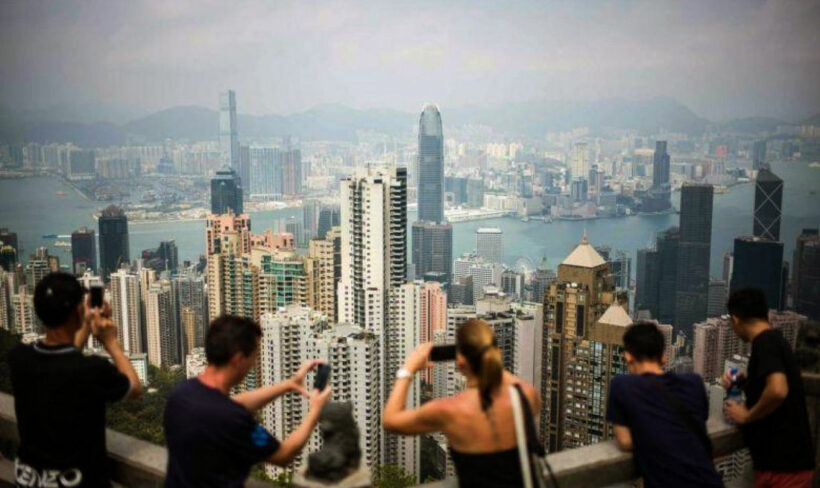 From luxury Singapore apartments to Malaysian seafront condos, Hong Kong investors are shifting cash into Southeast Asian property, demoralised by increasingly violent protests as well as the China-US trade war.
Millions have taken to the streets during four months of pro-democracy demonstrations in the southern Chinese city, hammering tourism while also forcing businesses to lay off staff – and the property sector is feeling the pain. Property stocks in one of the world's most expensive housing markets have plummeted since June, with developers being forced to offer discounts on new projects and cutting office rents.
Hong Kong businessman Peter Ng bought a condominium on the Malaysian island of Penang – which has a substantial ethnic Chinese population and is popular among Hong Kongers – after the protests erupted.
A 48 year old stock market and property investor told AFP he was worried about long-term damage to the Hong Kong economy if the unrest persists.
"The instability was a catalyst for me. Investors will always look at things like that, political stability."
And Derek Lee, a Hong Kong businessman who owns a Penang apartment, said he knew others in the semi-autonomous city who were considering investing in south east Asian property because of the unrest.
"People are thinking about how to quicken their ideas, how to make a more stable life," the 55 year old told AFP. Part of the allure of Malaysia is its relative affordability and prices much lower than Hong Kong.
The Malaysia site of Southeast Asian real estate platform Property Guru has seen a 35 percent increase in visits from Hong Kong, according to its CEO Hari Krishnan.
China-fuelled boom
While Hong Kong's protests are primarily pushing for greater democratic freedoms and police accountability, the summer of rage has been fuelled by years of simmering anger towards Beijing and the local government over falling living standards and the high costs of living.
Hong Kong's property market is one of least affordable in the world with sky-high prices fuelled, in part, by wealthy mainlanders snapping up investments in a city which has failed for years to build enough flats to meet demand.
But now mainland Chinese, who traditionally viewed property in Hong Kong as a safe investment, are opting for rival financial hub Singapore as a result of the protests and the US-China trade war, according to observers.
There has been a jump this year in sales of luxury apartments in the city-state, which like Hong Kong is known for pricey property, driven partially by mainland Chinese buyers, according to the consultancy OrangeTee & Tie.
"The protests in Hong Kong have made some of the (mainland Chinese) based there… (more concerned) about investing in Hong Kong real estate, so they carry that investment to Singapore," said Alan Cheong, executive director of the research and consultancy team at Savills.
As well as hitting China's economy, trade tensions may have discouraged some Chinese from investing in the West and pushed them towards Singapore, with its mostly ethnic Chinese population.
"I think they don't want to go to the West."
Singapore is "the closest country culturally to China other than Hong Kong and I think they feel more comfortable with that". There are further signs the stable, tightly ruled city is benefiting from the Hong Kong turmoil. Goldman Sachs last week estimated as much as $4 billion flowed out of Hong Kong to Singapore this summer.
And analysts warned there was little hope of Hong Kong's property market recovering soon.
"Hong Kong property share prices have corrected by about 15 to 25% since July," said Raymond Cheng, head of Hong Kong and China property at CGS-CIMB Securities International.
Residential sales were still holding up but only when developers offered discounts, office rents were expected to fall by as much as five percent and shop rents were also badly affected, he said.
But despite the unrest, businessman Ng, who will rent his Penang property and has no plans to move there permanently for now, was still hopeful about Hong Kong's long-term prospects.
"The problem may not be solved in the short term but it is not so serious as pessimists think. Everything is still in the government's control."
SOURCE: Agence France-Presse
PHOTO: newlaunches.sg
Keep in contact with The Thaiger by following our
Facebook page
.
Future Future leader Thanathorn denies interfering in Hong Kong issues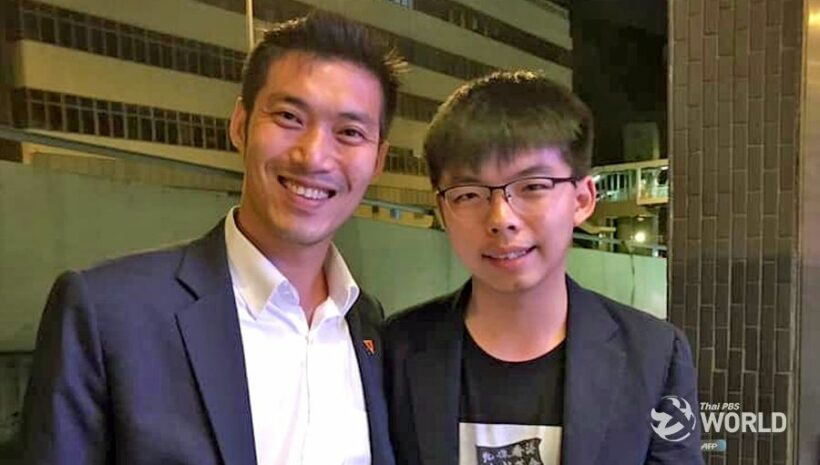 PHOTO: Thai PBS World
The leader of Thailand's Future Forward party, Thanathorn Juangroongruangkit, says the reaction to him being photographed with Joshua Wong, leader of Hong Kong's pro-democracy movement, is totally overblown and taken out of context.
The picture, taken at a Hong Kong event organised by The Economist magazine where Thanathorn had been invited to speak, went viral on Thai social media, leading to some military figures and other pro-Army groups to accuse him of meddling in Hong Kong's current turmoil.
Thanathorn strenuously denies the allegations, saying he only met Wong for five minutes, and insists he fully respects China's position with regard to Hong Kong and the principle of, "One Country, Two Systems".
But he admits to having looked to Hong Kong's pro-democracy movement for inspiration in 2018, when discussing with friends the best way to end the junta's rule in Thailand. He says in the end, he decided to set up a political party as a means to achieving this.
Posting on Facebook, the politician says he has no intention of getting involved with the Hong Kong push for greater democracy or the protests which have rocked the city for four months now. The Future Forward party leader adds that his mission, and that of his party, is to continue building democracy in Thailand.
Thanathorn says he's a supporter of freedom of expression and the right to peacefully protest, and does not want to see violence in Hong Kong.
SOURCE: Thai PBS World
Keep in contact with The Thaiger by following our
Facebook page
.
Chinese media is slamming NBA over Hong Kong comments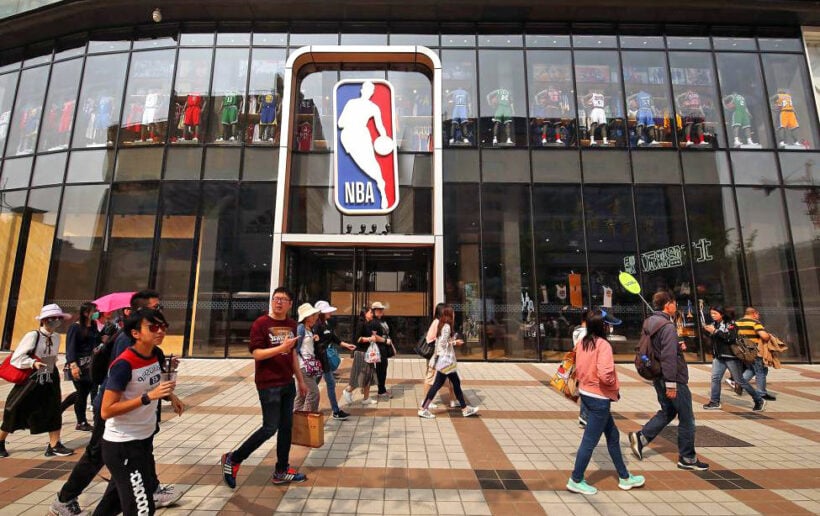 Sport, world politics and the mess in Hong Kong. Put the three together and you have an explosive mix. The NBA's entire future as it expands in China is now under a serious cloud.
Chinese state media is slamming the NBA for their "about-face" after the basketball association said it would not apologise for a tweet by the Houston Rockets General Manager supporting pro-democracy protests in Hong Kong.
The US league is drawing fire from Chinese broadcasters, sponsors and social media after Daryl Morey tweeted a message Friday saying "Fight for freedom. Stand with Hong Kong."
After the NBA called Morey's tweet "inappropriate" in a statement on the Chinese Weibo social media , league commissioner Adam Silver insisted at a press conference in Tokyo yesterday that the league would not apologise and would "support freedom of expression".
In an editorial, the state-run China Daily accused the NBA of a U-turn and said Silver's remarks showed the league's earlier "honey-mouthed" statements had been "nothing but an attempt to prevent the hemorrhaging of profits made in China."
It added that "Silver's about face, which will definitely give a shot to the arms of the rioters in Hong Kong, shows his organisation is willing to be another handy tool for US interference in the special administrative region."
State broadcaster CCTV and Chinese internet company Tencent both suspended broadcasts of Rockets games and two preseason NBA games in China.
Beijing has often accused foreign forces of fuelling the unrest in Hong Kong.
An editorial in the nationalistic Global Times also blasted the NBA for bowing to "political correctness in the US", saying there was now "little room for reconciliation" as the issue had escalated into a clash of values between China and the US.
"Silver will only offend more people no matter what he tries to say."
The NBA commissioner said he hoped to discuss the situation with Chinese officials in Shanghai, where the Brooklyn Nets and Los Angeles Lakers are set to play an exhibition game tomorrow. But a day after the NBA cancelled a Nets publicity event in the city, NBA representatives told AFP that it had scrapped a similar public event involving the Lakers today.
Separate training sessions by the teams, that media had been invited to, were also abruptly declared closed.
Crews at Shanghai's Mercedes-Benz arena, where the Nets and Lakers were to tip-off, were seen this morning removing the logos of the NBA, Nets, Lakers, and corporate sponsors from lamp-posts and walls in the area. And speculation is growing in the US that the games themselves – another is to be held in the southern city of Shenzhen on Saturday – could be cancelled.
The NBA has built a lucrative Chinese fanbase in recent years thanks in part to the popularity of former Rockets centre Yao Ming.
The Chinese Basketball Association, which Yao now heads, has also cut off ties with the Rockets.
SOURCE: Agence France-Presse
Keep in contact with The Thaiger by following our
Facebook page
.