The Runner's High and Squishy Socks – Laguna Marathon 2018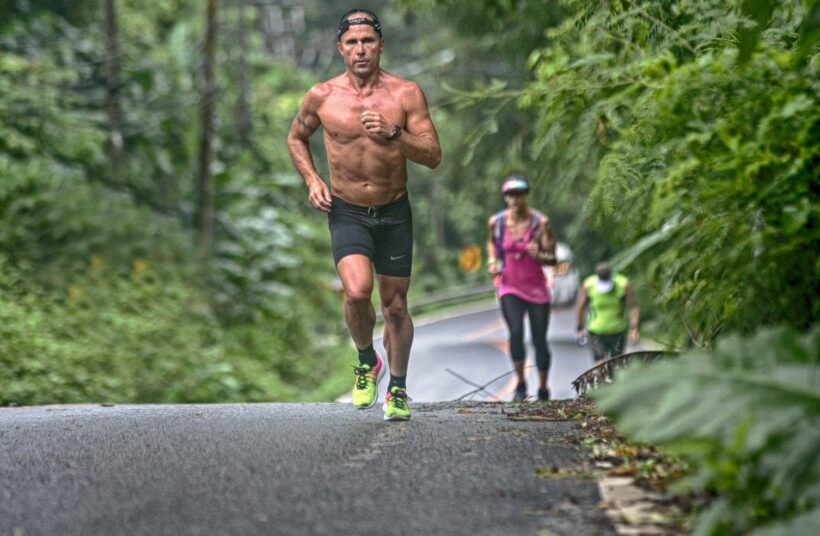 It was the first crack of thunder that shook the house, which beckoned me out of bed this morning at 4am. No worries the alarm was set for 5am.
If I sit around waiting for the perfect conditions and feelings I'll just be left sitting and waiting. It's so easy to blame our decisions on our circumstances.
With just over two weeks to go before Laguna Phuket Marathon it was our last Long Run for MJ and myself. MJ asked me two months ago to run with her and help her celebrate her 60th birthday in style. It truly is an honour to be able to share these amazing experiences with some truly amazing human beings.
At 5am MJ sent me a message "I'm running on the treadmill at the gym instead …. it's too nasty out there for me."
The rain was pounding, the wind was howling and it was by all accounts still "night time".
MJ always says to me that Laguna Phuket Marathon will be easy for me.
What's Easy? I still have to put one foot in front of the other. Life and the Race Course do not respect past results. All those Ironman Finishers T-shirts stuffed in my closet don't mean a damn thing. What ever made you think you could hack your results and rest on your laurels?
Radical Honesty – I didn't want to get my butt out of the house and tick off today's training miles in the rain. I hate squishy socks; which is funny because anyone who has ever raced an Ironman will attest that squishy socks are par for the course.
I can still get high off my own supply – my little voice told me I could get the run in later this afternoon. My next best thought was that I could jump on the trainer and log a ride instead.
"Come on Dude you have Ride 4 Kids to train for as well."
Always looking for that quick fix and cheap solution. Amazing what we will let ourselves get away with when we have such noble intentions protecting our flank. It wasn't the sheer joy of running or the perceived health benefits that got my butt out the door. What are you willing to do even when you don't feel like doing it?
It was discipline…. a ferocious commitment to the value I place on Myself and the Process.
The inherent wisdom that the more and more I wait for the right feelings the less and less I'm going to get done in my life. For the first 30 mins of the run I was still replaying all the reasons why I shouldn't be out in the rain running. The solitude on the road doesn't make for the best running partner at times.
This is one of the most important secrets: DOUBT is a necessary ingredient for faith. You need to go through the "bad patches" to garner a little more trust and faith in yourself and the process.
I'm going to let you in on a HUGE secret…
There is no FINISH line or Happy Ever After.
Happiness is a moment to moment choice and this so called "negativity" is a gift.
Funny how even after all the whinging to get out the door, all the rain pelting me in the face and the squishy socks it was an EPIC run up and over to Kata this morning. Your Garmin and heart rate monitor will tell you your: biology, physiology, speed, location and distance. These cute little gadgets won't tell you one thing; Who You Are!
To all the runners who braved the conditions and had the squishy socks to get in their training for Laguna Phuket Marathon this week…. WELL DONE and Looking forward to June 10.
My Predicament is Myself.

Keep in contact with The Thaiger by following our
Facebook page
.


Are you considering a medical procedure abroad? With Thaiger Medical you can research hospitals and doctors, choose a destination in Thailand or abroad, and book an appointment today.

Out of 37 countries, Thailand has the worst pension system, says Bloomberg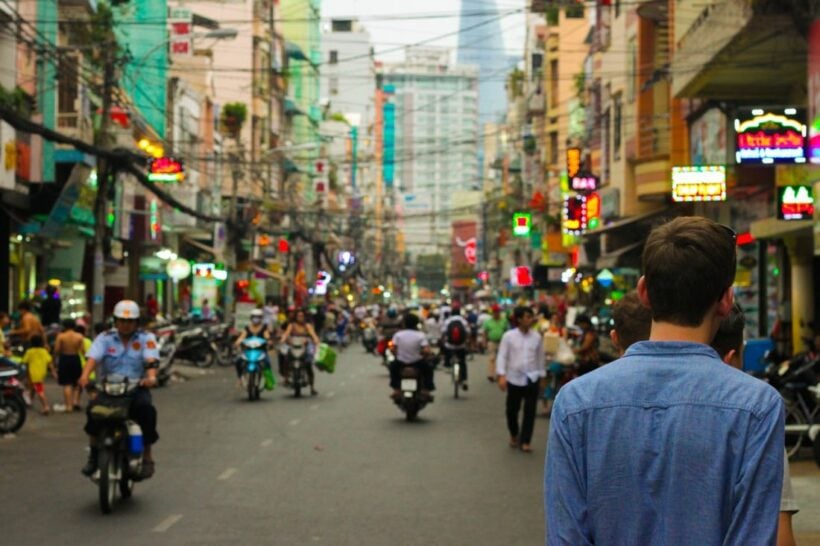 Thai Residents reports that on Sunday, Bloomberg published an article on the world's best pension systems, using information gathered from the 2019 Melbourne Mercer Global Pensions Index.
The survey looked at the pension systems of 37 countries with metrics including employee rights, savings, the number of homeowners, growth of assets, and growth of the economy. The purpose of the analysis was to determine what was needed to improve state pension systems and to gauge the level of confidence citizens had in their state pension system.
The Netherlands and Denmark were found to have the world's best state pensions, with Australia, Finland, Sweden, Norway, Singapore, New Zealand, Canada, and Chile next. Out of all 37 countries, Thailand finished last, with what the report described as an extremely ineffective and ambiguous system.
"Thailand was in the bottom slot and should introduce a minimum level of mandatory retirement savings and increase support for the poorest."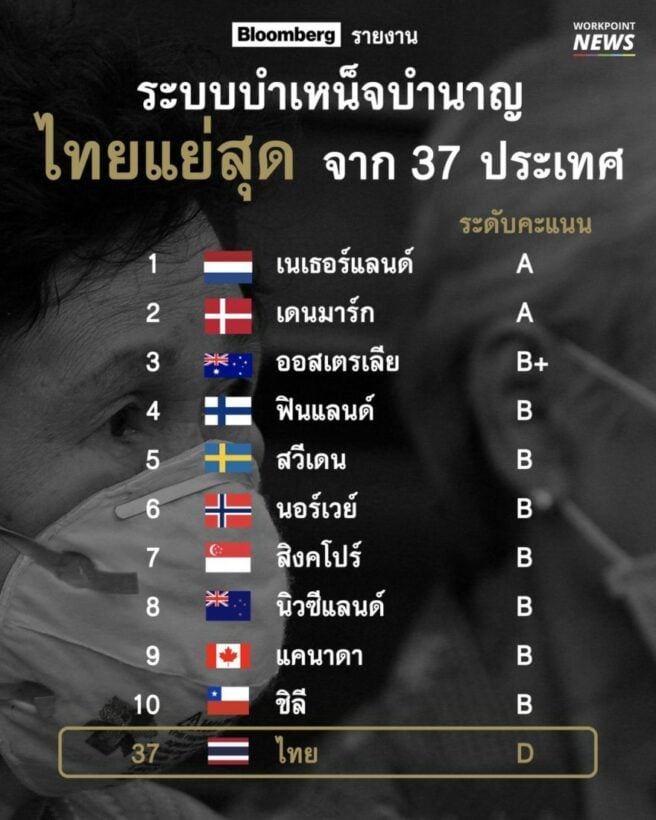 Photo: WorkpointNews
Thai Residents states that only those employed within the government system in Thailand are eligible for a pension based on salary. For most Thai citizens, pension amounts vary from 600 baht to 1,000 baht a month, depending on the recipient's age.
A report carried out by The Securities and Exchange Commission (SEC) advises Thai citizens to have at least 4 million baht saved by the time they retire, but Thai Residents reports that 60% of Thai retirees have less than 1 million baht in savings, with one in three citizens who have reached retirement age are forced to continue working in order to survive.
SOURCE: thairesidents.com
Keep in contact with The Thaiger by following our
Facebook page
.
Tax on salt content being considered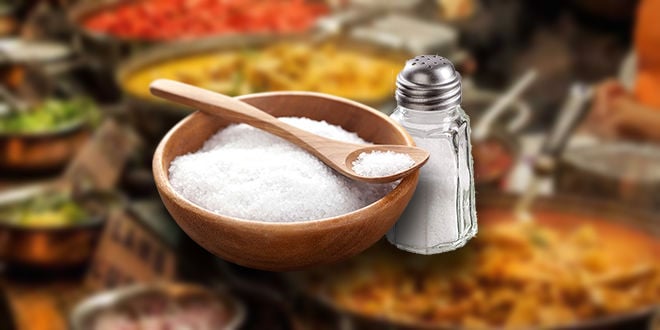 The Excise Department is considering imposing a tax on the salt content of food to encourage food producers to reduce the sodium content of snacks, instant noodles and seasoning cubes.
The director of the Office of Tax Planning said that the department is discussing a limit on the amount of sodium food can contain, in line with the standard set by the World Health Organization (WHO), which is 2,000 milligrams of salt per day.
In reality, Thai people consume an average of 1,000 milligrams per meal, making their daily intake well above WHO guidelines, according to the director.
He said any tax imposed would be at a level which would encourage food producers to reduce the sodium in their processed food without being punitive, adding that the proposal isn't intended to generate more tax revenue, but to help protect the health of consumers. Excessive sodium in the diet can lead to high blood pressure and kidney disease.
Fish sauce, soy sauce and salt would not be taxed.
SOURCE: thaipbsworld.com
Keep in contact with The Thaiger by following our
Facebook page
.
Water shortage warnings in 22 provinces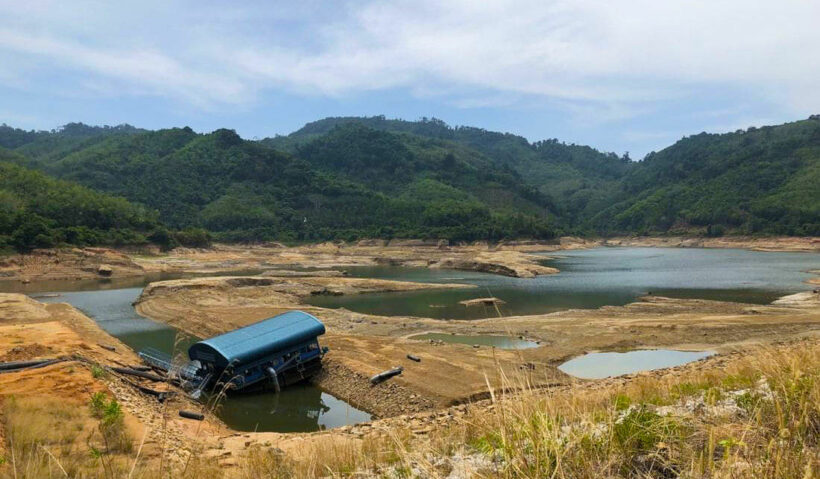 People living in 22 Thai provinces are being warned to prepare for shortages of drinking water during the upcoming dry season, due to start on November 1st.
The warning was issued by the National Water Resources Office, citing low levels in reservoirs, which are the main sources for tap water production waterworks in 22 provinces.
Areas at risk identified by the office are in northern, north-eastern, eastern and southern provinces.
Measures have been adopted by agencies charged with dealing with water shortages. including dredging water channels to allow greater volumes of water to flow into reservoirs, drilling underground wells, enlarging storage ponds and the purchase of water to supply to those in urgent need.
The Royal Irrigation Department has announced that people should use water sparingly.
There are currently about 6 billion cubic metres of usable water in reservoirs in the affected provinces, with 5 billion cubic metres reserved for consumption and ecological preservation, leaving only 1 billion cubic metres for use in agriculture.
This means farmers in the Chao Phraya river basin may not be able to grow a second crop of rice this year.
SOURCE: thaipbsworld.com
Keep in contact with The Thaiger by following our
Facebook page
.