Profile: His Majesty through foreign eyes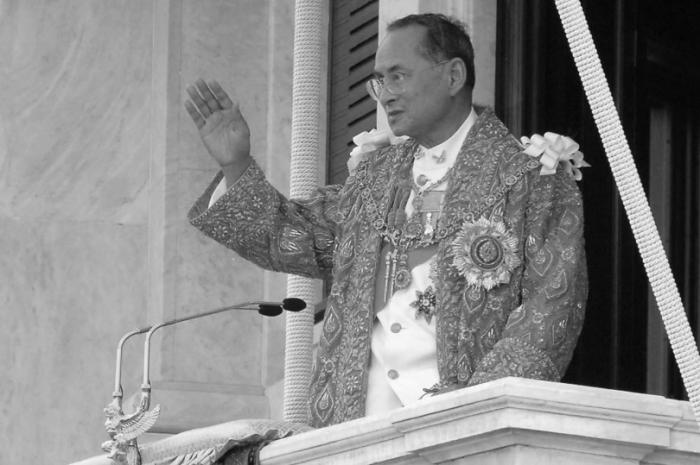 PHUKET: In surveying the scope of achievements made by His Majesty the King, the incalculable benefits he wrought for Thailand and its people rightly take precedent. But no picture of his 70-year reign can be complete without appreciating the central role he commanded in Thailand's foreign relations.
His Majesty not only set the tone for warm ties with foreign leaders and countries, but he also gave Thailand a firm and peaceful standing in the international arena.
The fruits of his tireless work at home also spread beyond Thai shores to aid the development and well-being of populations all over the world.
He performed on the international stage not only as head of state, but also as the embodiment of Thai values, personifying the wisdom of peaceful coexistence for a world of diverse peoples and cultures.
His first trip as King was to Vietnam, in 1959, after which came visits to nearly 30 countries across Asia, Europe and America. The United States, where he was born, was graced with two Royal visits, as were Germany and Austria.
The world was intrigued by the sight of a head of state as comfortable and poised in the presence of Elvis Presley as he was discussing global affairs with world leaders. But as well as head of state, His Majesty was recognized as a true king of the people by the public overseas.
Along with Her Majesty the Queen, the King blazed a trail abroad that other members of the Royal Family have since followed, further burnishing Thailand's reputation and building bonds with other countries.
The overseas trips made by Their Majesties and their children and grandchildren have never been a matter of mere diplomatic protocol, but have made real contributions to state-to-state relations and also to ordinary people.
His Majesty's development work on behalf of the rural poor, including his philosophy of sufficiency economy, has been recognized globally. In 1995 the United Nations Food and Agriculture Organization awarded him the Agricola Medal in recognition of his devotion to the well-being and happiness of all Thais.
In 2006, then-UN secretary-general Kofi Annan presented him with the global body's first Human Development Lifetime Achievement Award.
Three years later, His Majesty's remarkable contributions as an inventor and active proponent of intellectual property as a development tool earned the inaugural Global Leaders Award presented by the World Intellectual Property Organization.
His first patent was registered in 1993, for the Chaipattana aerator. More than 20 were to follow, including patents for his rainmaking techniques in 1999 and 2003. The King's inventions have been put to practical use in a range of rural development projects, generating concrete benefits for communities throughout Thailand and neighboring countries.
It is important to note here the feelings of deep respect and gratitude toward His Majesty that exist in ordinary households over the Thai border.
There are current nearly 10 major Royal Projects in Laos alone. The first, initiated as far back as 1992, was the Development Service Project at Huay Sone-Huay Sua in Nayang Village, Na Xaithong district, about 22 kilometers north of Vientiane.
His Majesty the King presided over the official launch of the project in April 1994 on a visit that also saw him open the first Thai-Lao Friendship Bridge across the Mekong River.
Since then, countries such as Cambodia have benefited from crop substitution projects and other development programs as part of His Majesty's efforts to solve problems and uplift the living standards of ordinary folk there.
— The Nation
Keep in contact with The Thaiger by following our
Facebook page
.


Have something to say? Scroll down to leave a comment, or visit our Thaiger Thailand Q&A Forum to discuss people, events, to-do and more with the local community.

John Legend & Chrissy Teigen check out the tastes at a Korat Market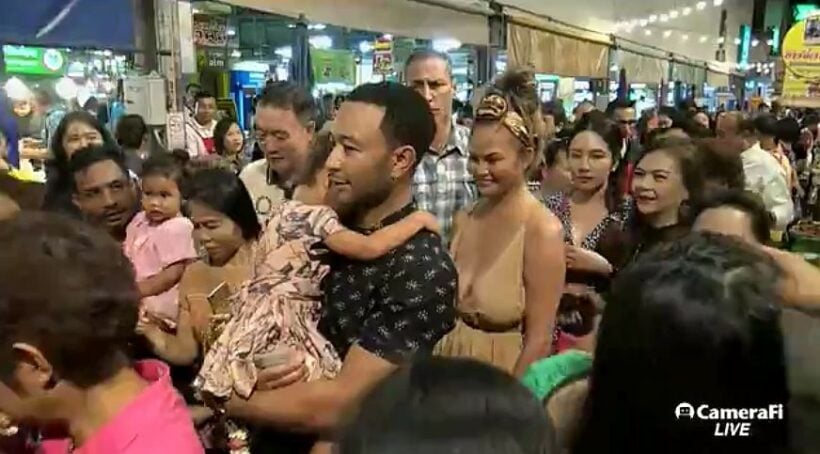 American music legend, John Legend, and his Thai-American wife Chrissy Teigen headed to a Nakhon Ratchasima food market only to be surrounded by locals trying to get a quick selfie.
The army of fans surround the musician, his wife and daughter to follow them around the market in the 25 minute Facebook post. It was smiles all around but as the video wears on so does the patience of the American singer whose only protection appears to be a plain-shirt body-guard who is at least 40 centimetres taller than everyone around him (he doesn't stand out at all).
A Thai policemen comes to their rescue and helps escort them somewhere a bit quieter.
Legend's model wife Chrissy Teigen is seen almost wearing her dress as any number of wardrobe malfunctions appear moments away from happening throughout the video.
The family were reported to have visited a number of famous Korat landmarks during their visit to the area.
Legend performed in Bangkok in March 2018 this year as part of his Darkness and Light tour.
Keep in contact with The Thaiger by following our
Facebook page
.
Phuket's lifeguards say goodbye to a champion of local beach safety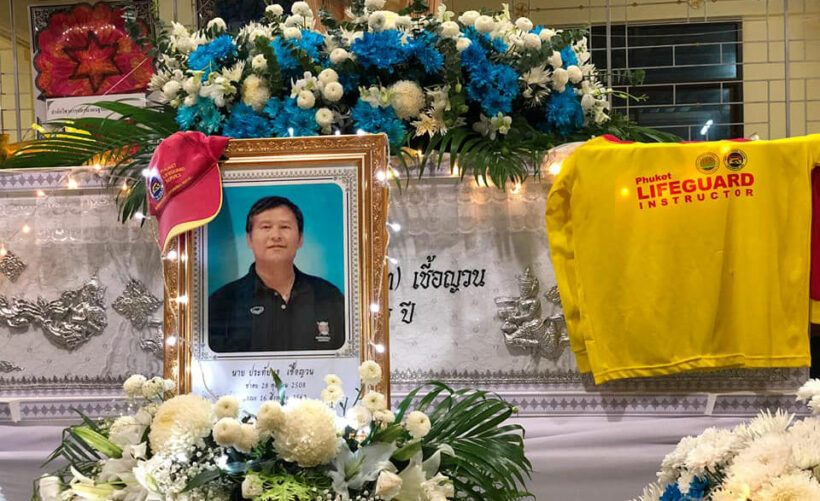 PHOTOS: Phuket Lifeguard Service
A commemoration ceremony has been held for Prathaiyuth Chuayuan, a local Phuketian who helped drive Phuket's first beach lifeguard services. He passed away on Friday morning after a heart attack.
He first experienced chest pains whilst delivering his daughter to school in Phuket Town on Friday morning, drove himself immediately to the Vachira Hospital nearby but succumbed to cardiac arrest around 9am.
He was 57 years old.
He worked with Australian lifesavers to help train local lifeguards and improve the skills of the Phuket's beach enthusiasts, and finally sought international accreditation for the growing body of competent Phuket lifeguards.
The Phuket Lifeguards Service, founded and run by Prathaiyuth and his wife Witanya, saved innumerable lives each year whilst battling Provincial Hall and local government for increased funding in annual contract negotiations.
Daren Jenner, a FOT (Friend of The Thaiger) and local safety officer for the International Surf Lifesaving Association, sent a message to us expressing his deepest condolences to Prathaiyuth's wife, family and friends.
"I had many good conversations with him over the years. He was a good-hearted man who did his best in difficult and changing circumstances. A very big loss for Phuket and the lifesaving community here. ISLA sends our deepest respect for his long commitment to ocean safety in SE Asia."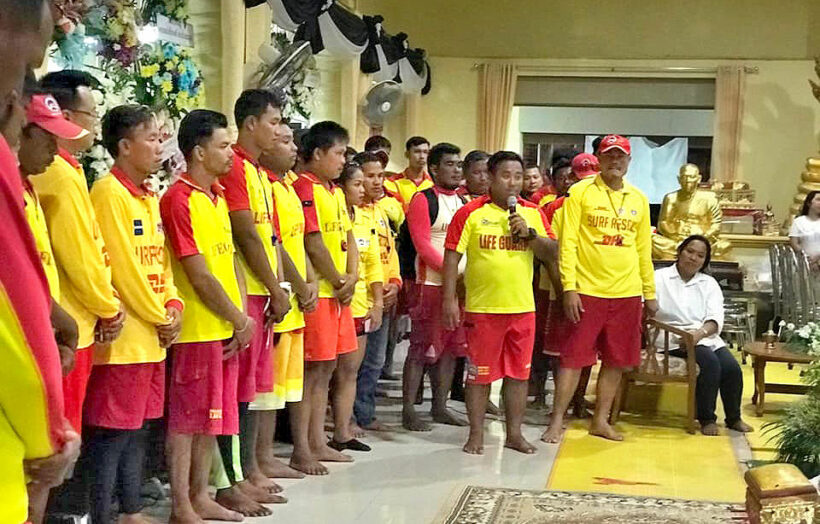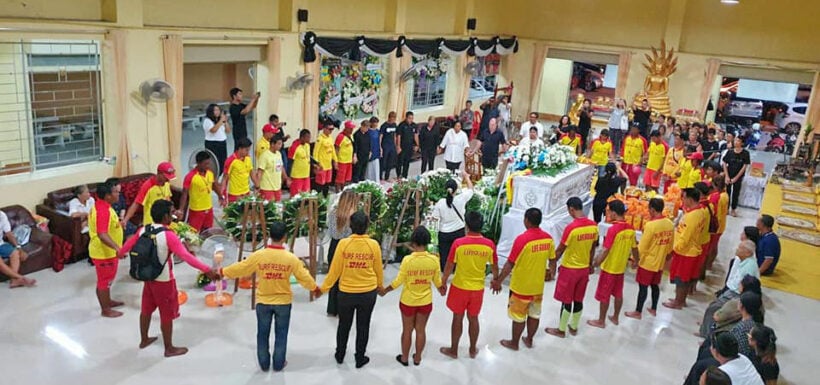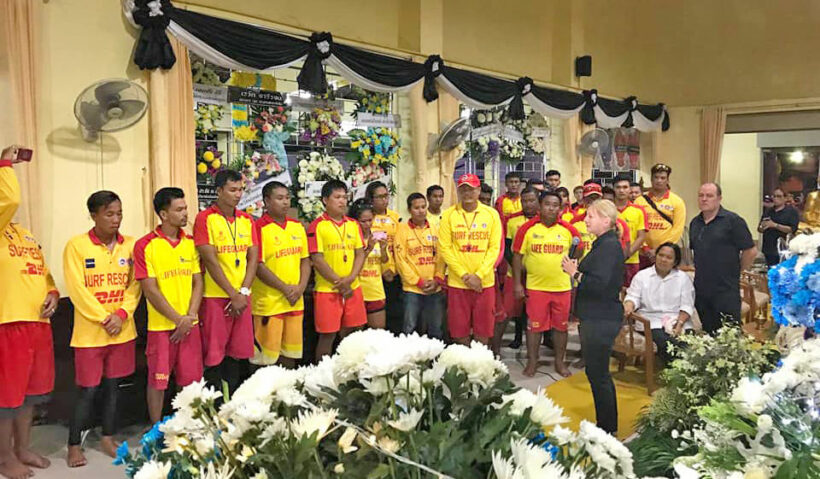 Keep in contact with The Thaiger by following our
Facebook page
.
Happy Birthday to Her Majesty Queen Sirikit, the Queen Mother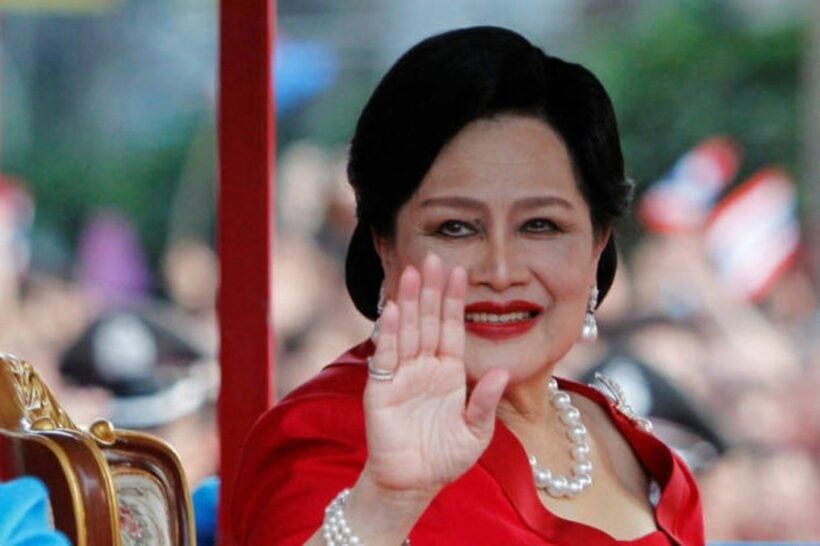 Today is the birthday of Her Majesty Queen Sirikit who was married to King Bhumibol Adulyadej. Following the Coronation of His Majesty King Maha Vajiralongkorn, her son, and his marriage to the new Queen Suthida, Queen Sirikit has now been bestowed the title of Queen Mother.
Her Majesty Queen Sirikit is the daughter of His Highness Prince Chandaburi Suranath (Mom Chao Nakkhatra Mangkala Kitiyakara) and Mom Luang Bua Kitiyakara (nee Mom Luang Bua Snidwongse).
She was born on August 12, 1932.  She attended kindergarten class at Rajini School, but subsequently went to St. Francis Xavier convent school at Samsen District in Bangkok.  Her father later on became Thai Minister to France, then to Denmark and, ultimately, Ambassador to the Court of St. James in England.  Her Majesty accompanied him and continued her general education in the three countries and lastly in Switzerland.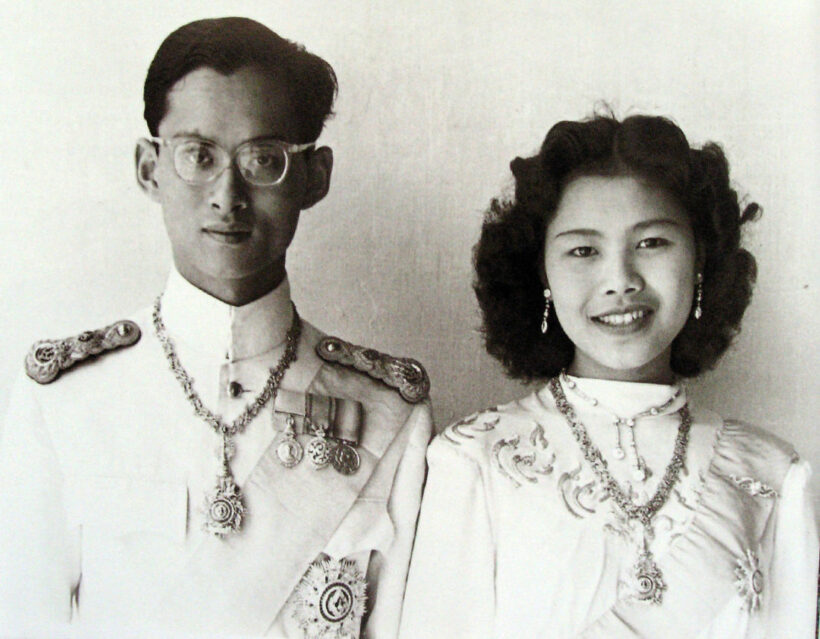 It was while her father was stationed in Paris that she first met His Majesty King Bhumibol Adulyadej, who was then studying in Switzerland but went now and then to Paris.  The chance meeting in Paris ripened into friendship and understanding.  When His Majesty met with a very serious motor accident in Geneva, Switzerland, and had to stay in a hospital at Lausanne, Her Majesty was a frequent visitor.
When His Majesty was well again and left the hospital, he was graciously pleased to arrange for Her Majesty to continue her studies at Riante Rive, a boarding school in Lausanne.  On July 19, 1949, Their Majesties were quietly engaged in Lausanne.  On March 24, 1950, Their Majesties landed in Bangkok by ship after a long absence.  On April 28 of the same year, the royal wedding took place at Pathumwan Palace.
The couple had three daughters and one son:
Princess Ubolratana Rajakanya (born 1951), married and divorced American businessman Peter Jensen, had two daughters and one son, their son was killed in the 2004 tsunami.
King Maha Vajiralongkorn (born 1952), married Suthida Tidjai just days before his Coronation this year. He has seven children from previous marriages.
Princess Maha Chakri Sirindhorn (born 1955), unmarried.
Princess Chulabhorn Walailak (born 1957), married Virayudh Tishyasarin, an Air Vice Marshal in the Royal Thai Air Force, had two daughters, divorced.
In 1956, King Bhumibol became a Buddhist monk for a period of time as is customary for Thai Buddhist males and Queen Sirikit served as Regent. Because of the excellent way she served as Regent, King Bhumibol gave her the style "Somdet Phra Nang Chao Sirikit Phra Borommarachininat" which would translate to Queen Regent.
Queen Sirikit is well known for her charitable work. She has been President of the Thai Red Cross Society since 1956. Through the Thai Red Cross, the Queen has been active in relief work for the many refugees from Cambodia and Burma in Thailand. The Queen took an active role in the aftermath of the tsunami disaster in southern Thailand in December of 2004. Tragically, the tsunami took the life of her grandson Bhumi Jensen, the son of her eldest daughter.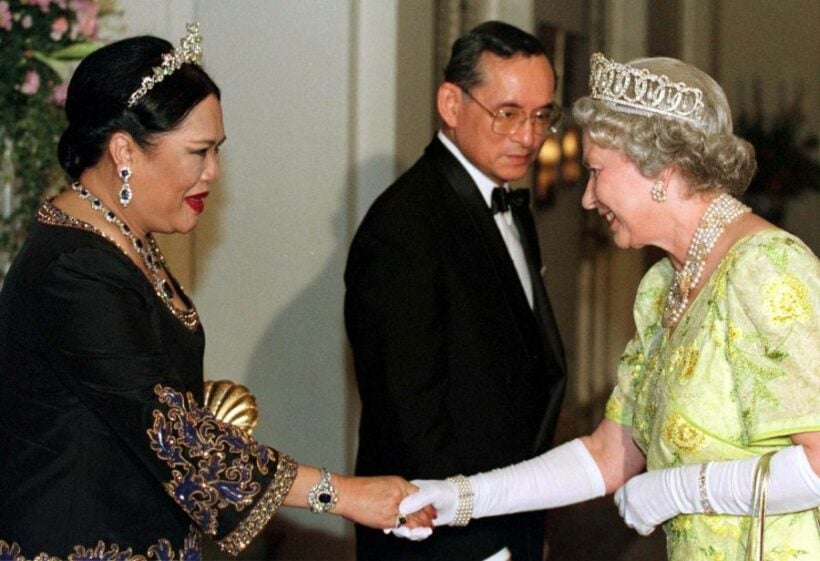 The health of King Bhumibol Adulyadej declined in his later years. The king resided at Siriraj Hospital in Bangkok for several years and Queen Sirikit also moved to the hospital to be with him.
On July 21, 2012, Queen Sirikit felt unsteady and staggered while exercising at Siriraj Hospital where King Bhumibol Adulyadej resided. Doctors determined that she has suffered a stroke. The Queen was not seen in public until August of 2013 when the King was discharged from the hospital. Since then, Queen Sirikit has refrained from making public appearances.
King Bhumibol Adulyadej died on October 13, 2016, at Siriraj Hospital in Bangkok, at the age of 88, following several years of illness.
Mothers Day in Thailand has been traditionally held on Queen Sirikit's birthday, and now with her new role as Queen Mother, the tradition continues.
Long live Queen Sirikit, the Queen Mother.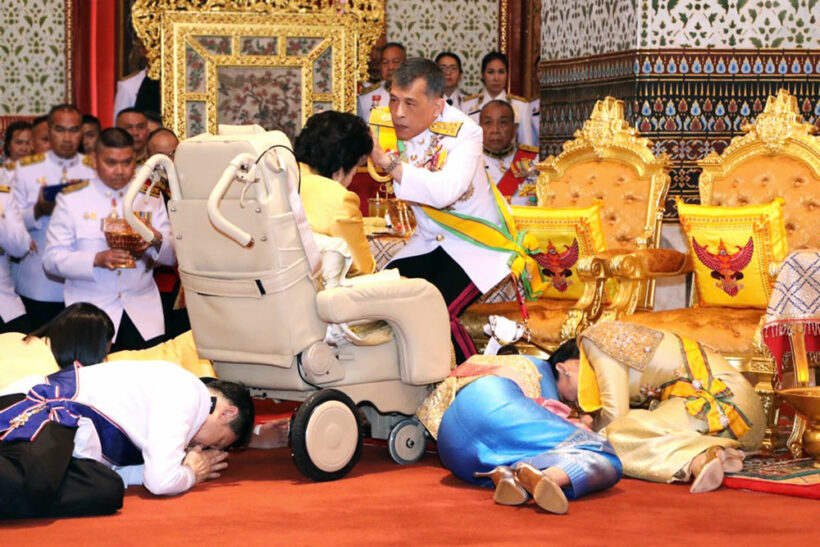 HM the King bestows the new role on his mother, Queen Sirikit, the Queen Mother, on the day after his coronation
Keep in contact with The Thaiger by following our
Facebook page
.