The Tesla of Thailand takes on the big car-makers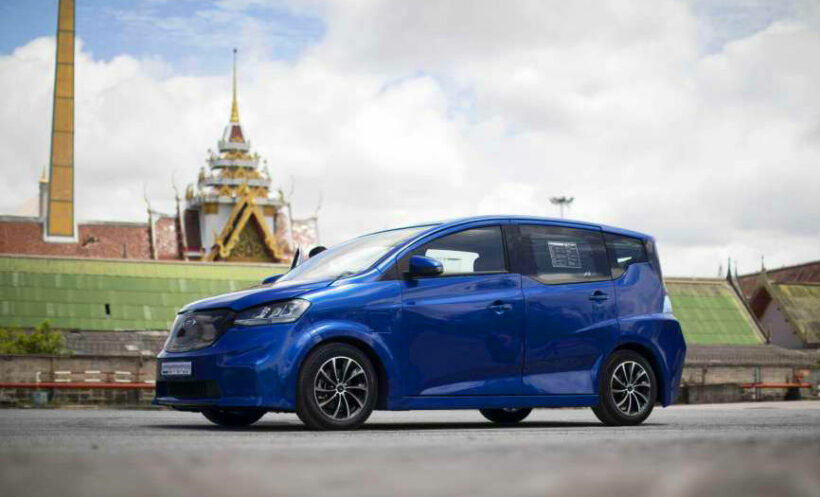 There are less than 1,500 battery-powered vehicles in Thailand. Thai billionaire Somphote Ahunai wants to change that with his Energy Absolute.
He envisions a total closed universe where he makes the cars, builds the charging stations, then provides the electricity to power the charging stations.
The popularity of motorcycles and the busy streets of South East Asia cities are just part of the deterrent for locals to drive away in an electric car. They've also been quite expensive up to now. But Energy Absolute recently unveiled the first car from its Mine Mobility subsidiary – the SPA1.
The Mine Mobility passenger EV featured at this year's Bangkok Motor Show in March and immediately received more than 4,500 orders. The car is reasonably priced at about 1.2 million baht, cheaper than a comparable Nissan Leaf or Kia Soul EV. The petrol-powerered mid-size SUVs from Honda and Toyota are also around the same price.
Now Energy Absolute is using Thai government subsidies and tax breaks to put 5,000 electric vehicles (EVs) on Thai roads by next year, backed by more than 700 charging stations popping up around the country. Energy Absolute is also planning a US$3 billion factory to make lithium-ion batteries which power the cars while they're on the move.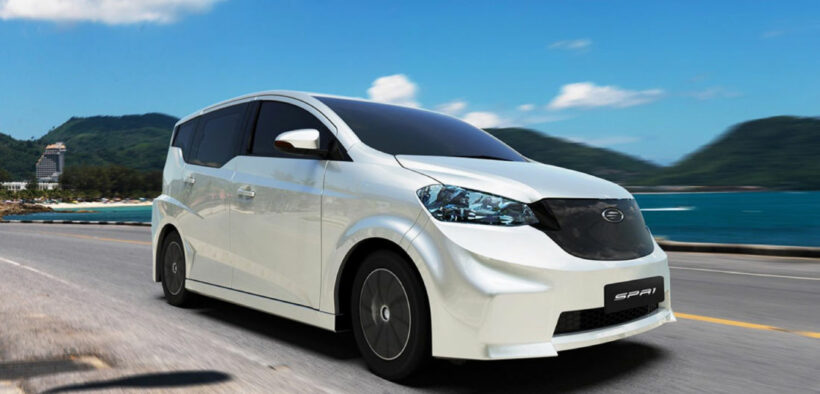 The company's founder and CEO, Sompote Ahunai says, "The trend is clear: it's time for Thailand to stop being complacent and pursue higher technology to drive economic growth. EV technology opens up new opportunities for success by new players."
But the SPA1 will head out on Thailand's roads at the same time EV showrooms start getting crowded with foreign models. Carmakers are chasing growth in South East Asia as combined sales in China, US and Europe decline amid the trade wars and the ongoing hangover of Brexit.
BYD, the Chinese manufacturer backed by American business investor Warren Buffett, says it planned to deliver 1,100 cars to Bangkok as part of a deal with the government to become the biggest supplier of pure EVs. And BMW, Nissan and Mercedes Benz have all announced plans to produce and assemble EVs locally as well.
But Thai energy billionaire Somphote wants his company to dominate EV sales in Thailand.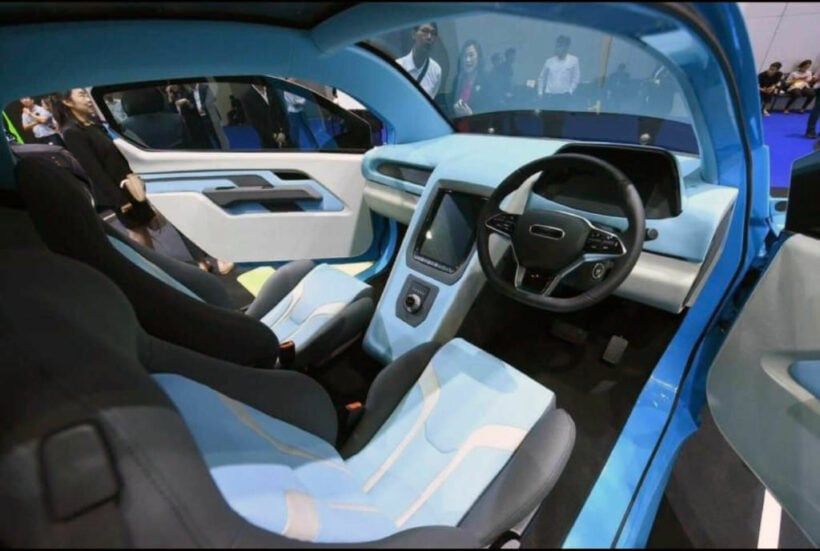 Energy Absolute markets the Mine Mobility SPA1 as the first EV designed and built in Thailand. The five-seat hatchback can travel up to 200 kilometres on a single charge, according to the company.
That's less than a Tesla Model 3 or BYD e6 but has already been enough to convince a group of five Thai taxi unions to order 3,500 cars for metropolitan Bangkok. The group chose Energy Absolute because it promised the earliest delivery.
Energy Absolute has about 400 charging stations around Bangkok and plans to install another 300 before the end of 2019. The plan is to have at least one charging point every five kilometres.
Sompote says Energy Absolute is also planning plans two more EVs – a cheaper compact and a pricier sports car.
"Thailand will be the leader of EV technology in this region. We're first, and that should give us a head start to develop the technology."
Keep in contact with The Thaiger by following our
Facebook page
.
Thai immigration's biometrics nabs 3 more fake passport holders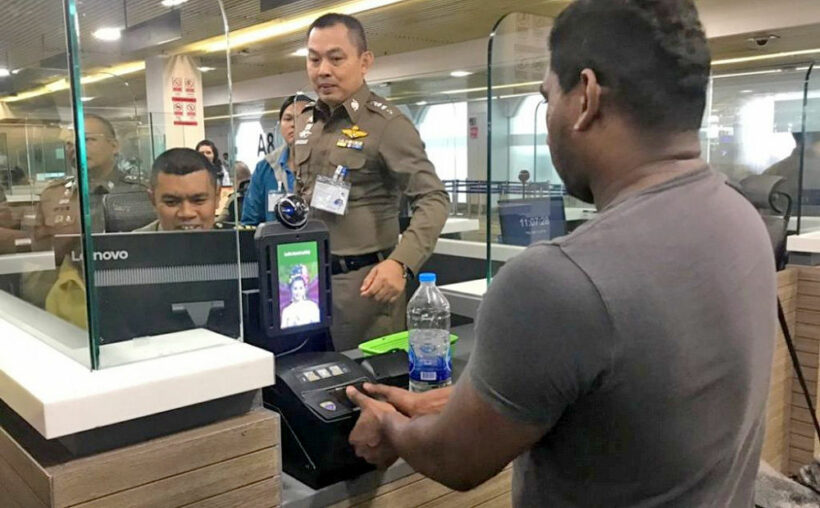 Thailand's Immigration Bureau commander says the biometric system at Bangkok's Suvarnabhumi Airport caught three foreigners carrying fake passports during the month of September.
"In the first case, immigration police arrested an Iranian man, aged about 47 years, holding a French passport and travelling from Germany to Thailand. The biometric scanning showed only a 19% match between his face and passport photo, so we took him into custody," said Pol Lt-General Sompong Chingduang.
The Nation reports that the man confessed to buying a fake passport in France for €520, in order to travel to Thailand and then on to Japan to seek employment. Sompong says the second person arrested was a Chinese man, in his fifties, and carrying a Burmese passport.
"The biometric scan identified that his passport's Machine Readable Zone had been altered. The suspect later confessed that he bought the counterfeit passport from Rangoon for 25,000 Burmese kyat (500 baht) to travel to Thailand."
The third arrest happened when a 28 year old Kenyan woman was detained while trying to leave Thailand. Sompong says she was trying to get away with having overstayed her visa.
"The biometric system alerted officials that she had overstayed in the country for two years. Her original visa allowed her to stay until September 15, 2017, and a fake stamp was used to give a new expiry date. She later confessed that she sent her passport to Kenya to have it altered at a cost of 10,000 baht."
SOURCE: The Nation
Keep in contact with The Thaiger by following our
Facebook page
.
"Nothing to worry about" – Thai Police clarify the collection of WIFI data at cafés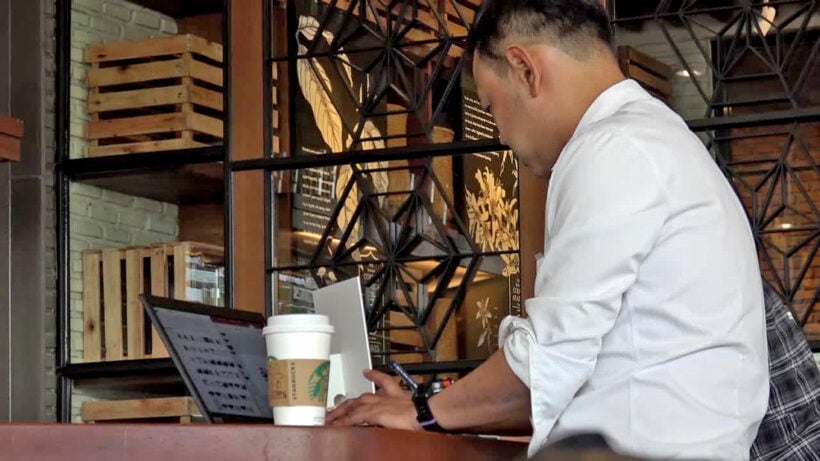 PHOTO: Yahoo
The Royal Thai Police have rushed in to clarify yesterday's story about the Minister of Digital Economy's Puttipong Punnakan commenting about the collection of restaurant and café wifi data.
The Thai Minister of Digital Economy Puttipong Punnakan says cafe and restaurant operators offering free wifi services, will have to collect internet traffic data used by their customers up to 90 days, or face punishment. The report didn't specify if they wanted to simply track usage data or track the actual traffic and sites visited.
Netizens hit back at the notion of their search and browsing history, and downloads, being subject to storage and investigation.
But RTP spokesman Lt-Col Krissana Pattanacharoen says that the public have nothing to fear.
"They can carry on as normal without worry."
He was referring to the collection of log file data held for 90 days announced by Minister of Digital Economy at a media conference on Tuesday. Lt-Col Krissana said that it was standard practice and had been law since 2007, but declined to address any of the concerns expressed by critics of the proposed collection of their browsing data.
"Such measures helped in the capture of serious criminals".
Yesterday's story HERE.
SOURCE: INN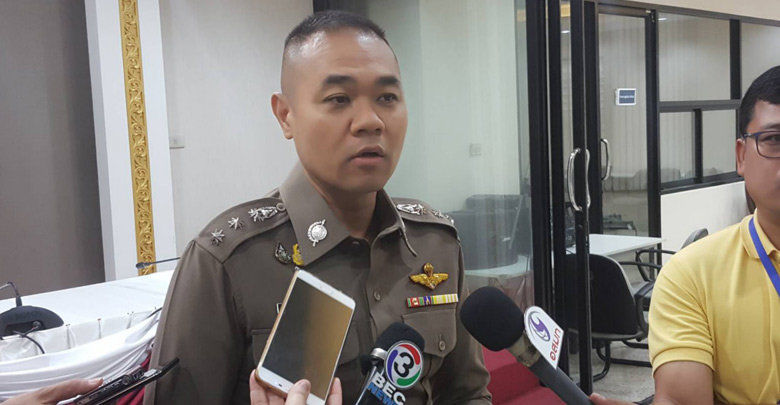 PHOTO: RTP spokesman Lt-Col Krissana Pattanacharoen – INN News
Keep in contact with The Thaiger by following our
Facebook page
.
AirAsia's inflight WiFi is getting faster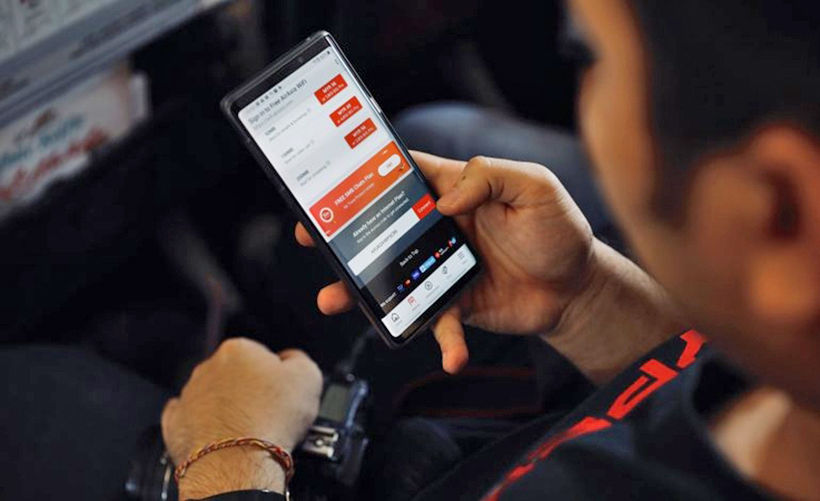 WiFi on planes is the next-gen convenience, or potential annoyance, depending on your attitude to people being 'connected' all around you. But for business people, parents with families or bored flyers, it will be a welcome addition to the low-cost flying experience.
Now passengers on board AirAsia can look forward to an "enhanced inflight entertainment and connectivity experience" with the low-cost airlines' recently upgraded WiFi services.
Six AirAsia Malaysia planes and two aircraft operated by Thai AirAsia have now been equipped with Inmarsat's high-speed Ka-band platform, GX Aviation. AirAsia Group president (RedBeat Ventures) Aireen Omar said this development is the "next logical step" for the airline.
AirAsia formerly carried a system called 'Rokki' but has phased that out in preference to the newer, faster system.
"As the pioneer of low coast inflight WiFi in the region, we are always looking for ways to redefine the digital inflight experience for our guests."
Guests will be able to stay connected throughout their journey and perform data-intensive activities, including live streaming. Ka-band claims to provide connectivity beyond basic broadband, supporting real-time video, music streaming and more.
The AirAsia WiFi Internet plans range between 9 Ringgit (65 baht) and 58 Ringgit (420 baht) with the most basic plan capped at 10MB speed. There is also the top of the range 200MB plan which is best for streaming.
The service will be rolled out to the rest of the Air Asia fleet over the next 12 months.
The Thaiger tried out the new system on a flight from Kuala Lumpur to Phuket on Tuesday. We were only using the 10MB speed internet but was perfectly adequate for our work and saving documents in the 'cloud'.
SOURCE: The Nation
Keep in contact with The Thaiger by following our
Facebook page
.