Storm Nakri weakens, but is dumping heavy rains on the Central Highlands in Vietnam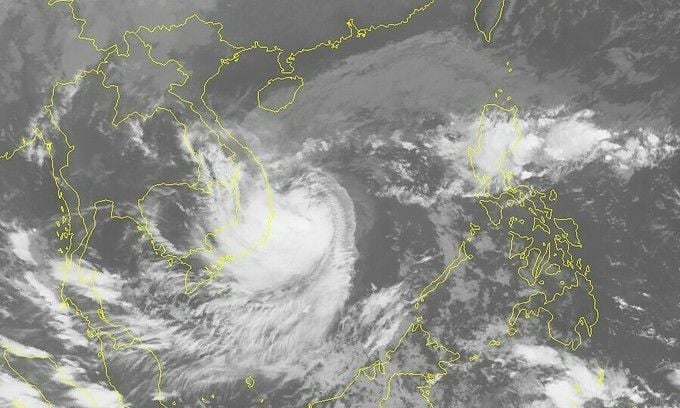 PHOTO: National Centre for Hydro-Meteorological Forecasting
"Vietnam Airlines and Jetstar Pacific have cancelled or delayed a number of domestic flights that criss cross the affected region."
Tropical storm Nakri has now crossed Vietnam's coast around Binh Dinh to Khanh Hoa provinces. The slow-moving system is weakening as it moves north west. The storm is expected to further weaken into a tropical depression and move further inland into Cambodia. For a time on Friday the storm was up-graded to a Typhoon but has weakened since before making landfall.
Rough seas have been recorded in the South China Sea as Nakri approached, along the coast in the region from Da Nang City to Khanh Hoa Province, with waves of four to seven metres, according to the National Center for Hydro-Meteorological Forecasting.
"Provinces from Thua Thien-Hue to Ninh Thuan and the Central Highlands will get heavy rains until Tuesday, with the precipitation measuring 100-300 mm. Rainfall of 180 mm in 24 hours is considered heavy."
Flooding and erosion are also expected in the highland areas.
Local authorities have been evacuating up to 100,000 people living in areas vulnerable to flooding and erosion, the Central Steering Committee on Natural Disaster prevention said.
More than 250,000 soldiers, 2,300 vehicles and five rescue vessels have been deployed, the National Committee for Incident, Natural Disaster Response and Search and Rescue and the Ministry of Transport said.
More than one million students of provinces Khanh Hoa, Phu Yen, Binh Dinh and Quang Ngai have been allowed to stay at home today. Vietnam Airlines and Jetstar Pacific have cancelled or delayed a number of domestic flights that criss cross the affected region.
Central Vietnam, home to popular tourist destinations like Nha Trang, Hoi Ann and Quy Nhon, was hit by storm Matmo last month. The storm knocked over hundreds of trees, damaged houses and caused widespread flooding in Phu Yen, Binh Dinh and Quang Ngai provinces.
Vietnam is usually hit by up to 10 tropical storms during the southwest monsoon between July and October. There were nine last year.
SOURCE: e.vnexpress.net
Keep in contact with Thaiger by following our Facebook page.
Never miss out on future posts by following Thaiger.


Find more SE Asian News courtesy of Thaiger.

Broke? Find employment in Southeast Asia with JobCute Thailand. Rich? Invest in real estate across Asia with FazWaz Property Group. Even book medical procedures worldwide with MyMediTravel, all powered by DB Ventures.

Homes and highways in Vietnam are being lost as Mekong delta washes away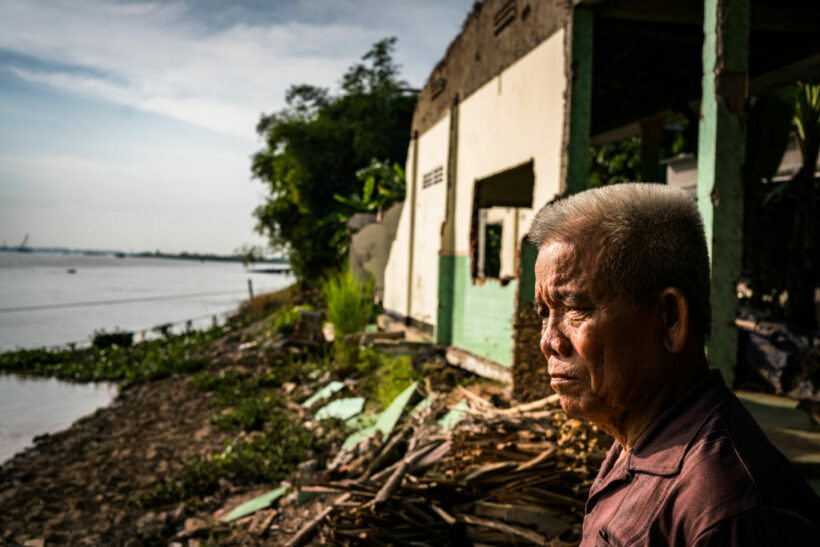 The following story was written by Michael Tatarski for China Dialogue, a non-profit focused on environmental challenges related to China.
One night two years ago, Lam Thi Le and Nguyen Van Thuong heard loud cracks coming from their neighbours' riverfront home. The neighbours left, and a day later half of their house collapsed into the broad Tien River as the land beneath it slid away.
The shell of the remaining half sits precariously on the jagged river bank. Le and Thuong live a few metres inland. Nearby, workers use a machine to pack rocks onto the riverbank, laying the foundation for a concrete embankment designed to prevent further erosion.
This community in Vietnam's Dong Thap province is not unique. The Tien is one of the Mekong River's main branches flowing down from Cambodia's capital Phnom Penh. In recent years, dams built upstream in China, Laos and Cambodia and local sand mining have starved delta provinces such as Dong Thap of sediment, causing once-stable land to erode.
The Mekong's average sediment load used to be 160 million tonnes, according to Marc Goichot, WWF's Lead for Freshwater in the Asia Pacific, but the construction of dams on the river has reduced this by almost 80%.
"Dams and sand mining are working in a cumulative manner," Goichot said. "Sand mining is making the impact of dams not only worse but much faster. We know that the impacts of the Aswan dam in Egypt took 50 years to reach the Nile River delta, and in the Mekong it's much faster."
Vietnam's agriculture ministry estimates that the delta, which produces much of the country's rice, aquacultural goods and fruit, worth billions of US dollars, loses 500 hectares of land per year to erosion.
The island
A nearby ferry crossing protected by a stout concrete embankment leads to Tan Thuan Dong, a large island carpeted by mango orchards in the middle of the Tien River. A sign on a narrow road leading to the northwest edge of the island warns people that they are entering an erosion zone.
Pham Thi Phi, 80, and her family had to move five years ago from their house by the water because the erosion was worsening. Her former home and several neighbours' houses no longer exist, while the river continues to eat away at the island, taking precious mango trees with it.
"People are losing land and trees, and orchards are losing money," Phi said. "When I was younger, I had a sampan, and I would take people in it to the nearby temple for charity, but when the land washed away, it took my boat with it."
Upstream dams have also had a significant impact on water levels in the Mekong delta. Canals and irrigation ditches were nearly empty during a visit by China Dialogue. Small boats rested on almost dry land. The spindly legs of stilt houses were fully exposed.
"We used to have two boats to leave the house when the water was high, but that doesn't happen anymore," said Phi.
At the time, water levels throughout the Mekong basin were low due to announced maintenance on the Jinghong hydropower station, the most downstream dam of China's 11 such facilities on the river.
Nearby, the road ends with a ragged edge of tarmac beyond which the river has consumed everything. A half-dozen sand-mining barges sit off Tan Thuan Dong's coast, the diesel engines of their excavators shattering the quietude of the rural island as they dredge to feed Vietnam's voracious construction industry.
"I've lived here for nearly 60 years, and the erosion started about 10 years ago," said Nguyen Thi Sum. She lives with her husband and sister in the last surviving house on the road, just a few metres from the river. By the water, concrete foundations hint at former buildings.
The Jinghong dam, considered one of the most impactful on the Mekong's sediment and water flows, came online in 2008, around the time Sum said the erosion started. China's dams on the Upper Mekong and those built in Laos and Cambodia with varying levels of Chinese investment have proved a point of contention among downstream national and environmental groups.
Vietnam is a member nation of the Mekong River Commission, an advisory body on transboundary governance of the Mekong. However, the commission has no powers to stop the construction or planning of upstream dams in China or dams financed by China.
"There used to be more houses, but people moved away," Sum said. "We will stay here until we can't, maybe one or two more years."
Both Sum and Phi said the local government had done little to help. Unlike on the mainland, no protective embankments were being built, despite the island being advertised as a domestic tourism destination. Promises of money to help with relocation costs have been unmet, and damaging sand mining occurs in broad daylight.
Neither of the women had any knowledge of the impacts of upstream dams, nor did Le and Thuong across the river. All four largely blamed natural causes for the erosion.
According to Goichot, embankments are not an appropriate solution and can do more harm than good: "Engineers think that static is solid, and in most places it is, but in a very dynamic place like the delta, they make things worse. If you put an embankment on sand, you reflect the energy of the water downstream, so you create conditions for erosion to get worse."
The highway
In neighbouring An Giang province, National Highway 91 connects Can Tho, the Mekong delta's largest city, with the Cambodian border 100 kilometres away. Heading toward Cambodia along the bank of the Hau River, the Mekong's other main branch in the delta, the road eventually runs into a barrier and a large sign warning no vehicles to enter. While traffic is diverted onto a new road, pedestrians can enter the barricaded area.
Further on, a 40-metre long chunk of highway has disappeared into the water. This sinkhole – and another large one just down the road – appeared in the summer of 2019, making national news. Whereas previous domestic media coverage had often pointed to climate change as the cause of such events, VnExpress now squarely blamed hydropower developments and sand mining on the river upstream in Cambodia and Vietnam.
"The erosion started here in 2010, and the government built an embankment, but the erosion kept shifting and getting worse," said Huynh Thi Thu Diem, who runs a café and shop near one of the cratered sections of road.
There were houses on the riverside of the highway as well, but they are long gone. Only a narrow strip of overgrown land separates the water from the remaining road.
"At first, they quickly repaired the highway, but that failed too, so now they're building a bigger parallel road inland," Diem added. "The construction workers said this was caused by natural changing currents, though I've seen in the news that Chinese dams hold back water."
She said that some neighbours had left the area after receiving financial assistance. She believes the government will help her as well if it becomes too dangerous to stay.
Further down the road, Thi (not her real name) lives on the edge of one of the sinkholes. She sells rice from her home and previously benefitted from buses stopping outside. Only motorbikes and bicycles can pass now, creating a peaceful setting for a front-row seat to what might be in store for the rest of the delta.
Cracks run across parts of the remaining tarmac, and a machine similar to the one in Dong Thap sits in the river, laying the foundation for an embankment.
"The sinkhole started to form in July and August of 2019. There were houses on the other side of the road," Thi said. "We were panicked, and officials asked us to remove the front part of our house since nobody knew how large the hole would get. Once it stopped collapsing, we rebuilt."
The lack of highway traffic has hurt her family's business, said Thi. Like Diem, however, she expressed confidence in local leadership to help them if it comes time to evacuate the area.
Evacuation will likely be necessary, with China, Laos and Cambodia variously involved in plans for a further 10 hydropower dams on the Mekong mainstream, and more envisioned on its tributaries.
Once built, these dams will trap even more sediment upstream, starving the delta of the material that created it over millions of years, while downstream sand extraction removes vast amounts of what is left.
"What still gets through the barriers [of dams] is mainly fine sediments like silt and clays, not sand or gravel," Goichot wrote in a recent article for China Dialogue. "As a result, riverbeds and banks are not replenished, making sand-mining downstream even more unsustainable and leading to greater erosion in the river channel and banks."
These powerful forces have created a sense of calm resignation among delta residents threatened by their impacts. "We'll just keep moving further inland until we can't anymore," Le said in the shadow of the collapsed house on the Tien. "Then, we'll go to a relocation area far away from the river."
Keep in contact with Thaiger by following our Facebook page.
Never miss out on future posts by following Thaiger.
Vietjet CEO, dreams to transform the world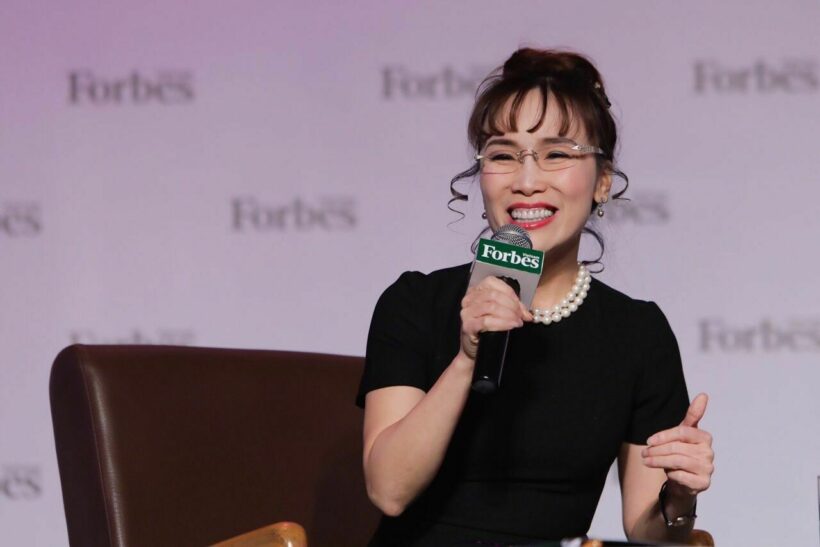 "Start-ups shouldn't 'save on' dreams but rather dream big and realise them by simple acts each day at your business or organisation."
Meet the tour-de-force behind the establishment of VietJet, one of the region's most successful aviation start ups.
SPONSORED CONTENT
Any first-timers meeting Vietnam's only self-made female billionaire Nguyen Thi Phuong Thao will be taken aback by the opposites she harbours. A petite woman with a bright smile always on her face, Nguyen will talk in her soft voice about her business motto… once you dream, dare to dream big.
'Dream big and realise them'
Nguyen has been popular in the business since her young days studying abroad. Her hard work has paid off when she became a millionaire at the age of 21 – not a usual dream for a college student. But Nguyen is different. She strives to be the pioneer of everything she does by bravely conquering all challenges.
Upon returning to Vietnam, Nguyen has quickly made her appearance widely noticed by her successful investments in the finance-banking and aviation sectors. She is now the CEO of Vietjet Air and the Vice Chairman of the Board of Directors of HDBank.
To many young Vietnamese start-ups, Nguyen is the big inspiration and a role model for them to follow.
"Start-ups shouldn't 'save on' dreams but rather dream big and realise them by simple acts each day at your business or organisation. We ourselves have turned the impossible into possible and made our dream come true. Millions for the first time have been able to fly and I'm extremely happy to learn that they are not only Vietnamese but people from other countries who have boarded a Vietjet flight for the first time."
The billionaire's motto has also inspired her own employees at Vietjet and HDBank to keep their dreams alive despite all adversities. Regardless of the Covid-19 pandemic's impacts on the economy, the staff at Vietjet and HDBank are confident of their company's new business strategy and solutions to overcome the pandemic.
Nguyen even envisions Vietnamese enterprises leading and creating a global sentiment by developing them into multinational, multicultural companies and integrating the most cutting-edge technologies.
"We need to be the pioneer of the digitalisation and automation trend in the industrial revolution 4.0 – the key factors for growth."
Her message is realised at Vietjet as the airline has recruited nearly 6,000 employees coming from 50 countries and territories on its way to revolutionise the aviation sector of Vietnam, the region and the world. HDBank, meanwhile, has particularly grown by more than 20 times in the last decade after 30 years of relentless innovation since establishment.
'An inspirer of kindness'
Recognised as a successful businesswoman, Nguyen though never thought of making money the ultimate goal of business. The values her company can create, especially for the sake of the community, is what truly matters to her. Nguyen also highly regards business ethics, stressing that "honesty will guide us to do the good things for the society".
Nguyen has initiated the "Wings of Love" program to grant scholarships and gifts to children at orphanages and poor families, as well as to give winter clothes to children in remote regions.
"I understand more about the responsibility of the company and that of each of us to the community every time being on a charity trip and realise how brilliant the idea of our CEO, Mrs Thao, is. We all call her an inspirer of kindness," a Vietjet employee said.
In addition to the "Wings of Love" program, HDBank has also supported the national chess sport via the HDBank Cup International Chess Tournament for the last 10 years, preparing the ground for the internationally famous chess players like Quang Liem and Truong Son. The bank has also organised the HDBank Futsal with a long-term goal of improving the physical health of young Vietnamese.
Despite unprecedented challenges due to the pandemic, Vietjet and HDBank are still committed to charity activities. The airline has helped to bring hundreds of thousands of passengers back to their home countries like South Korea, Japan and China, while operating hundreds of repatriation flights during the pandemic. It also gave 2.5 million of face masks to the people in the United Kingdom, France, Germany and the United States. Vietjet's aircrafts have transported thousands of tons of medical equipment and essential goods to the people under social distancing as well as urgently delivered relief cargo to the flooded Central region.
The female billionaire and her employees have cooked and distributed more than 100,000 meals to disadvantaged people like motorbike taxi drivers or street lottery sellers. HDBank has launched special credit packages in support of those who were affected by the Covid-19 pandemic, while granting 1,000 premium hospital beds to the Ho Chi Minh City Department of Health and another thousands of health insurance passes to the people.
The popular magazine Tatler has honoured Nguyen as one of the 110 Asian figures in philanthropic activities due to her lasting acts of kindness through years.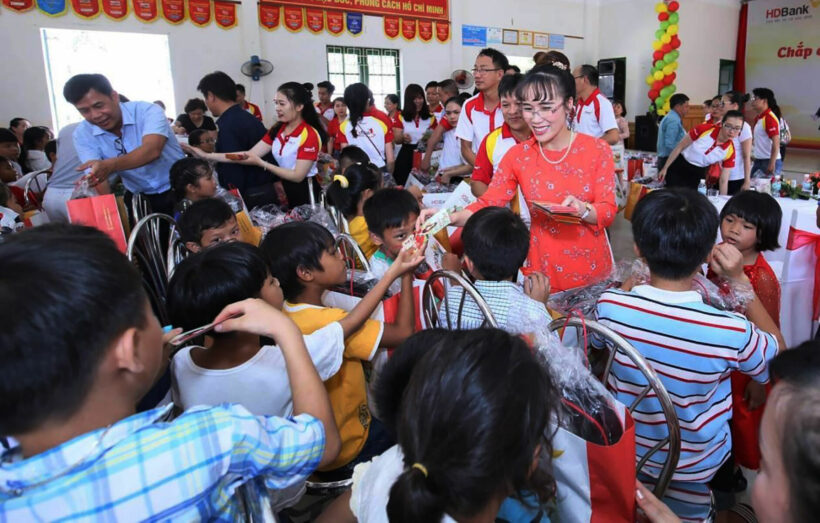 Keep in contact with Thaiger by following our Facebook page.
Never miss out on future posts by following Thaiger.
Outbreak in Vietnam linked to the more contagious UK variant of Covid-19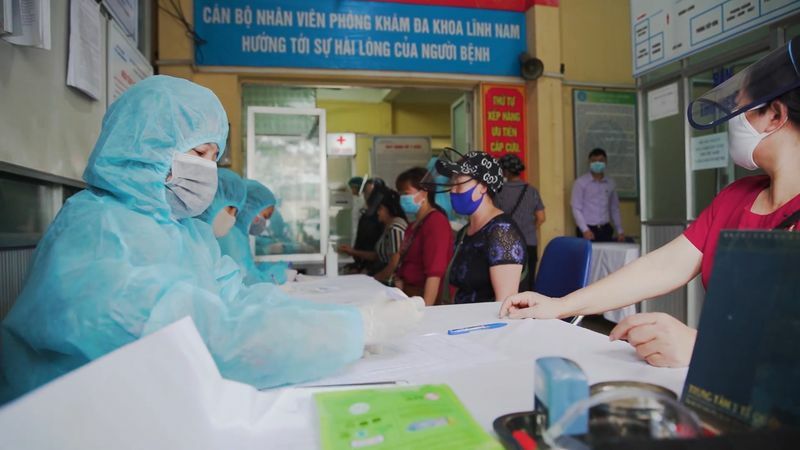 The more contagious UK variant of Covid-19 is linked to a new outbreak in Vietnam with 276 people infected in 10 provinces and cities, according to the country's health minister. The new cases are a major uptick for Vietnam, which has only recorded 1,850 cases and 35 coronavirus-related deaths since the start of the pandemic last year.
Vietnam had its first outbreak in nearly 2 months on January 28, setting a daily record of 83 new infections. The cluster where the virus re-emerged last week in northern province Hai Duong is now under control, according to health minister Nguyen Thanh Long.
"Gene sequencing showed that 12 of 276 newly detected patients are positive with the UK variant, although the source of this outbreak remains unknown… We need to scrupulously follow mask-wearing regulations."
Vietnam health officials are now rolling out mass testing to contain the outbreak. In Hanoi, the city will upgrade testing capacity to 40,000 tests per day, Nguyen says.
The Vietnam government approved the AstraZeneca Covid-19 vaccine. State media reports that the first batch of 50,000 doses are expected to arrive by next month.
SOURCE: Reuters
Keep in contact with Thaiger by following our Facebook page.
Never miss out on future posts by following Thaiger.