Phuket's cruise ship arrivals to be screened for coronavirus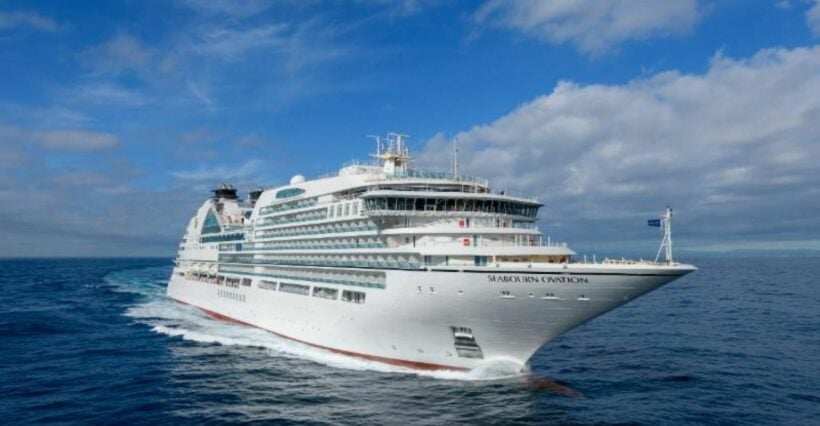 Over 4,000 tourists and ship crews arrive in Phuket today, on two separate cruise liners, one from Hong Kong and one out of Singapore. There has been a sudden surge of interest in arriving cruise ships after the cruise boat still anchored in Yokohama Bay with a cluster
The Seabourn Ovation arrived from Hong Kong just after 7am this morning with 919 on board – 487 tourists and 432 crew. The Quantum of the Seas arrived from Singapore at 10am with 3,149 passengers and crew. Both arrived at the Phuket Deep Sea Port in Cape Panwa.
Phuket's Marine Office Director Wiwat Chitchertwong has also confirmed that at least 17 cruise ships will be coming to Phuket in coming months. Four cruise ships arrive in Phuket this week, according a report in Phuket News. Apart from the two arriving this morning…
• Celebrity Constellation arrives Friday at midday
• Star Clipper arrives on Saturday 5:30am.
The Phuket Public Health Office have confirmed they are screening passengers and crew and following up the coronavirus situation.
"Officers are still screening people for elevated body temperature at Phuket International Airport, bus terminals, piers around the island, and other places," Dr Thanit said in The Phuket News.
The head of the PPHO also confirmed that the number of people suspected of being infected with the virus in Phuket "keeps decreasing", but declined to mention how many people in Phuket were currently being observed or were in quarantine.
"There are no confirmed reports of people infected with the virus on board, as some people believe. It is a different cruise ship."
The PPHO chief was speaking about media reports and the 'panic' about passengers on board another cruise ship that was being denied a port, although the MS Westerdam has now been given permission to dock in Sihanoukville, Cambodia, this morning (it arrived at 7am).
Fears of the novel coronavirus has prompted four different nations and the US territory of Guam to deny them entry despite no one on board being diagnosed with the illness that has caused global panic.
The fears appear to stem from confusion between this ship and its sister ship, he Diamond Princess, which has been quarantined in Yokohama, Japan with 174 cases of coronavirus. Referring to the arrival of MS Westerdam in Cambodia today…
"Guests will disembark in Sihanoukville over the next few days and transfer via charter flights to Phnom Penh for forward travel home." Read more HERE.
The reference to the "infected" cruise liners mentioned at the media conference in Phuket yesterday, refers to the Thai Public Health Minister Anutin Charnvirakul ordering officials to not let any passengers or crew on the Westerdam cruise ship from Japan to disembark at the Laem Chabang port.
After being denied entry into Japan, Guam, the Philippines and Taiwan, unnerved vacationers on the Westerdam were initially relieved when the cruise ship's captain announced on Monday that they'd finally be disembarking in Bangkok, Thailand, on February 13. But the ship was back in limbo after Thailand Public Health Minister Anutin Charnverakul shared on Facebook Monday afternoon that it would not be allowed to dock after all. Read more HERE.
SOURCE: The Phuket News
Keep in contact with The Thaiger by following our
Facebook page
.
Thailand welcomes cruise ship shunned in Vietnam over virus fears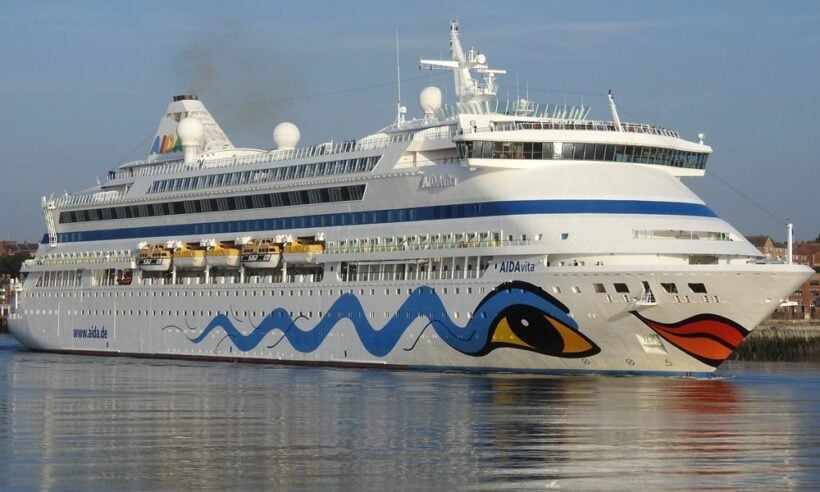 German cruise ship AIDAvita has been welcomed in Thailand, days after it was blocked from docking in Vietnam due to fears of the COVID-19 coronavirus spreading across the region. Authorities in Vietnam's Quang Ninh province, home to UNESCO world heritage site Ha Long Bay, barred passengers on the AIDAvita from disembarking on Thursday, according to the Vietnam News Agency.
Germany's AIDA Cruises, the owner of the AIDAvita, did not respond to requests for comment. AIDA Cruises is a subsidiary of Miami-based Carnival Corp. The vessel, with some 1,100 passengers and 400 crew, docked early yesterday at the eastern Laem Chabang port, according to a Thai Maritime Security official who spoke on condition of anonymity.
"This morning Department of Disease Control officials have monitored all the passengers and right now there has been no report of any patients inside. The situation on this ship is normal and officials have not found anyone with fever over 37.5 degrees."
Stoking fears in countries that usually allow cruise ships to dock is the quarantine in Japan of the Diamond Princess, also managed by a unit of Carnival Corp. Of the 3,700 passengers and crew on that vessel, 335 have now tested positive for the COVID-19 coronavirus. The ship remains quarantined in Japan's Yokohama port. Phuket recently allowed two cruise ships to dock after turning away the MS Westerdam, which was eventually allowed to dock in Cambodia.
The AIDAvita was scheduled to disembark in Phuket today. However, because of worries about the virus, AIDA says it will now send the Aidavita and another vessel, the AIDAbella, for tours in other parts of the world. Rerouting these ships away from Asia, in effect cancelling them, will affect some 3,300 passengers.
Facebook page
.
UPDATE: China coronavirus deaths reach 1665, Taiwan reports first fatality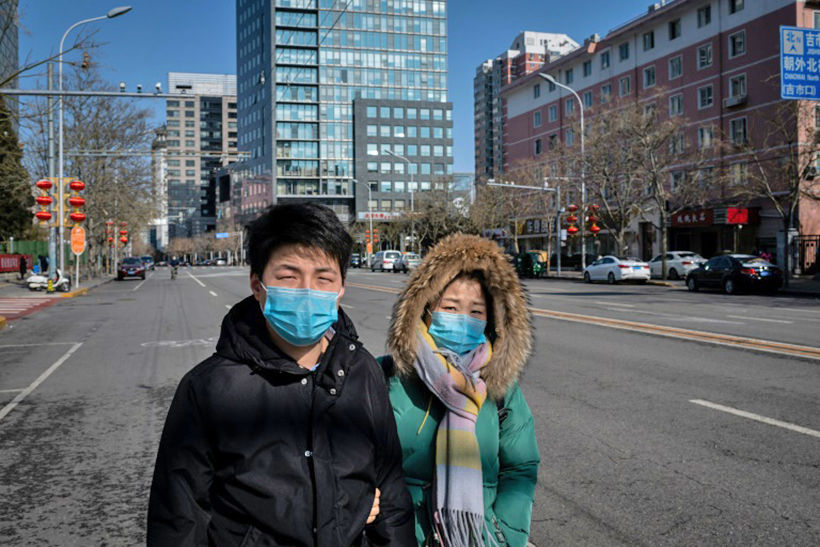 UPDATE: Taiwan has confirmed its first death from the coronavirus. Malaysia says it won't allow any more passengers from the Westerdam cruise ship to enter the country from Cambodia, after an American woman who flew into Kuala Lumpur was diagnosed with the coronavirus.
China said today the number of coronavirus cases nationwide had reached 68,500, with the death toll rising to 1,665. Hubei province reported fewer new infections for a second straight day, and 139 deaths. It had 1,843 new cases, dropping from 2,420 a day earlier.
SOURCE: Bloomberg
ORIGINAL STORY: New cases of COVID-19 coronavirus infection dropped for a third consecutive day today, as World Health Organisation (WHO) chief Tedros Adhanom Ghebreyesus warned it is "impossible" to predict how the outbreak will develop. Concern remains high around the world about the spread of the virus, which emerged in China's central Hubei province in December. The first death outside Asia was reported in France yesterday. An 80-year-old Chinese tourist was the fourth person outside of China to die from the virus, with the other deaths occurring in the Philippines, Hong Kong and Japan.
The death toll climbed to 1,665 in mainland China today after 142 more deaths were reported. More than 68,000 people are now infected, but the number of new cases of the COVID-19 strain is falling. In Hubei, the number of new cases slowed for a third day and at 139, the number of deaths was equal to Saturday's toll. The number of new cases in other parts of the country has dropped for twelve straight days.
WHO chief Tedros Adhanom Ghebreyesus was cautious, however. Speaking at the Munich Security Conference, he said:
"[It is] impossible to predict which direction this epidemic will take. We ask all governments, companies, and news organisations to work with us to sound the appropriate level of alarm without fanning the flames of hysteria"
"China has bought the world time. We don't know how much time."
The UN health body has asked China for more details on how diagnoses are being made, after a spike in reported cases on Thursday when authorities in Hubei changed their "methodology for diagnosing the coronavirus," retroactively adding thousands of new patients to their tally. Hubei added more than 14,000 cases in a single day after officials there started counting people clinically diagnosed through lung imaging, in addition to those with a positive lab test result.
Chinese authorities have placed around 56 million people in Hubei, and its capital Wuhan, under quarantine, virtually sealing off the province from the rest of the country and the world, in an unprecedented effort to contain the virus. Beijing's municipal government has enacted a rule requiring all people coming to the capital to quarantine themselves for 14 days, warning that violators would be punished, according to state media.
The biggest cluster outside China is on a quarantined cruise ship off Japan, with 335 infections as of today. A US State Department spokesperson says Americans stranded on the vessel will be evacuated and face further quarantine of two weeks in the United States. Hong Kong also announced it will charter a flight for the city's residents on the ship, who will stay at a quarantine centre for 14 days on their return. Several countries have banned arrivals from China and major airlines have cut services to the country.
With China's government facing criticism over its handling of the crisis, Chinese President Xi Jinping called for tighter policing "to protect social stability."
"[The government must] increase use of police force and strengthen the visible use of police to ensure stability during the crisis."
China's central bank says it will also banknotes with ultraviolet light or high temperatures and store them for up to 14 days before they are put back into circulation.
SOURCE: AFP
Keep in contact with The Thaiger by following our
Facebook page
.
New coronavirus case confirmed in Thailand, brings total to 34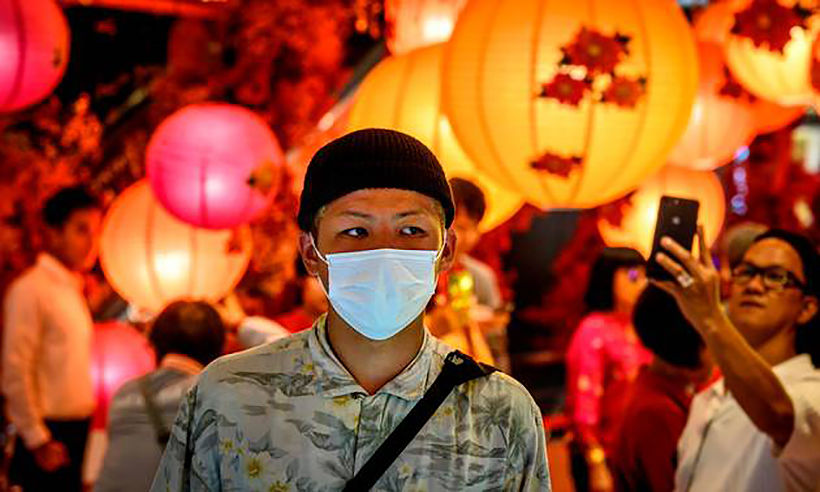 A new case of the coronavirus (covid-19) has now been confirmed in Thailand which brings the total in the country to 34 since the start of this year. The public health ministry made the announcement yesterday.
The new case is a 35 year old Thai female, a medical personnel, who was infected after contact with a patient, Suwanchai Wattanayingcharoenchia, according to the director-general of the Department of Disease Control.
Health workers are among the most vulnerable groups exposed to the coronavirus. The Chinese government revealed this week that 1,716 medical workers there have been infected, with six already dying from the virus.
The vast majority of infections among health workers have been in Wuhan, Hubei, epicentre of the outbreak, where many lack proper protections in hospitals dealing with a deluge of patients.
In Thailand, 14 people, previously identified with coronavirus, have recovered and returned home.
Keep in contact with The Thaiger by following our
Facebook page
.