HM The King confers new royal titles on his family – PHOTOS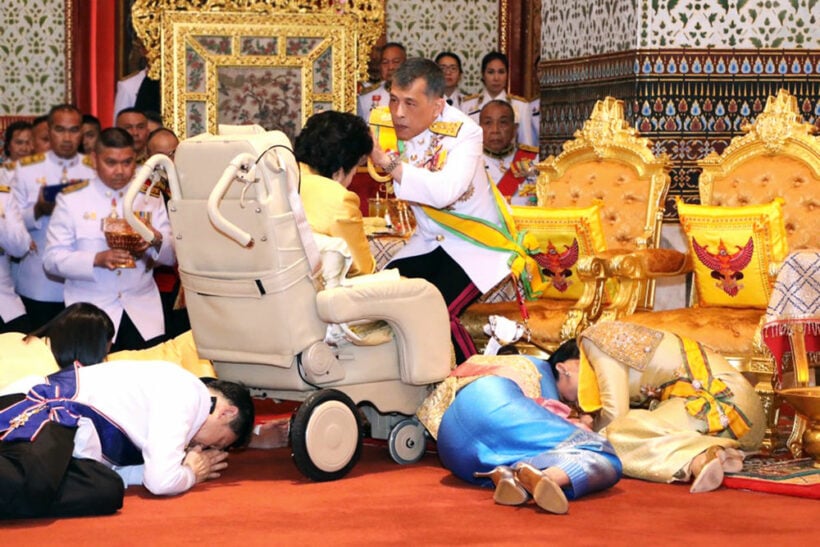 "HM The King's mother will now be addressed as Her Majesty Queen Sirikit the Queen Mother."
HM King Maha Vajiralongkorn yesterday granted new titles to members of his family in a grand, televised royal ceremony.
The late King Bhumibol Adulyadej has a new name signifying he was also the father of a monarch, and that he was a "Maha Raja" or Great King. The current monarch's mother will henceforth be addressed as Her Majesty Queen Sirikit the Queen Mother.
The King himself presented royal golden plaques bearing their new titles by placing the items before their official portraits in the Amarindra Vinijaya Throne Hall at the Grand Palace yesterday.
The King's younger sisters, Their Royal Highness Princesses Maha Chakri Sirindhorn and Chulabhorn Walailak, received new titles with elevated royal ranks.
In Thailand, royal rank is inherited by birth or bestowed by appointment. Appointments are traditionally formalised by royal plaques bearing the title and by the pouring of ceremonial water.
Although appointments can take place on various occasions, it is common for new kings to grant or revise titles and plaques upon his coronation. At yesterday's ceremony, Princesses Maha Chakri Sirindhorn and Chulabhorn received their golden plaques in turn from the newly enthroned King.
They knelt before their elder brother as he poured ceremonial water for them and handed them the inscribed plaques. Her Majesty Queen Suthida moved from her chair to sit next to them on the floor.
Princess Maha Chakri Sirindhorn was bestowed the highest of royal ranks by appointment – Krom Somdej Phra. Her younger sister, Princess Chulabhorn, received the rank of Krom Phra, the second-highest. Both Princesses also received a first-class King Rama X Royal Cypher Medal.
HRH Princess Somsavali, former consort to the King, was granted a new title and the higher rank of Krom Ma Meun.
Princess Somsavali sat in a wheelchair before the King, with their only daughter HRH Princess Bajrakitiyabha by her side, as she received the ceremonial water, plaque, the Ancient and Auspicious Order of the Nine Gems and a first-class King Rama X Royal Cypher Medal. Queen Suthida again sat on the floor next to Princess Bajrakitiyabha.
Their Royal Highnesses Princess Bajrakitiyabha, Princess Sirivannavari Nariratana and Prince Dipangkorn Rasmijoti received new titles reflecting their status as the children of a king. They were each granted the Most Illustrious Order of the Royal House of Chakri and a Royal Cypher Medal.
Their Royal Highnesses Princess Siribhachudabhorn and Princess Aditayadornkitikhun, daughters of Princess Chulabhorn, received the new title and decorations including the Royal Cypher Medal.
Millions of Thais watched the televised ceremony, enjoying a rare glimpse of loving moments shared by members of the Royal Family. Princess Bajrakitiyabha was seen affectionately hugging her mother. The new titles of the family members have already been promulgated in the Royal Gazette.
At the end of the ceremony, Princess Sirindhorn represented the Royal Family in paying homage to the King by offering candles and flowers.
Privy Council President General Prem Tinsulanonda did the same on behalf of the Privy Council. He was followed by PM General Prayut Chan-o-cha, acting on behalf of his Cabinet, National Legislative Assembly president Pornpetch Wichitcholchai for assembly members, Supreme Court president Cheep Jullamon for judicial officials, and Lord Chamberlain ACM Satitpong Sukvimol for palace officials.
The King then presented a meal to Holiness Somdet Phra Ariyavongsagatayana, who in turn gave his blessings and delivered a sermon on the 10 Virtues of Kings – namely giving, sacrifice, gentleness, freedom from anger, tolerance, moral conduct, honesty, perseverance, non-violence and justice.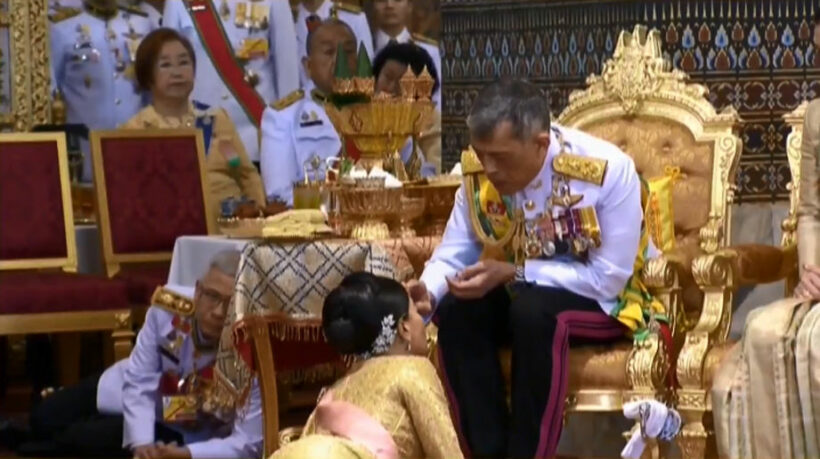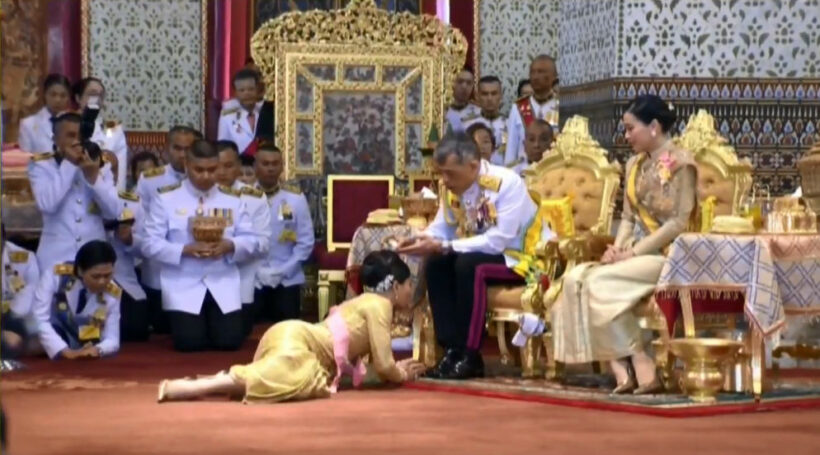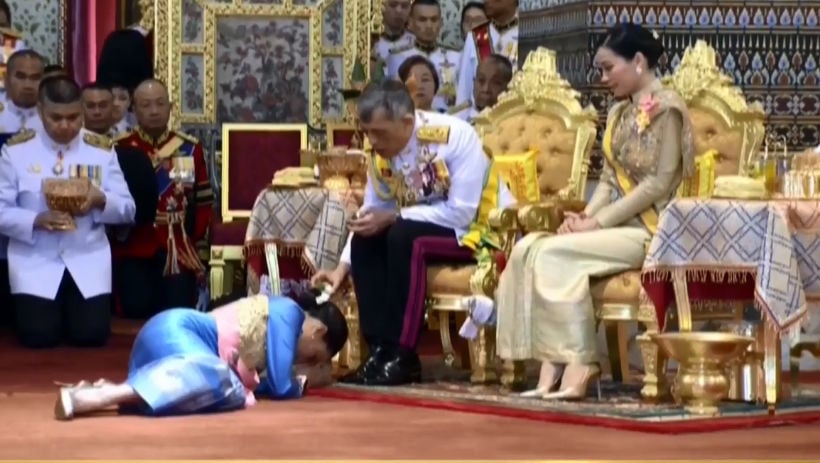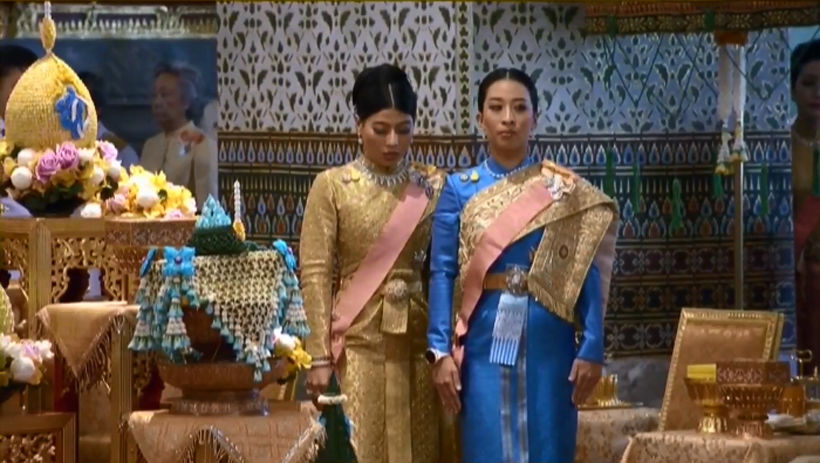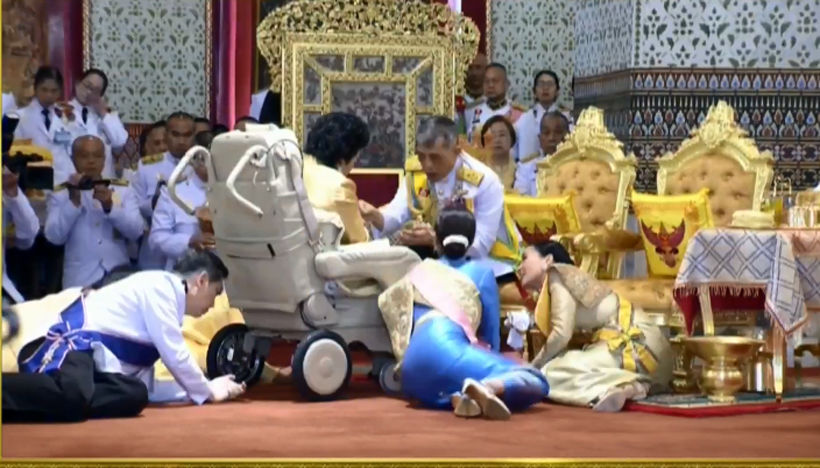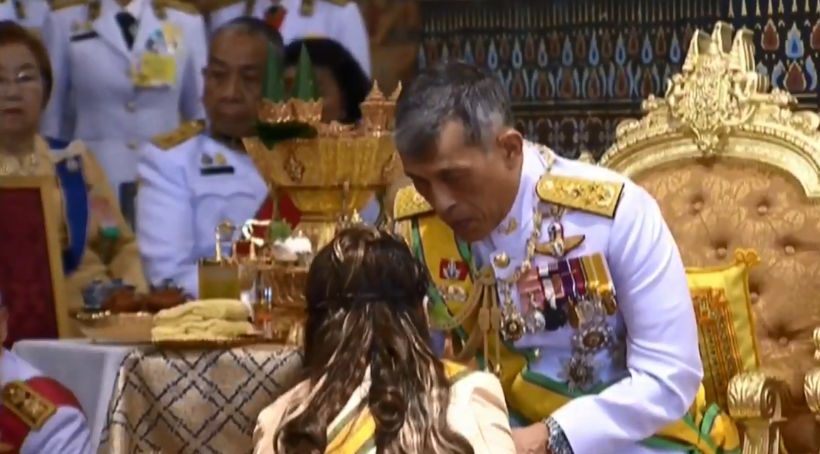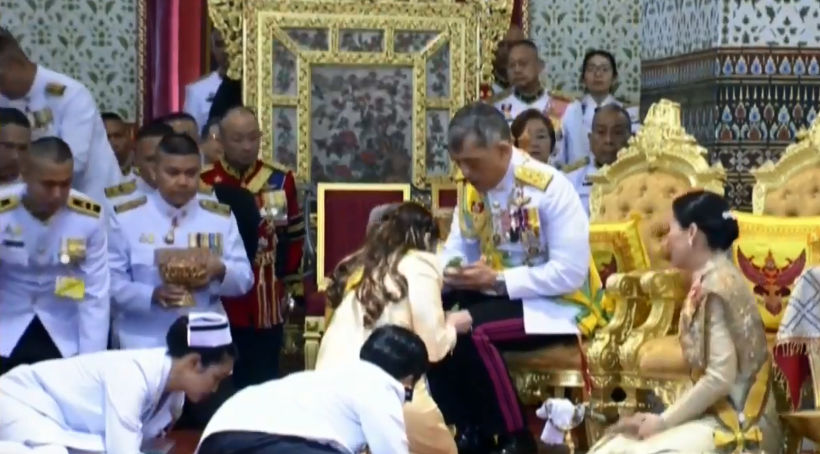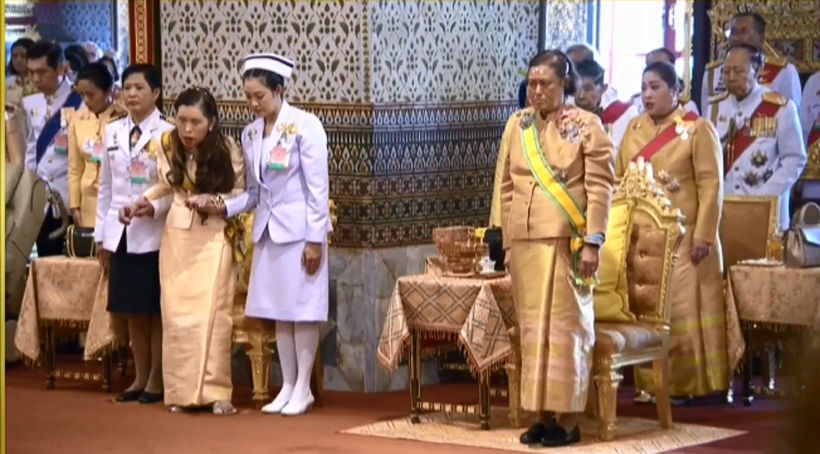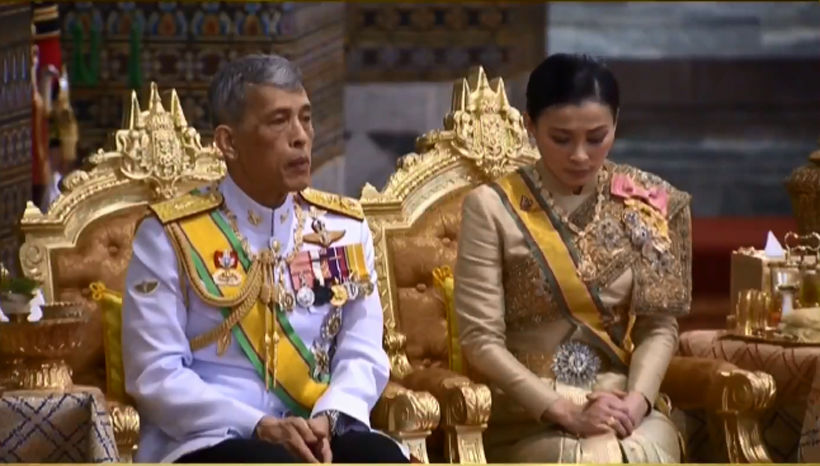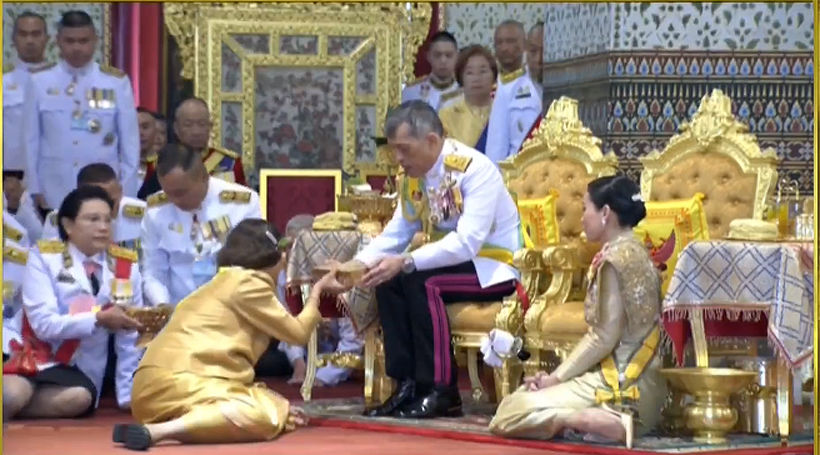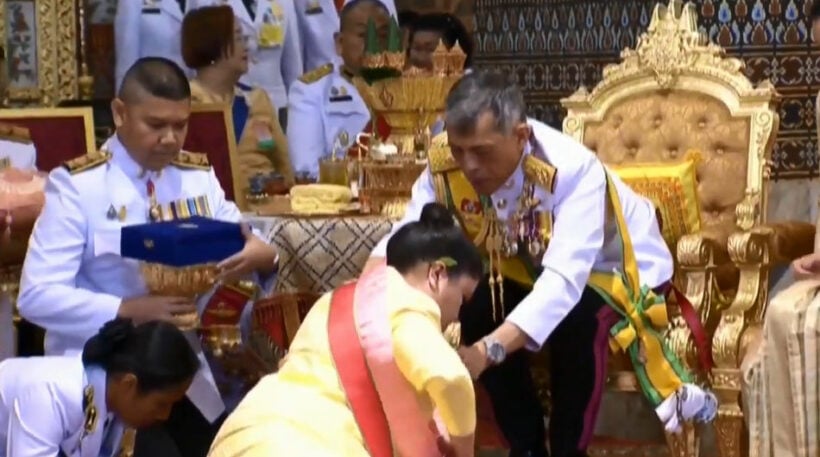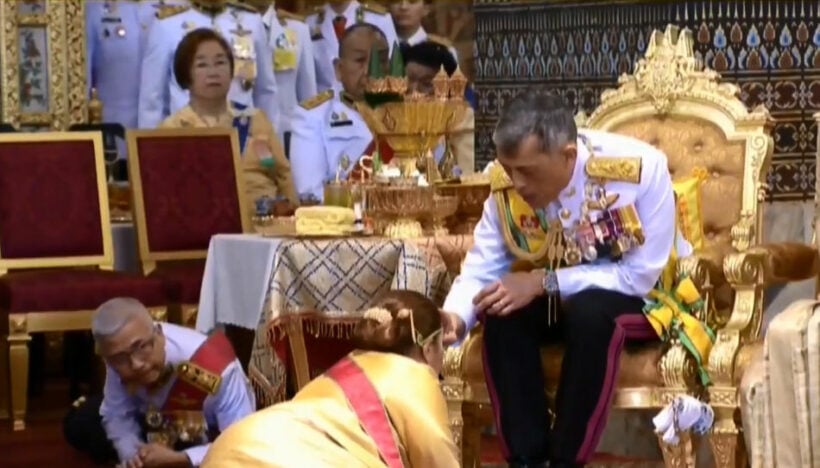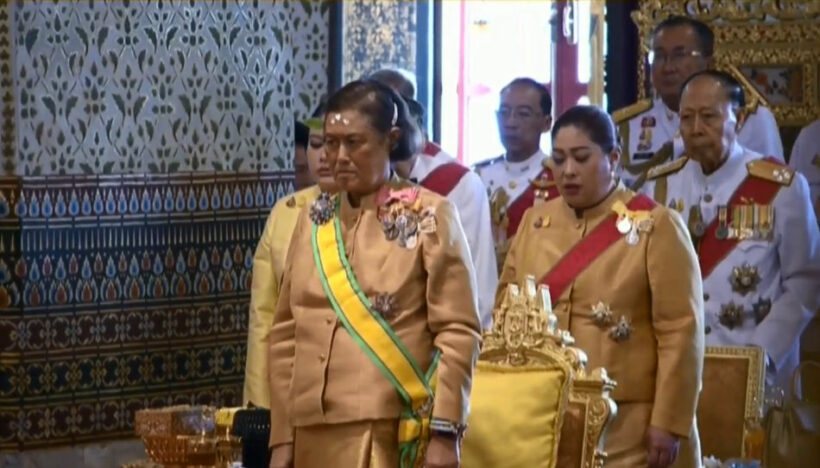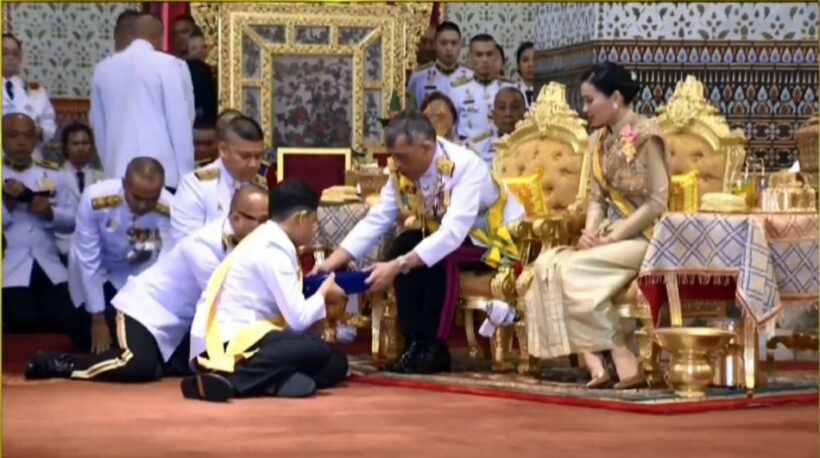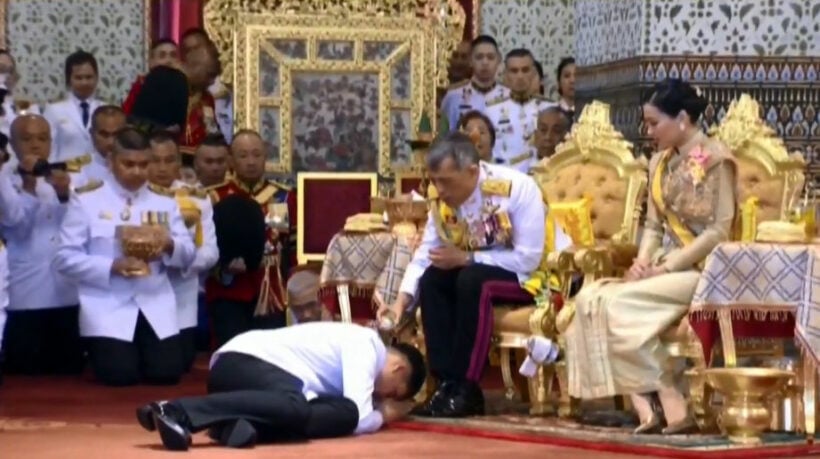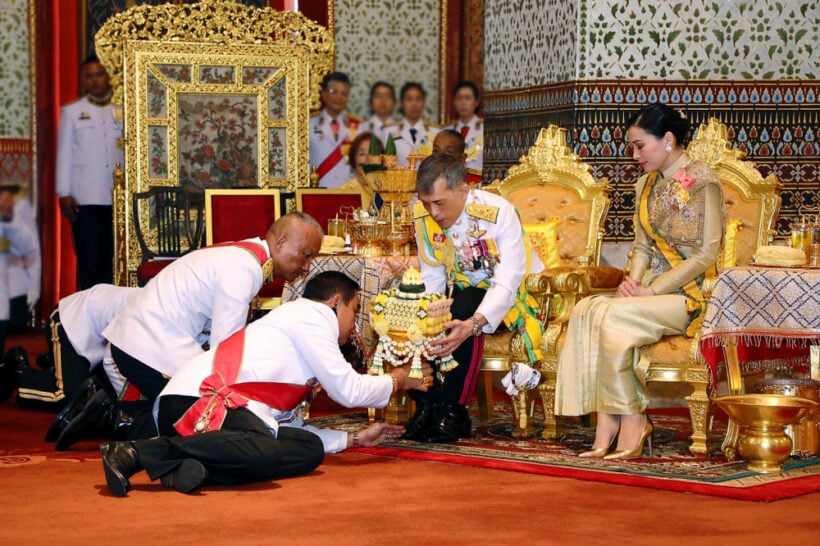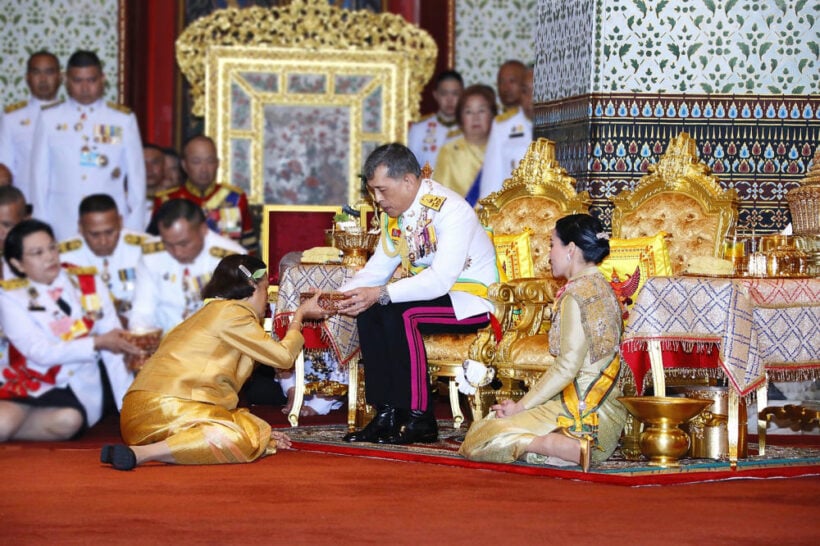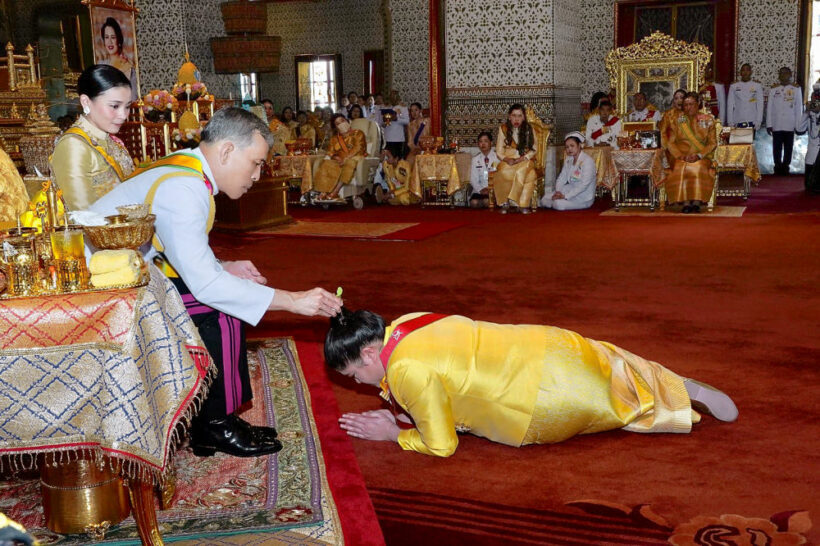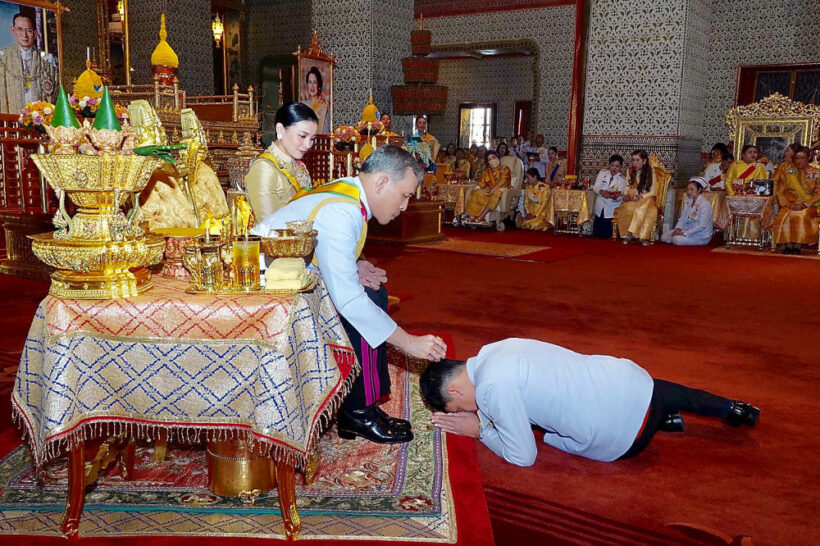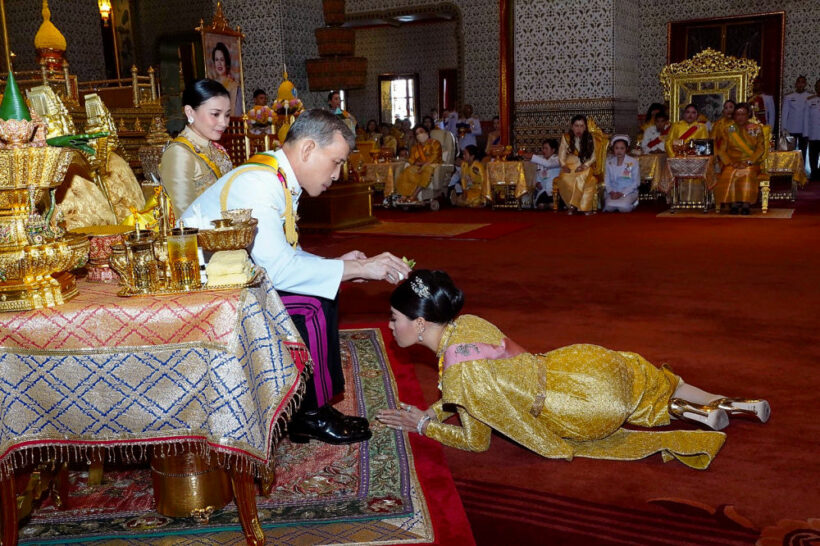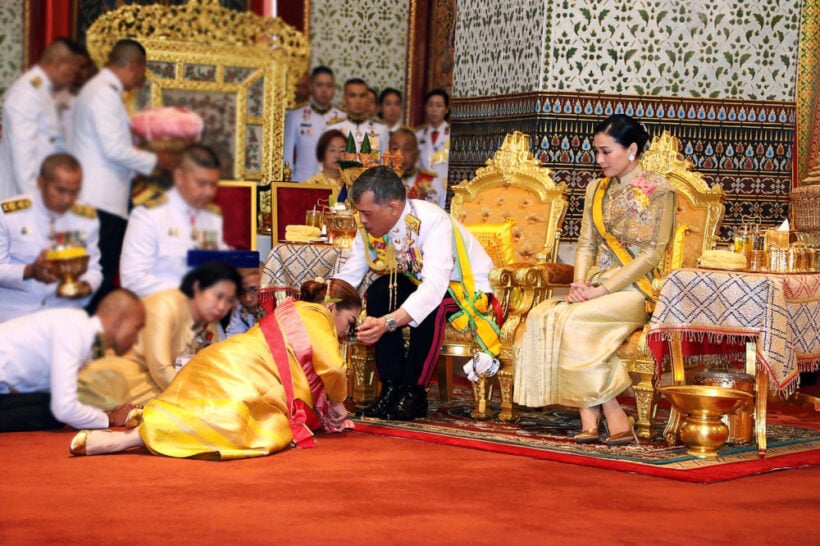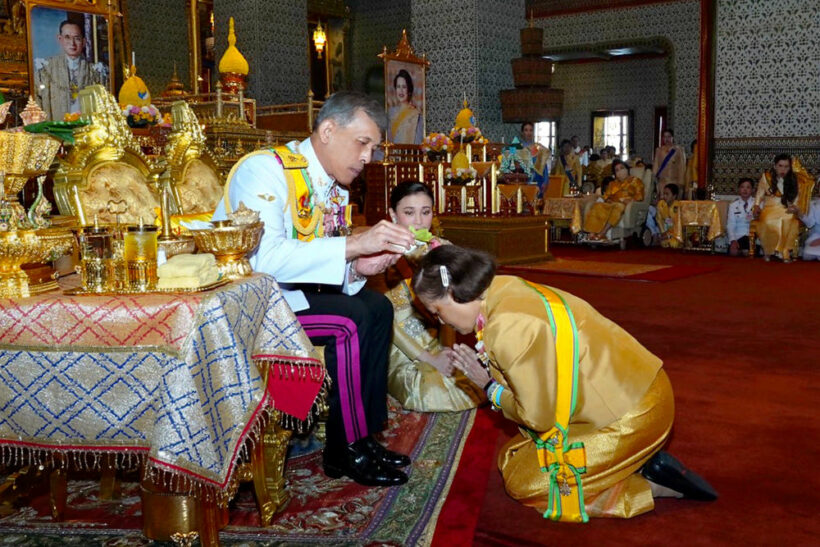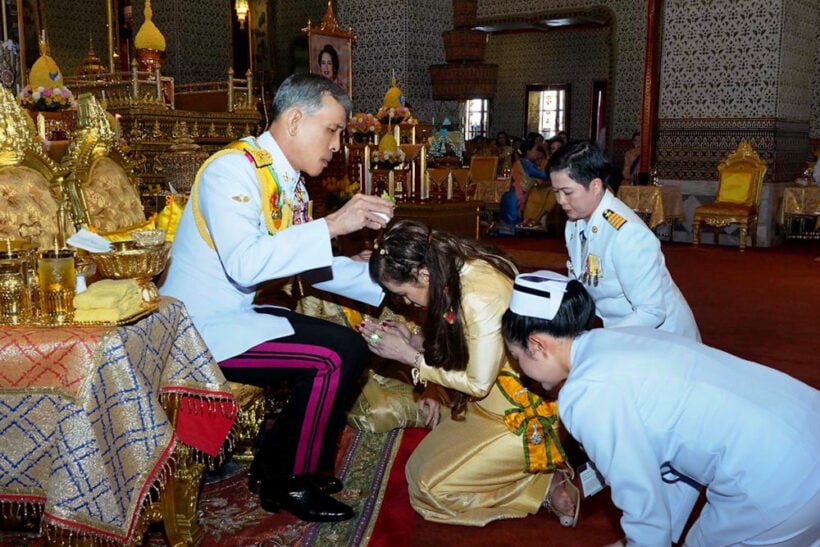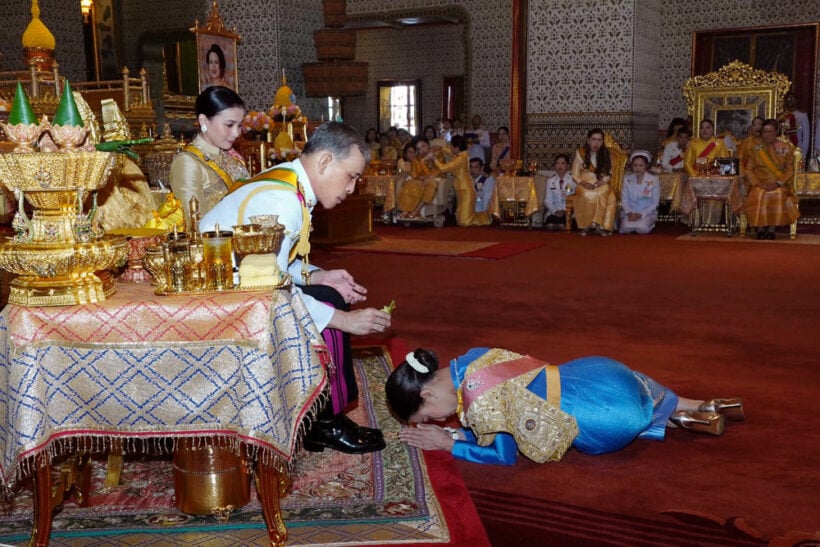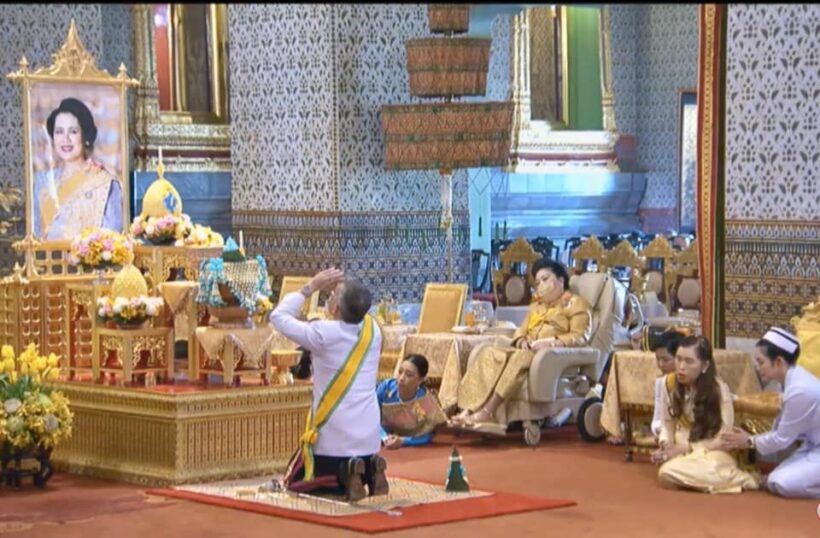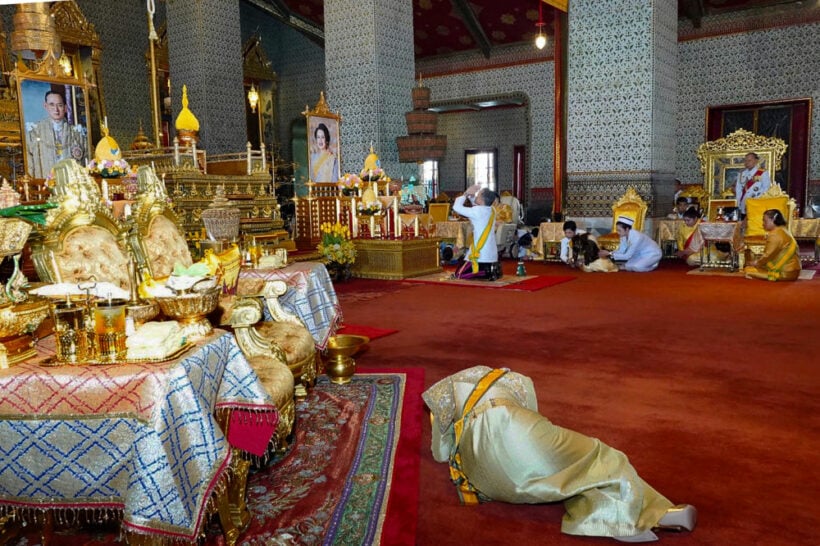 Keep in contact with The Thaiger by following our
Facebook page
.
10 billionaires among Thailand's 500 MPs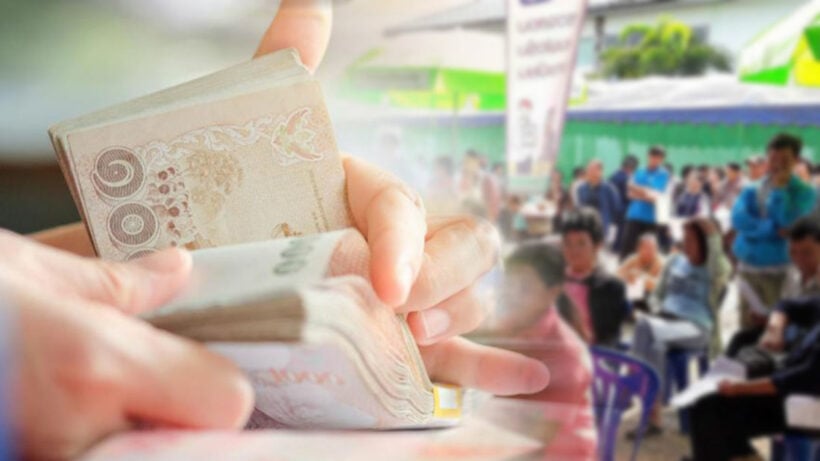 Thailand has 10 billionaire MPs, while the poorest MP has just 5,064 baht in his bank account, according to reports from the Office of the National Anti-Corruption Commission.
Of the 10 billionaire MPs, Mrs. Nathee Ratchakitprakarn, of the Bhumjaithai Party, wife of Tourism and Sports Minister Pipat, is the richest, with declared assets of about 4.675 billion baht.
The other nine billionaire MPs are:
Mr. Anutin Charnvirakul, Bhumjaithai party leader, deputy prime minister and public health minister, with 4.249 billion baht (including two planes, two boats, Buddha images worth 121 million baht and 395 million baht in bank deposits)
Bhumjaithai MP for Satun province, Mr. Piboon Ratchakitprakarn, with 2.342 billion baht
Mr. Suriya Juangroongruangkit, industry minister and Palang Pracharat MP, at 2.198 billion baht
Mr. Apichaiubon, Democrat party-list MP, with assets of 2.048 billion baht
Mr. Nataphol Teepsuwan, Palang Pracharat party-list MP and education minister, with 1.985 billion baht
Khunying Kalaya Sophonpanich, deputy education minister and Democrat party-list MP, with 1.785 billion baht
Ms. Supamat Issarapakdi, Bhumjaithai party-list MP, who has 1.609 billion baht
Mr. Kittisak Khanasawat, Pheu, Thai MP for Maha Sarakham, with 1.529 billion baht
Democrat party-list MP Korn Chatikavanich, with 1.097 billion baht
PM's Office Minister and Chart Pattana party-list MP Tewan Liptapallop, who has 1.03 billion baht
House Speaker Chuan Leekpai has assets of about 8 million baht
Of the 500 MPs, it appears that Mr. Phisanu Polatee, Bhumjaithai, MP for Pathum Thani province, has the least assets. There was, at the time reporting, only 5,064 baht in his bank account.
Earlier, he reported that he earned 14,000 baht a month from the Provincial Administration Organization. His earnings as an MP since May totaled 829,700 baht. He said he is living in the house of his mother and the car that he has been driving belongs to a friend.
Several MPs have not yet declared their assets to the NACC's Office, including Future Forward party leader Thanathorn Juangroongruangkit and Future Forward MPs Pannika Wanich and Pitha Limcharonrat.
SOURCE: thaipbsworld.com
Keep in contact with The Thaiger by following our
Facebook page
.
PM will act on opposition's recommendations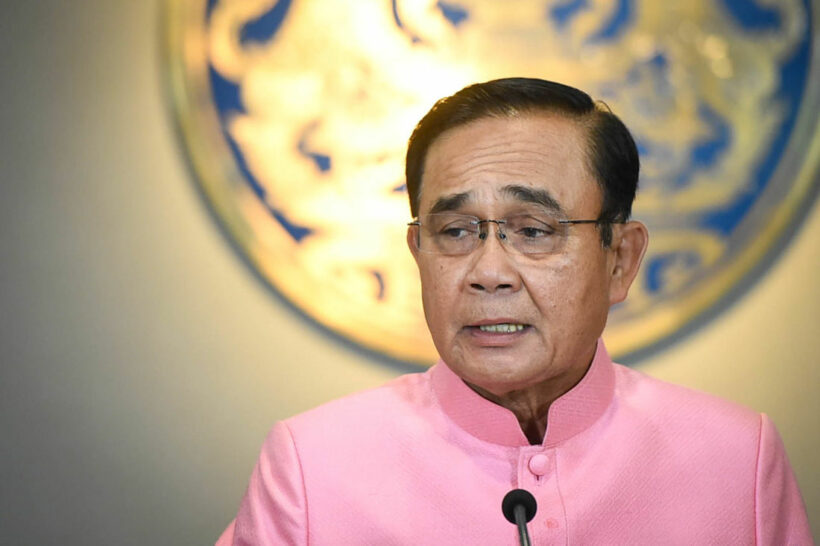 Prime Minister Prayut Chan-o-cha said on Saturday that he was satisfied with the deliberations over the budget bill in the previous two days and promised to act on the constructive suggestions offered by opposition parties.
Regarding the 400 billion baht allocated for the Central Fund, the Prime Minister admitted that the figure seems high, but it actually isn't when measured against various urgent issues requiring immediate attention, such as flood relief, pensions and critical projects proposed by local administrative bodies during cabinet meetings.
Defending the increased military budget, the PM said that the mission of the military isn't just to defend the country from invasion, but also the interdiction of smuggling and non-military activities such as disaster relief operations.
Tens of thousands of troops are deployed along Thailand's borders, with many of them stationed in the deep south to maintain peace in the often restive region.
He defended the need for new armaments, including navy's plan to procure new vessels to protect Thailand's marine resources and enhance the navy's overall capacity. He pointed out that Thailand isn't the only country in the region enhancing its military.
He said that about 2,000 projects have been proposed to address the flooding issue and that budgetary constraints mean the government must be selective, priority being given to those which are most urgent.
Regarding the 300 billion baht investment budget, the PM said that since investments in various major infrastructure projects are, and will be undertaken by the private sector, the funds will be used as seed money from the government to supplement private investment.
He said that public debt, now 41% of GDP, is not a serious concern as Thailand has the ability to service the debts.
SOURCE: thaipbsworld.com
Keep in contact with The Thaiger by following our
Facebook page
.
Foreigner arrested for exchange counter robbery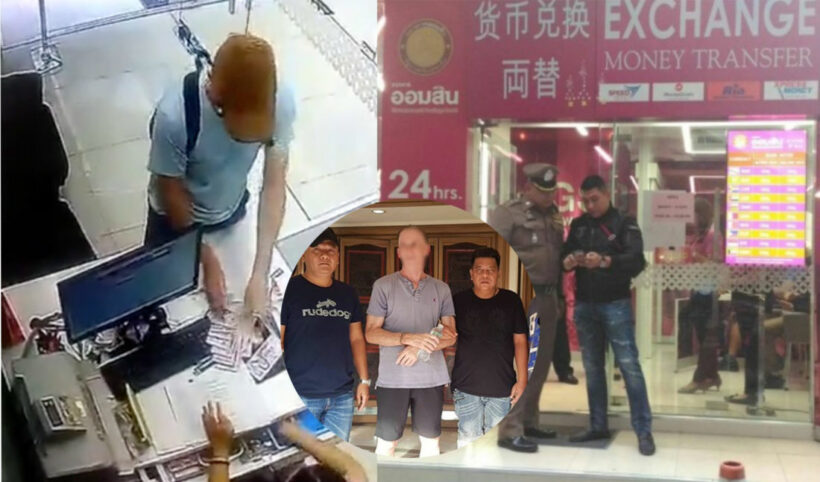 A foreign man was arrested after robbing a currency exchange counter in a Bangkok bank on 16 October. Police worked with Immigration officers and the tourist police to arrest the man, whose nationality has yet to be confirmed.
The man walked to a Government Savings Bank Currency Exchange Counter before pulling out a knife and threatening a clerk. He then ran from the bank with the money he'd received and got away on a motorbike taxi that happened by.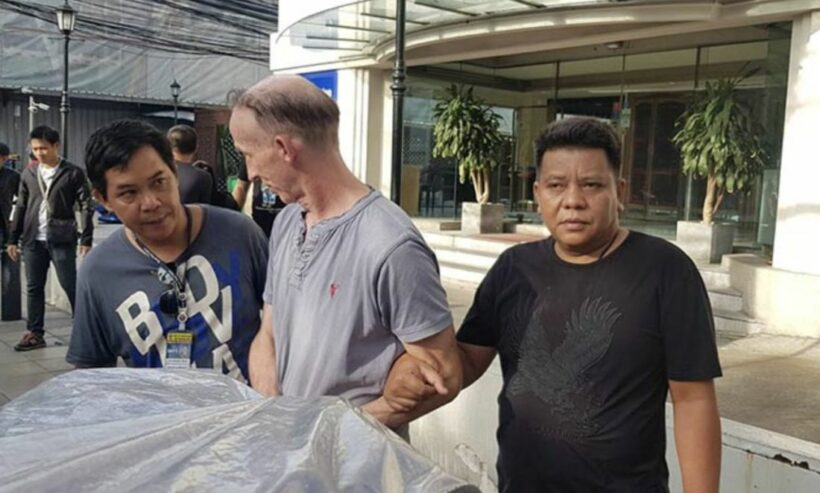 Photo : INN News
Footage from security cameras revealed information that helped lead police to the man, who was arrested a day later in his room. Police are investigating to learn the motive for the robbery and the mental state of the suspect.
SOURCE: thairesidents.com
Keep in contact with The Thaiger by following our
Facebook page
.