National: July event round-up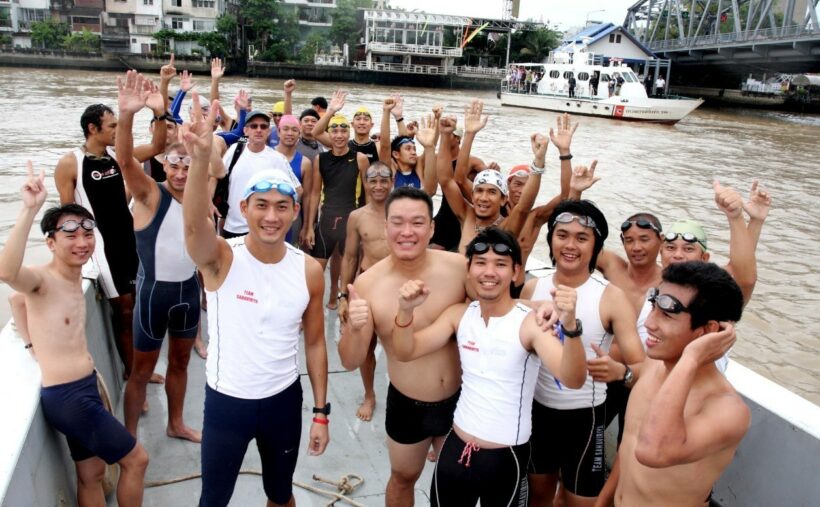 The running season is picking up pace (pun intended) in July with several races taking place around the country. The Sahaviriya-Bangkok Triathlon 2018 is back on July 7-8 after two years hiatus. The ultimate Bangkok race, it takes participants through a gruelling swim in the Chao Phraya river, a bike ride through the city's back alleys and corridors, and a run along the streets in the heart of the city. Three shorter variations will be held on Saturday July 7, while the real challenge – a 1.5km swim, a 54km bike and a 10km run – taking place on Sunday, July 8.
The following weekend, on July 14-15, one of the toughest events on the racing calendar, the 100 Miles Thailand, takes place in the region around Chiang Rai. With distances up to 200km, and a number of shorter distances and relay races, 100 Miles Thailand is the ultimate when it comes to endurance running.
Less taxing is the Pattaya Marathon, which takes place on July 15. Held for the 27th time, the race is popular with both locals and foreigners and regularly attracts international runners who enjoy a day in the seaside resort. Apart from the Full Marathon distance, participants can also compete in a Half Marathon, a Quarter Marathon, a Micro Marathon Wheelchair, a Micro Marathon Student, and a Micro Marathon Fun Run.
Later in the month, on July 22, the Thale Noi Roi Run 2018 will take runners through the picturesque region of Phattalung Province, crossing the bridge over Thale Noi Lake and offering 360 degree views over Songkhla Lake along the route. It is a great way to explore a part of southern Thailand off the beaten track.
And lastly, for those who are more into trail running, the annual Columbia Trail Masters 2018 takes place in Wang Chan in Rayong Province on July 29. The race is popular with nature conservationists due to the commitment to conservation, community building and sustainability; for every ticket purchased, Columbia will donate 100 baht to a local community awareness programme and match the total donation amount. Now, if that doesn't get you moving, we don't know what will.
If sailing is more your thing, head to Phuket on July 18-22 for the annual Cape Panwa Hotel Phuket Raceweek. Centered around the 5-star Cape Panwa Hotel on Phuket's southeast coast, the event is held for the 15th time and aims to promote Phuket as a premier sailing destination as well as support the island's tourism industry during a time when the island is generally less busy. Previous years has seen as many as 40 boats participate, attracting hundreds of sailors from more than 20 countries.

Keeping with the wet element, the Kek River Rafting Festival is for those seeking a little adrenaline rush. Starting in July and running through October, the festival takes advantage of the rainy season when the river swells and offers exhilarating rapids during its 8km course.
If quiet time with a good book fits more with your idea of fun, the 3rd Chiang Mai Book Fair should get your attention. With more than 200 publishers attending and 10 renowned authors invited to give talks, the fair also features a cosplay contest, a tales teller competition, workshops and much more. Chiang Mai Book Fair is on until July 8 at Central Plaza Chiang Mai Airport.
July is usually the month where many go abroad for the summer holidays. If holiday is not on your agenda, however, don't despair. You can still experience a bit of foreign culture at the Bonjour France showcase at CentralWorld from July 12-15. Organised by the Franco-Thai Chamber of Commerce, the fair showcases products ranging from cosmetics, fashion, interior design and gourmet food and beverage. See you at the pastry stand!

Founded in 2004 by veteran international marketing consultant Paul Poole, PAUL POOLE (SOUTH EAST ASIA) is an independent marketing consultancy based in Bangkok, Thailand specialising in commercial sponsorship and partnership marketing, working with both rights holders and brands – acting as a catalyst by bringing them together and maximising the relationship.
We have packaged, sold and managed sponsorship and partnership opportunities for a wide range of rights holders and worked with many of the world's leading brands to source and engage the right sponsorships and partnerships for them to maximise.


Looking to jettison some items before jetsetting away or chartering a yacht? Look no further than Thaiger Classifieds where you can find and post items, work, property and more for free.

Return to Elephant Jungle Sanctuary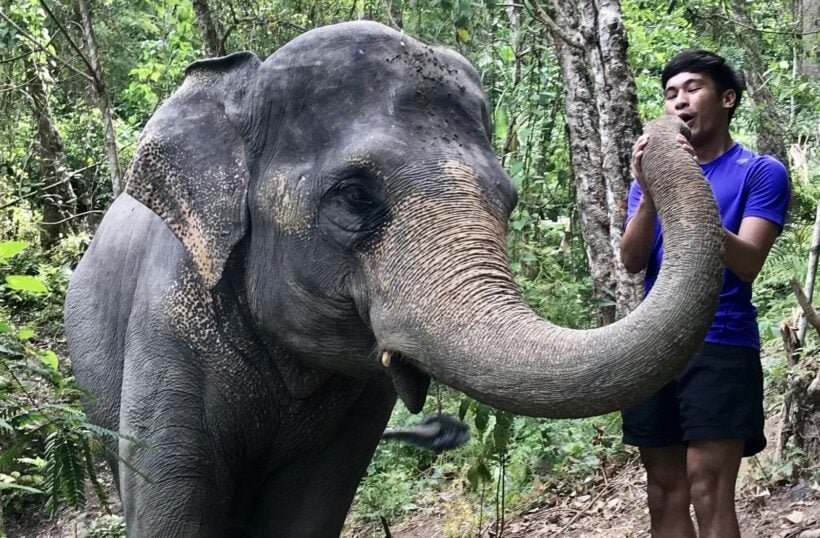 Phuket is one of the Thailand's most popular tourist destinations and continuously booming. There are so many attractions and activities that you can enjoy. One of them is visiting the Elephant Jungle Sanctuary.
Visiting this place is heaven on earth specially for animal lovers. You get to know the elephants and their back stories and learn the different ways to help them, individually and as a species.
December last year (2017) was indeed a memorable experience for me. I visited the camp for half a day and it was not enough. Knowing the elephants' experiences, being educated on how they survive, preparing their food, feeding, bathing and cleaning them was a once in a lifetime experience that I thought will never happen again.
This time I was lucky to be invited to visit all the sanctuaries! Monday morning I visited the same camp as last year – Camp 1 at Tambon Sa Khu; in the afternoon I went to Camp 2 at Phang Muang Sai Kor. I had barely recovered from the amazing whole day experiences at Camps 1 and 2. But right away, the next day,t exactly 6:45am Tuesday morning, I was picked up by the camp driver to visit the newest Camp 3 in Tambon Kathu near the Kathu Waterwalls. Indeed the Elephant Jungle Sanctuary is getting bigger. It means they are saving more and more elephants from working as loggers, performers and riders.
Here is what to expect in Half Day and Full Day Trip at the Sanctuary.
Camp Ride Service
The sanctuary will pick you up and take you back to your accommodation. This is included in your fee for both half and full day visitors. This awesome Sanctuary have the best staff that will help, guide and educate you about the amazing elephants.

Briefing
Once you arrived at the camp, you will be informed about the things that you are going to do and what not to do whilst with the elephants. At the same time you will learn about the Elephants' lives and experiences, particularly the individuals living in the camp.

Food Preparation
The fun begins! You will be given a quick lesson on what food you will arrange. Most of the time the elephants at the camp eat bananas, watermelons, corn and sugar cane. After preparing the food you will then carry the baskets to the feeding area.

Feeding Time
The goosebumps moment! Once all the food is well arranged at the feeding area, the elephants then arrive. If it is your first time, don't panic! I know what you feel, emotions that can't be explained in a single adjective – happiness, amusement, nervousness, excitement – all in one! This will be the time you will see some elephants excited for their food and people's affection. Everyone is encouraged to give lots of love to all of the herd, specially to adult giants who suffered a lot most of their lives living as an exploited animal outside the camp.

Lunch
Like the ride service, food is included in your fee. The camp prepares food for everyone whether you are a meat eater or a vegetarian like me!

Mud Bath
Play Time! This is one of the most exciting moments that I regret that I did not try last time. And I did it now, finally. I bet 'mud bath' is the best time for the giants since this is their ultimate play ground.
Note: Remember to always stay in front or by their side and never behind them, especially when they are lying down.

Swimming Time
My favourite! Swimming time is where you will scrape all the remaining mud off their bodies and because they are well taken care of most probably there will be a little feeding time again.

Souvenir
These are 'poncho' souvenirs for everyone! You can buy extra for 400 baht as a donation for the new building project – Elephant Clinic. They also sell Black Shirts with the logo of the Sanctuary as a design.

What is special if you are a Full Day Visitor?
All of these activities are part of the half and whole day visits. Here are the additional activities for the whole day visitor…

Mother and Daughter bonding
Walking Time
Heart to heart moment. Not everyone gets to experience quality moments with the elephants. I am so happy to be given an opportunity to have bonding time with Natalie and her son, Choke.
Beach Time
Since the elephants have a 'siesta', it's also break time for the staff. The whole day visitors will be sent to the beach for an hour of sun bathing and swimming. Did you see that? You get lots of amazing fun activities in one your. After beach time you will be taken to Camp 2 to join the afternoon session.
What to expect at Camp 3?
Since I was given a chance to visit the newest camp at Tambon Kathu, this is the best platform to share with all of you what to expect in the newest sanctuary. All pictures that are posted here were taken at Camp 3 (except for Natalie and Choke's picture at Camp 1)
This sanctuary is my sentimental favourite. It's super huge and it does look like a resort for the elephants. All camps have mud pools, swimming pool, a dining area, briefing area and shower rooms but camp 3 is pure beauty!

with Ebony and Erica (USA) and Ale (Spain)
Seize every moment!
The most important thing to do at the camp is to have fun, be safe and make friends! Please enjoy my short video here and I hope you take the opportunity to visit the Elephant Jungle Sanctuary when you're next in lovely Phuket.
Let's keep on supporting this amazing mission to save the elephants forever! Remember "Only humans can ensure the elephant's future."
You can follow Mark's yoga blog HERE.
Weakness in the BKK condo market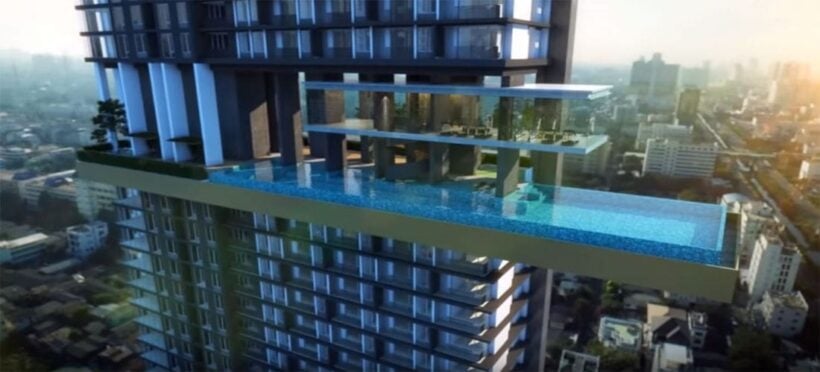 PHOTO: Nara 9 – www.nara9.net
Property consultants, Edmund Tie & Company – South East Asia – report that the new condo supply for 2019 is 'unlikely to increase' and that sales rates are disappointing in Q3.
Their report says that the take-up rate of newly launched condominium projects in Q3 in Bangkok's CBD dropped from last year's 58% to only 31%, year on year. This is even lower than the performance in Q2 which was 46%.
Developers are acknowledging that there is a weaker demand for residential units and a significant drop in overall supply.
The three highest performing condo sale segments were the 'luxury segment', followed by the 'super luxury' and 'Grade A' segments.
The average price for condos has remained flat for Q3, compared to Q2 – around 330,000 baht per square metre – but this is still a 32% increase when compared to the same quarter in 2017, according to the report.
But Edmund Tie report that the figures are just a minor 'blip' following big rises in demand and sales over the past three years. They report that the new condominium supply in the CBD during Q3 was 1,636 units, rising from 852 in Q2, 2018 – a 92% increase in new units hitting the market.
For the office sector, their report says that rents will continue to increase gradually in the final quarter of this year and into 2019, driven by limited supply.
"There will be an increased demand for office condos in Bangkok."
They say office developers remain focused on providing open-plan office space close to public transport nodes.
Walking on air. 314 metres above Bangkok.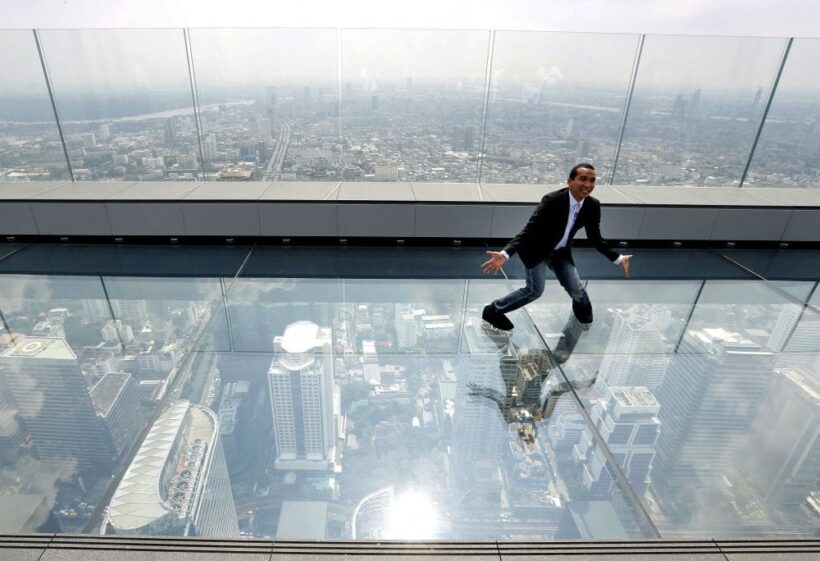 PHOTO: The Nation
King Power International Group has opened what is being marketed as the world's biggest glass-bottomed skywalk.
The new tourist (and local) attraction is on the rooftop of the 78 storey Mahanakhon building on Narathiwat Road in Bangkok's Bang Rak district. Mahanokon is Thailand's tallest building at 314 metres.
The glass skywalk has 360 degree panoramic view, vertically and horizontally. Standing on the glass platform you can see right around the Bangkok skyline and beyond. You can also look directly down, 314 metres below, to the street – not for the faint-hearted.
The building is equipped with a fast elevator which can reach the 74th floor from the ground in just 50 seconds.

King Power International (who have naming rights for the skyscraper) CEO Aiyawat Srivadhanaprabha said the glass-bottomed skywalk represents another important step and a pride for the Thai company.
"I believe that tourism is not just an engine to drive the country's economy, but also a gate toward the building of sustainable confidence and promotion of Thai identity in the eyes of the global community," said Aiyawat, an heir to the business empire of Vichai, the owner of Leicester City who died in helicopter crash recently.
The building features outdoor and indoor observation decks on the 78th and 74 floors respectively, modern shopping malls, varieties of both Thai and international food and duty-free shops (of course).
Scroll through to around 4.00 of this episode of ThinkingOfLiving to get a first peep at the new Bangkok icon.