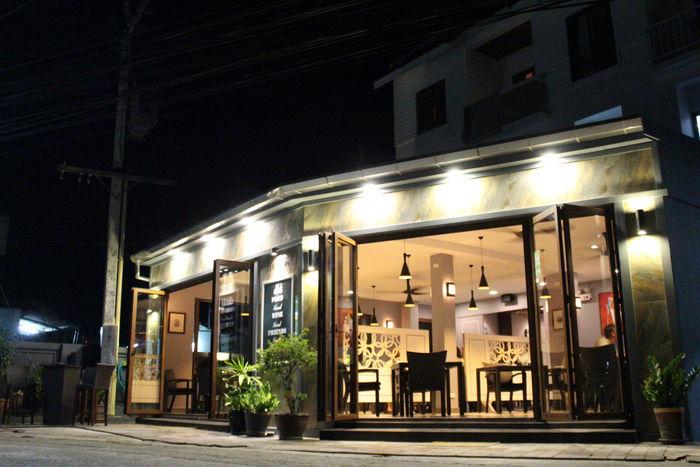 Three Phuket Gazette editors descended on Chalk & Cheese – A Brasserie by Thong Dee, located in the heart of Kathu. Three hours and 'several' glasses of wine later, a single opinion for three different reasons was ready to be plated up.

ISAAC LOVES THEM BALLS

THERE are certain balls you remember, and certainly certain balls you crave. Made from Patrik Lundgren's mother's recipes, like a number of the dishes plated up at Chalk & Cheese by Thong Dee, the Swedish meatballs at Chalk & Cheese are the kind of balls that slip into both categories – for men and women.
On an island where farang food is abundant and Thai food is cheap, flavorful and diverse, there seems to be little need to crave something so specific as the Swedish meatballs at Chalk & Cheese. However, the bustling corner-style brasserie hidden in Kathu is the sort of place that you find yourself racing down the back roads just for lunch.
I have never had as much fun reviewing a restaurant as I did with my fellow editors, during our three-hour dining experience. Patrik is funny, relaxed and friendly, creating a personality-based restaurant that carefully walks the line of casual fine dinning. You can have Gravad Lax
Salad, Australian Beef Carpaccio, Duck Normandy; or Risotto with king prawns and semi-dried cocktail tomatoes, while jamming out to The Beatles and watching the four expats at the table next to you have a laugh over a game of cards and a bottle of reasonably priced wine.
Then there's those meat balls. Though it's taboo to use the 'Big D' in a food review, this particular dish is worthy: those Swedish meat balls are simply delicious.
– Isaac Stone Simonelli


PERFECT STORM OF DUCK NORMANDY

WHETHER you've planned an intimate meal with a loved one, or a night out with family and friends, Chalk & Cheese is an ideal dining choice for many reasons. The place offers a brimming sense of well-being, brought on not only by the delectable choices on the menu, but also the unwavering attention of the owner, Patrik Lundgren, and his staff.
As an overt food reviewer, I thought personal attention would obviously be on the menu, but the many
delighted patrons I encountered on subsequent visits showed that all guests were treated with just as much care.
The decor is modern, but cozy – in other words, quintessential casual fine dining. The restaurant also houses a private room with a balcony, ideal for throwing small, intimate parties.
Each carefully crafted dish deserves attention, but my personal favorite is Duck Normandy. The duck is carefully grilled to bring out the fat, and then cooked to perfection with calvados sauce, caramelized apples and cider. Served with roasted potatoes on the side, this tender, juicy treat will keep you reaching for more. And for those thus-inclined, an equally tempting choice of desserts such as almond cake, tiramisu or cheesecake await.
– Sahar Aftab Paliwala


JUST GIVE ME ALL THE BRIE… I MEAN BEEF
AS AN editor, it may come as a surprise that no word can garner my attention more than this coagulation of milk protein known as cheese.
But 'what's in a name', as they say. For me, the more important concern is what's going to go in my belly. At Chalk & Cheese, the answer was 'everything'. And you know what, I'd do it again in a heartbeat.
To choose one dish above all is like asking which dinosaur was the greatest, or which Golden Girl would win in a fist fight. You just don't know.
For starters, you cannot miss out on the lightly fried brie with cranberry jam. In fact, you should probably have it for dessert or a palate cleanser… or as a main.
But as I must choose a separate main dish from my fellow editors (thanks a lot, guys) I will choose the dish that touched my heart and my stomach in all the right places.
The Australian Beef Tournedos in a red wine reduction served with potatoes au gratin. The beef was tender, the reduction complemented the natural juices of the meat, and the plate was decorated with layers of pearl onions filled with basil oil.
The Au Gratin was soft and creamy, with a cheesy flavor that reminded me of home.
Chalk & Cheese is one of those restaurants that caters to those seeking a fine-dining experience in a casual atmosphere. Owner Patrik Lundgren will make sure you are comfortable, entertained and well-fed.
What more could you want?
– Katie P Arnold