'Forest Rescue' campaign to save trees in and around Bangkok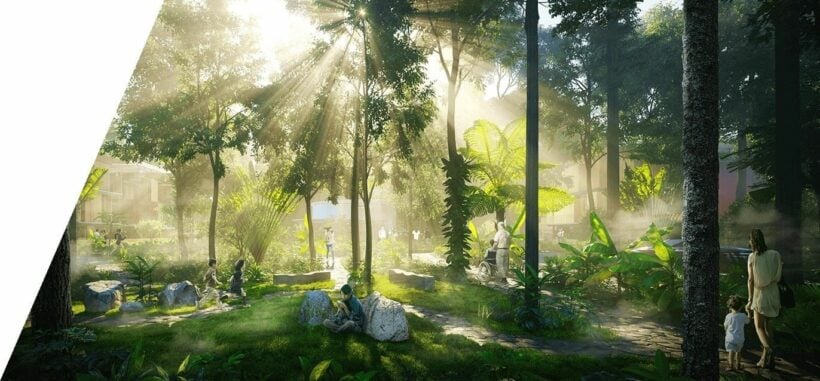 Magnolia Quality Development Corporation Limited (MQDC), a company that invests in, develops, and manages high-quality residential and mixed-use property projects under the brands 'THE FORESTIAS', has announced 'Forest Rescue', a campaign to save urban trees and highlight the importance of nature and healthy ecosystems.
The 70 million baht campaign aims to rescue trees in and around Bangkok and to spotlight nature's true value through video content. Members of the public can take part by submitting information to www.facebook.com/theforestias or using #ForestRescue. A team of plant and tree experts will assess, relocate, and care for trees, incorporating them into a public space at THE FORESTIAS, where 3 rai or 4,800 sqm has been prepared for trees moved under the campaign.
Mrs. Sasinan Allmand, MQDC's Executive Vice President, Corporate Marketing and Communications, said: "Transnational organisations across the globe are focusing on natural environments and the deterioration of ecosystems can have harmful consequences for people at large.

The world has 3 trillion trees but a report on changes in forest areas according to satellite images from 1990 to 2015 by the Food and Agriculture Organisation of the UN revealed that we have lost 1.3 million sqm of forest since 1990. The deforested area is larger than South Africa. Each hour, an area equivalent to 800 standard football fields [7,410 sqm] is deforested. Tropical forests, moreover, are at higher risk of deforestation than forests elsewhere.
For Thailand, in particular, Seub Nakhasathien Foundation revealed a shocking fact that only 31.58% of land in Thailand is forest, 0.02 percentage points lower than in 2015, equivalent to 65,000 rai."
At THE FORESTIAS, we aim to create an environment suitable for four generations of people, combine a planted and original natural environment with consideration for sustainable energy, complete an extremely safe mixed-use project, meet consumer needs, and build a better living community to give Thailand a valuable example. 70 million baht has now been allocated for a campaign entitled 'FOREST RESCUE', an operation to revive trees in and around Bangkok grounded in a mission for the future: saving trees by relocating them and managing space for them so our project can be their new home.
A video entitled 'Forest Rescue' is a main communication tool for the campaign. It is based on the true story of a large rain tree once at Soi Ladprao 110. The original owner wanted to build a house extension so the tree was carefully transplanted as a balled-and-burlapped plant to THE FORESTIAS.

The campaign is founded on the value of trees, especially their capabilities to preserve, create, and restore the environment. Large trees' amazing qualities have been demonstrated by countless international research findings. A large tree planted to the east of a house can reduce heat and increase energy efficiency by 10%.
The city of Barcelona in Spain found that, 200,000 large trees can consume 5,000 tons of carbon dioxide annually and absorb 305 tons of toxic substances. Trees familiar to Thais like the Australian pine, Norfolk Island pine, Sumatran pine, and Khasi pine are outstanding in absorbing polluting gases. Milkwood pine, ylang-ylang, camel's foot, or pisonia can effectively absorb oxides from nitrogen and produce ozone.
MQDC seeks significant results from this campaign, informing the public about the importance of trees and ecosystems and encouraging Thais to appreciate green spaces and to preserve them for coming generations.
Watch the video for Forest Rescue HERE.
Check out their website and find out more HERE.


Keep in contact with The Thaiger by following our
Facebook page
.
4 new BTS stations open, free until the end of the year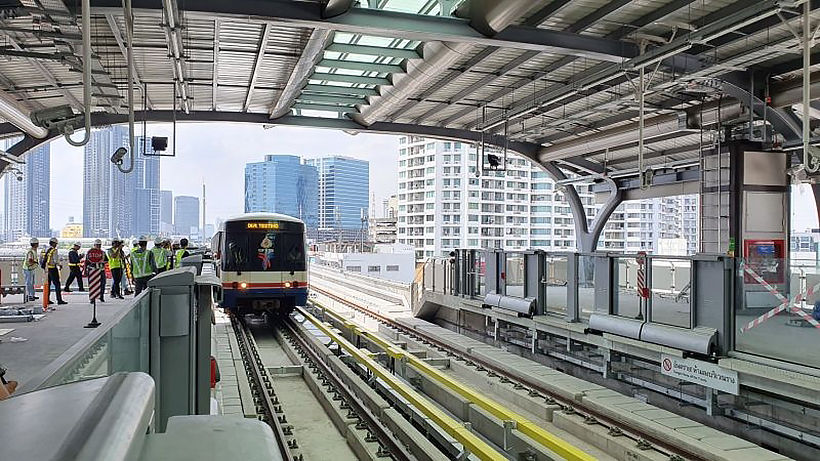 The BTS Skytrain is as ubiquitous in Bangkok as great street food and fake Viagra, and it's now added 4 new stops to extend its reach. The new BTS Green Line extension, running fro Mor Chit station and Khu Khot station in Rangsit, opened to the public today. The new extension was officially launched by PM Prayut Chan-o-cha this morning, and opened to commuters from 1:30pm.
The 4 new stations are: Royal Forest Department, Bang Sua, 11th Infantry Regiment and Wat Phra Sri Mahathat. In a trip that took 11 minutes, the PM travelled from Ha Yaek Lat Phrao station (on Phahon Yothin Road, before the four new stations) to the end of the line at Wat Phra Sri Mahat.
The extension of the northern service covers 4.2 kilometres, and travel on the new section is free until the end of the year. Whoo Hoo!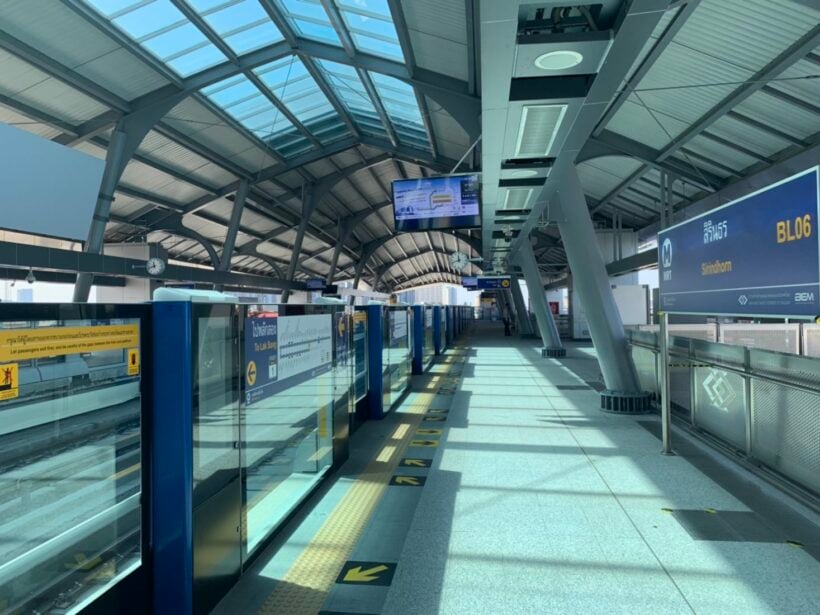 The system now comprises 47 stations along two lines: the Sukhumvit Line running northwards and eastwards, and the Silom Line which serves Silom and Sathorn Roads, the central business district of Bangkok, terminating at National Stadium and Bang Wa.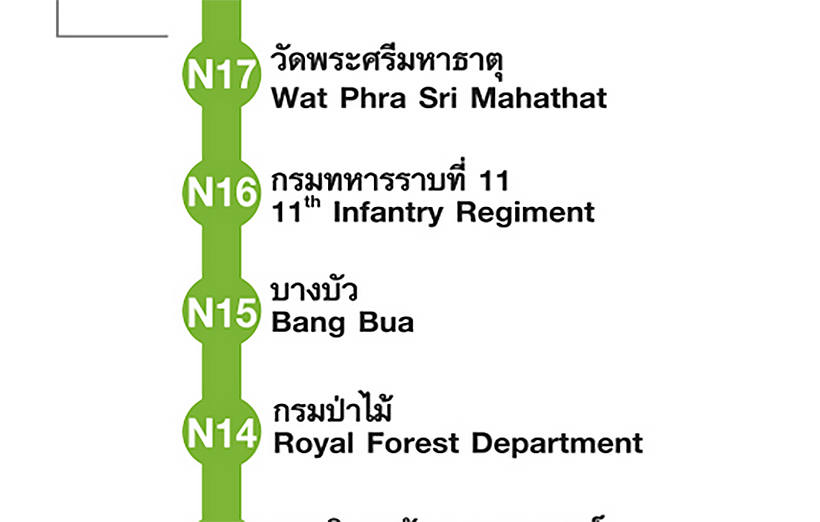 SOURCE: Bangkok Post
Keep in contact with The Thaiger by following our
Facebook page
.
Lumpini boxing stadium officials side-lined over Covid-19 cluster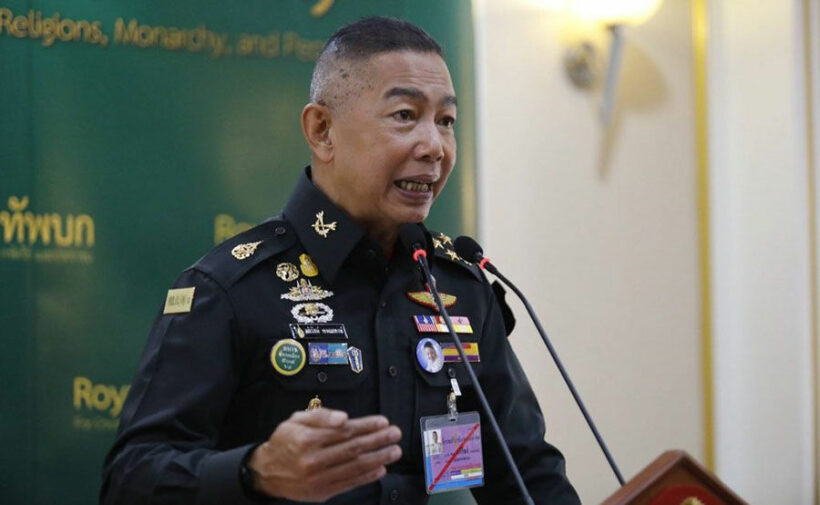 A report in Nation Thailand says that Thailand's army chief Apirat Kongsompong has ordered the transfer of all committee members at the Lumpini Boxing Stadium in Bangkok. The dressing down and side-lining of the officials comes after the committee went ahead with a boxing match at the stadium on March 6, two days after the government ordered such venues to close, as part of the Covid-19 lockdown measures.
The stadium is owned and operated by the Royal Thai Army.
The stadium was later found to be a hotbed for the virus, generating a cluster of hundreds of infectionsthat spread beyond Bangkok and into other provinces. A subsequent inspection has revealed serious problems with the venue's hygiene and disease prevention measures.
Army Chief Apirat Kongsompong is ordering the transfer of all committee members, having already transferred the manager, Rachit Arunrungsee, who is reportedly set to retire in September.
SOURCE: Nation Thailand
Keep in contact with The Thaiger by following our
Facebook page
.
Man arrested after hacking bank account of nearly 400,000 baht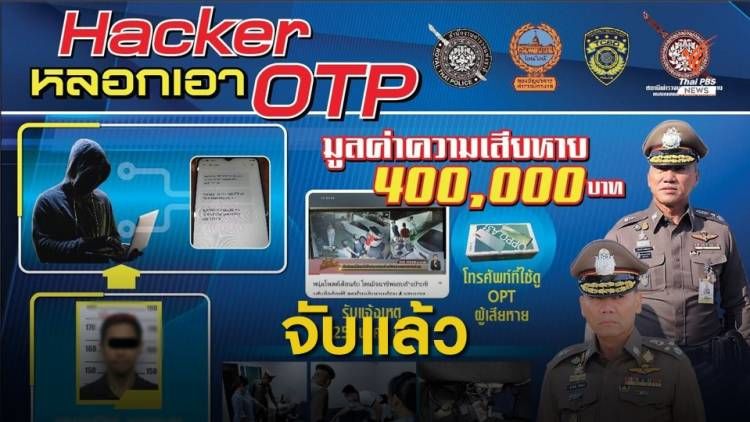 Police arrested a man for fraud after he hacked into a rich businessman's bank accounts using a smartphone sent in the mail, posing it as a prize. 34 year old Anontwat Vorametchayangkul took 395,000 baht from the man's accounts, police announced yesterday. He has a background in computer science, and police say he is wanted in 9 cases which are mostly fraud related.
A text message was sent to the businessman saying he won a phone in a customer reward promotion from a luxury hotel where he had recently stayed. He also received calls from the number, and when he didn't answer, they contacted his mother's phone saying the won the phone in a random drawing and he also won a free 3-day stay at the hotel.
The phone was later delivered to his house in Bangkok and was told to keep the SIM card in the phone for 2 hours to verify his reward. He checked his bank account sometime after and noticed money was missing.
The delivery driver was questioned. He said he took short term jobs he found online and was hired to deliver mobile phones people won in a hotel promotion for 5,000 baht. Police say the driver was not involved in the scam.
SOURCE: Bangkok Post
Keep in contact with The Thaiger by following our
Facebook page
.