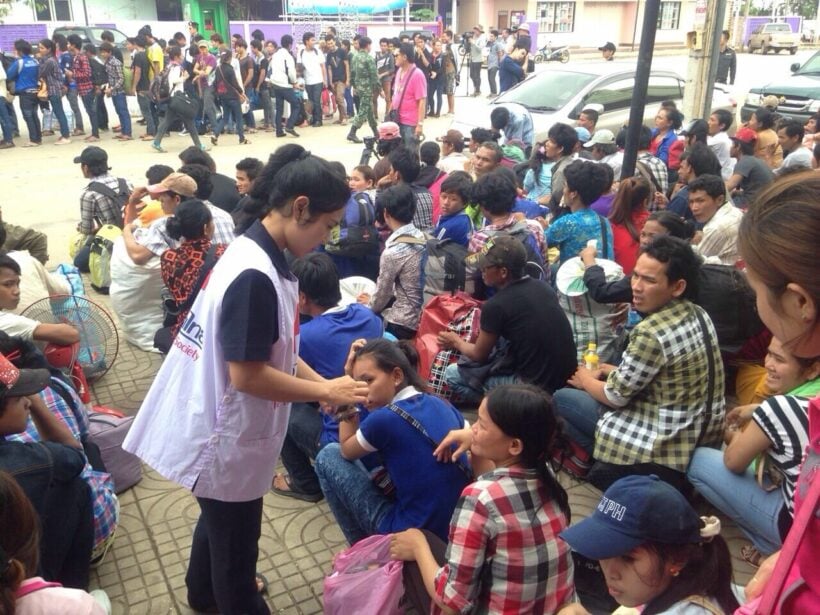 At least 46 Cambodian nationals have been arrested for allegedly illegally crossing over the Thailand border in Sa Kaeo province. Police there say the arrests are happening daily as the Cambodian nationals are trying to find work in Bangkok and neighbouring provinces. And, with the Covid-19 pandemic, the allegedly illegal border crossers are paying as much as 20,000 baht to agents to help them move across the border undetected. However, they are getting caught anyway upon crossing.
The Cambodians were promised jobs in Thailand ranging from working in a bread factory to construction work. To get to Thailand, the immigrants had to cross a natural pathway, which included crossing the Nam Sai Canal. After arriving across the border, the groups of hopeful migrants waited for a truck to pick them up and deliver them to their new jobs, however they were met with police instead. 35 were caught at around 4am, while another 11 were arrested near the same location as the others, at around 6am. The suspects include both men and women and police say the last batch of border crossers were promised a job in Pak Kret District of Nonthaburi Province.
But, instead of going to work in the near future, the Cambodians would likely be sitting in jail and having to spend more money on the judicial process. The officials say the migrants were given Covid-19 tests and they are now at police stations waiting for prosecution.
More crackdowns on migrants crossing land borders illegally and entering the country without quarantine caught more than 3,000 people in this past week. A spokesperson for the Internal Security Operations Command correlated Thailand's recent reopening to international tourism with the surge in illegal migrant border crossing.
A spokesperson for the ISOC said they are seeing a flood of illegal border crossings in the Northeastern and Eastern borders of Thailand of people looking for migrant work. They stated that 3,160 migrants were arrested just this week alone after attempting to enter the country illegally, bypassing the quarantining that ensures public health safety.
SOURCE: Thai Residents