Profile: Walter Brown – committed to helping travellers in need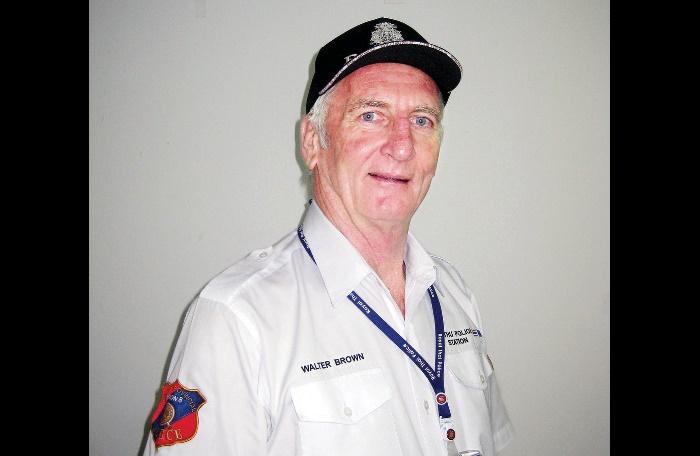 PHUKET: Walter Brown, or 'Wal' as he is popularly known, is the founder and coordinator of the Region 8 Police Volunteers.
Originally from Australia, Wal has been in Thailand for about 10 years now. He had already been retired for 15 years before he arrived here. Living on a 40ft motor cruiser in the tropics of north Queensland, Thailand was nowhere on the horizon for him.
All that changed when a friend asked him if he would be interested in participating in The Kings Cup Regatta. He came here for the regatta, and then again several times after that, before deciding to settle down here.
"I am a mechanic by trade and was working as a director at a technical college group in New South Wales. After I moved here, I was approached by a volunteer working with Immigration who asked if I would like to assist them. That's how this all started, with a bit of training about filling in forms and so on. I started spending two days at the Phuket Immigration Office and three nights patrolling the streets of Patong," says Wal.
He did this for several years before the then-superintendent at the Phuket Immigration Office discussed with him his concerns about supervision of the team working in Patong. After a bit of planning, a volunteer police group was proposed in 2009, which was to work under the supervision of the superintendent. It didn't start for another 10 months, however.
"Why we [eventually] started the group is lost in what we do now. We have been asked to assist in most police stations, hospitals, jails and courts in Phuket. We also have one of our group working with rescue foundations. By word of mouth, we were made aware of many concerns of tourists and expats with personal issues, and we have identified this as an important area to work on," says Wal.
In 2010, Wal and some of his colleagues started a formal volunteer program in Patong. The group started with seven people, but over the years, the number has expanded to about 30. The group does not have a traditional office and has been working out of Wal's restaurant in Patong for the past six years.
The requirements to be a volunteer with the group are to be over 21 years of age, to come from another country, to have a valid passport and a long term visa, and to have a good command of English and a good understanding of Thai culture, Wal says. Participants must also be able to fund themselves with a uniform and equipment and be able to work at least one night per week, in addition to attending the occasional meeting.
"Our aim is to assist tourists in need and to take their case to the next level, be it the consulate or embassy of their country, or to get them in touch with a family member or friend," he says.
"We have meetings where we can discuss our concerns, especially the feedback from visitors and tourists. This forum is important as it allows us to get to the core of the problems and figure out who is responsible for fixing a particular problem."
The group's biggest problem, Wal says, is recruiting and retaining volunteers. Once he has a full complement, he plans to take on a more unofficial role as trainer.
"We possibly need another 30 people to provide year round service and allow members flexibility for taking vacations and breaks. This would require a complete restructuring of our program – we would need to be more formally organized and have more people to visit tourists in need throughout the island," he says.
Supervising 30 people from 12 different countries, all between the ages of 23 and 76, is a challenge, but a rewarding one, he says.
He invites anyone who is interested in joining the group to call him on 084-447 1978 or to ask for him at Patong Police Station or the Police Box.
— Sahar Aftab Paliwala
Keep in contact with The Thaiger by following our
Facebook page
.


Have something to say? Scroll down to leave a comment, or visit our Thaiger Thailand Q&A Forum to discuss people, events, to-do and more with the local community.

Songkhla soi dogs heading to the US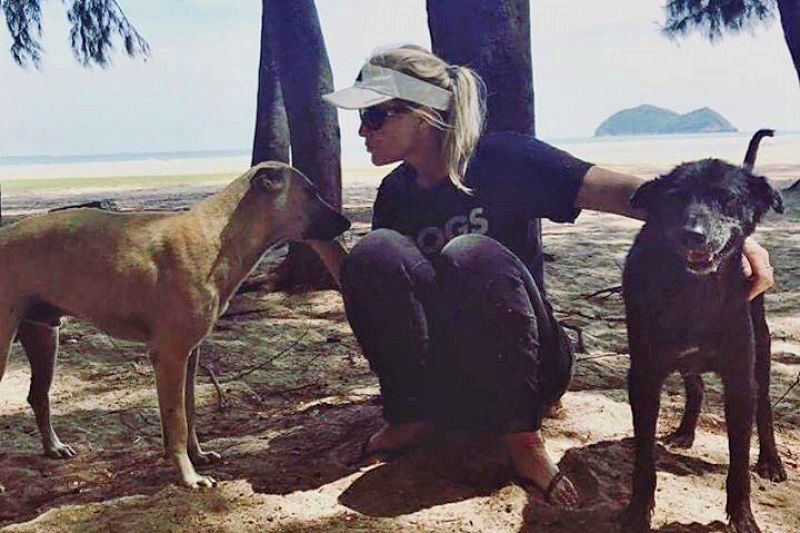 PHOTOS: Workpoint News | Thai Street Paws Rescue
5 dogs out of 29 that had been left to die in an abandoned home in Songkhla are now heading to the US to meet their new owners.
Officials from the Division of Animal Welfare and Veterinary Service and Smiledog Home volunteers report that the 29 dogs and 8 cats were abandoned at a house in Songkhla. Two representatives from Smiledog are taking care of the animals in Songkhla as their health improves and the lucky 5 dogs prepare for their long plane journey. A team of vets from Song Tale Veterinary Clinic have been providing expert medical care.
The owner of Thai Street Paws Rescue, Tamara Johnston, is an Australian teacher who teaches in Songkhla. She has played a major role in saving these animals and is the reason why 5 of them will be traveling to the US in September. She has been rescuing stray dogs and finds new owners for them without any adoption costs, except the travel fees for the animals.
Siripun Knampromwong from Smiledog Home says that the dogs have been happier since the rescue. They are playing with each other and have enough space to run around. There are still some animals available for adoption, those who are interested can contact via the Facebook page.
STORY: Workpoint News | Thai Residents
Facebook page
.
John Legend & Chrissy Teigen check out the tastes at a Korat Market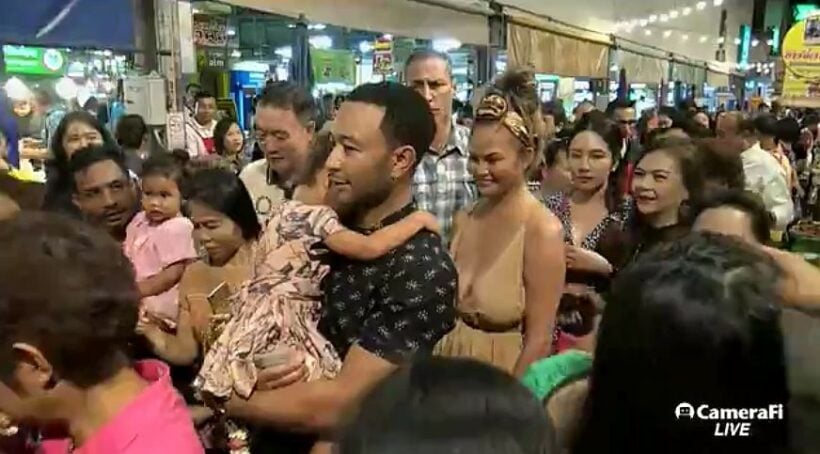 American music legend, John Legend, and his Thai-American wife Chrissy Teigen headed to a Nakhon Ratchasima food market only to be surrounded by locals trying to get a quick selfie.
The army of fans surround the musician, his wife and daughter to follow them around the market in the 25 minute Facebook post. It was smiles all around but as the video wears on so does the patience of the American singer whose only protection appears to be a plain-shirt body-guard who is at least 40 centimetres taller than everyone around him (he doesn't stand out at all).
A Thai policemen comes to their rescue and helps escort them somewhere a bit quieter.
Legend's model wife Chrissy Teigen is seen almost wearing her dress as any number of wardrobe malfunctions appear moments away from happening throughout the video.
The family were reported to have visited a number of famous Korat landmarks during their visit to the area.
Legend performed in Bangkok in March 2018 this year as part of his Darkness and Light tour.
Keep in contact with The Thaiger by following our
Facebook page
.
Phuket's lifeguards say goodbye to a champion of local beach safety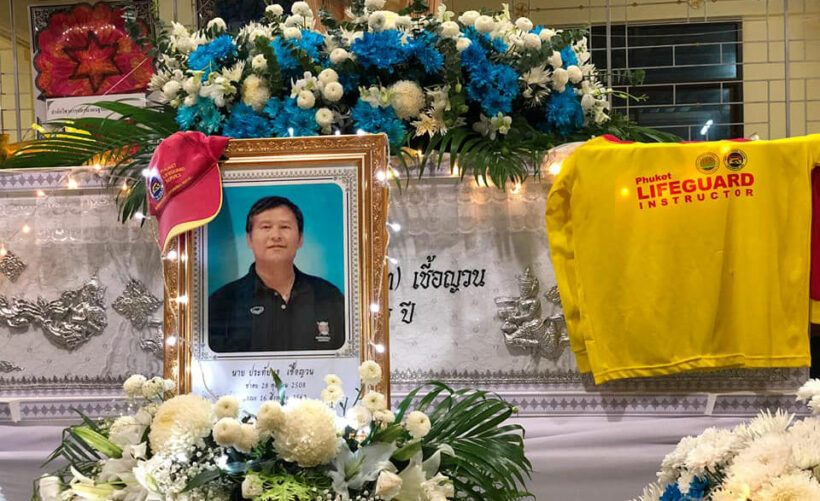 PHOTOS: Phuket Lifeguard Service
A commemoration ceremony has been held for Prathaiyuth Chuayuan, a local Phuketian who helped drive Phuket's first beach lifeguard services. He passed away on Friday morning after a heart attack.
He first experienced chest pains whilst delivering his daughter to school in Phuket Town on Friday morning, drove himself immediately to the Vachira Hospital nearby but succumbed to cardiac arrest around 9am.
He was 57 years old.
He worked with Australian lifesavers to help train local lifeguards and improve the skills of the Phuket's beach enthusiasts, and finally sought international accreditation for the growing body of competent Phuket lifeguards.
The Phuket Lifeguards Service, founded and run by Prathaiyuth and his wife Witanya, saved innumerable lives each year whilst battling Provincial Hall and local government for increased funding in annual contract negotiations.
Daren Jenner, a FOT (Friend of The Thaiger) and local safety officer for the International Surf Lifesaving Association, sent a message to us expressing his deepest condolences to Prathaiyuth's wife, family and friends.
"I had many good conversations with him over the years. He was a good-hearted man who did his best in difficult and changing circumstances. A very big loss for Phuket and the lifesaving community here. ISLA sends our deepest respect for his long commitment to ocean safety in SE Asia."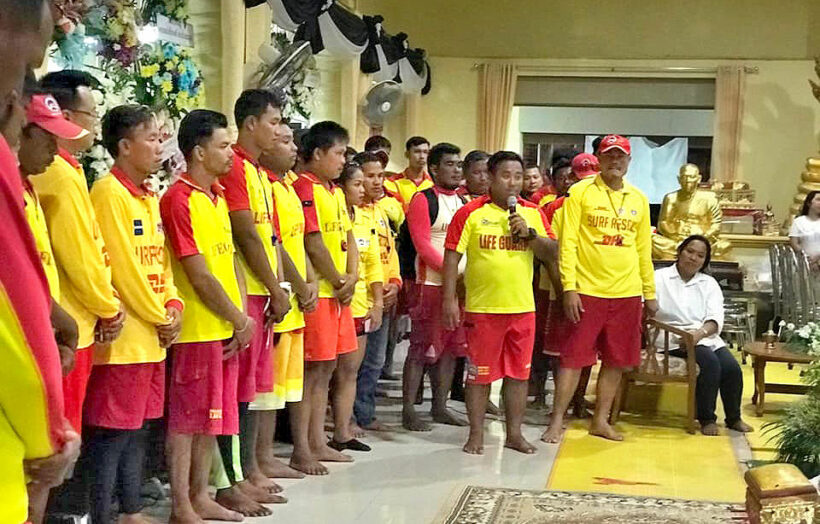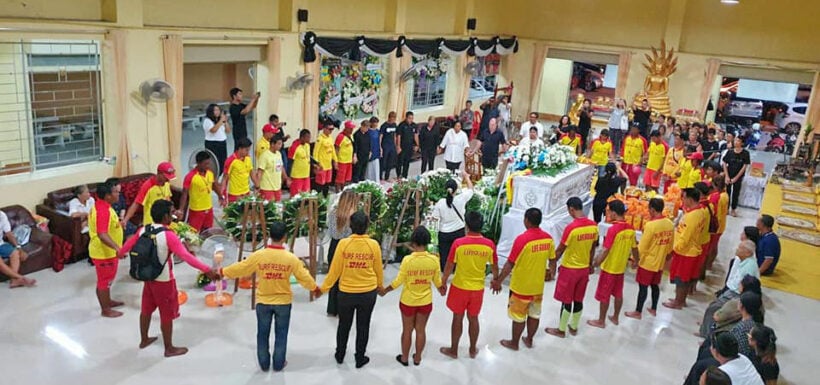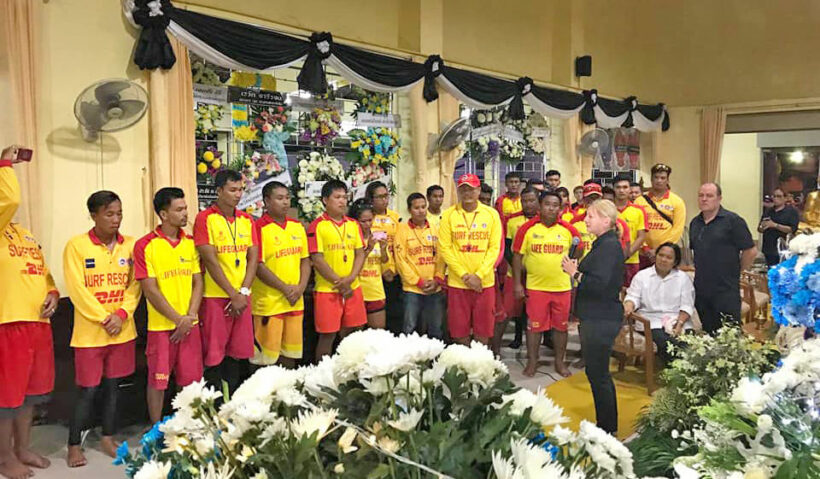 Keep in contact with The Thaiger by following our
Facebook page
.