Muslim father's online petition inspires Thai anti-child marriage activists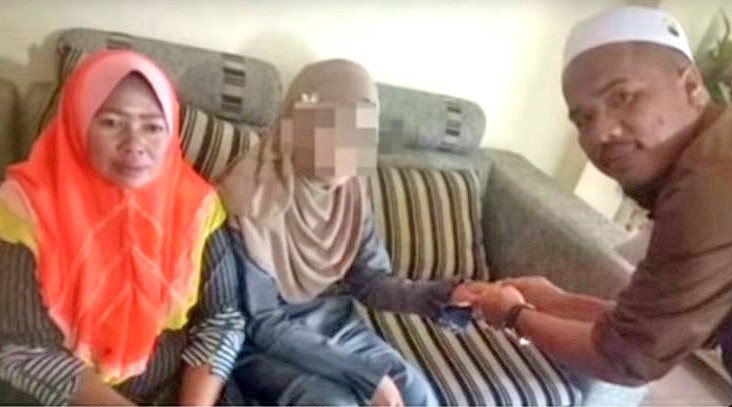 In the wake of the 'marriage of a 41 year old Malay man and an 11 year old Thai girl, Malaysia's government and netizens are proposing ways to ban child marriages.
Meanwhile, an online petition by a UK-based Malaysian Muslim father to ban child marriages has triggered an activist to begin a similar petition to ban them in Thailand too.
Umran Kadir, 40, said a "friend of a mutual friend" had started a similar petition.
"Two days ago I was contacted by an activist from Southern Thailand, as the people there are pushing their leaders to ban child marriages too," he said.
Umran said the man had asked his permission to use the same illustration he used for his petition.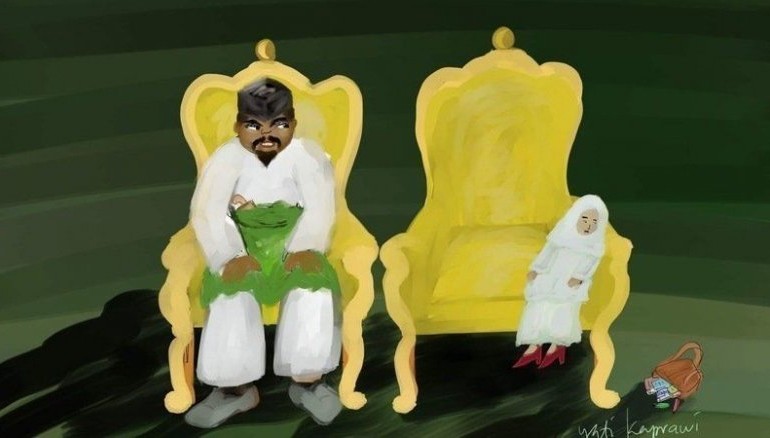 Read the original story about the 'marriage' between the 41 year old Malay man and an 11 year old Thai girl HERE.
On his Facebook, Ekraj said… "In response to the child marriage case of the 11 year old Thai girl and 41 year old Malaysian man, Thai and Malaysian civil society have coordinated efforts to rescue the girl and explore the long-term prevention of sexual exploitation of children by eradicating child marriages.
"There is a long way to go to bring the man to justice and ensure our long-term collective aspirations are fulfilled. We need your support to achieve sustainable protection of our children and women. Thank you!
"The petition says that members of the Organisation of Islamic Cooperation (OIC), such as Algeria, Oman, Bangladesh, Pakistan, Egypt, Kenya, Morocco, and Turkey have set the minimum age of marriage at 18 years of age. However, in Thailand, child marriages are permitted under the Civil and Commercial Code.
With an exception under the Civil Procedure Code, a man who has sexually assaulted an underage girl regardless of consent, which is a criminal offence under the Penal Code, can marry her with the permission of the court and by fulfilling the requirements of the law, it said.
The Islamic Law on Family and Legislation, and the Act on Application of Islamic Law in the Provinces of Pattani, Narathiwat, Yala and Satun, do not prescribe the minimum age of marriage but leave it to the discretion of the court, it said.
This has created a legal loophole for child marriages to be legitimised based on local norms and customary practices in several cases, all of which are in violation of the Child Protection Act, it said.
The loophole resulted in the case of a 41 year old man from Kelantan marrying an 11 year old girl from Narathiwat, Thailand.
In his petition, Ekraj also said that child marriages in the southern provinces of Thailand continue to be misused to deal with premarital pregnancy and rape, and to escape poverty.
"To protect the 11 year old girl and to prevent exploitation, sexual abuses, and for the long-term prevention of exploitation of all children, the undersigned individuals and organisations of the open letter urge the provincial governor of Narathiwat province, as the chairman of the Provincial Child Protection Committee responsible for the Child Protection Act to lodge a police report as a necessary prerequisite for the relevant authorities to investigate the case," the petition reads.
It also said that the Thai government must seek the cooperation of the Malaysian Government to improve on the law and ensure their compatibility to prevent the misuse of legal loopholes between the two countries.
Meanwhile, Umran's petition on change.org has received more than 22,000 signatures (at press time) since he initiated it on July 11 (July 12 Malaysian time).He also wrote an open letter to the Deputy Prime Minister on Thursday morning urging her to take a bold step towards ending child marriages.

STORY: The Nation
Want more from the Thaiger family?
📱 Download our app on Android or iOS for instant updates on your mobile
📧 Subscribe to our daily email newsletter
👍 Like/Follow us on Facebook
🔔 Subscribe to or Join our YouTube channel for daily video updates


Find more SE Asian News courtesy of Thaiger.

Broke? Find employment in Southeast Asia with JobCute Thailand. Rich? Invest in real estate across Asia with FazWaz Property Group. Even book medical procedures worldwide with MyMediTravel, all powered by DB Ventures.

Testing increased in Singapore after unlinked Covid-19 cases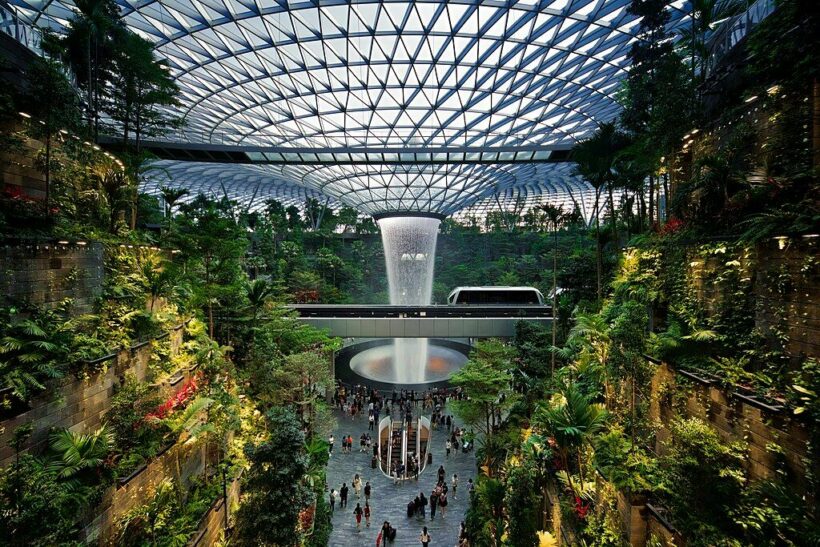 Singapore, where there has been over 61,000 Covid-19 infections and 31 deaths, is increasing testing to find sources for recent unlinked cases. Over the past few weeks, new cases of Covid-19 have been cropping up without any apparent connection to known Coronavirus infections.
The Health Ministry of Singapore said yesterday that a junior college student and 3 staff members at Changi Airport all were identified as infected with Covid-19 with no known connection to any other cases. Thousands of tests will now be given to try to connect the dots and find other unidentified infections that may link these cases.
Every student, faculty, staff member and visitor to Victoria Junior College will be tested for Covid-19, as well as all the staff at both of Changi Airport's terminals and the Jewel shopping mall. The testing for the junior college will encompass 2,200 people receiving swab testing, and over 100 people will be quarantined after being in close contact with the Covid-19 infected student. The details were confirmed by the Ministry of Education. The total number of people tested or isolated in the Singapore airport outbreak of unlinked infections has not yet been confirmed.
Singapore had been seeing positive trends in their fight against the Covid-19 pandemic, but a few weeks ago, things began to change. In the last 2 weeks, about 10 unlinked infections have surfaced each week in Singapore without any apparent connection to known Coronavirus cases, which creates a troublesome question of how many undetected cases are floating around the small country. New outbreaks have been cropping up and the dreaded Indian variant was found inside Singapore. After talks of a travel bubble, Singapore established a quarantine for travellers from Thailand.
Yesterday health authorities responded to these new clusters and mysterious unlinked infections by imposing new safety measures and tightening social distancing protocols in Singapore. Officials are hoping to regain control of Covid-19 spreading before it worsens to a point that they will have to reinstate the harsh lockdown rules put in place last year during the initial wave of Covid-19 in the world.
To learn about the current Covid-19 situation in ASEAN countries and South Asia, click here for The Thaiger's roundup.
SOURCE: Bangkok Post
Want more from the Thaiger family?
📱 Download our app on Android or iOS for instant updates on your mobile
📧 Subscribe to our daily email newsletter
👍 Like/Follow us on Facebook
🔔 Subscribe to or Join our YouTube channel for daily video updates
Once Covid-19 free, Cambodia eases lockdown amidst surge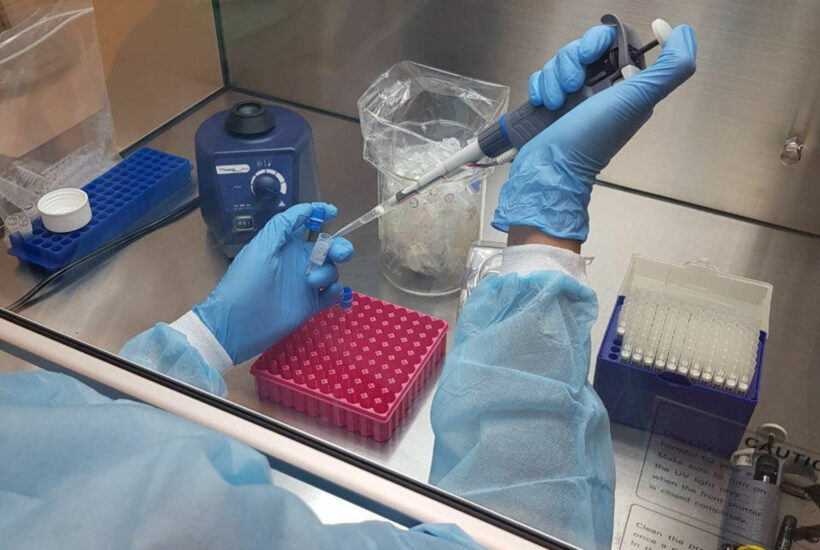 After remaining relatively unscathed during the global pandemic in 2020, Cambodia, like other countries in the region, is in the midst of a massive Covid-19 surge. As recently as late February, the country had only seen about 500 cases in their population of 16 million. But just two days ago, 650 new cases and 4 fatalities were recorded nationally. Cambodia has now had 17,621 Covid-19 cases and the highly contagious B.1.1.7. variant is now spreading in the country. For a nation that generally had zero infections per day, the outbreak that began at the end of February has often seen hundreds of new infections daily.
Until this new wave, Cambodia had managed to avoid a single Covid-19 death being recorded. But as of today, 114 people have died from the Coronavirus pandemic. The hospital system and medical facilities struggled to keep up with new patient care demand. On April 6, Prime Minister Hun Sen decreed that hospitals were nearing capacity and asymptomatic patients and those with only mild symptoms would be treated at home. The World Health Organisation, and their representative to Cambodia, warned nearly a month ago that the nation was on the brink of a national tragedy.
"Despite our best efforts, we are struggling to control the virus. Unless we can stop the outbreak, Cambodia's health system is at high risk of being overwhelmed, which would have disastrous consequences."
The Cambodian government imposed strict lockdowns starting April 15 in Phnom Penh and surrounding districts, labelling red zones with about 300,000 people living inside. Cambodia also has a 3-day New Year celebration falling on the same dates as Sri Lanka's New Years and Thailand's Songkran Festival and encountered the same problem of people taking holidays and travelling to be with their families, spreading Covid-19 as they went.
The lockdowns have been severe with extremely harsh penalties being threatened in an attempt to curb the spread of the newest Covid-19 outbreak in Cambodia. But some groups are warning that the humanitarian crisis is growing with the country strictly sealed off and people locked in their homes, preventing food and other necessities from being acquired. Facing criticism the Prime Minister ended the lockdown this week.
For now, vaccination seems to be the way out of this second wave crisis. The month of May brings an ambitious campaign to start in the worst infected areas and vaccinate about half a million Cambodians using the Sinovac and Sinopharm vaccine manufactured by China. About 6 in every 100 people have been vaccinated in the country after 2.6 million jabs have been given.
Read about the current Covid-19 situation in countries around South and Southeast Asia: Cambodia, India, Indonesia, The Maldives, Nepal, Sri Lanka and Thailand.
SOURCE: CNN
Want more from the Thaiger family?
📱 Download our app on Android or iOS for instant updates on your mobile
📧 Subscribe to our daily email newsletter
👍 Like/Follow us on Facebook
🔔 Subscribe to or Join our YouTube channel for daily video updates
Covid-19 Indonesia: Indian variant, reused swabs, holiday travel ban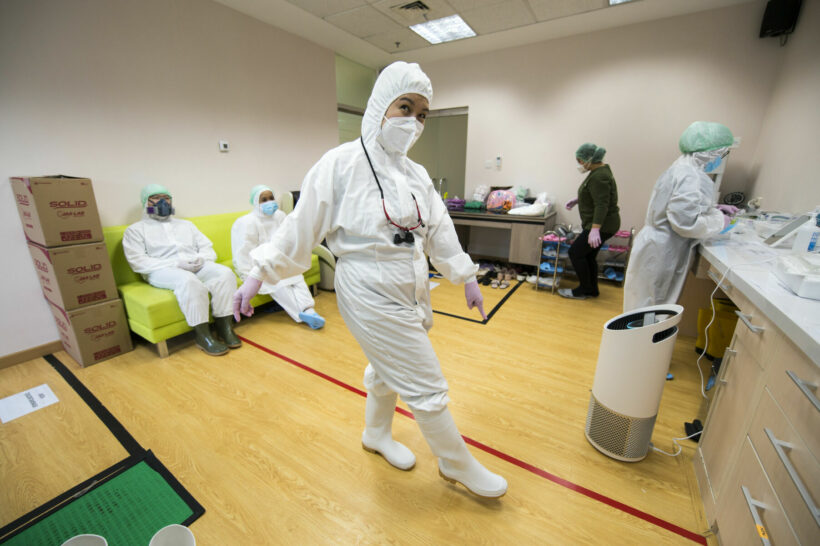 Indonesia is experiencing an average of 5,000 new Covid-19 cases each day over the past week, and the Indian variant has now arrived as well. The Health Ministry confirmed this week that 2 patients had been infected by what has been identified as the B.1.617 variant of the Coronavirus, commonly known as the more contagious Indian strain. Indonesia is often somewhat of a sleeping giant as Asia's third (and the world's fourth) most populous nation but trailing India and China by about 1 billion people each. The country has seen 1.7 million Coronavirus infections and 46,496 fatalities due to Covid-19.
A recent scandal broke at Indonesia's Medan Airport in North Sumatra as the employees at the state-owned Kimia Farma pharmaceutical company are accused of rinsing cotton swabs with alcohol and then repackaging them to be used for Covid-19 nasal swabs. Police suspect more than 9,000 people may have used these recycled swab kits which were sold to thousands of travellers.
The 5 employees have been fired for violating the health laws and consumer protection act, and the company may face civil lawsuits, especially if Covid-19 is spread through Indonesia because of the incident. Police are investigating if 1 employee built a new home using 1.8 billion Indonesian rupiahs (nearly 4 million baht) from the scam's profits. 2 lawyers who may have used the swabs are already gathering victims for a class-action lawsuit seeking 1 billion rupiahs (about 2.2 million baht) per passenger.
Meanwhile, Indonesia faces a similar situation that caused Covid-19 outbreaks in Cambodia, Thailand, and Sri Lanka when people travelled on holiday and family visits for New Year's holiday last month. Ramadan is coming to a close and millions of people traditionally travel to their hometowns to be with family for the Eid al-Fitr celebration. It is a Mudik holiday, which is one where people who have migrated away from their families return home to be together.
Indonesia banned all domestic travel between May 6 to May 17, but despite the Covid-19 spread, 7% of Indonesians, about 18 million people, said they were still planning on travelling for the holiday. The ban is more than just a cancellation of flights, train, buses, and ferries. It is a wide-sweeping edict that includes public and private journeys, so even motorcycles, personal cars, and private boats are forbidden to travel.
4,000 security personnel will be deployed to metropolitan Jakarta to enforce the restriction. 11,500 military personnel and 90,000 police officers are expected to be posted around the country, with about 155,000 people in total working to enforce the travel restriction.
The Indonesian government hopes that it can avoid further outbreaks for the country that already has the highest number of Covid-19 cases in Southeast Asia.
Read about the current Covid-19 situation in countries around South and Southeast Asia: Cambodia, India, Indonesia, The Maldives, Nepal, Sri Lanka and Thailand.
SOURCE: The Guardian and CNN
Want more from the Thaiger family?
📱 Download our app on Android or iOS for instant updates on your mobile
📧 Subscribe to our daily email newsletter
👍 Like/Follow us on Facebook
🔔 Subscribe to or Join our YouTube channel for daily video updates