Pregnant wife shoots Phang Nga police husband to death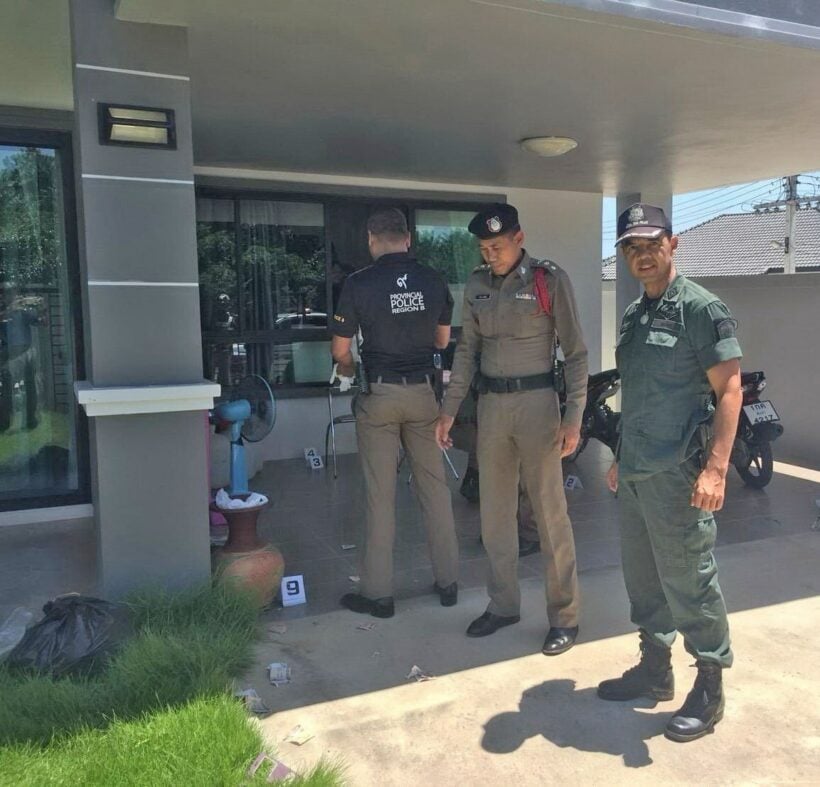 A nine month pregnant wife has surrendered after fatally shooting her husband following an arguement in a Phang Nga house on Saturday (June 30).
The Takua Pa Police were notified of the incident at the house in Takua Pa. The Region 8 Police, The Takua Pa Police and The Talad Yai Police arrived at the house to find the body of 48 years old Lt Col Sommit Buamart of Talad Yai Police in Takua Pa in front of his house.
32 years old Orawan Buamart, who is nine months pregnant, surrendered to police inside the house. Police found eight cartridges on the floor inside the bedroom of the house.
Orawan admitted that she shot her husband. She was taken to the Takua Pa Police Station for questioning.
Orawan told police that they were legally living as husband and wife for more than two years. They had just moved to this house. But she said they were always arguing and had family issues.
Yesterday, she told police, they had a serious argument. Her husband fired a shot from a 9mm handgun at her, but missed. They continued fighting, according to the woman's story. Lt Col Sommit put the gun on the bed and tried to jump out of the window. Orawan grabbed the gun and fired several shots until the bullets were finished.
Police are continuing their investigating into the incident.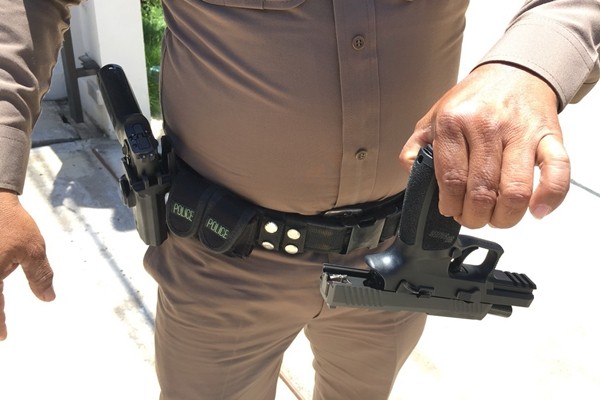 Keep in contact with The Thaiger by following our
Facebook page
.
Never miss out on future posts by
following The Thaiger
.
Qantas airline to require international travellers to have Covid vaccine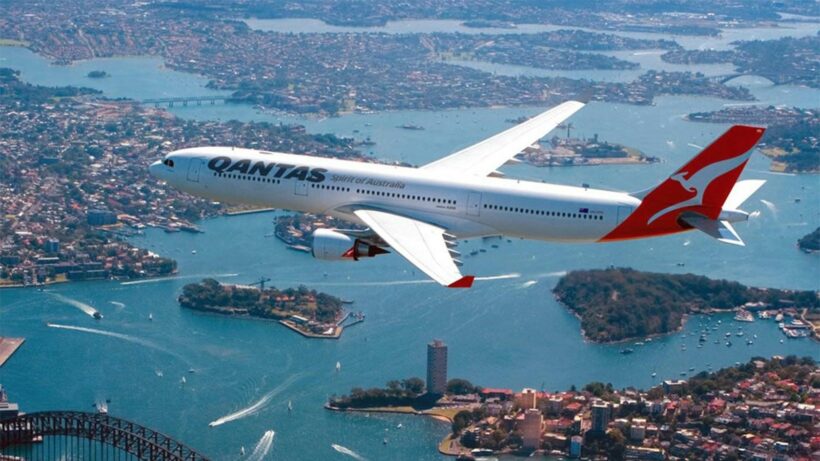 Qantas, the Australian airline, is announcing a new requirement that international travellers will need to have a vaccination against Covid-19 in a move that could become the norm for the rest of the industry. Qantas CEO Alan Joyce says the Australian flag carrier would implement the measure once a coronavirus vaccine was made available to the public.
"We are looking at changing our terms and conditions to say for international travellers that we will ask people to have a vaccination before they can get on the aircraft."
"Whether you need that domestically, we will have to see what happens with Covid-19 in the market but certainly, for international visitors coming out (to Australia) and people leaving the country, we think that is a necessity."
Joyce says the new rule is likely to become a standard practice by all airlines worldwide as many governments are now working to introduce electronic vaccination passports. Vaccination requirements are already widely used around the world for those wishing to enter certain countries, with many countries wanting travellers show they have been inoculated against yellow fever if they are coming from regions where that disease could be acquired.
The International Air Transport Association has also announced it is in the "final stages" of developing a digital health pass that it says can be used to record Covid-19 tests or vaccinations and will "support the safe reopening of borders," according to the IATA director general and CEO Alexandre de Juniac.
"We are bringing this to market in the coming months to also meet the needs of the various travel bubbles and public health corridors that are starting operation."
Australia's borders have been closed since March to help stop the spread of the virus, which has taken the lives of more than 1 million people worldwide. The country has even limited its own citizens arrivals from abroad by implementing a weekly quota that has left thousands stranded overseas. Qantas has grounded more than 200 planes and let go 8,500 staff members as it attempts to offset a US 1.9 billion loss.
SOURCE: Bangkok Post
Keep in contact with The Thaiger by following our
Facebook page
.
Never miss out on future posts by
following The Thaiger
.
Clash with kratom smugglers by Songhkla border leaves 1 Malaysian cop killed and 1 injured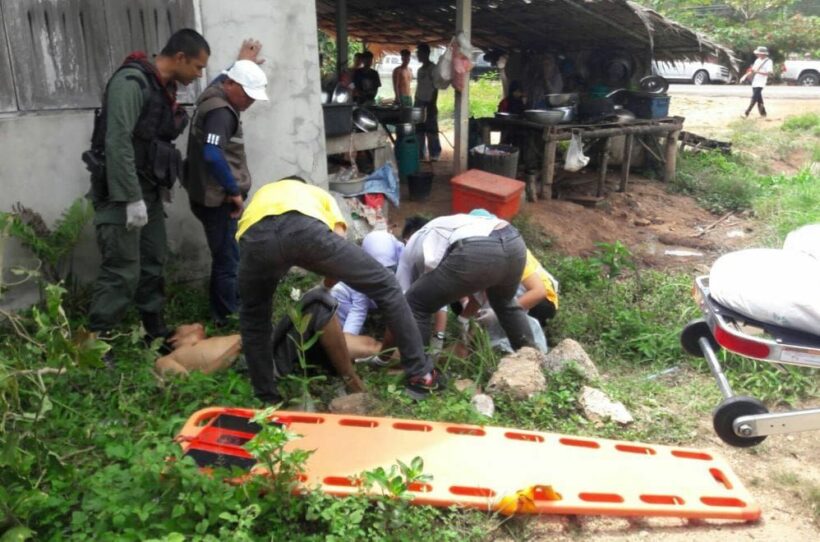 A clash with kratom drug smugglers by Thailand 's Songhkla border has left 1 Malaysian cop killed and 1 injured. The clash happened at around 2am this mornign as a Malaysian policeman came up on 13 men acting suspiciously near the border on the Malaysian side, which is opposite of Sadao district.
Gunshots were exchanged and 2 Thai smugglers were arrested with 3 other Thais wounded. The wounded Thais attempted to cross the border but were caught and sent to Hat Yai hospital for treatment. 54 year old Baharudin bi Pramli, was shot and killed whils 39 year old Norihan A/L Tari was wounded.
The kratom smugglers were believed to be both Malaysian and Thai nationals. Kratom, is a mild narcotic, which has been categorised as an illegal drug in Thailand. 1 of the injured men was taken to the area, as police say he was well enough to identify the scene of the clash and the gang's escape route. Across the border, Malaysian police reportedly arrested 2 Thai smugglers. One was 38 year old Sahamadyusob Talah from tambon Ban Khuan of Muang district, while the other was unnamed.
Recently, a Burmese man was busted with 20 kilograms of kratom after he illegally crossed a natural border into Thailand in the southern Muang district in Prachuap Khiri Khan. Border patrol police and administrative officials were patrolling Ban Hup Phueng, a village near the natural pass on the Myanmar border, after Thailand authorities sealed the border earlier due to an outbreak of Covid in Myanmar. Such arrests of illegal border crossing have been more prevalent in recent months as the province has stepped up surveillance of the border due to the Covid-10 pandemic.
Just last weekend, a Burmese refugee contracted Covid after sneaking across the border to visit his native country and upon coming back, he tested positive for the virus, causing officials to lockdown the refugee camp in Tak province.
SOURCE: Bangkok Post
Keep in contact with The Thaiger by following our
Facebook page
.
Never miss out on future posts by
following The Thaiger
.
Pandemic has washed away Pattaya's "soapy" massage parlours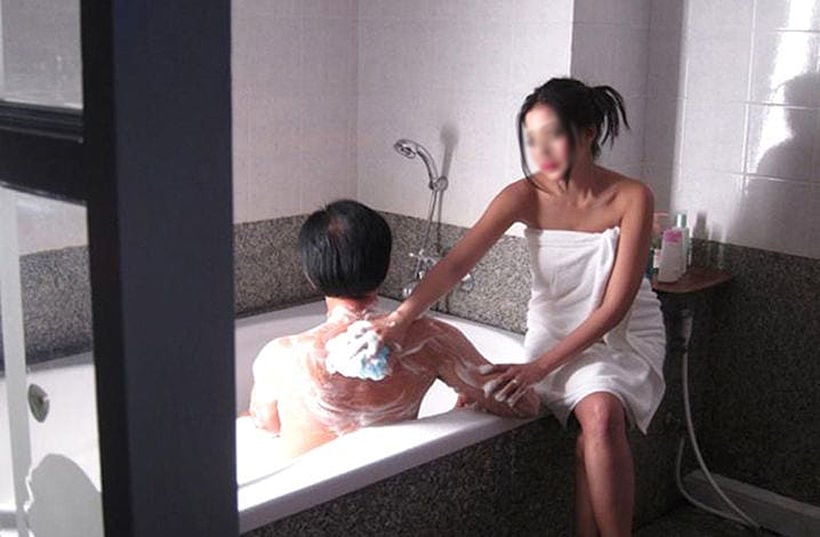 While the Covid pandemic has hit Thailand's businesses hard, it has also washed away its not-so-legal soapy massage parlours after tourism has dried up its clientele. Such places, known as glorified brothels, have left many masseuses out of work as boards have barricaded the once booming establishments.
Soapy Massage (àap-òp-nûat, อาบอบนวด, literally bath, steam, massage)…
These are the bigger massage parlours where girls are presented in the fishbowl and you get the full program (including sex) for a fixed price, depending on the girl starting from 1,500 and up to 5,000 Baht.
Only a few of the soapy services have survived the pandemic in Pattaya, with Honey Massage Parlour being one of them, according to The Pattaya Mail. After adjusting to the new requirements for social distancing, the business has re-opened on November 19. However, its largest shop has closed, once known as Honey 1 on Soi Honey, or Soi 11, the windows are dark and barricaded. Honey Inn is also up for sale.
25 year old masseuse Maywadee, says she used to work in such parlours where she would get a cut of the 1,500 to 2,500 baht fee. She says she used to see up to 7 clients a day, but now that number has been cut in half as Chinese and Japanese tourists, who were her largest group of customers have dwindled. Now, she is thinking about heading back to her home city of Chiang Mai, to sell handicrafts, as her Pattaya income has dried up.
Such parlours feature masseuses that are usually not native to the area, as many come from lower socio-economic areas such as Thailands northeastern provinces, otherwise known as Isaan. Many make the trip to tourist-driven cities like Pattaya, Koh Samui, Bangkok and others, in an attempt to make a higher salary than they would if they were back in Isaan.
SOURCE: The Pattaya Mail
Keep in contact with The Thaiger by following our
Facebook page
.
Never miss out on future posts by
following The Thaiger
.