VIDEO: British pianist performs at Thai Elephant Sanctuary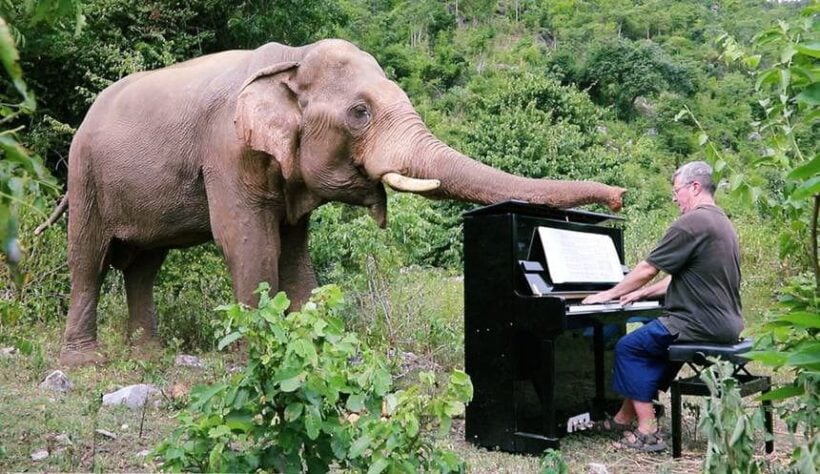 PHOTO: Tree Hugger
Paul Barton is a British classical pianist who seems to have made some new friends. At the Elephants World Retirement Sanctuary in Kanchanaburi province in Thailand, Barton has gotten himself a rather 'big' fanclub.
A frequent visitor to the sanctuary, the musician enjoys taking his piano out in front of a herd of elephants and serenades these mighty pachyderms. In the video below watch as Mr. Barton's music sweeps you away and the surreal image of his audience, trying to quietly eat at the same time, appreciating the finger work.
Having studied at London's Royal Academy of Arts, Barton hopes that these gentle creatures can find some solace in his renditions.
There has been much criticism on social media regarding the treatment of elephants in the tourist trade, with Thailand often being a topic of conversation. Many elephants who come to the sanctuary come from overworked backgrounds which sometimes leaves them disabled.
In this second video (below) watch as Barton plays for a very special elephant, Ampan, who is 80 years old and considered 10 years over the average elephant lifespan. Blind in one eye and barely being able to see with the other, its mesmerising to see a creature of such size have a appreciation for french classical composers.
SOURCE: EuroNews
Keep in contact with The Thaiger by following our
Facebook page
.
First female doctor in Thailand celebrated by Google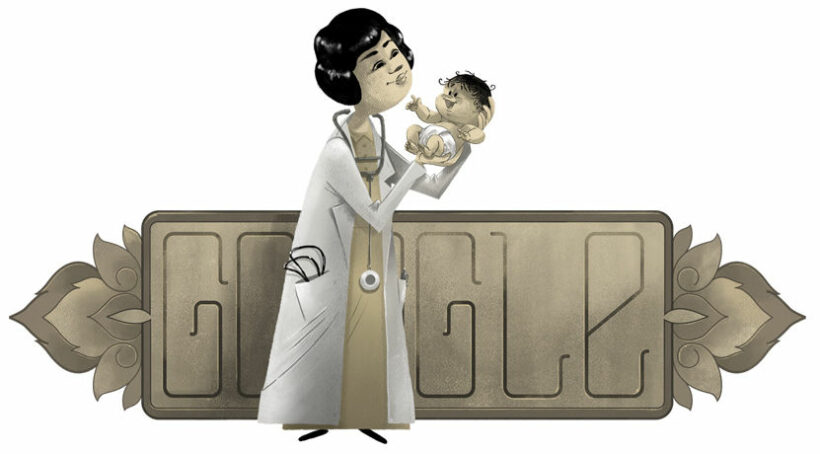 If you do any search on Google today you'll see a graphic of a doctor holding a baby. The image is of Thailand's first female doctor, Margaret Lin Xavier, and today marks her 122nd birthday.
Xavier, whose Thai name is Lin Srivisarnvaja, was an expert in obstetrics and gynaecology. She opened a private clinic with her sister who was a pharmacist. Many times she would treat women for free who couldn't afford care as well as sex workers, according to a Khaosod English story.
She was born in Bangkok and her father worked in foreign affairs for the government. She studied at schools in Penang and London, obtaining a medical degree from the London School of Medicine for Women. She then moving back to Thailand in 1924 when she was 26 years old and started working as an obstetrician at the Thai Red Cross, Chulalongkorn Hospital. She was the first Thai woman to earn a medical degree and practice in the country.
She only practiced medicine for 8 years. She was only 34 years old when she died in 1932 due to encephalitis and influenza. But her work opened doors in the medical field for Thai women. As of December, less than a century after Xavier started working, 45% of the 61,302 doctors in Thailand are women, according to the Medical Council of Thailand.
The Thaiger salutes this pioneer in Thai obstetrics and gynaecology, Margaret Lin Xavier.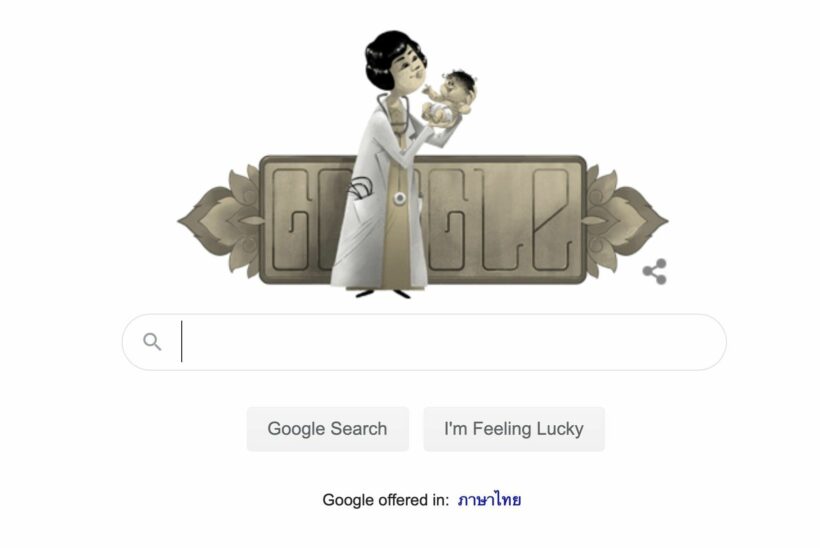 Keep in contact with The Thaiger by following our
Facebook page
.
Actor and singer Matthew "Deane" Chanthavanij, recovered from Covid-19, donates plasma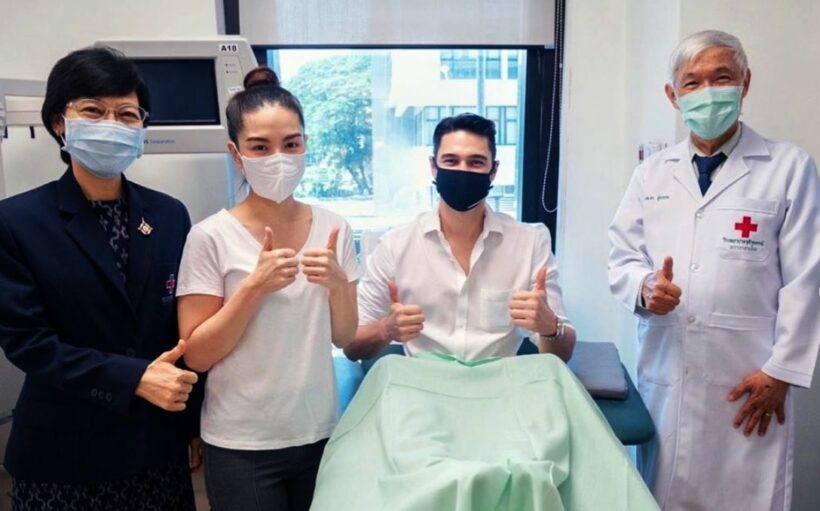 Actor, singer and Muay Thai aficionado Matthew "Deane" Chanthavanij, who fell ill with Covid-19 in March and has now fully recovered, has donated blood plasma to help other patients. Deane appeared in a Facebook post by Dr Yong Poovorawan, a virologist at Bangkok's Chulalongkorn University yesterday.
"Today we have a hero come in to donate plasma for Covid-19 patients."
Australian-born Deane was accompanied by his wife, Sarunrat 'Lydia' Visutthithada.
Yong pointed out that blood plasma from recovered patients will have immunity, in the form of antibodies, against the virus and can be used in treating other Covid-19 patients.
"Plasma from recovered patients can be stored for one year. A recovered patient can donate up to six times before the antibody gradually reduces after 6 months since the symptoms appeared."
Deane informed the public over social media on March 13 that he was infected with the Covid-19 virus. It was later confirmed that he was one of over 100 cluster cases who attended a boxing event that he hosted at Lumphini Boxing Stadium on March 6. His wife was also infected but the couple are now fully recovered and healthy.
SOURCE:Nation Thailand
Keep in contact with The Thaiger by following our
Facebook page
.
Vale Ken Chung, Koh Samui hotelier and former Honorary Consul dies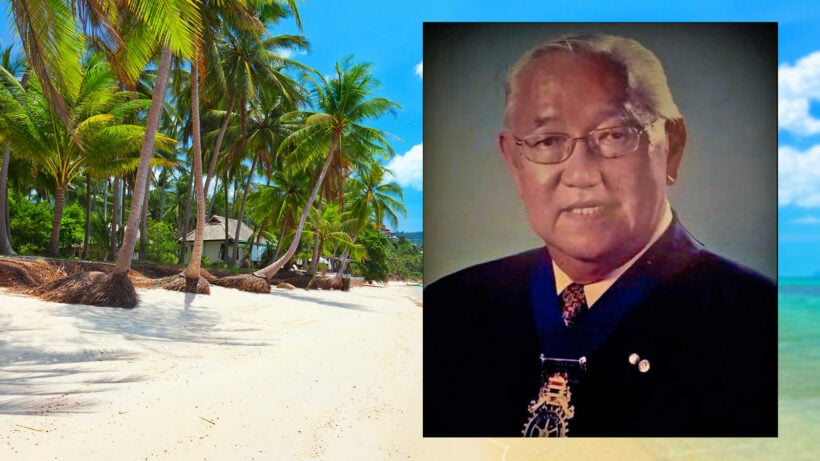 RIP Ken Chung, a founder member of Skål International Koh Samui, and a former Charter President for the Rotary Club of Samui after having been involved with Rotary in Australia for many years prior. In 2003 Ken was appointed as the Honorary Consul of the Australian Embassy, a position he held with pride for more than 12 years.
A kind friend and gentleman and well respected by so many on the island. He was a resident of Koh Samui for over 29 years.
Ken opened one of the first Italian restaurants (La Casa in Lamai) and later he was the General Manager at the Weekender Resort. Ken was an active committee member of THA in the region.
Ken passed peacefully in his sleep on May 8. He will be sadly missed by all that knew him.
Andrew J Wood
VP Skål International Thailand
Keep in contact with The Thaiger by following our
Facebook page
.