Fish sauce excluded from Thailand's proposed tax on salty foods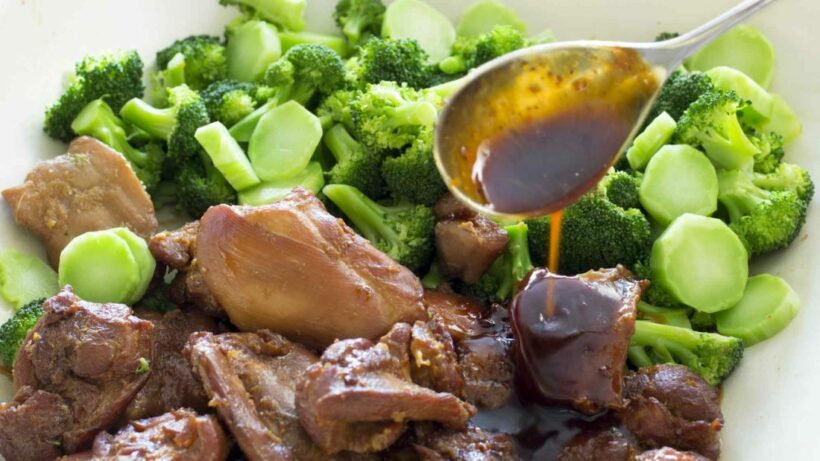 PHOTO: Cook's Illustrated
Thailand's Excise Department and Public Health Ministry is considering a levy on salty foods in an attempt to tackle the sodium-rich diets of Thai citizens, and the health consequences.
The director general of the Excise Department, Patchara Anuntasilpa says the tax would be calculated based on the amount of salt in a product, with the proposal being sent to Finance Minister Uttama Savanayana by the end of 2019.
Fish sauce is a liquid condiment made from fish or krill that have been coated in salt and fermented for up to two years.  It is used as a staple seasoning in East Asian cuisine and Southeast Asian cuisine, particularly south east Asia and Taiwan. Following widespread recognition of its ability to impart a savoury umami flavor to dishes, it has been embraced globally by chefs and home cooks.
"If the tax is approved, we will allow entrepreneurs one or two years to reduce the salt content and launch a less-salty version of their product."
The World Health Organisation and the UN both recommend taxing foods with a high salt content, saying increased sodium intake leads to high blood pressure, cancer and kidney and heart disease.
The Nation reports however, that while the proposal is to levy the tax on frozen and canned foods, along with processed items such as instant noodles, seasoning such as fish sauce and snacks like potato chips would be excluded.
The Federation of Thai Industries has pledged to cooperate with the government's effort to improve the health of Thailand's citizens, but its head Wisit Limluecha says he is not in favour of taxing popular seasonings, snacks, frozen or instant foods.
"Research has found that these foods represent only 20% of what we eat each day, and everyone has different eating habits, so the better solution would be to advise consumers on how to eat healthily."
Wisit warns that the tax may damage the country's competitiveness in the food sector both overseas and in Thailand, where imported products are easily available. He also voices concern that small businesses will suffer if unable to afford ingredient and packaging changes.
SOURCE: The Nation
Keep in contact with The Thaiger by following our
Facebook page
.


Find restaurant and food listings around Phuket at Thaiger Bites.

Do you need help with your business? Are you searching for a new job? Or an employer looking to hire? Try JobCute today.

Read more headlines, reports & breaking news in Thailand. Or catch up on your Thailand news.

Online grocery shopping gains popularity in Thailand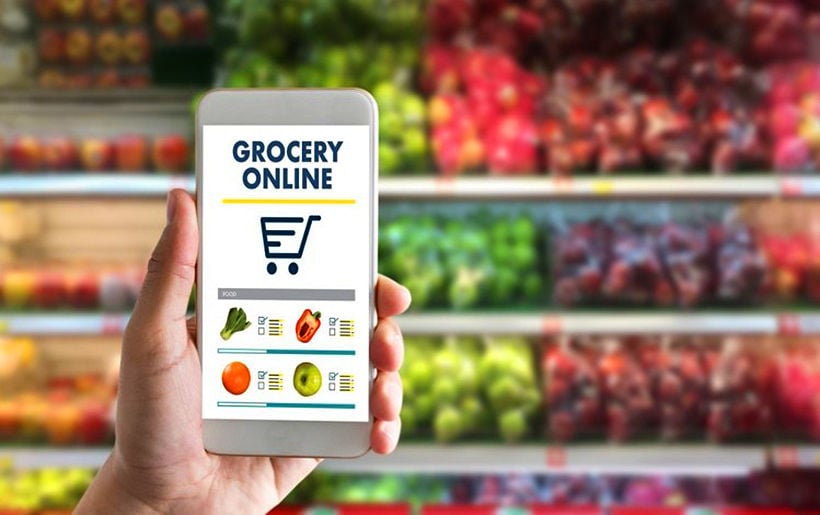 Squeezing the avocados and smelling the mangoes may become a thing of the past as online grocery buying is quickly growing in popularity.
The intense competition in online grocery sales is expected to surge in 2020. Online Apps like Line, Grab and Lazada are making major inroads into the Thai grocery market valued around 30 billion baht. Pushing the growth is the 'stay at home' phenomenon where people try and avoid air pollution, traffic, no plastic bags to conveniently carry any groceries and the free delivery offered by the online shopping providers.
Lazada and Grab have already launched their grocery shopping services, LazMart and GrabFresh. Now Line Man, a subsidiary of Line Thailand, has announced it will partner with HappyFresh, to offer online grocery services. In all cases the shoppers can "scroll through the aisles" online rather than physically walking around a supermarket, select their produce, pay for it and have it delivered – in some cases for free.
Online grocery accounts for 3% of the whole grocery market in Thailand and is expected to rise to 5% in the next two years and 10% by 2025. HappyFresh say they've identified their principal market as 25-40 year olds spending an average of 1,200 baht per purchase.
The chief strategic officer of Line Thailand, Jayden Kang, speaking for Line Man, says the next two years are key to Thai customers learning how to leverage online grocery shopping into their busy lives.
"Online grocery is still nascent in Thailand and the main customers now are expats, white collar workers and condominium residents as well as housewives," as quoted in Bangkok Post.
"With free delivery and urbanisation, the customer base is expected to broaden."
Line Man already has 3 million active users ordering meals through the current services along with 100,000 restaurant partners for food deliveries.
SOURCE: Bangkok Post
Keep in contact with The Thaiger by following our
Facebook page
.
10 proven tips to sell your property quickly in Thailand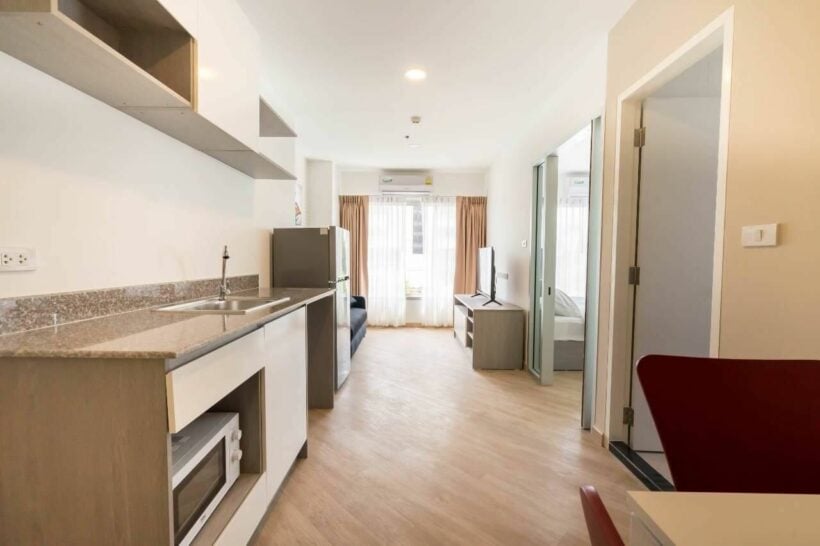 Selling property can be a headache, especially when you sell in an unfamiliar market like Thailand. However, it doesn't have to be like that. There are several fool-proof ways we have gathered from experienced agents at Fazwaz Property Group in Thailand to help you increase your viewings and sell your property faster.
1. Have the right attitude
Thailand is a buyer's market, not a seller's market. There's more supply than demand and buyers have plenty of choices when it comes to buying property. Consequently, properties that are overpriced are very hard to sell, said Bangkok-based property consultant Praveen PalSingh.
2. Be a detective and offer the right price
This is the most important point. Search around the property and see what prices per square meter other villas or condos in the building, or in that area, are selling for, said Bangkok property consultant, Anjana Arora.
You can look at online listings or use tools like interactive maps featured at Fazwaz.com to find the average price per sq m in your building or in your area.
"Make a property comparison on Fazwaz by circling other properties in the area to see what they are priced for and if your property is priced according to the market and location," added Hua Hin sales director Stephen Van der Merwe. For example, this is an interactive map showing condominiums in Asoke area, Bangkok where Fazwaz's head office is located.
3. List your property online
Sakunee Meethong from Hua Hin said it is a good idea to list your property on online property websites. These websites have a wider reach and provide more exposure than hanging a 'For Sale' sign in front of your house.
4. Use high-quality photos
Attractive photos attract clients. Ask yourself if you have updated and high-quality photos for your property, said Hua Hin sales director Stephen Van der Merwe. "If the property looks good online, it will attract more attention."
5. Make your offer stand out
The best way to sell a property fast is to set the price below the market price or "make the unit stand out from other similar units for sale," said Praveen PalSingh. This includes nicer views and better furniture and appliances, he said.
6. Highlight location
Don't forget to highlight the location and nearby amenities, advised Chayanin Chumphukham, who specializes in the Chiang Mai market. Nearby schools, universities, parks, restaurants, hospitals, shopping malls, 7-elevens, highways, as well as famous attractions are something you should add to the description.
7. Be flexible with viewing hours
Chayanin recommends sellers to offer flexible viewing hours, which can increase viewings and the chance of selling your property. It's a good idea to say yes to every showing request.
8. Work with experienced agents
You can sell your house faster if you work with more experienced agents. Luke Murray, a property consultant, encourages sellers to work with a real estate agent or company that knows how to market and target the right buyers. "Advice for homeowners would be to find an active agent that you trust and can work closely with. Choosing agents that work with larger companies often gives the unit more exposure," he added.
"Speak to your Fazwaz agent about exclusive listings – we offer excellent exposure to all of our exclusive listings. This strategy has proven to be effective at increasing viewings," added Hua Hin sales director Stephen Van der Merwe.
9. Reduce the price
Ultimately, the key factor to selling fast is the price. In markets that are very price sensitive, only projects that are popular and are in good locations still hold their prices. The rest needs to be competitively priced, said Pattaya Sales Director John Lees-Whitehead.
"We recommend that the owner reduces the asking price, this will automatically rank higher on our website and all of our marketing channels."
10. Be patient and honest
The Thai property market can be different from the market in your country and there is no magic trick, said Bangkok-based consultant Maxime Lienard. It is not unusual for property in Thailand to remain unsold for a year, depending on the market conditions. We don't have any control over the market, but you can control your property; he recommended sellers to be honest with their information, post flattering photos, fix any issues before potential clients point them out, and make the property ready to buy as soon as possible.
These are 10 tips real estate experts around Thailand want to tell you, so you can attract more potential buyers and sell your property in a short space of time when you list your property for sale.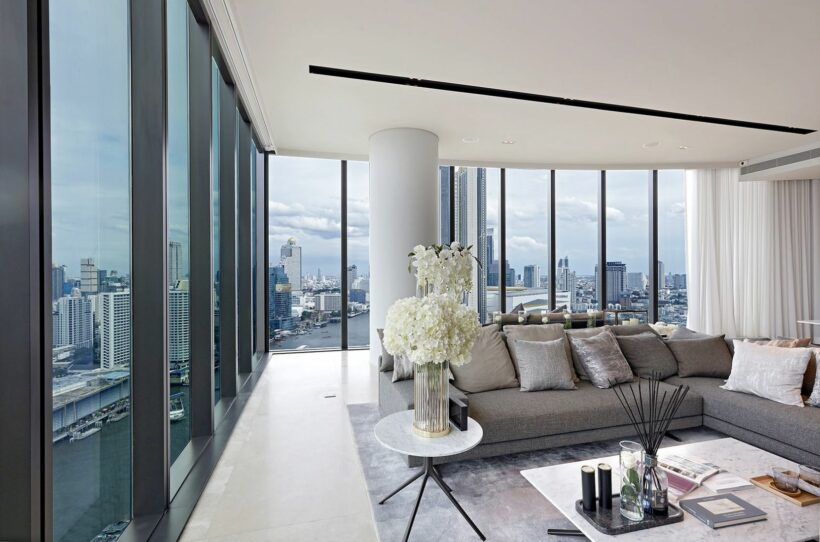 Keep in contact with The Thaiger by following our
Facebook page
.
Forecasts for Bangkok property 2020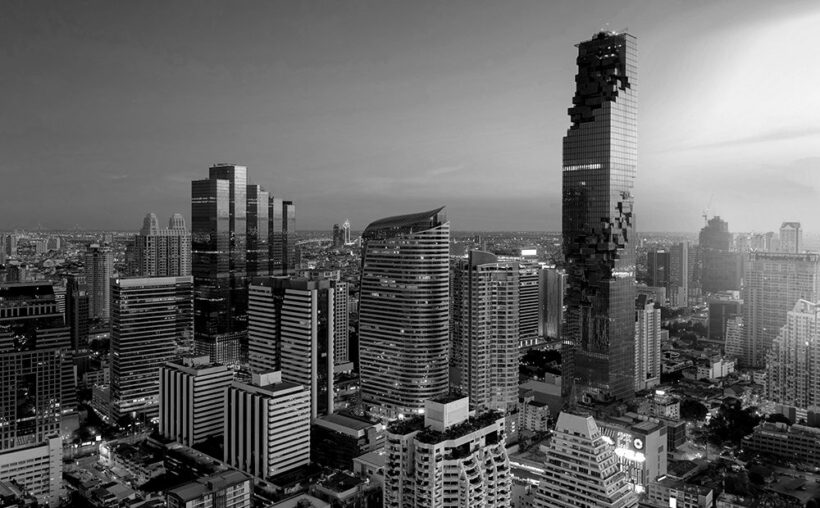 A supply influx of new office space is on the way while the overall retail industry faces low consumer confidence. But, in 2019, the number of Chinese tourists to Thailand has started recovering, says CBRE, an international property consultant.
Bangkok Office Market
The office market in Bangkok continues to perform strongly for this, but CBRE identifies challenges that are heading our way in the near future from the large amount of new supply. As of Q3 2019, over 125,000 square metres of new office space has been completed so far with another 70,000 square metres expected to come on line by the end of the year. But CBRE maintain that the increase in supply is still in line with a steady new take-up of 200,000 square metres per year.
But, they warn, a million square metres of office space is now under construction and scheduled to be completed over the next three years with majority of the new developments located along the mass transit lines. Co-working spaces have played a major role in becoming key source of office demand in the recent years.
Rents have continued to increase this year at the rate of 3-5% year on year since majority of the office buildings with high rental rates have been occupied. CBRE expects rents to continue to increase in the near future but at a slower pace.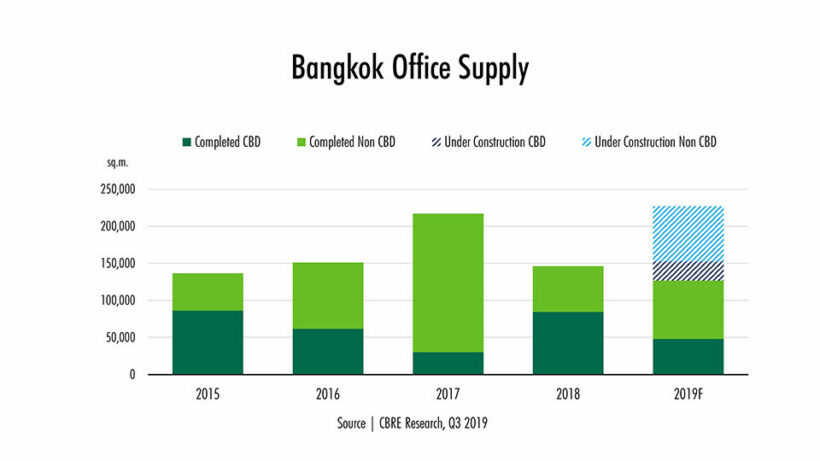 Bangkok Retail Market
Across the board, the Thai retail industry has remained stagnant this year as Thailand faces a period of low sentiment and a decrease in spending power. CBRE says this is due to the increase in household debt. The Consumer Confidence Index hit its lowest point in 39 months, dropping by 10% year on year. In addition, the household debt was reported to have broken a new record since 2017 at nearly 79% of total GDP.
In the second half of 2019, the government has launched new policies and campaigns to stimulate domestic spending including welfare cards, interest rate cut, and the "Chim-Shop-Chai" (Eat-Shop-Spend) scheme where the government gives away e-money and tax breaks for domestic travellers.
Bangkok's total retail supply, as of Q3 2019, was 7.8 million square metres, increasing by 4.39% year on year. Notable projects completed in this year include The Market Bangkok, Donki Mall, Samyan Mitrtown and Bangkok's first outlet mall, Central Village.
CBRE says that not only have offline retailers moved towards omni-channel retailing, many new online retailers have also been expanding into offline outlets in physical retail space as showrooms and 'click & collect' points.
"In order to survive in a market with a large number of future retail supply in the pipeline, retail developers will need to embrace the fast-moving technology and create new unique selling points for their retail centres."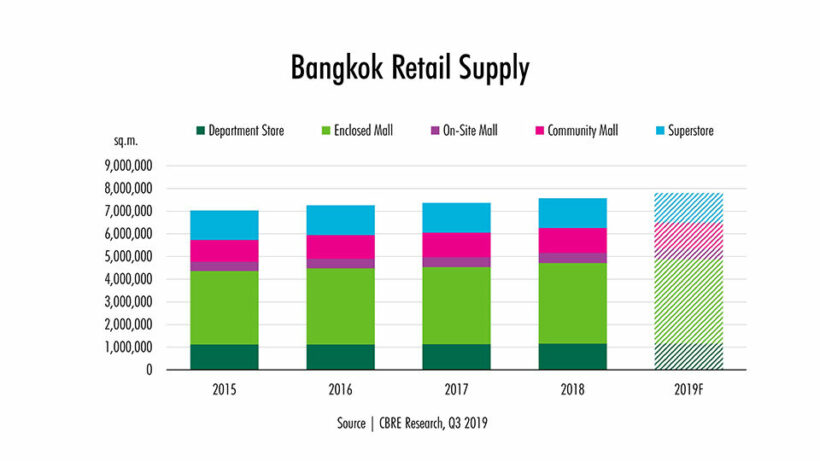 Bangkok Hotel Market
Thai tourism has shown that it is as strong and as resilient as ever. International tourist arrivals for the first nine months of 2019 have increased by 4.3% year on year, reaching 32.5 million. In Q3, the number of Chinese tourists, Thailand's biggest market feeder, has started to recover with a 17.3% year on year increase, rebounding from its drop last year.
Indian tourists have also shown promising increase, growing by 26.7% year on year. CBRE attributes much of the Indian success to the Visa-on-Arrival campaign and the addition of direct flights by low-cost carriers.
The average occupancy rate of downtown Bangkok hotels for the first nine months of the year, according to STR, was 77.8%, down by 2% when compared to last year.
But CBRE forecast that the Thai baht's appreciation will continue to be a key challenge to the tourism industry.
To search for the largest selection of properties around Thailand go to FazWaz.com
Keep in contact with The Thaiger by following our
Facebook page
.