China proposes new "security law" for Hong Kong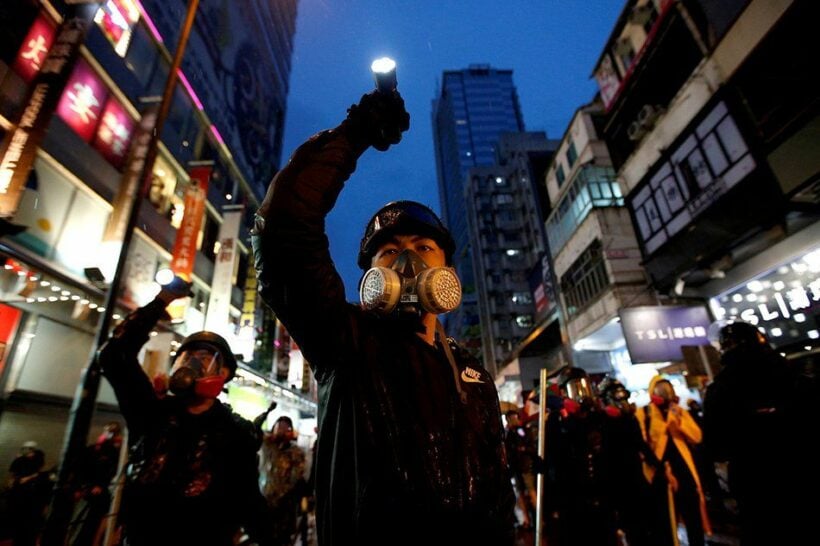 After more than a year of often violent protests and unrest, China says it will introduce a proposal today for a national security law in Hong Kong in a move the US warns will be "highly destabilising" for the Asian financial hub. The announcement late yesterday was quickly criticised by pro-democracy lawmakers and activists as "the end of Hong Kong," with fears it will stoke more unrest and tighten Beijing's grip on the semi-autonomous Special Administrative Region.
China has made clear it wants new security legislation passed after Hong Kong was rocked by the 2014 pro-democracy Occupy Movement, aka. the Umbrella Revolution, which began after the China proposed reforms to the Hong Kong electoral system.
The new proposal, planned for the first day of the Chinese parliamentary session, would strengthen "enforcement mechanisms" in the financial hub. The spokesman for the National People's Congress says China considers it "necessary to improve and uphold the 'One Country, Two Systems' policy" referring to the arrangement that has underpinned the city's liberties and free market economy since it was handed back to Chinese control after the end of the 99 year lease to the British in 1997.
Hong Kong's mini-constitution, the Basic Law, says in Article 23 that the city must enact laws "to prohibit treason, secession, sedition and subversion" against the Chinese government. But the clause has never been implemented due to public fears it would curtail Hong Kong's cherished civil rights.
Hong Kong enjoys freedoms unknown on the Chinese mainland, which are protected by an agreement, the Joint Declaration, made before Britain handed the territory back. An attempt to enact Article 23 in 2003 was shelved after half a million people took to the streets in protest. The bill has been put back on the table in recent years in response to the rise of the Hong Kong's pro-democracy movement.
The NPC spokeman didn't provide more details about the proposed law but if it is introduced to the NPC it's likely to be approved, as the body rubber-stamps decisions already made by Communist Party officials.
US State Department spokeswoman Morgan Ortagus warnes that forcing such a law on Hong Kong will be "highly destabilising, and would be met with strong condemnation from the US and the international community."
President Donald Trump also promised a response yesterday when told of the move on Hong Kong.
"I don't know what it is, because nobody knows yet. If it happens, we'll address that issue very strongly."
Hong Kong's largest pro-Beijing political party, the DAB, was quick to voice its support for the "responsible move," but pro-democracy lawmakers are furious.
"This is the end of Hong Kong, this is the end of One Country, Two Systems, make no mistake about it."
One lawmaker said Beijing had "shown zero respect for Hong Kong people" by attempting to impose the law without consultation.
"Many Hong Kongers must be as angry as us now, but we must remember not to give up."
Chris Patten, Hong Kong's final British governor before the 1997 handover, called the proposal "a comprehensive assault on the city's autonomy" and said it would would be "hugely damaging."
Maya Wang, senior China researcher for Human Rights Watch, also described the "alarming" move as "the end of Hong Kong."
"HongKong has been the safe harbour for dissent; it's the light, the conscience, the voice that speaks truth to an increasingly powerful China."
Hong Kong has its own lawmaking body, the Legislative Council, or Legco. But at least 2 Hong Kong deputies to the NPC say they'll propose the idea of introducing the law without going through city's legislature, using a mechanism provided for in the Basic Law.
SOURCE: Thai PBS World
Keep in contact with The Thaiger by following our
Facebook page
.


Find more SE Asian News courtesy of The Thaiger.

Broke? Find employment in Southeast Asia with JobCute Thailand. Rich? Invest in real estate across Asia with FazWaz Property Group. Even book medical procedures worldwide with MyMediTravel, all powered by DB Ventures.

Ambassador calls US "better friend" than China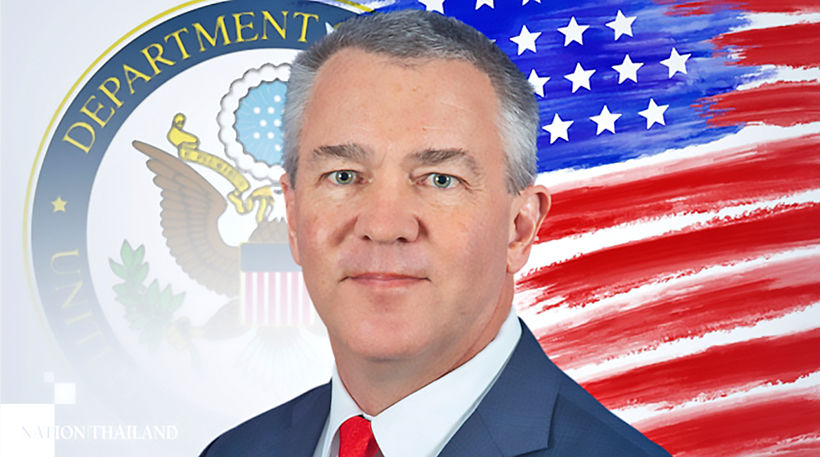 "Nobody will have to take sides."
US Ambassador to Thailand Michael George DeSombre said in an exclusive interview with Nation Thailand that the US spat with China won't affect relations in the region and nations will not have to take sides. He expects more American companies to invest in the Kingdom in the coming months and years, and reiterated that the US is a "better friend" to Thailand and to other ASEAN countries.
Some regional leaders have voiced concern about the growing tensions between the two largest economies, and worry that this feud may force them to take sides. DeSombre responded, invoking political tones, saying that Washington, "for the first time in a long time, is seeing China for what it is, not as we hope it should be".
The US has threatened sanctions on China for imposing what Washington sees as an unfair national security law in Hong Kong.
"So, we see challenges coming out of China and are addressing them directly. Obviously, that creates more tension, instead of ignoring the problems that have been created by the previous administration."
"But at the end of the day, we are not asking anyone to choose between the US and China. And as I said, we view ourselves as a better friend. If you want to be friends with other countries, with China, that's fine. But we view ourselves as a better friend and will continue to demonstrate that particularly here in Thailand."
Asked if the 2 countries will ever find common ground or come to a compromise, DeSombre said there are already some areas that the two countries will continue cooperating on.
"And we look forward to China increasing the number of areas where we do have common ground. Unfortunately, that's not happening much. But we are encouraging them to do so."
"But we do have a trade deal for example, and we are looking forward to them implementing the "phase one trade deal," which is a good example of finding common ground, given the other challenging situations."
While some observers argue that the US has taken a tough stance against China because the US presidential elections are approaching, DeSombre dismissed this notion.
"You should ask China whether the presidential election had anything to do with their decision to suddenly impose the national security law in Hong Kong. That is their choice, not ours."
"Also, I think various activities in the South China Sea, such as militarising islands, sinking Vietnamese fishing vessels among others… those were not our decisions."
Asked if he is concerned about the impact the tensions will have on ASEAN-China and ASEAN-US ties, he said he was not concerned about that, but was worried about other pressing issues.
"One area that we see some concerns about is China's actions that are contributing to drought here in Thailand, such as controlling the flow of water in the Mekong River, and failing to stop precursor chemicals from going to Myanmar, which is allowing massive production of methamphetamine, which is flowing into Thailand. These are our concerns."
Regarding the slowdown of the global economy, DeSombre said he sees an opportunity in the crisis.
"There's always an opportunity in crises, and that is where my discussions with the Thai government have really focused on: using this opportunity to move company operations to Thailand."
"In the last couple of years, we have seen a lot of companies getting concerned about their supply chain, where their manufacturing is located and whether or not they can get the product from that location to where they want to sell them. So, you have a lot of companies looking at, reevaluating their location for manufacturing."
He added that this presents a great opportunity to Thailand, because it's "a safe, reliable, secure location for operation."
SOURCE: Nation Thailand
Keep in contact with The Thaiger by following our
Facebook page
.
Critics say new security laws will infringe on Hong Kong's autonomy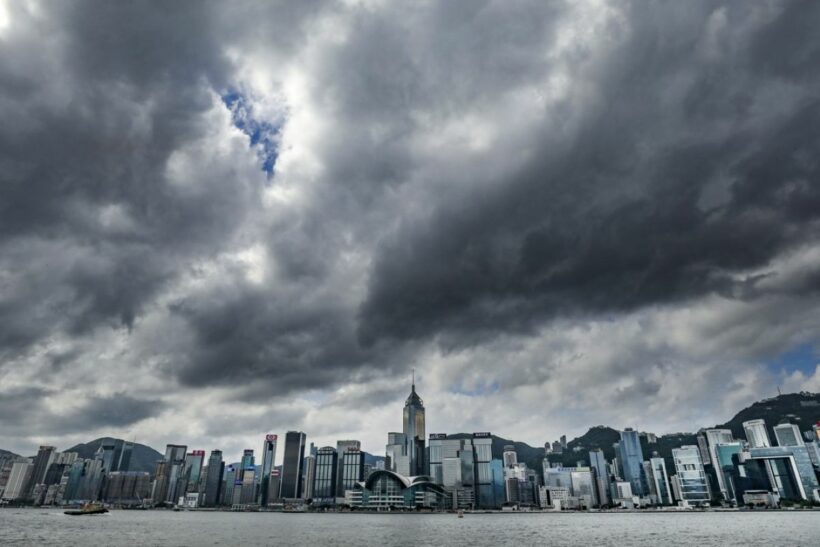 Hong Kong's embattled leader Carrie Lam has tried to reassure rattled residents and international investors that proposed national security laws won't trample on the city's rights and freedoms. She has joined the chorus of reassuring support for Beijing's attempts to find better ways to control the destabilising protests that have disrupted the city for seven months over the past year.
Lam pleaded to concerned residents about the need to wait for the details of the proposed legislation.
The PR offensive follows Beijing's plans last week for new national security legislation for Hong Kong that aims to "tackle secession, subversion and terrorist activities" and could even see Chinese intelligence agencies set up a presence in the city.
Lam, the 4th and current Chief Executive of Hong Kong since 2017, maintained that China's plans to impose a new security law on Hong Kong will "only target a handful of lawbreakers".
Following months of disruptive, often-violent pro-democracy protests in 2019, Beijing says it needs to enact legislation banning "secession, subversion, terrorism and foreign interference" in the international finance hub.
But many Hong Kong residents, business associations and Western governments have expressed fear the proposal could be a death blow to the city's treasured freedoms and lifestyle and usher in an end to the semi-autonomous city running its own affairs – the promise made by China when the former British colony was 'handed back' to Chinese control after running the trading city from 1842 to 1997, including a formal 99 year lease.
The announcement of Beijing's plans for the new law, which would bypass Hong Kong's legislature, sparked a huge drop on the Hong Kong stock exchange last Friday, the biggest in 5 years.
But Carrie Lam, often seen as playing a puppet role for the Chinese government, says fears the city's "business-friendly freedoms were at risk were totally groundless".
"The proposed law only targets a handful of law-breakers. It protects the vast majority of law-abiding, peace-loving residents".
Chinese leadership has portrayed the protests as a "foreign-backed plot to destabilise the motherland" and has justified the new security law as a necessary way to crack down on "terrorism and calls for independence". But protesters have maintained that their rallies were the only way to voice their opposition in a city with no universal suffrage.
Protesters again took to Hong Kong's streets last Sunday after the security law announcement but were again dispersed by police armed tear gas and water cannon in the worst clashes in months. They've accused Beijing of timing the introduction of the laws during the coronavirus restrictions in Hong Kong to reduce their capacity for unrest sparked by the new legislation.
The proposed laws have drawn international condemnation, including pointed and official criticisms from the UK, US and Australian leaders. The US has even threatened sanctions if the new laws are enacted.
Keep in contact with The Thaiger by following our
Facebook page
.
Hong Kong riot police quarantined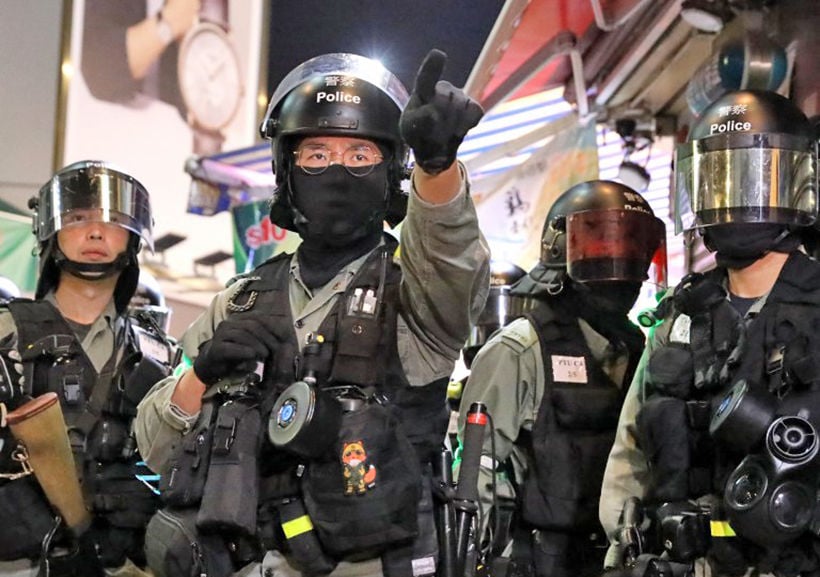 Hong Kong, rocked by violent protests since last June, now faces a new hurdle. Almost all members of an elite anti-riot squad will be placed under quarantine for 14 days after an officer involved in mass arrests at an anti-government rally earlier this week tested positive with Covid-19 coronavirus. Now Hong Kong's entire police force may have to undergo coronavirus testing
A 46 year old sergeant from the Police Tactical Unit of West Kowloon region was confirmed as infected yesterday. Now around 130 members of the elite team tackling unrest in the former British colony's West Kowloon region will be out of action and their jobs covered by officers from other districts.
The sergeant was deployed to handle a protest at a metro station Tuesday night, when supporters gathered to mark seven months since clashes there between officers and anti-government protesters.
Another constable from the same unit previously tested positive after going to a bar in the Tsim Sha Tsui district that has been linked with a cluster of cases. According to a police source, the two shared facilities in the PTU base.
After an investigation, the Department of Health decided to send around 130 male officers of the same unit to quarantine camps, fearing they could have used the same facilities as the infected two over recent days. The source said female officers from the same unit would not be affected.
"Headquarters is now working out the list of male officers with the department. We are reforming the anti-riot police from other five regions so as to cover the empty spots."
In another story, health authorities are investigating Hong Kong's first possible case of coronavirus transmission in a public hospital, after an elderly stroke patient was infected during his stay. The city confirmed 17 new cases yesterday, taking its total to 863.
To prevent a potentially devastating spread through Pok Oi Hospital, officials have locked down the two wards where the 93 year old was being treated and suspended services. 225 patients and health workers have been sent into isolation or will undergo tests.
Preliminary findings revealed the stroke survivor was on a ward near to another man later confirmed as infected.
"We have reasons to believe that the elderly man's infection is linked to this young man, but we will still investigate whether the 93 year old man had other relevant contacts."
Of the 17 new cases, the lowest daily tally since March 21, 10 had recent travel history, including seven students returning from abroad.
The suspected hospital transmission raised fears of a repeat of the large-scale outbreak during 2003's severe acute respiratory syndrome (Sars) crisis in ward 8A of Prince of Wales Hospital in Sha Tin, in which a patient infected 11 health care staff before it spread to a total of 137 people.
Facebook page
.