Alpine tourism ignites billion dollar resort property market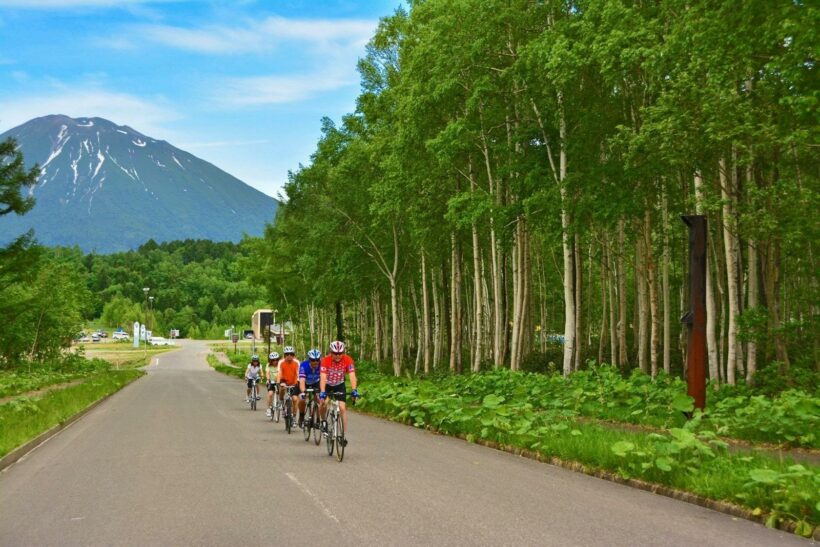 by Bill Barnett of c9hotelworks.com
Niseko visitor numbers continue to climb on the back of a sharp increase in airlift.
Tourism arrivals to Asia's leading alpine destination, Niseko, rose 17% year-on-year in 2017 and bumped up a 5-year growth spree with an impressive 16% compound annual growth rate. One clear sign of market maturation is a push to a year-round marketplace as last year 48% of tourists came during the summer season.
Last year Niseko recorded a record-high 1,676,300 visitors, with large inroads bolstered by surging regional flights. The top 5 geographic source markets are Hong Kong, Singapore, Taiwan, South Korea and Mainland China, with the latter benefitting from direct international flights from 8 cities into the gateway New Chitose Airport.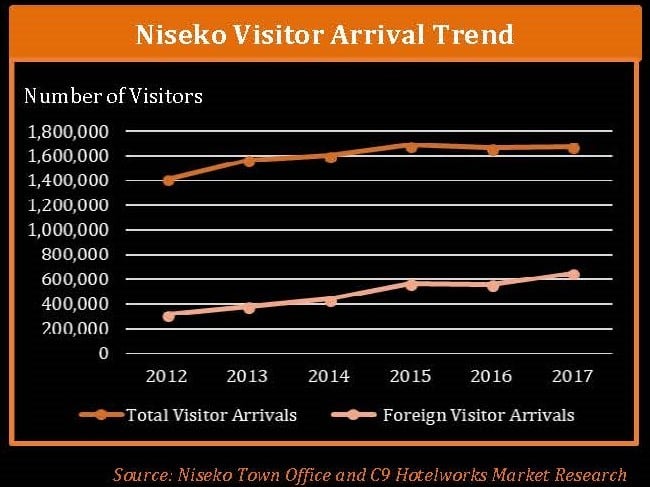 For travelers from Thailand, access to Niseko has been effectively doubled with Thai AirAsia X launching direct flights in April, joining Thai Airways who already serve the popular route. Investment by real estate players has been highlighted by Property Perfect PCL's investment into the Kiroro Resort. Featuring a Sheraton branded hotel and a second under the Tribute flag, the mixed-use resort recently launched their first condominium project Yu Kiroro.
One sector that is having a direct impact from tourism is the property sector. According to new data released by consulting group C9 Hotelworks in their Niseko Market Review, the transaction value of resort-grade real estate developments currently in the market is set to tip to USD1 billion mark over the next two months.

Speaking about the connection between hotels and property offerings C9 Hotelwork's Managing Director Bill Barnett commented, "given high land values and elevated country-wide construction costs which have been impacted by the build up to the 2020 Tokyo Olympics, it's extremely hard to underwrite sole hotel developments.
"Projects like Hong Kong's PCPD Groups' upcoming Park Hyatt Hotel and Residences has mitigated the situation by selling managed residences as part of the hospitality offering. A similar scenario is playing out at the Niseko Village integrated resort where the Malaysian-based owner YTL is planning a similar Ritz-Carlton Hotel and branded real estate combination."
With its substantial inventory of resort condominiums and homes, Niseko is very much a tourism model like alpine destinations in the West such as Whister, Vail and Aspen. Examining the recent move by the Japanese government to effectively legalize Airbnb-type rentals via the 'minpaku' legislation has been seen by the local tourism community as a positive, given a legitimate solution is now in place to effectively manage non-traditional accommodation.
To download C9 and read Hotelworks Niseko Market Review, click HERE.

Mövenpick Hotels & Resorts unveils a global menu of savoury dishes and finest Swiss chocolate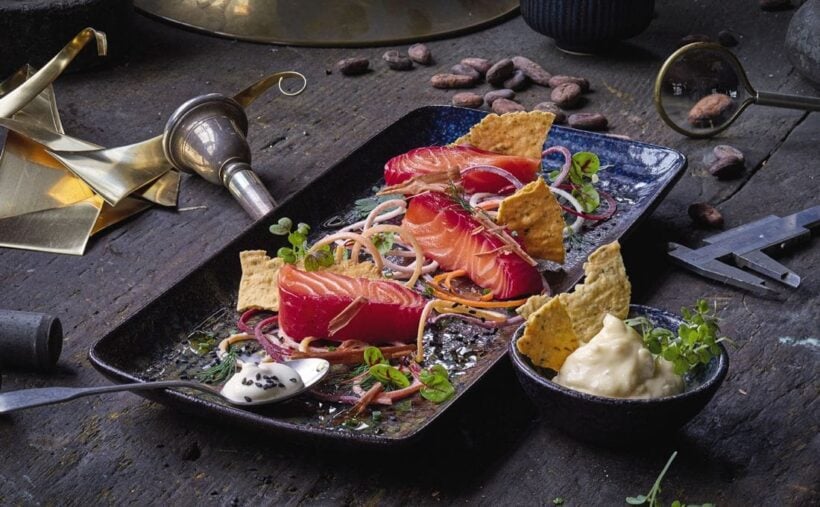 ADVERTISING
Mövenpick Hotels & Resorts, part of the AccorHotels Group,  is celebrating Swiss cuisine and the culinary versatility of chocolate with a new global menu of savoury dishes featuring a sweet twist. In Phuket the promotion will be at the 
Mövenpick Resort & Spa Karon Beach
.
The brand's talented 'food artisans' have made Mövenpick chocolate the hero of seven dishes in its 'Chocolate on the Salty Side' promotion, which runs from October 10 to November 20, 2018 at selected Mövenpick hotel and resort restaurants worldwide. From salmon fillets enlivened with dark chocolate to a savoury tarte tartin with a white chocolate flourish, each new creation offers up something distinctively flavourful and showcases the wonderful versatility of chocolate.
The seven chocolate-inspired creations include: marinated ...
Pavilions Phuket welcomes Chef Rey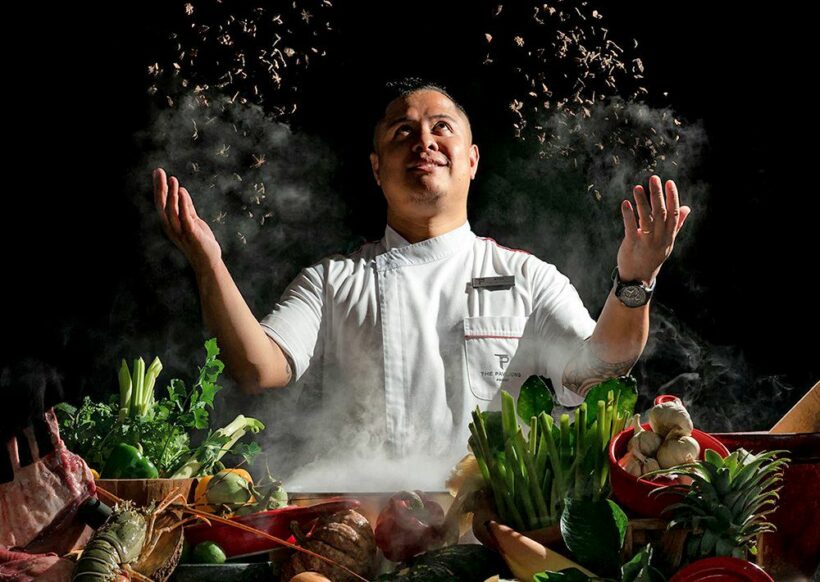 ADVERTISEMENT

From humble beginnings in New Zealand, Chef Rey developed his profession with guidance from industry leaders, he has since taken his craft to Australia, Malaysia, Abu Dhabi and Vietnam.

Before joining the team at The Pavilions Phuket, Chef Rey worked for well-known luxury restaurants and hotels, including the award-winning '2016 Top 50 restaurant', Bracu, in New Zealand, under the watchful eye of renowned Chef Peter Thornley, and most recently at the multi-award winning resort, Paresa, in Phuket Thailand, where he was the Executive Chef.

As Culinary Director at The Pavilions Phuket, Chef Rey will oversee the resorts three main outlets - The Plantation Club, Firefly and 360°Bar as well as in-villa dining - redesigning the concept and culinary experiences at each touch point to take dining in Phuket to new adventures heights, creating distinct dishes ensuring guests have a culinary adventure they will not forget.

Visa run to Penang – a personal experience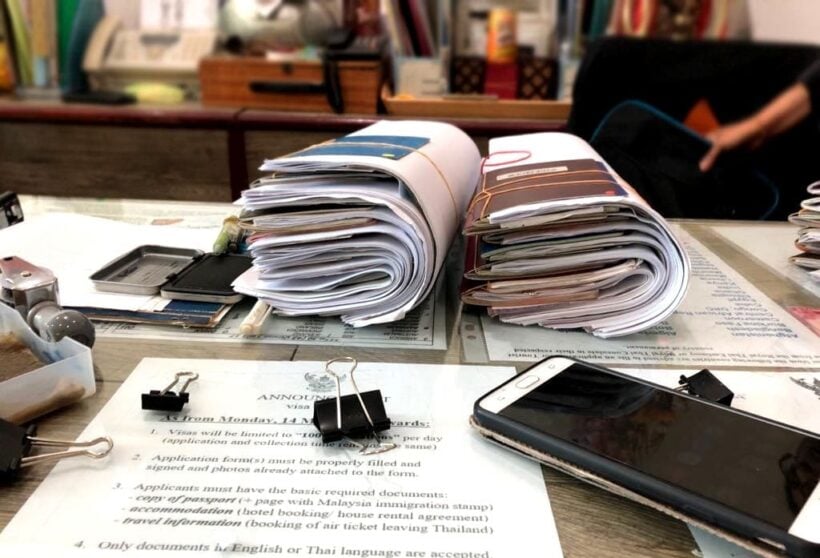 This story was one person's experience of the visa process in Penang. It should not be regarded as 'typical' or even used as a guide. But we provide Jim's journey as warning to do your homework before embarking on getting or renewing your visa.

Be aware that this seemingly simple trip to the former 'Pearl of the Orient' in Malaysia is not just a matter of paperwork to enable you to stay in Thailand - you unwittingly become embroiled in a major industry involving hundreds of on-the-ground staff who, you guessed it, are in for a 'cut of the action'.

This isn't merely a paperwork formality, it's an industry. For whatever reason the process is made sufficiently opaque that you will eventually need one of these resources.

If you're lucky enough to have a Thai employer do pay for your visa and organise paperwork, you're halfway there.

Alerted by 'Jim', not his real name, The Thaiger dug deeper to uncover a highly develop...