Alpine tourism ignites billion dollar resort property market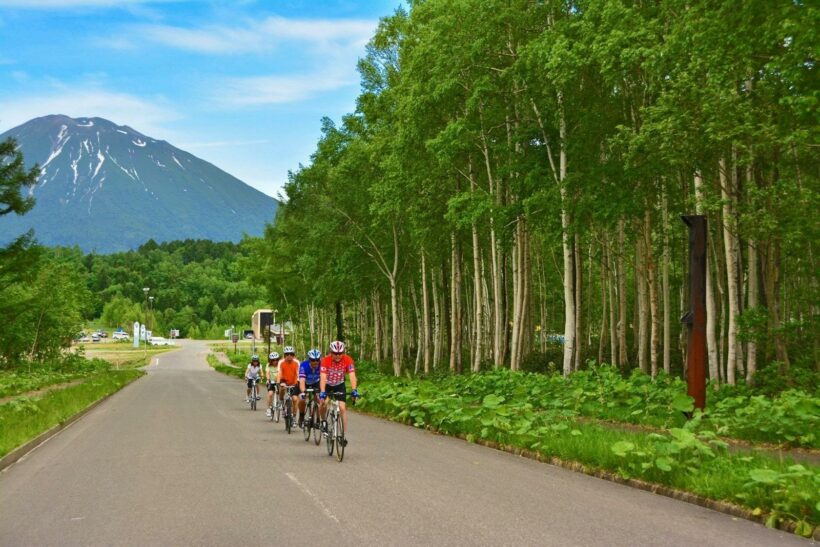 by Bill Barnett of c9hotelworks.com
Niseko visitor numbers continue to climb on the back of a sharp increase in airlift.
Tourism arrivals to Asia's leading alpine destination, Niseko, rose 17% year-on-year in 2017 and bumped up a 5-year growth spree with an impressive 16% compound annual growth rate. One clear sign of market maturation is a push to a year-round marketplace as last year 48% of tourists came during the summer season.
Last year Niseko recorded a record-high 1,676,300 visitors, with large inroads bolstered by surging regional flights. The top 5 geographic source markets are Hong Kong, Singapore, Taiwan, South Korea and Mainland China, with the latter benefitting from direct international flights from 8 cities into the gateway New Chitose Airport.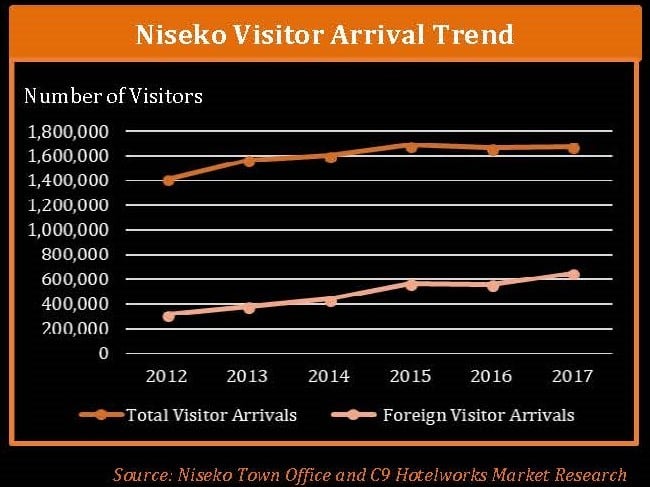 For travelers from Thailand, access to Niseko has been effectively doubled with Thai AirAsia X launching direct flights in April, joining Thai Airways who already serve the popular route. Investment by real estate players has been highlighted by Property Perfect PCL's investment into the Kiroro Resort. Featuring a Sheraton branded hotel and a second under the Tribute flag, the mixed-use resort recently launched their first condominium project Yu Kiroro.
One sector that is having a direct impact from tourism is the property sector. According to new data released by consulting group C9 Hotelworks in their Niseko Market Review, the transaction value of resort-grade real estate developments currently in the market is set to tip to USD1 billion mark over the next two months.


Speaking about the connection between hotels and property offerings C9 Hotelwork's Managing Director Bill Barnett commented, "given high land values and elevated country-wide construction costs which have been impacted by the build up to the 2020 Tokyo Olympics, it's extremely hard to underwrite sole hotel developments.
"Projects like Hong Kong's PCPD Groups' upcoming Park Hyatt Hotel and Residences has mitigated the situation by selling managed residences as part of the hospitality offering. A similar scenario is playing out at the Niseko Village integrated resort where the Malaysian-based owner YTL is planning a similar Ritz-Carlton Hotel and branded real estate combination."
With its substantial inventory of resort condominiums and homes, Niseko is very much a tourism model like alpine destinations in the West such as Whister, Vail and Aspen. Examining the recent move by the Japanese government to effectively legalize Airbnb-type rentals via the 'minpaku' legislation has been seen by the local tourism community as a positive, given a legitimate solution is now in place to effectively manage non-traditional accommodation.
To download C9 and read Hotelworks Niseko Market Review, click HERE.


Looking to jettison some items before jetsetting away or chartering a yacht? Look no further than Thaiger Classifieds where you can find and post items, work, property and more for free.
Airbus signals end to A380 production, end of an era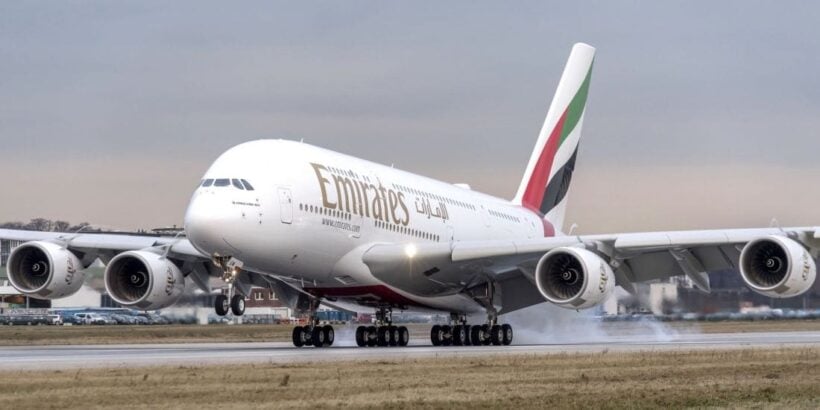 Emirates Airlines says it's reducing its Airbus A380 orders from 162 to 123 aircraft. They say this follows a review of its operations and developments in aircraft and engine technologies.
The A380 is the double-decker mega aircraft that was developed as a new-age rival to the successful Boeing 747 'Jumbo' jet. Whilst popular for passengers with its spacious size and very quiet operation, it wasn't popular for world airlines.
Emirates will take delivery of 14 more A380s over the next two years, the company says. As a consequence, and given the lack of order backlog with other airlines, Airbus says they will cease deliveries of the A380 in 2021.
Emirates has also decided to continue growing with Airbus' newest generation, flexible widebody aircraft, ordering 40 A330-900 and 30 A350-900 aircraft.
Airbus Chief Executive Officer Tom Enders, said: "As a result of this decision we have no substantial A380 backlog and hence no basis to sustain production, despite all our sales efforts with other airlines in recent years. This leads to the end of A380 deliveries in 2021.
"The consequences of this decision are largely embedded in our 2018 full year results.
"The A380 is not only an outstanding engineering and industrial achievement. Passengers all over the world love to fly on this great aircraft. Hence today's announcement is painful for us and the A380 communities worldwide. But, keep in mind that A380s will still roam the skies for many years to come and Airbus will of course continue to fully support the A380 operators.
Guillaume Faury, President of Airbus Commercial Aircraft and future Airbus CEO, said: "The A380 is Emirates' flagship and has contributed to the airline's success for more than ten years.
"As much as we regret the airline's position, selecting the A330 'neo' and A350 for its future growth is a great endorsement of our very competitive widebody aircraft family.
"Going forward, we are fully committed to deliver on the longstanding confidence Emirates is placing in Airbus."
Airbus will start discussions with its social partners in the next few weeks regarding the 3,000 to 3,500 positions potentially impacted over the next three years. However, the ongoing A320 ramp-up and the new widebody order from Emirates Airline will offer a significant number of internal mobility opportunities.
The Top 10 types of expat in Thailand (2019)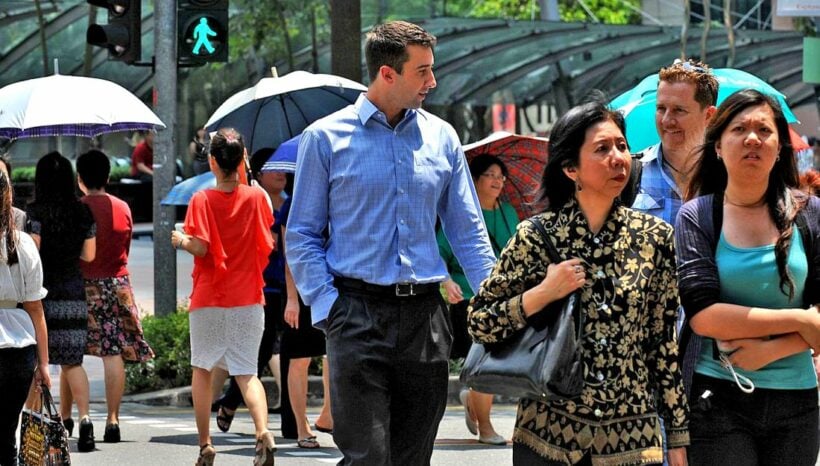 Being an expat in Thailand you'll go through plenty of phases – from excitement, to astonishment, to bewilderment, to acceptance – it's all an exciting journey, and will rarely go to plan. But that's why so many of us love living in Thailand.
There are some particular sub-sets of Thai expat we can spot a mile away. Far from type-casting a typical expat, we provide these sub-sets as a guide – there are plenty of other varieties of  expats floating around Thailand.
We should also mention that in 2019 there's a much broader range of expats living in Thailand. Contrary to popular wisdom (the internet chat rooms), the numbers of expats are growing every year and they are coming from just about everywhere, not just the UK, northern Europe, Australia and the US, as in the past.
1. The search of a wife
Finding looking for love in the West daunting? Or had a few failed marriages? Head to Asia and find a wife there instead. Right?!
These gentlemen come to Thailand for the sole purpose of finding love and maybe a wife. There seems to be some belief that Asian women are going to be more polite, obedient and submissive than the women in their own country. They're about to get a shock.
Others are looking to 'trade in' their older, western model for a younger, prettier Asian version. And where are you going to find this source of Asian ladies? At an expat bar (or on the internet these days). And so the well-trodden path and litany of perilous adventures begins. We know how most of these relationships end.
Of course there are many western men, and women, who do find a Thai partner and live long, happy lives. But they're vastly out numbered by the stories of love-gone-wrong in the Land of Smiles.
Don't take it too seriously
Read a couple of hundred stories on the internet before moving in with the Thai GF
Have deep pockets
NB. Guys, the bar girls don't actually love you.
2. The businessman
Many professional expats live, mostly in Bangkok, working for big international companies on salaries that would make them rich in any country. They can afford to, and do, live the high life. Some are single but others bring their family along for the adventure. They rent a big house, have a live-in maid, a driver and live a great life indeed. But, living their life in an artificial bubble in their working years, they rarely transition into a more mundane retired life in 'normal' Thailand.
3. Retiring in Thailand
The mantra used to be that you could move to Thailand and live off your pension (which would translate to lots and lots of baht), walking the Phuket beaches, shopping in Bangkok or living a quiet life in Chiang Mai. The perfect retirement lifestyle.
Other single, mostly, men would be lured by a carefree life of cheap beer, endless beaches and a seemingly endless supply of attractive young ladies in the many bars.
A lot of this has changed in recent years as the Thai economy has gained strength, along with the Thai Baht, and some international currencies have deflated meaning that people hoping to live off their overseas pensions or savings are not getting the same bargain they once did. Especially living in tourist hubs like Bangkok, Phuket or Pattaya, the cost of living has been rising in recent years pricing them out of the retirement market.
If you're contemplating a retired life in Thailand spend some time on the internet and come and spend a few months in selected locations. Try before you buy and don't start packing the crockery until you've done your homework and your sums.
4. Teaching English
The English teacher is found everywhere in the LOS (Land of Smiles) and is still a reasonably sure-fire way to extend your time living in Thailand.
These teachers usually break down into four categories….  Some are career educators and love teaching English, others are backpackers trying to extend their stay and top up their travel spend, there are some older guys who have spent their savings and will do anything to stay in Thailand. Finally, there's the bored wives who want something useful and meaningful to fill their days whilst their husbands work for larger international companies.
There are numerous TEFL (Teaching English as a Foreign Language) courses around the country. The pay's not great and you'll be living a local lifestyle rather than the lap of luxury. But many former teachers remember their time teaching English in Thailand fondly and say they'll never forget the smiling Thai children.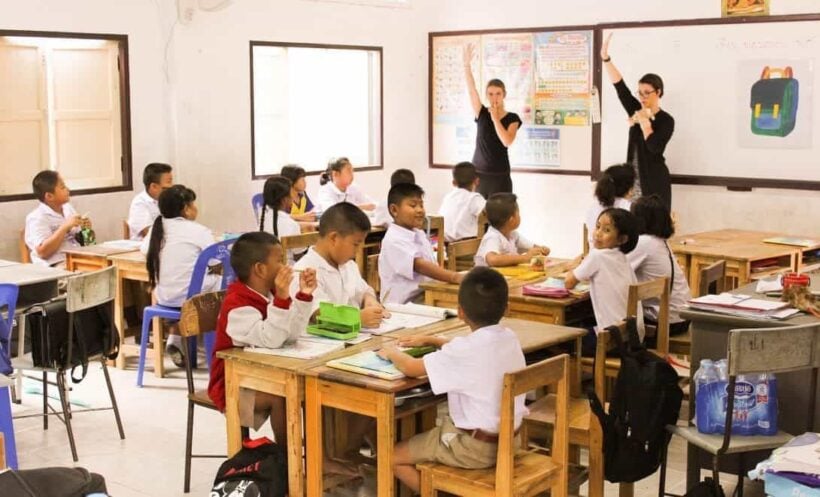 5. The entrepreneurial spirit
Savvy business people often come to Thailand for some better weather and the chance to make their fortune. The joke used to be that if you wanted to start a small business in Thailand, just invest in a big business here and wait a few years.
But many actually make a go of it and end up doing well. Like starting a business anywhere else in the world, do your homework and make sure you tick all the right boxes, including a business and marketing plan (in a foreign country).
The flashy, brash real estate hacks that sell one property a year and spend the other 364 days sitting at the beach bar spending their commission, are a local cliché and a dime a dozen.
Remember that the paperwork and administration requirements of a Thai company can be bewildering and you WILL need some good local advice before you open up shop. Take someone who's already done it for a few years to dinner and ask lots of questions.
6. The bored wife
Many of the categories mentioned so far have a predominance of males. Life for a single foreign woman in Thailand can be a challenge. Kudos to those who cut through the cultural issues and make a go of it (and I know many).
There's also the wives and partners of the many, many men who get to work in Thailand and bring their families with them. The live-in maid, driver and shopping trips eventually get boring and they will often be looking for other things to do. In most cases their visas won't allow them to legally work. So many do end up doing various charity and volunteer work (thought you should be very clear about what your visa will and won't allow you to do).
There are numerous expat groups around the country to provide information, social outings and community for the many mums or spouses who find themselves at a loose end whilst the husband works in the office. Jump on your computer and do some homework and you'll discover a whole new world of other woman out there.
Your next coffee or movie gal-pal is as far away as the internet.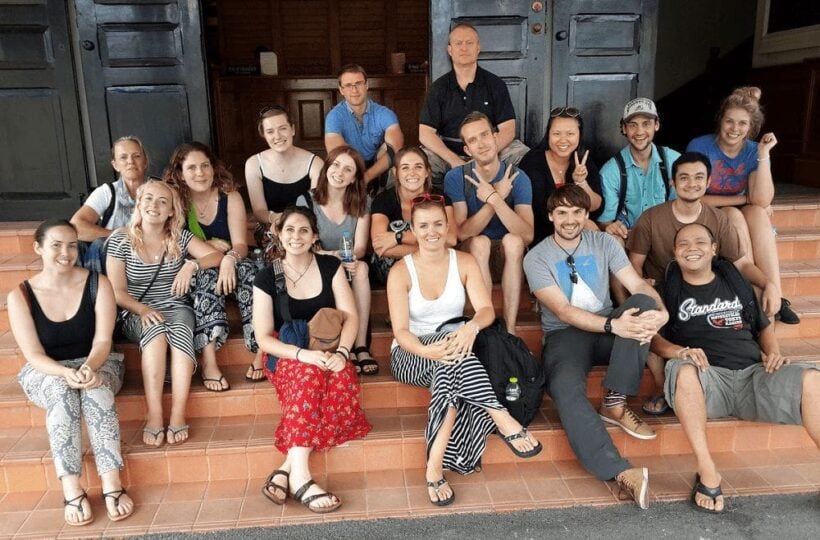 7. The fresh-starter
For whatever reason, Thailand seems to attract its fair share of misfits, vagrants and social outcasts that can't seem to get their act together in their home country. So they come to Thailand where the cheap booze, beaches and travel brochures have lured them.
Of course they find a very different culture and an entirely new list of reasons they can't fit in and get their life established.
Some are just running away from 1) bad marriages 2) the law 3) anything-they-don't-want-to-confront.
The long term prognosis for many of these misfits isn't good. We end up reading about them as over-stayers, drink driving road deaths or victims of balcony falls.
8. Sexpats
'Sexpats' are notorious and much-maligned. They come to Thailand, lured by a slightly old-fashioned notions of the Kingdom as an easy place to find sex. And sometimes, in some locations the opportunities are still available, for a price. Sexpats usually hang around other expats who are less likely to frown on their indulgences. The three P's – Patpong, Patong and Pattaya – sum up most of the popular sexpat locations.
In most cases they're here for a good time, not a long time, and will frequent the sleazier locations in Thailand pursuing their goals and, eventually, running out of money or getting bored. Or getting into trouble. Or contracting any number of available STDs.
There's also a subset of the sexpat that will find themselves on the very outer fringes of society – the pedophile. Thailand, and other south east asian countries, have provided solace for these people in the past but recent crackdowns are now detecting a lot of their activities and they are being increasingly rounded up, arrested or deported.
As a pedophile you will get zero sympathy from Thai authorities.
9. The serial complainer
Nothing, absolutely nothing, will ever be as good in Thailand compared to where they come from. They will find fault in everything from the traffic to the food to the government to the medical system to the culture to the visa system to the corruption to the heat to the roads to the culture to the girls.
Surprise. Thailand is a foreign country with a rich, frequently bewildering culture. The longer you spend here, the less it all makes sense. But that's part of the glorious adventure of living in Thailand. Whilst many expats revel in the wonders and excesses of Thai life, some just wallow in their own self-righteousness.
Many of these haters and complainers have never been to Thailand but are happy to share their wisdom, often, in chat rooms and social media. Blah, blah, blah.
Worse, there are plenty of haters living amongst us who bore us sideways with their whinging and complaining. They can be directed to the nearest international airport where they are invited to escape the country they so despise and return to their homeland or just go somewhere else, anywhere really.
10. The digital nomads
We see them tapping away on their keyboards at cafés and work spaces around the country. As long as they have wifi their business is open. They're trading stocks and shares, selling property, gambling, posting stories, filing news reports, selling stuff on their Facebook pages – they're working.
If you can run your business outside of a traditional office, hey, why not do it sitting next to a beach or high up in a mountain overlooking Chiang Rai. The digital nomads fall between the cracks in the Thai Immigration system and often have to run the gauntlet of dodgy visas and visa runs although a recently introduced Smart Visa helps some of them get a proper visa.
There is an increasing range of co-working spaces opening around the country and almost every café in Thailand will now have wifi – whether it's working or not is another matter. Then again you can always tether your phone to your laptop and use your smartphone's wifi.
10a. The Keyboard Warriors
We can't leave this group out because there seems to be a large contingent of keyboard warriors out there who keep Thai website administrators busy. They respond to everything that's posted and are keen to share their expert advice on the matter. On ALL matters. A virtual Library of Congress when it comes to dispensing their opinions and vast knowledge about all matters relating to life in Thailand, or anywhere really.
Web administrators (The Thaiger included) are kept busy 'hiding' some of their extravagant claims, nonsense or thinly-veiled abuse at the writer of the story, the website generally or other commenters.
There is one website in Thailand who does a roaring trade based on the clicks of expats that seem to have nothing better to do than whinge, complain, comment and click, click, click on a broad range of matters, particularly those concerning traffic accidents, ladyboys, visa overstayers and police matters.
It's a love-hate relationship. We hate their monotonous drivel but we love their traffic.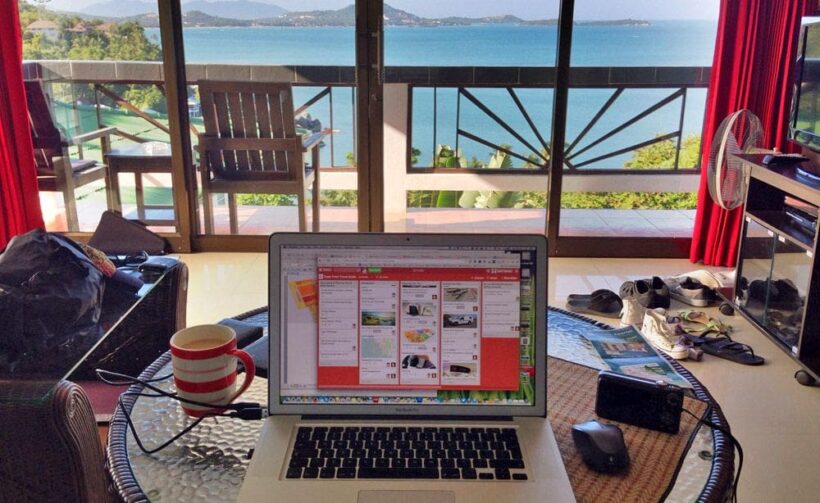 Why is Thailand so popular for medical tourists?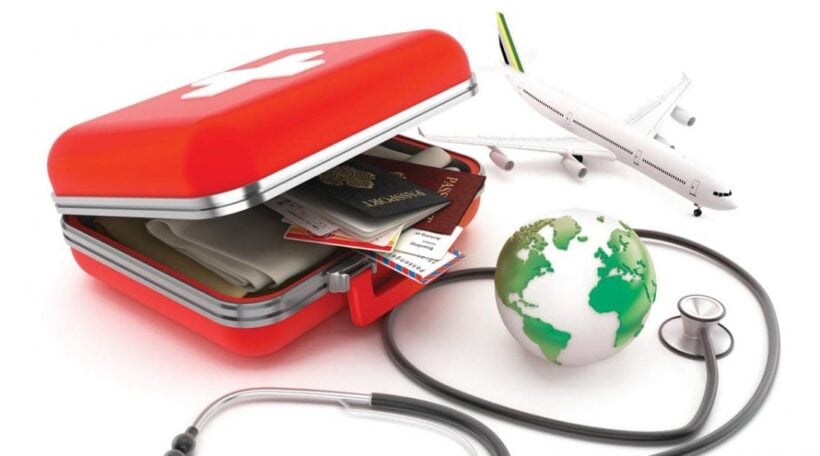 Considered to be one of the most popular destinations for contemporary medical tourism, Thailand continues to see a surge in patients seeking top quality, affordable care. From Bangkok to Chiang Mai and the beaches of Phuket, thousands visit annually, combining luxury travel with first-rate quality care, for the ultimate medical tourism holiday.
It appears convenience is one key component as to why patients keep returning for invasive and non-invasive treatment. Several international airports service this South East Asian hub with non-stop flights to locations across Thailand including Phuket, Koh Samui, Chiang Mai and Pattaya. Low-cost internal flights mean travelling around is cheap and easy. 
But this is only scratching the surface.
Significant financial injections from the Thai government has led to a genuine medical boom with major boosts to the country's healthcare infrastructure. Thailand's reputation for delivering world-class medical care is unrivalled with superior aesthetic treatments at value-friendly rates.
Procedures have never been more accessible at an extensive range of internationally accredited medical facilities. 
The warm weather is undoubtedly a huge draw but Thailand has become the essential place for outstanding cosmetic and plastic surgery carried out by highly trained surgeons. Offering more than 1,000 private medical facilities, Thailand is also home to the biggest private hospital in South East Asia, Bumrungrand International Hospital.
Furthermore, Thailand was the first Asian country to achieve the prestigious Joint Commission International (JCI) status. Known as JCI accreditation, The healthcare bar is set very high with only the best of the best achieving the 'Gold Standard' in healthcare and patient safety. In fact, this idyllic location boasts more than 60 clinics with international healthcare accreditation measured on par with US standards and practices.
According to June Jenkinson of MyMediTravel, "The patient experience has significantly improved in recent years. Imagine walking into a pristine clinic with identical levels of clinical care as you would find back home."
"This is enhanced by fully qualified doctors who have undertaken rigorous training abroad and on-demand bilingual staff possessing leading expertise and knowledge."
"Patients benefit from up to the minute diagnostic equipment, fiercely competitive prices and Thailand's renowned ingrained service culture, which leads to a dedicated patient focused visit. With clinical premises, labour and running costs significantly lower, the consumer can enjoy savings of 30-80% across a wealth of procedures."
From liposuction to gender reassignment surgery, medical tourists are flocking to enjoy top notch care, price-busting procedures and an incredible destination for both pre and post-treatment recovery.
Medical tourists are spoilt for choice thanks to the all-encompassing range of Thai clinics such as the JCI-accredited Sikarin hospital that has been established for 25 years or KTOP Clinic. Offering an extensive range of treatments, the latter is the leading facility for Korean style plastic surgery.
Thailand has now emerged as a world leader in the medical tourism sector with groundbreaking medical facilities together with an incredible adventure-tourism hotspot. The medical tourism trend is here to stay in 2019 and beyond.