The Slaughter of the Veggies: A food guide for Phuket's Vegetarian Festival [video]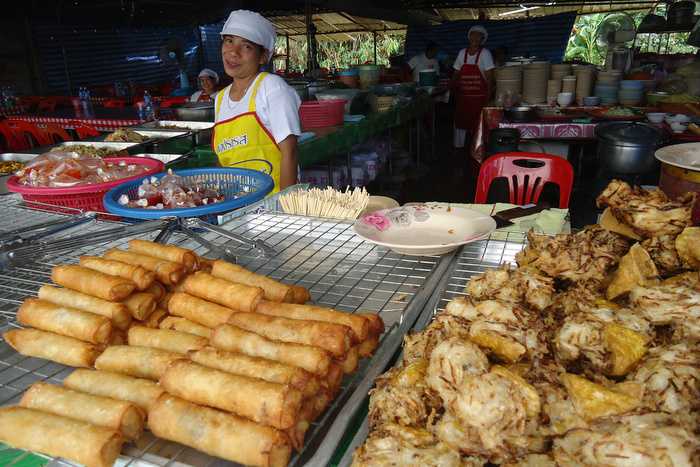 PHUKET: Phuket's Vegetarian Festival is upon us again (story here). The unmistakable sound of popping firecrackers meant to drive away evil spirits can be heard in the distance, competing with eery Chinese prayers that play on repeat at all hours of the day.
Inside the shrines, there is a quiet reverence as devotees of all ages and backgrounds make merit to the Nine Emperor Gods and welcome them from heaven to walk among men for nine days.
But don't let the sounds or the overwhelming smell of joss sticks dissuade you from wandering closer to the action. Follow the yellow-red flags toward the ensuing chaos and you might just happen upon what some consider a haven of vegan cuisine.
Food certainly steals the show during the fest, and is often available island-wide until the wee hours of
the morning. Vegetarians and vegans can rest easy knowing that as long as there is a yellow and red flag hanging, the food inside is appropriate to eat.
However, for the island-dwellers who enjoy the more-than-occasional steak or moo tod, the idea of meatless meals for nine days can be hard to swallow.
What to make of the clearly fake sliced duck, the larb that looks like larb, but is made with "meat" that certainly isn't pork, the nuggets that kind of resemble fried chicken or the "fish" that you can swear is actually fish?
The Vegetarian Festival can be a daunting experience for the not-so-brave of heart, but there is nothing to be afraid of. The chefs, well-versed in the art of vegan cooking, set out to make the food look and taste like the real thing – and they deliver.
"Cooking vegetarian food is a kind of art. We have to replicate the look of the meat and try to get as close to the true flavor as possible," Niyom Wongweankom, a 10-year vegetarian and owner of Yo Vegetarian Restaurant in Samkong, told the Phuket Gazette.
"No one will ever produce the exact same thing. The outcome depends on the ideas and style of whoever is cooking."
Mr Niyom's restaurant boasts more than 20 different vegetarian dishes – including a dish that resembles larb moo. The main meat ingredient is substituted with mushroom, but the flavors still burst in your mouth. It has a classic larb taste, with fresh mint and a kick of heat from Thai chilies, that will leave you wanting for nothing.
Another dish offered – a festival favorite, according to Mr Niyom – is a "fish filet" that could make even the most seasoned vegetarian think twice before digging in. Made of tofu, the filet has seaweed-wrapped edges resembling fish skin. The "fish" is flaky, melts in your mouth and has a taste so close to the real thing that you could fool a fishmonger. The best part, though, is that you don't have to worry about any bones getting caught in your teeth.
The creativity and experience of the chef plays a big role in the making of vegetarian food, as the ingredients they are allowed to use are strictly limited. Several ingredients that play a significant part in the daily Thai diet are forbidden during the fest: egg, onion, garlic, chives, fish sauce and oyster sauce.
Tofu is the mainstay of all vegetarian food. Even if it doesn't look life tofu, it probably is. Several different kinds of textured protein developed from soy beans are manipulated in the meatless cooking process. They have different textures and tastes, allowing for a wider range of flavors and creations (story here).
Chaiyut Thangsukkasem, the owner of Nong Jay vegetarian restaurant near Khao Rang, is one creative chef who has taken meatless cooking to a new level.
"I believe that vegetarian food is much cleaner than normal food. Animals are often fed chemicals that can be harmful to their health and to the health of humans who eat them," said Mr Chaiyut, who has been a vegetarian himself for 17 years.
Despite not having eaten meat for nearly two decades, Mr Chaiyut was able to present a piece of fried chicken that had both meat-eaters and vegetarians at the table yearning for more.
When asked what his secret was, Mr Chaiyut shrugged and replied, "We just fried textured soy protein so that it looked like fried chicken. We have our own recipe to make it taste like real chicken as well."
Mr Chaiyut pulled out all the stops again with a plate of rice topped with four different meats – duck, chicken and two kinds of pork – and a spicy krueng gaeng moo to beat the band.
To find these dishes, and hundreds more, take a trip to Ranong Road, the heart of the Vegetarian Festival and home to Jui Tui Shrine. There, you will encounter stall after stall of fresh, hot vegan food and snacks with long queues of revelers donned in all-white apparel.
Whether you play it safe with easy to recognize, deep-fried treats or take a walk on the wild side with some fake meat, the food at the Vegetarian Festival will not disappoint.
Additional reporting by Natthaphol Wittayarungrote
— Mauri Grant

Join the conversation and have your say on Thailand news published on The Thaiger.
Thaiger Talk is our new Thaiger Community where you can join the discussion on everything happening in Thailand right now.
Please note that articles are not posted to the forum instantly and can take up to 20 min before being visible. Click for more information and the Thaiger Talk Guidelines.