How to be charged 2,600 baht for having a flat battery in the Jungceylon car park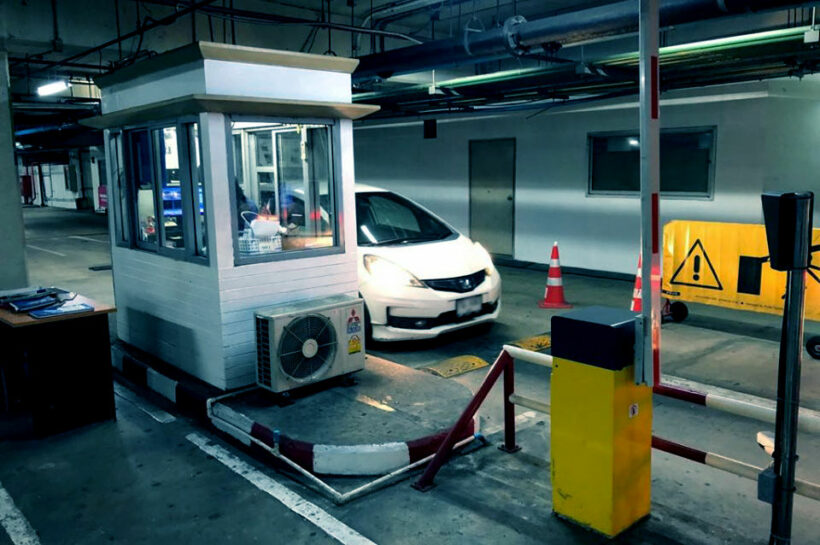 A rant…
Started off with trying to exit the Jungceylon carpark in Patong, Phuket, late on a Sunday night. After watching a film in their tawdry cinemas, I was assured by ticket sales staff that I should present my ticket stub with the car park card for free exit.
Getting to the exit gate and I was told I had to go to an 'elevator' to get my ticket stamped. As there were already three other cars behind me (it was around 9.30pm at this stage), it caused quite a kerfuffle and tempers (mine included) were starting to fray.
The poor woman at the exit booth (whose key work skill must be 'patience'), kept yelling 'elevator, elevator', doing little to inform us what we were actually meant to do. (I wanted to leave a car park, not go on an elevator?!?).
Anyway, minor 'misunderstanding' sorted out soon enough, and returned to my car to exit the car park (about 10 minutes later).
A Russian man had had his own adventures with the Jungceylon car park the night before. Firstly he was stuck there on the Saturday night with a flat battery in his white sedan. As it was very late, and wanting to get home, he left the car in the space and took a taxi.
As I was sorting out my own car park 'misunderstanding', other car park staff assisted him with his flat battery by jump starting his car. The assisting staff were given a gratuity, I don't know how much.
But on reaching the exit gate he was told he had to pay 1,800 baht. (Presumably for around 24 hours of car parking).
With his fist full of receipts, around 3,300 baht worth, he was also told 'elevator, elevator'. He got out of his car, there were another three cars backed up behind him at this stage, and went to find the 'elevator'. Upon returning he was now told he had to pay 2,600 baht! How the amount had magically inflated to 2,600 baht remains a mystery but the cark park 'gatekeeper' was not to be messed with.
By this stage about eight young Thai gentlemen, with name tags, keys hanging from their belts and hand-held radios, had turned up to 'assist' in addressing my complaints and ensuring that the Russian man was not able to leave the car park before paying the 2,600 baht. The only common language among the Russians and the Thais in the situation was English and it was not going well.
Google Translate was getting a fine workout but wasn't really helping.
During the extended 'negotiations' the cars behind were detoured around and allowed free exit.
Given the man's travails in having a flat battery, having to come back to the steamy car park late on a Sunday night, the cars piling up behind him and the loss of face for just about everyone at this stage, the 'smart', good PR thing to do would have been to thank him for spending 3,300 baht at their expensive shopping centre, lifted the boom gate and waved him on his way.
But no, these young Thai car park staff wanted their pound of flesh and there was no way in the world that barrier was going to be lifted until the man had paid every baht he 'owed'. Three police turned up to try and sort things out but all departed in exasperation, knowing the car park staff were being pig-headed but unable to intervene because they would have caused their fellow Thais a loss of face.
At this stage the Thai car park staff were already starting to utter things under their breath and spitting out 'farang' in their deliberations.
During the entire two hour drama many other cars had the same issue of not understanding that they needed to report to the bottom of one of the 'elevators' to have their receipts stamped. There didn't appear to be any signage or understanding of the procedure (until, of course, you go through this rather drawn out lesson in Jungceylon car park procedure). There was a sign outside the elusive 'elevator' but given there are seven other exits from the car park you're unlikely to see them.
Apart from Jungceylon losing the patronage of at least two, or more, customers over their overly-officious and unprofessional behaviour, the system will surely remain unfixed waiting for the next stupid 'farang' to stroll innocently into the underground farrago.
The only bright light in the dingy car park fiasco was the pleasant young gentlemen sitting at the 'elevator' with his stamps and gracious smile, wearing full eye make up and blissfully unaware of the surly car park Nazis. He profusely apologised but I am fairly sure he was none-the-wiser about my lengthy explanation of the situation.
Give the man a pay rise!
For Jungceylon, I would urge better signage, in a few languages (it IS a tourist town), to inform us about their rather opaque car park procedures.
I did ask for a statement to include in this story from some of the 'people with hand radios' or a comment from the Manager. But there was none forthcoming. Our forum remains wide open for a response from management.
Keep in contact with The Thaiger by following our
Facebook page
.
"Phuket needs a world class exhibition and convention centre"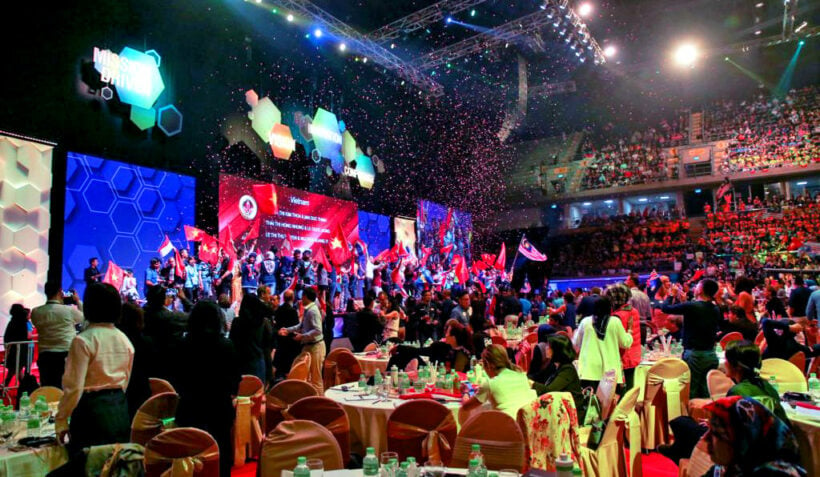 "Two key developments we are tracking is Central Festivals next phase of expansion and Proud Groups Andamanda project that both have significant concerence, meeting and incentive space."
Plans to promote Phuket as a world-class MICE (meetings, incentives, conventions, exhibitions) location are being obstructed by many impediments –  inefficient town planning, poor transport systems and poor availability of land in tourist locations.
Dusida Worrachaddejchai writes that Phuket's deputy governor says the province has a blueprint to build an exhibition and convention hall to host international events with a capacity up to 5,000. But he said that town planning rules forbid building a hall larger than 6,000 square metres with a hight greater than 23 metres.
The prohibition for a proper convention hall by town planning appears to be one of the few projects impeded by lax town planning laws.
The project has been talked about for decades with Phuket's potential as an active MICE venue being hampered by the lack of facilities, principally a large convention and exhibition centre.
If some provisions of the current town planning act for Phuket can be amended, the likely destination for a convention centre would be Thalang district. The deputy governor says he hopes it can be built in a few years and make Phuket able to bid for international events and expos.
But Thalang, although within 15 minutes of the Phuket International Airport, has little offer convention and exhibition delegates with most of the beaches and tourist infrastructure on the island's southern coastal areas (Patong, Kata, Karon).
C9hotelworks' Bill Barnett says proper MICE facilities have been a long time coming for Phuket.
"Phuket hotel developers are finally seeing the signifigance of the MICE trade. Two key developments we are tracking is Central Festivals next phase of expansion and Proud Groups Andamanda project that both have significant concerence, meeting and incentive space. TCEB ae active in the working on Phuket as a MICE destination so we see the future direction as positive, at last."
Meanwhile the Thai government has foreshadowed that five Thai cities will be earmarked as MICE locations – Phuket, along with Chiang Mai, Khon Kaen, Pattaya and Bangkok. The deptuty governor sprouted Phuket's existing MICE credentials – 600 hotels offering 40,000 guest rooms, 220 convention rooms, 615 meeting rooms, 14 piers and four private marinas. But these facilities are spread all over the island with poor access and almost no public transportation.
Plans for a world class convention centre have been brought up from time to time over the past two decades with provincial officials huffing and puffing about the need for a proper facility for the growing island but, so far, nothing has happened and the island remains a leading tourist destination with little attraction for larger conferences, exhibitions and events.
In the past the private sector – primarily Central Group and Jungceylon – have indicated their interest to build a convention hall in the Patong area. But town planning issues and the ever-dwindling available land in the seaside city have shelved any progress.
Southern beach locations, with excellent hotels, shopping and beaches – Karon and Kata – have also been flagged as potential locations but access, especially from the airport, remains poor. Travel times to the southern beaches from the airport is at least an hour and involves trips across the notorious hills roads at either Patong or Kata.
Progress on the Patong Tunnel has also stalled with successive governments unable to progress the project.
The government should improve mass transport from the airport to Patong and other western coast districts in Phuket, namely Karon, to facilitate large groups such as Mice travellers that require more than buses and vans, Ms Chalermluck said.
Last year, more than 2 million visitors arrived in Phuket for MICE events, generating 19.5 billion baht in income. But MICE industry proponents say that number could be easily tripled with a proper convention and exhibition venue.
Keep in contact with The Thaiger by following our
Facebook page
.
Wan Yubamrung's subordinate arrested for attempted murder in Patong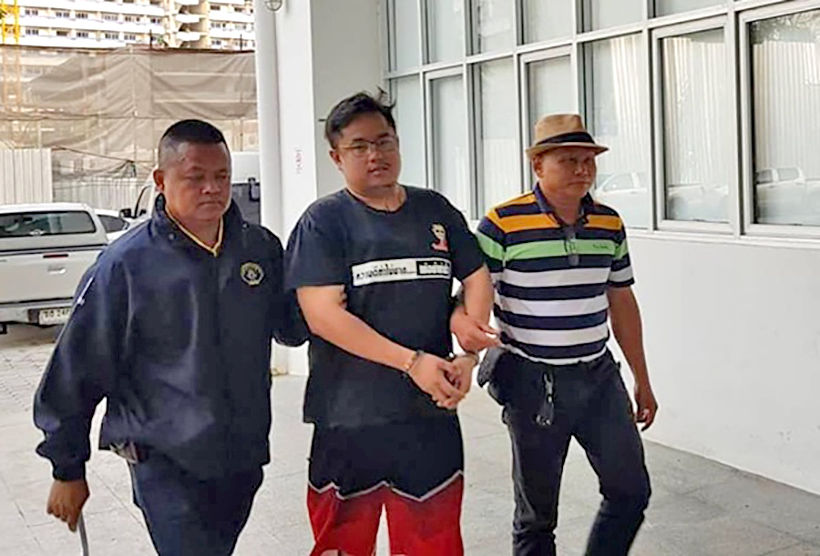 PHOTO: Manager Online
Last night (September 12), 32 year old Thanpawat Supchotiwanich, a subordinate of Thai Pheu Thai party politician Wan Yubamrung, was arrested in front of his house in Soi Ekkachai 135, in Patong, acting on a warrant issued back in 2010 after he shot a business peer over an undisclosed conflict.
Thanpawat is also known as 'Tong Deksuegaeng' and back in 2010, he and a friend shot Nattasak Mongkhonnitipat while he was sitting behind a motorcycle on Bangwat Canal road in Patong, causing the man to be critically injured.
Following the case, Phuket provincial court handed down a 12 years sentence to each of the 2 offenders, including Thanpawat. However, the appeal court decided to dismiss the case and allow the 2 men to be bailed.
The victim filed a petition to the Supreme Court to overrule the appeal. On the day of the sentence, Thanpawat fled. After fleeing, he changed his name from Kanit Suesuan to his present name and became a strong follower of Wan Yubamrung, who is Bangkok MP from Pheu Thai Party and Chalerm Yubamrung's son.
Wan Yubamrung also visited him at the prison and posted a picture together on Wan's Facebook to "cheer him up".
SOURCE: Newshawk Phuket
Keep in contact with The Thaiger by following our
Facebook page
.
Jet-ski collision injures two Chinese tourists in Patong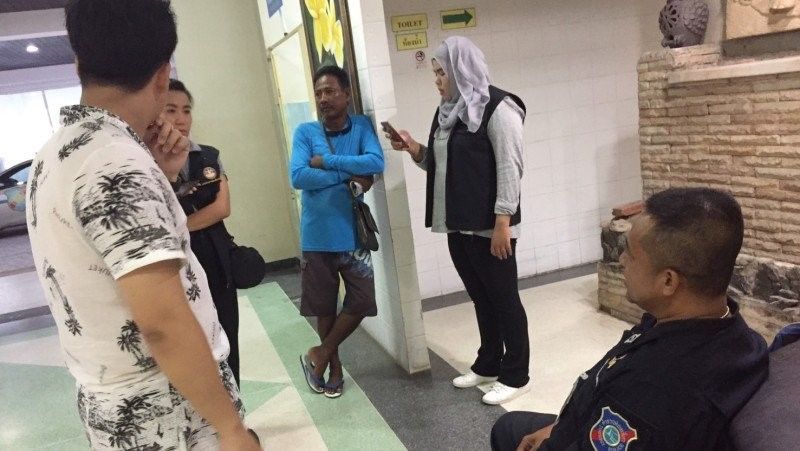 Two Chinese tourists have been injured in a jet-ski collision in Patong yesterday, the Phuket News reports.
Maj Teerasak Boonsaeng from Patong Police was notified of the accident shortly before 4.00pm yesterday, with both men taken to Patong hospital for treatment.
The men, named as 28 year old Hu Meng and 26 year old Yang Ming, had rented jet-skis from opposite ends of the beach and it's understood that compensation for the damage to the jet-skis has yet to be agreed.
Both men escaped serious injury. Mr Hu received treatment for a broken leg and after being diagnosed with a minor back injury, Mr Yang was discharged from hospital.
The Phuket News reports that both men are from Hubei, a landlocked province in central China.
SOURCE: The Phuket News
Keep in contact with The Thaiger by following our
Facebook page
.