Smuggled cigarettes seized in Phang Nga valued at 6 million baht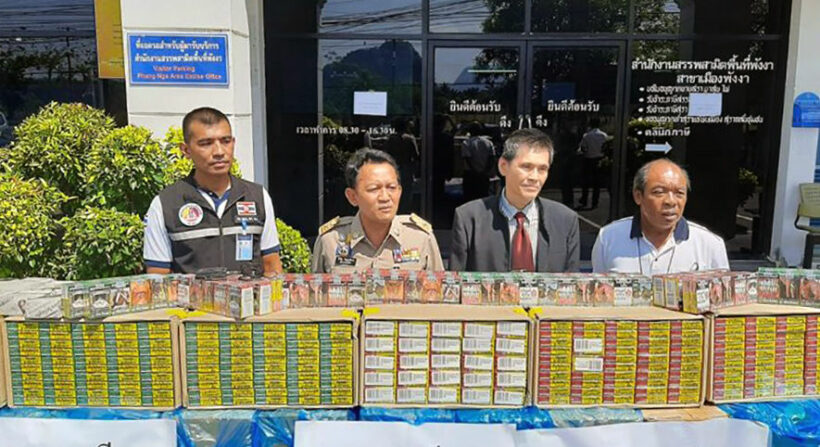 Cough, splutter, gasp… A former police officer has been arrested in Phang Nga, just north of Phuket, last night for his participation in a cigarette smuggling ring. The former officer was charged with possessing illegal foreign cigarettes worth nearly six million baht – the news from Khao Sod.
A total of 74,327 'Blue Range' cigarette packs valued at nearly 6 million baht were seized and the 'cigarette smugglers' were detained at the Kok Kloi Police Station in the Takuatung District for further questioning.
Phang Nga Provincial Governor Charoen Tippapontada says it's the biggest seizure of illegal cigarettes in Phang-nga this year, and one of the largest in the south where cigarettes are commonly smuggled in both directions over the Malaysian border.
There is an estimated 10 million smokers in Thailandresulting in 72,000 deaths annually.
SOURCE: Thai Residents
Keep in contact with The Thaiger by following our
Facebook page
.
75 year old tourist 'attacked' by small unidentified shark in Phang Nga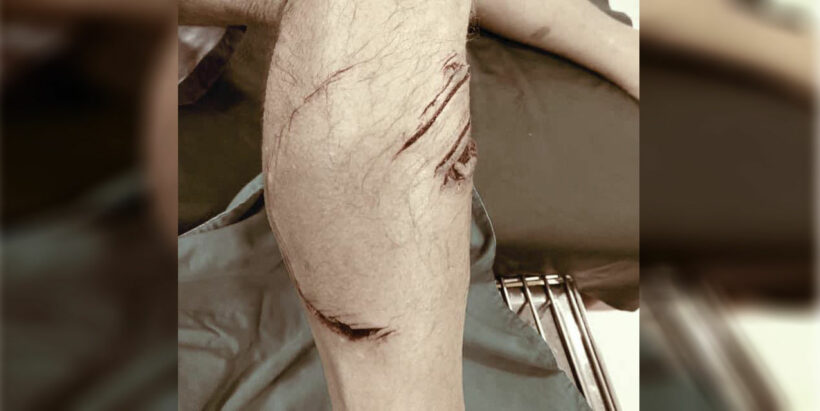 A Phang Nga swimmer was was bitten and attacked by a mystery beastie…. thought to be a shark, and probably a small bull shark. The A 75 year old German tourist says he was swimming in the sea off the southern Thailand beach with his wife on Sunday. The incident occurred only 6 – 7 metres from the shoreline. He has been treated at a hospital in Phuket.
Dr. Thon Thamrongnawasawat, local marine expert and vice dean of the Faculty of Fisheries of Kasetsart University, noted that shark attacks are very rare in Thailand, with the last one happening in Phuket in 2017, with all attacks being attributed to small bull or blacktip reef sharks.
Thon explained in his post that bull or blacktip reef sharks rarely attack larger prey and their attacks might be caused by misunderstanding because the water near the beach is murky, saying that when they realise what they've bitten is not their prey, they simply let go and move on.
He said that there is no need to worry about shark attacks in Thai seas, but warned against swimming at dawn or dusk when small sharks search for food near the beach. But the attacks were so rare as to be deemed 'very unlikely'.
Torn said that shark/human attacks were very one-sided.
"Each year only 5-10 people die in shark attacks worldwide, but about 70 million sharks are killed by humans.
SOURCE: Thai PBS World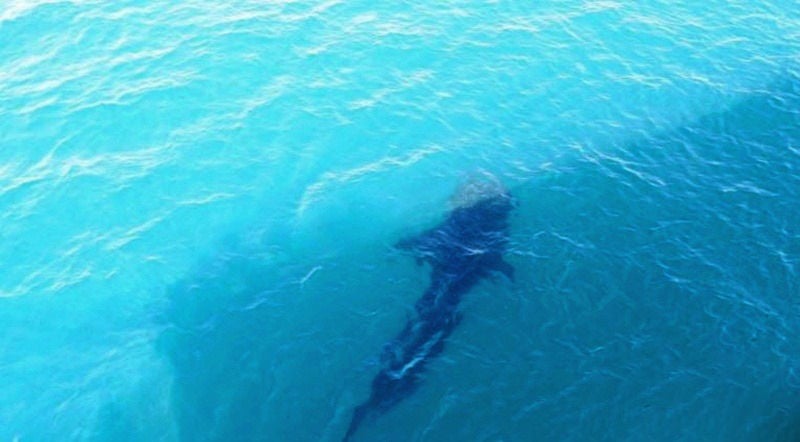 Keep in contact with The Thaiger by following our
Facebook page
.
Young men busted selling drugs online in Phuket, Phang Nga from their Twitter account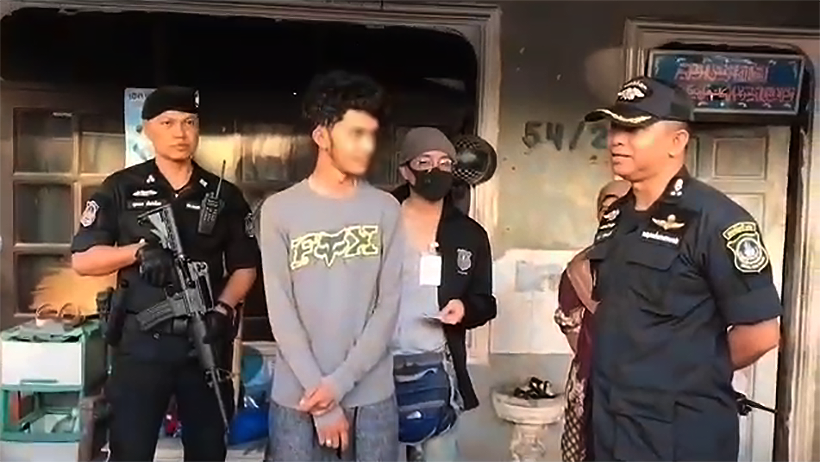 Two young Thai men are being held by police after their arrests on Monday for selling drugs online in the southern provinces of Phuket and Phang Nga, according to the Thai news blog Khaosod. The online drug trade is becoming an enormous business operating using common, everyday social media and delivery platforms.
The suspects, 16 and 20 years old, opened a Twitter account in 2019, which at the time of their arrest had more than 3,000 followers. They were using the account to openly market, discuss and sell frugs, for profit. The account shows photos of various drugs, which were then sent to buyers around Thailand.
The drugs business in Thailand is now high tech and booming, a bigger menace to Thai society than ever, according to Khoasod. Today's drug pushers are online and impersonal, using accounts on messaging apps like Facebook, LINE and Twitter. Thai police chiefs are warning logistics and transport companies on their role and responsibilities in combating this new and growing means of promoting, selling and shipping drugs around the country.
Kanittha Thaikla, a Chiang Mai lecturer from the Research Institute for Health Services at Chiang Mai University claimed that in 2019 "most drugs bought and sold in Thailand are changing hands online".
She noted in her report that no less than 200 Twitter accounts selling drugs where customers could order and pay for drugs online, and have their order hand-delivered by common delivery companies. Ms Kanittha highlighted the new "lingo" – code words used by drug gangs and their online followers to smoothly and effectively negotiate online purchases – top openly conduct their businesses under the noses of social company watchdogs and the Thai police.
SOURCES: Thai Residents | Thai Examiner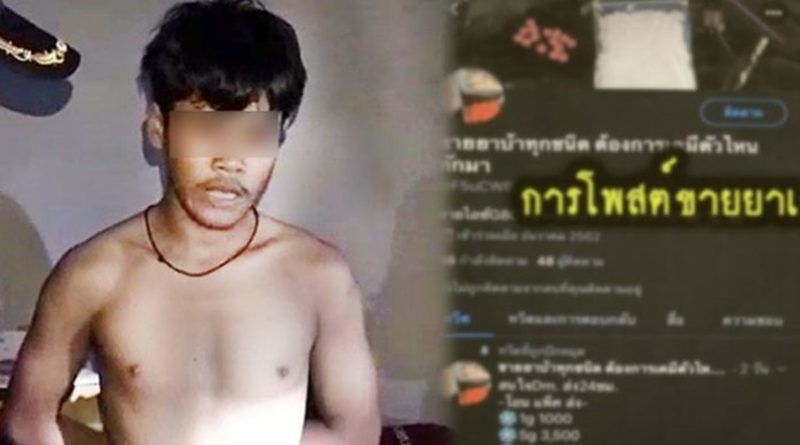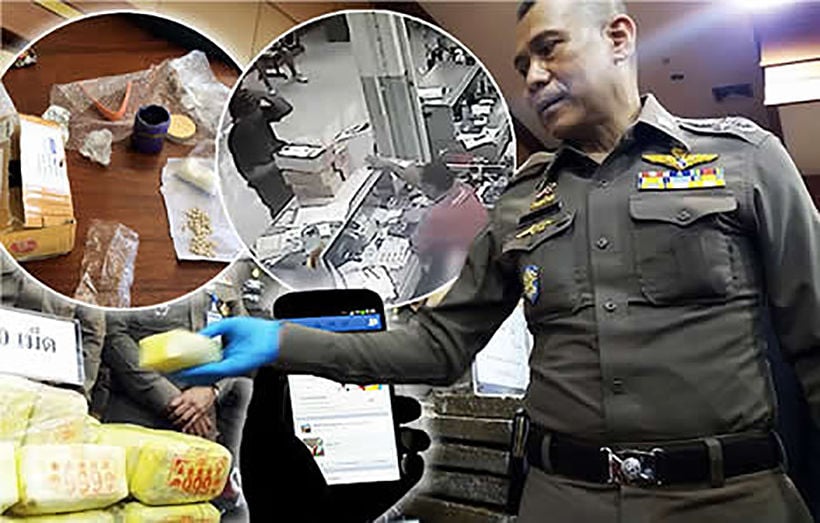 Keep in contact with The Thaiger by following our
Facebook page
.
Turtle egg thieves raid a leatherback turtle nest in Phang-nga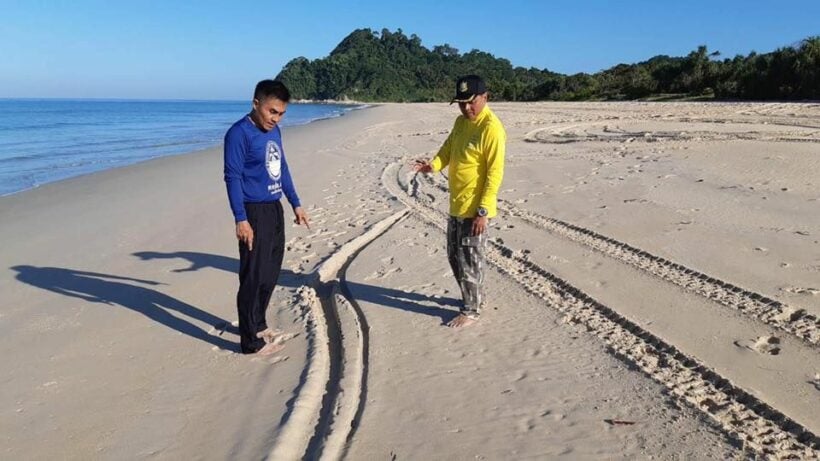 PHOTOS: กรมทรัพยากรทางทะเลและชายฝั่ง
Thieves have stolen almost all of the eggs from a fresh nest of a rare leatherback turtles along a Phang Nga beach in southern Thailand. The incident happened on late Friday or early on Saturday. The mother turtle had come ashore in Khao Lampi-Hat Thai Muang national park to lay her eggs.
Dr Thon Thamrongnawasawat, marine biologist and lecturer at Kasetsart University on marine ecology, posted on Facebook saying he was "very angry about the theft because it means the loss of the rare turtles, which should have hatched in the national park".
According to Dr Thon, park officials searched the beach from 4.30am to 9.30am on Saturday morning and found traces of a female leatherback, but could not locate the turtle and discovered a nest containing only two unviable eggs.
Thon says he doesn't blame the park officials as the beach is about 20 kilometres in length and there was no way for them to know where the turtle would lay its eggs.
Since the leatherback turtle is a protected species in Thailand, Dr Thon says that the Wildlife Protection Act imposes a "3-15 years imprisonment and a fine of between 300,000-1.5 million baht for the theft and/or illegal possession of turtle eggs".
Dr Thon told Thai PBS World that, since last year, leatherback turtles came ashore to nest twice, each time laying about 50 eggs, an improvement over the years before.
SOURCE: Thai PBS World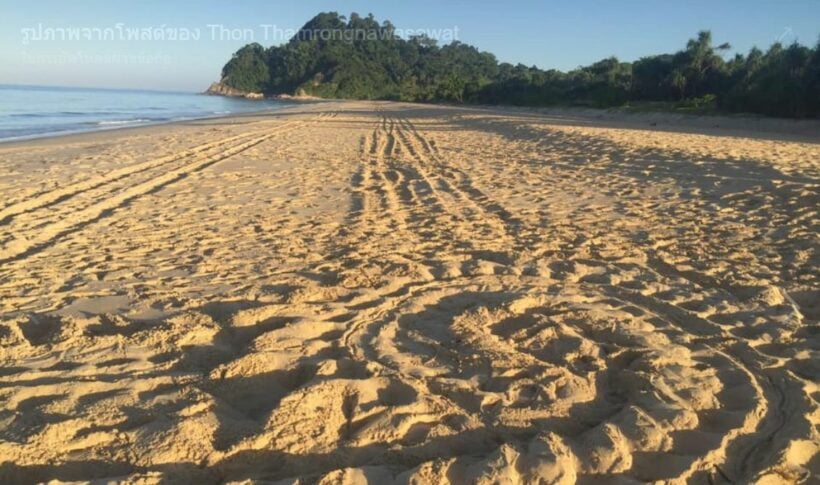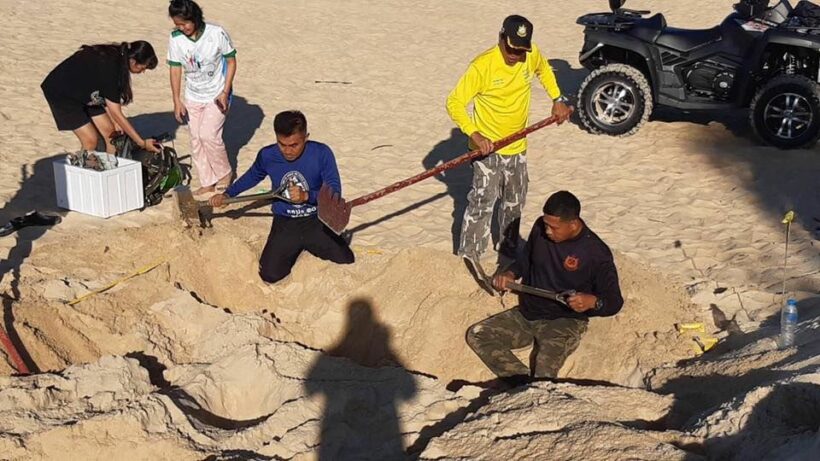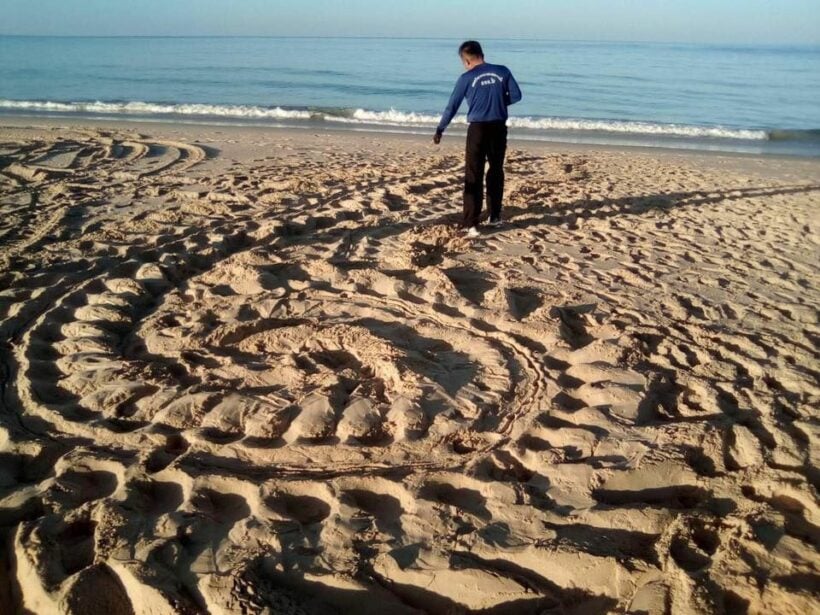 Keep in contact with The Thaiger by following our
Facebook page
.