Smuggled cigarettes seized in Phang Nga valued at 6 million baht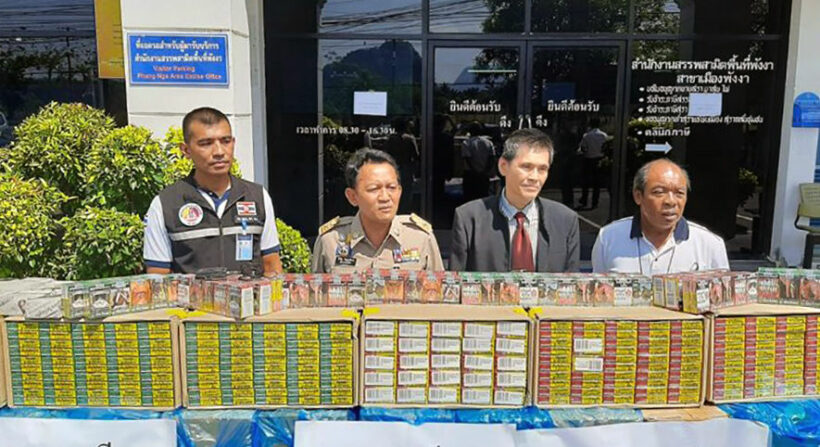 Cough, splutter, gasp… A former police officer has been arrested in Phang Nga, just north of Phuket, last night for his participation in a cigarette smuggling ring. The former officer was charged with possessing illegal foreign cigarettes worth nearly six million baht – the news from Khao Sod.
A total of 74,327 'Blue Range' cigarette packs valued at nearly 6 million baht were seized and the 'cigarette smugglers' were detained at the Kok Kloi Police Station in the Takuatung District for further questioning.
Phang Nga Provincial Governor Charoen Tippapontada says it's the biggest seizure of illegal cigarettes in Phang-nga this year, and one of the largest in the south where cigarettes are commonly smuggled in both directions over the Malaysian border.
There is an estimated 10 million smokers in Thailandresulting in 72,000 deaths annually.
SOURCE: Thai Residents
Keep in contact with The Thaiger by following our
Facebook page
.
Provinces remind people about wearing face masks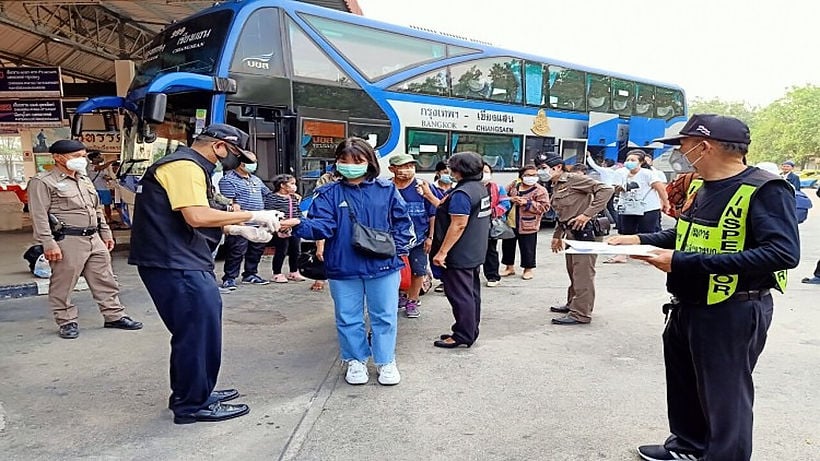 Individual provinces are stepping up safety measures since the roll out of Phase 3 of the lockdown relaxations. In Chanthaburi province, eastern Thailand on the Cambodian border, they've announced a "D-Day" against people leaving their homes without masks.
(The Thaiger predicts the authorities in Chanthaburi may not know a lot about what actually happened on D-Day.)
Authorities in Chanthaburi have noted travellers dropping their guard in terms of Covid-19 precautions, and public health officials there are urging people to keep their masks on in public, observe social distancing and avoid crowded places.
Chanthaburi's governor lamented that locals have been seen commuting without wearing masks, posing a risk of a second wave of infections. He says the province will enforce mask-wearing stringently with a 20,000 baht fine from today.
At Phuket's Bus Terminal 2, meanwhile, large numbers of people were seen buying tickets. The hub is practicing strict checks, including temperature screenings and enforced distancing. Sritrang Tours, which runs between Phuket and Hat Yai in the South, has reduced its bus loads from a maximum of 39 to only 19, and requires passengers to scan a QR code using the Thai Chana app before boarding. Those unable to do so will be required to fill out a form.
People traveling to Phuket are required to register on the Phuket Smart Check-in app when they enter the province. For now, that means when they cross Sarasin Bridge and go through the Tha Chatchai checkpoint.
Phang Nga Transport Terminal has similarly seen a rise in activity since restrictions on interprovincial travel were lifted on Thursday. Drivers at the terminal are required to report for temperature screenings as part of safety measures. They noted passengers have not reached their maximum yet, as only journeys to some southern areas and provinces, including Phuket, Su-ngai Golok and Betong are available.
SOURCE: NNT
Keep in contact with The Thaiger by following our
Facebook page
.
Fishing industry seeks 50,000 men amidst Covid-19 migrant exodus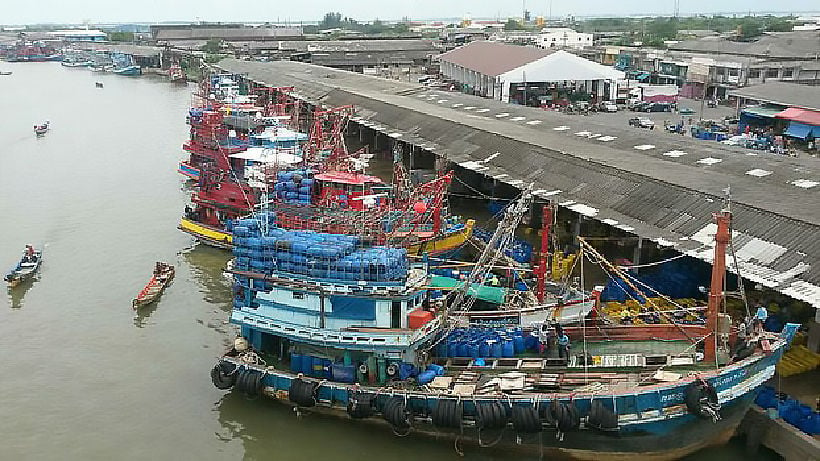 With millions of Thais unemployed due to the Covid-19 pandemic, one business is definitely hiring: a senior government official said Saturday that Thailand's fishing industry is seeking to hire as many as 50,000 men to go to sea aboard trawlers.
The chief of the Department of Employment's provincial branch in the southern province of Ranong, Phithoon Damsakhon, was quoting a statement from the National Fisheries Association of Thailand.
"Some 50,000 men are currently being sought for hire as skippers, mechanics and other crew members aboard fishing boats based in several coastal provinces of the country."
Tens of thousands of migrant workers from Myanmar, previously employed by the fishing industry either on- or offshore, have already left for headed home and many more are expected to follow suit, thus aggravating labor shortages in Thailand's fishing sector.
Many of those workers, who had gradually climbed from being unskilled employees to skilled ones, called it quits over the last several years, according to Phithoon.
He suggested Thais who might be currently jobless due to the pandemic crisis go for such fishing jobs available aboard trawlers, many of which are being anchored idly in Ranong, Krabi and other coastal provinces.
Thailand's fishing industry has long faced allegations of human trafficking and debt slavery over its employment of often-illegal Burmese workers.
SOURCE: Khaosod English via xinhuanet
Keep in contact with The Thaiger by following our
Facebook page
.
Phuket reports no new Covid-19 cases for fourth day, one new death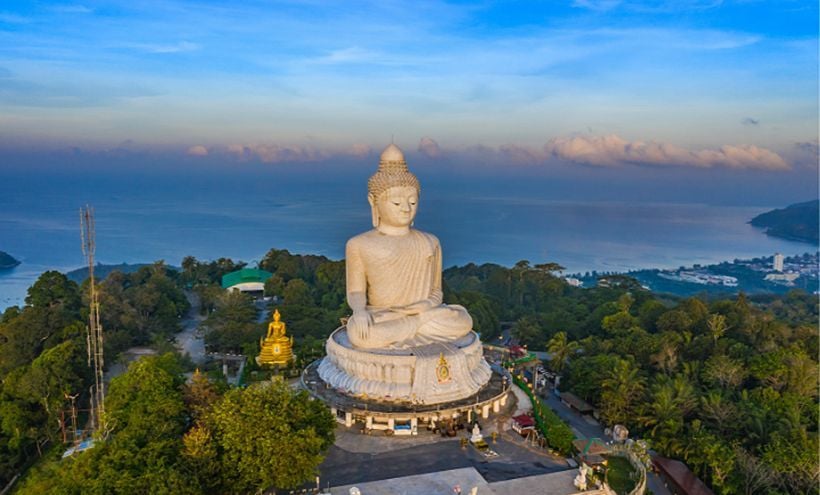 The southern island province of Phuket reported no new Covid-19 cases today, a fourth consecutive day, though there was one additional death.
The man was a 63 year old hotelier from Khao Lak in neighbouring Phang Nga province on the mainland, who visited Phuket before falling ill. He travelled to Phuket between March 19-21 and first began exhibiting symptoms on March 24.
He suffered from from cystic fibrosis, a disease which affects the lungs and digestive system. He returned to Phuket for the critical treatment offered by the island's hospitals, but succumbed to the illness yesterday.
As of today, Phuket has discharged 180 patients and retains 36 patients in hospital, with 57 still awaiting test results, whereas more than 5,000 considered "at high risk" have tested negative and been sent home. Yesterday's death takes the island's total to 3.
The recent downturn in numbers is especially encouraging as Phuket province has long had the highest rate of infection per capita in the kingdom, and the second-highest actual numbers of infections, after Bangkok.
SOURCE: Phuket People's Voice
Keep in contact with The Thaiger by following our
Facebook page
.