Weird World News: Weather warnings of Europeans acting strange due to cold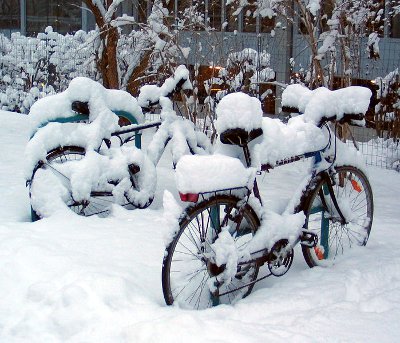 PHUKET: While bitter weather blots Europe, the heat wave continues to stifle here in Phuket. This week's Weird World News round-up is homage to those suffering the onslaught of the cold-snap in Europe, and ways weather can make people muddle words.

Swede survives two months in a snowed-in car

A SWEDISH man was found alive after being trapped in his snowed-in car for two months in a remote area of the country.

The 45-year-old was found emaciated and very weak last Friday, Reuters reported.

The man, from the warmer climes of the southern parts of the country, was discovered by snowmobilers not far from the northern city of Umea.

Thinking they had found an old car wreck, the snowmobilers were amazed to see movement inside the car.

The trapped man was wrapped up in a sleeping bag and had not eaten food for two months. He survived by eating snow.

The man is recovering at Umea University Hospital. Doctors said humans can normally survive four weeks without food, but because of the man's decreased body temperature he probably went into a state of "human hibernation".

"A bit like a bear that hibernates", one physician said.

It is still unknown why the southern Swede ended up trapped on a remote road in the north of the country.

Homeless told to 'stay indoors' in France

A FRENCH health minister made a bungle this week by advising homeless people to "stay indoors" to avoid the ice-cold weather holding much of Europe at mercy.

Junior minister Nora Berra wrote on her blog that toddlers, old people, the sick and homeless should all "avoid going outside", as they were particularly vulnerable to the cold snap.

Her words caused quite a stir in the French media, and Twitter was alive with the mocking sound of thousands of Tweets within hours of her post.

Reuters reported that hundreds of people, many of them homeless, have died in recent weeks across Europe as temperatures dropped to –20?C. Many French cities are putting on extra night shelters for homeless people.

Berra updated her blog shortly after her bungle, Tweeting: "There are some subjects that lend themselves badly to irony."

Weatherman's sorry slip of the tongue

A BBC weatherman on live TV this week let slip the C-word in his report.

Alex Deakin, 37, said calmly that there would be "bucketloads of c###" instead of "sunshine" during his weather round-up.

He was supposed to say "sunshine over central and eastern areas", the Telegraph reported, but that's not what came out of his mouth.

Here's what he said: "By and large it's simply and lovely winter's day tomorrow, bucketloads of c###, errr, sunshine across central and eastern areas".

Click here to see the video

Deakin later Tweeted: "The less said the better about that broadcast."

Remember to tune in next week for more of the Phuket Gazette's Weird World News round-up.
— Fraser Morton
JetSki crashes into shop in Kamala, Phuket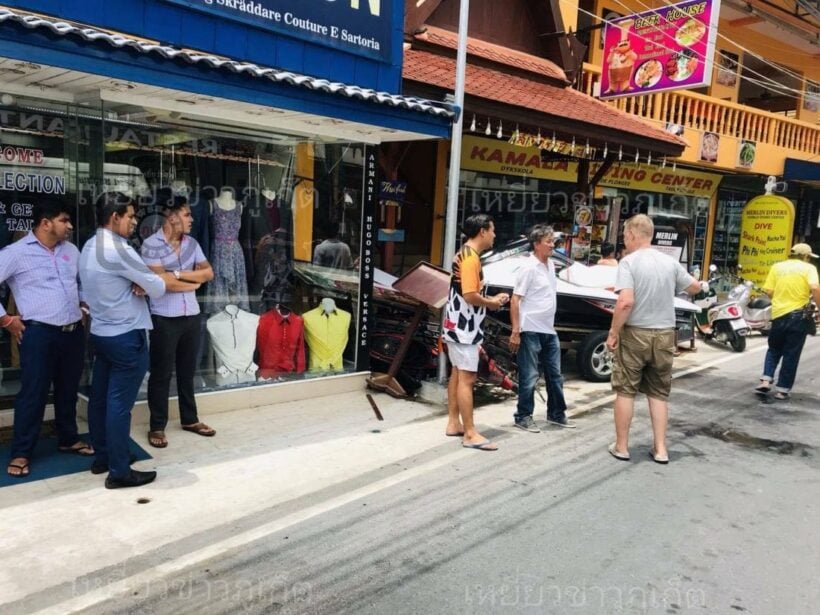 PHOTOS: Newshawk Phuket
Not often we get to write this headline… "JetSki crashes into shop in Kamala".
The jetski was being towed by a Saleng (motorcycle and side-car) through the streets of Kamala this afternoon when, for reasons we don't yet (probably brake failure), the whole shebang went AWOL and ended up running into the front window of some tourist shops.
The jetskis are a common sight going through the backroads of the various west-coast shopping areas at the start and end of each day, on their way to the beach to hire to tourists, usually in a convoy with the jetski staff riding shotgun on top.
This time it was a lone JetSki, being towed by a saleng, that somehow veered off the street and into the roadside Kamala shops.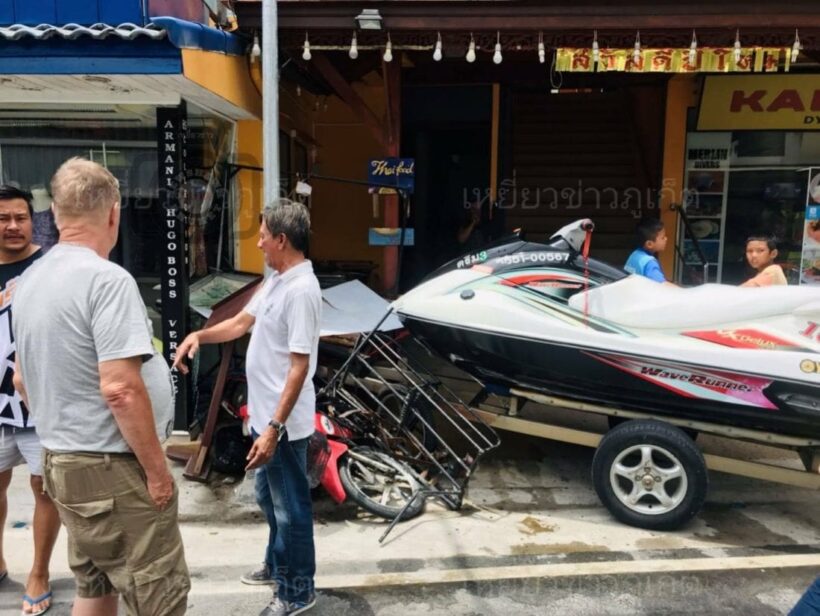 NO Plastic Bag! @ Central Phuket
China has the most atheists. Indonesia and Philippines the most believers.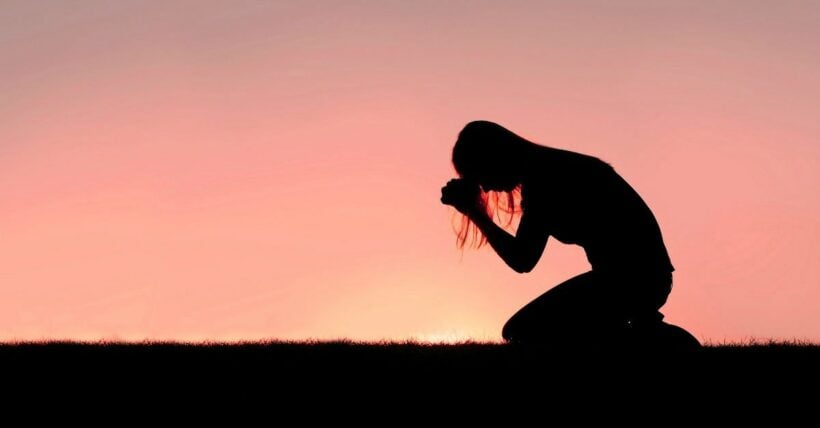 China is the least believing country in the world but belief in a God gets 100 per cent mention in countries like Indonesia, Bangladesh and Philippines, according to the survey by Gallup International.
According to the survey exploring religious tendencies of 66,000 people in 68 countries across the world, 62 per cent of people in the world define themselves as religious, 74% of people globally believe we have a 'soul' and 71% believe in a God. Another 56% believe in heaven, 54% in life after death and 49% in hell.
China has the highest percentage of atheists in the world with 67% not believing in any religion. Every seven out ten people are atheists, more than double than any other country. 23% consider themselves as non-religious. Less than 10% identify themselves as religious in China.
China's atheist percentage is followed by Japan, a long way behind in second place at 29%, Slovenia (28%) and Chech Republic (25%). Despite rapid industrialisation and urbanisation religion has stayed relevant in the South Korean region with only 23% identifying as atheist.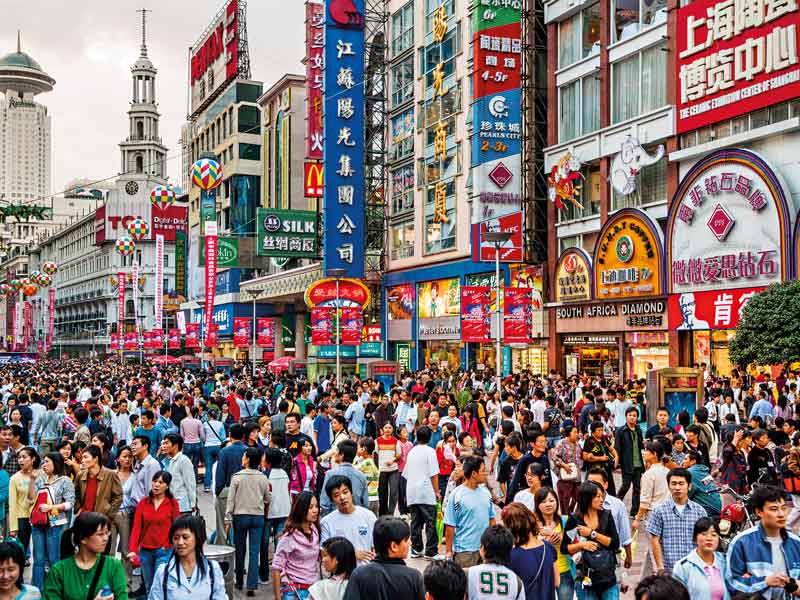 European countries like Belgium (21 %), France (21%) , Sweden (18%) and Iceland (17%) also have a large percentage of believing population.
Bangladesh, Indonesia and Philippines are the most believing countries with entire population claiming to believe in God, soul, hell and heaven. Thailand and Pakistan have 99% believing population, followed by India, Vietnam and Mongolia.
The survey shows that the levels of religiosity diminish as income and education levels increase. While 66% of people with low income affirm to be religious, this percentage drops to 50% among people with higher incomes. The same trend is verified in relation to education levels: 83% of people with lower education level are religious against 49% of higher level.
According to the survey there is a connection between religiosity, beliefs and socio-demographic characteristics like age, income and education level. As education and income levels grow higher, religiosity levels tend to go down. Also, the expression of different beliefs is higher among young people.
The level of education has a considerable influence on the perception of religion by the society. Women and young children show higher percentage for spiritual forces.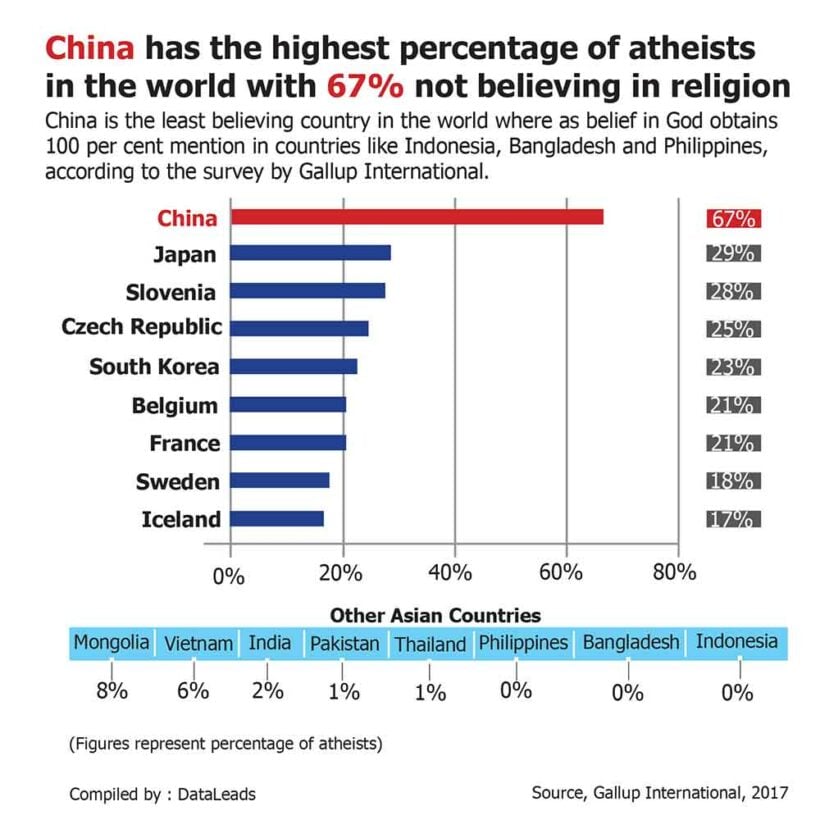 SOURCE: Data Leads