Phuket Gazette Thailand News: Life on Cambodian border returns to normal; ATM skim gang in Songkhla; Luxury cars seized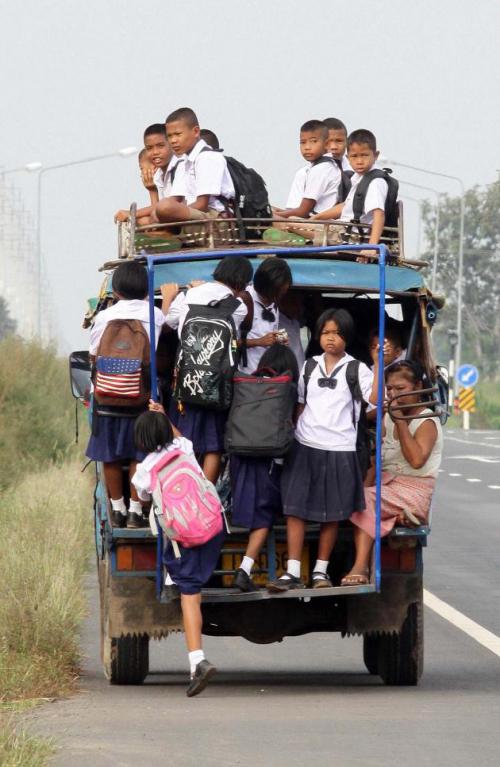 PHUKET MEDIA WATCH
– Thailand news compiled by Gazette editors for Phuket's international community
Life on the border returns to normal
The Nation / Phuket Gazette
PHUKET: All 47 schools in the border province of Si Sa Ket reopened yesterday as there was no backlash from the International Court of Justice (ICJ) ruling on Preah Vihear Temple.
The schools, all in Si Sa Ket's Ban Kraud district, were closed on Monday and Tuesday.
Yesterday, teachers and students said they were relieved and happy that Thailand had, so far, not lost any territory or sovereignty as speculated by critics and analysts.
The only negative occurrence in relation to Preah Vihear yesterday was the death of Tri Narin, governor of Cambodia's Banteay Meanchey province, in a road accident while he was heading for a press conference on the ICJ ruling.
The accident took place across from Thailand's Sa Kaew province, when the governor's vehicle slammed into the back of a large truck, possibly because his driver had fallen asleep, news reports said.
Traders and
tourism
operators in Chanthaburi, meanwhile, said everything, including border trade, had returned to normal with Thai and Cambodian vendors setting up stalls.
Teacher Damrong Samphan said he expected bilateral relations to resume without any disputes or clashes taking place.
Skimming gang suspected in latest ATM heist
The Nation / Phuket Gazette
PHUKET: More than Bt600,000 has gone missing from the bank accounts of
Bangkok
residents, very likely at the hands of an ATM skimming gang, which withdrew the cash in the southern province of Songkhla.
Ten victims have lodged complaints with Phaya Thai
Police
Station. All of them used ATMs at Thai Military Bank's (TMB) Phaya Thai branch.
"The bank assured me that it provides full compensation in such cases," one of the victims, Anupol Puwapoonpol, said yesterday. He suspected something amiss with an ATM at the CP Tower 3.
Phaya Thai Police Station's deputy superintendent Lt-Colonel Thirasak Sriprasert said police did not find any skimmer in that ATM at the time of their inspection.
"Or perhaps someone had installed the skimmer but had already removed it," Thirasak said.
According to an ongoing police investigation, withdrawals were made from the victims' bank accounts between Monday night and Tuesday morning.
"We are trying to request recordings from the security cameras at the ATMs where withdrawals were made in Songkhla," Thirasak said.
He believed the ATM-skimming gang had gathered victims' information illegally long before they arranged the almost simultaneous withdrawals from all targeted accounts earlier this week.
"We are investigating the case further. The Bank of Thailand has also stepped in to help," Thirasak said. He added that his station might ask the Technology Crime Suppression Division to help as well.
Last week, dozens of ATM-skimming victims lodged complaints with Lumpini Police Station in Bangkok. The withdrawals were made in Russia and Ukraine.
Thirasak believes that incident and the one his team are investigating are distinct cases. "The gang that withdrew the money in the South is likely to have involved Thai or Malaysian nationals," he said.
Police want safe, sober Loy Krathong
The Nation/ Phuket Gazette
PHUKET: Police have imposed strict limits on people's usage of fireworks during the November 16-18 Loy Krathong Festival. Also, Transport Minister Chadchart Sittipunt wants to keep the number of accidents involving public transport vehicles at zero, with no injuries or deaths, during this year's festival.
Chadchart said the ministry had set up a road-safety centre for this festival and opened a hotline – 1356 – for public inquiries. He also hoped the public transport drivers' alcohol blood tests would not detect any drunk drivers.
Police spokesperson Pol Maj-General Piya Uthayo warned that
business
owners who don't have Interior Ministry permission to sell fireworks could face a one-month jail term and/or a Bt1,000 fine.
Those carelessly lighting fireworks and causing damage to others risked up to seven years in prison and/or Bt14,000 in fines.
Chiang Mai
City deputy clerk Sruamchai Meesomsak said they were campaigning for restrictions on alcohol sales to prevent liquor-induced fighting and to promote tourists' safety.
City officials are also checking on shops to prevent the sale of giant firecrackers. Some 400 police, uniformed and plain-clothed, and volunteers, would be on hand to provide security on a daily basis.
Nine luxury cars seized in tax sweep
The Nation / Phuket Gazette
PHUKET: The Provincial Police Region 2 chief, Pol Lt-General Kawee Supanant, yesterday announced the seizure of nine cars worth Bt33 million in Chon Buri, Prachin Buri, Pathum Thani and Bangkok whose owners are allegedly involved in tax-evasion scams.
The October 1-November 13 seizures stemmed from a police investigation into vehicles on whom tax had been evaded, and which had been sold to the public or used in criminal activities, said Kawee.
The vehicles – two Toyota Vellfires, one Mercedes Benz E250, one Mercedes Benz CLK, one Mercedes Benz CLS 350, one BMW 523I, two BMW 320Is and one Bentley Continental – were smuggled from Malaysia and Japan and sold at prices Bt500,000-Bt2 million cheaper than market value.
He urged those duped into buying such vehicles to file a police complaint against the seller and join a Customs Department bid to get the vehicles back.
Kawee warned the public about too-cheap car purchases and to alert police of suspicions of tax evasion involving cars.
New Supreme Patriarch named
The Nation / Phuket Gazette
PHUKET: Somdet Phra Maharatchamongkha-lachan has been nominated as the 20th Supreme Patriarch, the Office of National Buddhism (ONB) said.
The 88-year-old abbot of Wat Paknam Bhasicharoen has been serving as acting Supreme Patriarch even before His Holiness Somdet Phra Sangharaja Sakalamahasanghapari-nayaka passed away last month.
ONB director Nopparat Benjawatananun said yesterday that the Council of State had ruled that a quorum of senior monks serving as assistants to the late Supreme Patriarch became inactive after his death, but did not explain how that related to the ONB's nomination of Phra Maharatchamongkhalachan.
The council ruling cites the 1962 Sangha Act, which stipulates that the most senior Somdet should serve as the next Supreme Patriarch, in case the position becomes vacant.
The nomination, together with the council's ruling, will be considered by the all-monastic Sangha Supreme Council of Thailand. Phra Maharatchamongkhalachan's appointment will need the endorsement of His Majesty to become official.
Motorbike rider in Jakkrit case still missing
The Nation / Phuket Gazette
Thailand News