Heavy rains leave provinces on flood alert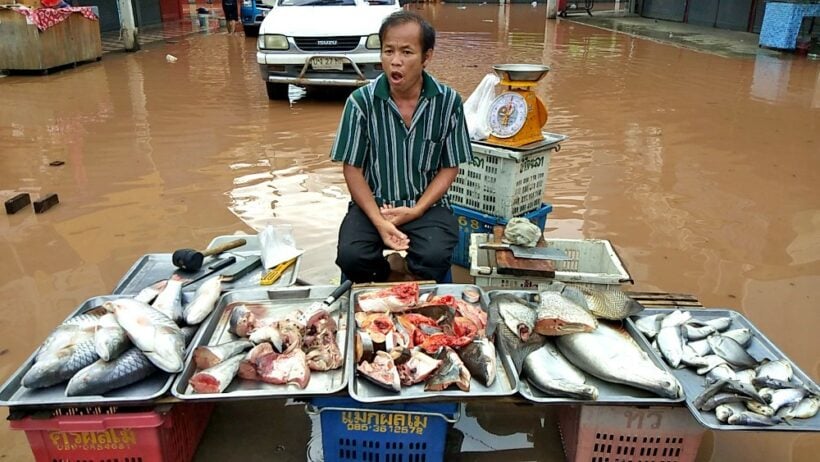 Tropical storm Bebinca has now moved westwards into Myanmar as it continues to weaken but it's left a trail of floods behind as home and farmland across the the north and north-east as rivers and canals swelled with the heavy rains. Around Petchaburi the situation is still perilous for residents in the wake of the Kaeng Krachan Dam.
In Chiang Rai, a large section of a half-completed flood barrier along Lam Nam Kham canal in Tambon Mae Kham, Mae Chan district, collapsed, inundating 230 homes in four villages with floodwater up to a metre deep. Residents of Ban Moung Khammai Moo 11 and Moo 13, Ban Rong Kor Moo 4 and Ban Santhat Moo 9 were sent scrambling as the tide submerged roads as well.
The runoff then also submerged 100 homes in Tambon Jajawatai further downstream.
Chiang Rai Governor Prajon Prajsakul dispatched officials to help people evacuate their homes and to distribute drinking water and food. Prajon said 76 villages in 23 sub-districts of six districts had seen flooding in recent days, but he expected most to return to normal soon if the rain stopped.
In Muang Nan, home to Tangjit Nusorn Market, flooding was not as severe. Nan Governor Paisal Wimonrat and disaster-prevention chief Narong Inso inspected the Ban Don Kaew sluice gate to supervise repairs to broken panels. With pumps installed around affected areas, officials were optimistic that the situation would improve – again, if the heavy rain lets up.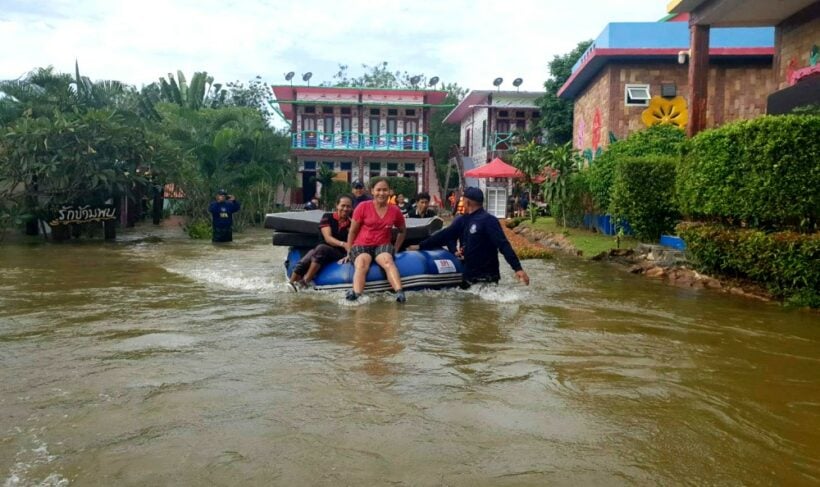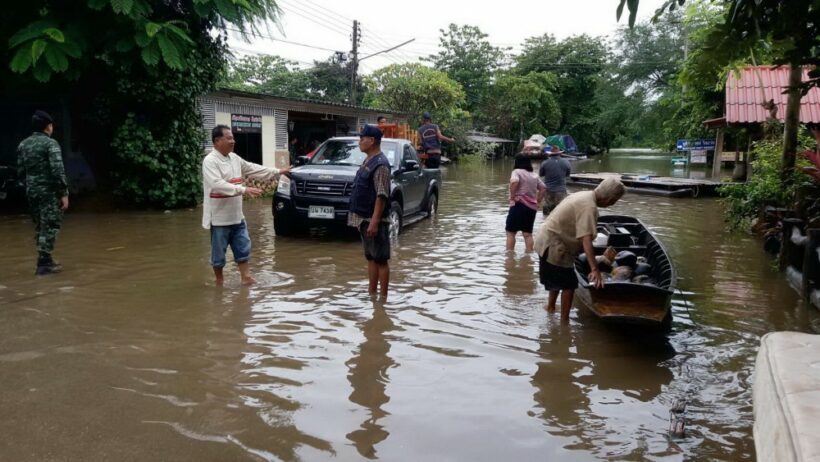 In Chiang Khan and Pak Chom districts in Loei, the Mekong River had risen to within one metre of breaching its banks as of 7am yesterday. Residents living along the river and connected canals were bracing for floods and prepared to evacuate if necessary, Chiang Khan district chief Chatchapong Art-kaew said. Downstream in Nong Khai, the Mekong reached its highest level of the year yesterday – 11.91 metres – with overflow spilling into to low-lying homes and farmland in Tha Bo district on the southern bank.
Sluice gates were closed and pumps installed in Muang Nong Khai and 3,000 sandbags were prepared.
In Phetchaburi, the Kaeng Krachan Dam was holding nearly 767 million cubic metres of water as of 6am yesterday, representing 108 per cent of its capacity. The sluice gates remained close to minimise impacts on nearby communities, but water was being released via spillways and 20 siphon pipes were installed to help drain it.
As the water was flowing at the rate of 247 cubic metres per second, from the Kaeng Krajan Dam to the downstream Phetch Dam, lowlying downstream areas located between these two dams were flooded. The Tha Yang, Ban Lat, Muang and Ban Laem districts which were downstream from the Phetch Damj were not yet flooded as of press time but Phetch River running through them were rising and inundating some riverside lowlaying areas.
Dozens of specially designed boats to push water were anchored in the river at Ban Laem with their engines trying to hasten the current towards the Gulf.In Kanchanaburi's Sai Yok district, people living along the Kwai Noi River in Tha Nam Pak Saeng felt the double impact of flooding from the rain-swollen river and fromVajiralongkorn Dam, which was releasing water at a rate of 43 million cubic metres per day.
With that amount to be boosted to 53 million cubic metres from August 23-27, residents were told to move belongings to higher grounds.Residents along both sides of the Moei River in Tak's Mae Sot district, meanwhile, were warned of possible flash floods. The river had risen close to the "red alert" level near the First Thai-Myanmar Friendship Bridge in Tambon Tha Sai Luad, disaster-prevention chief Kittisak Boonchan said.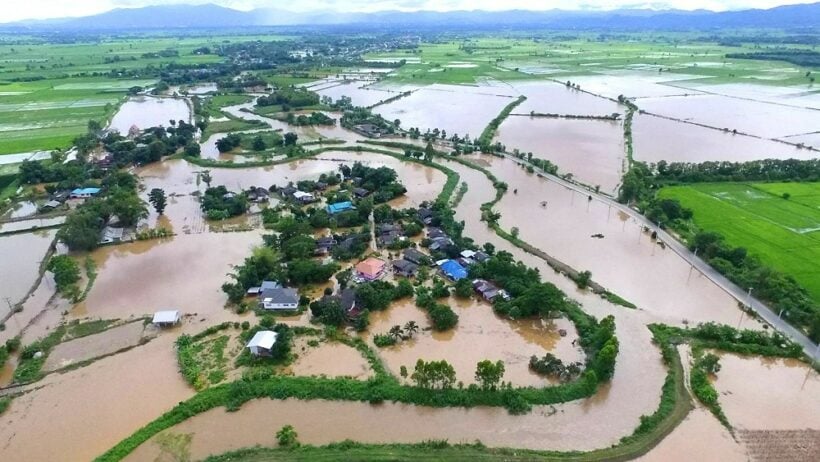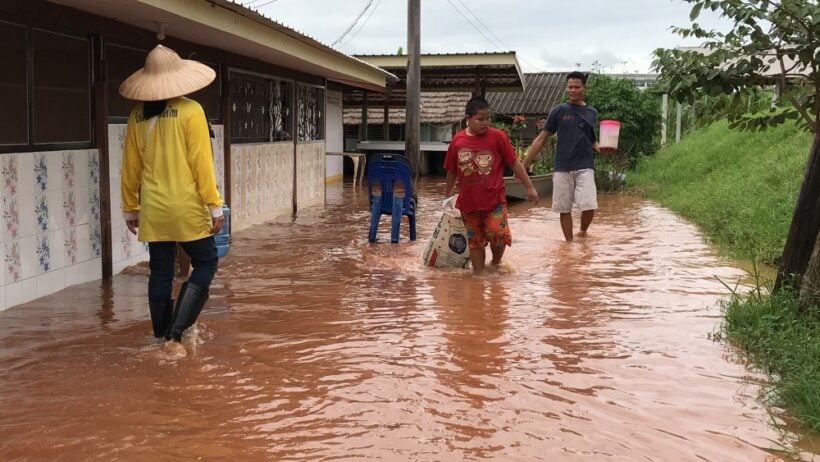 SOURCE: The Nation
Keep in contact with The Thaiger by following our
Facebook page
.
Never miss out on future posts by
following The Thaiger
.
Human rights lawyer Anon Nampa arrested, flown to Chiang Mai for sedition charges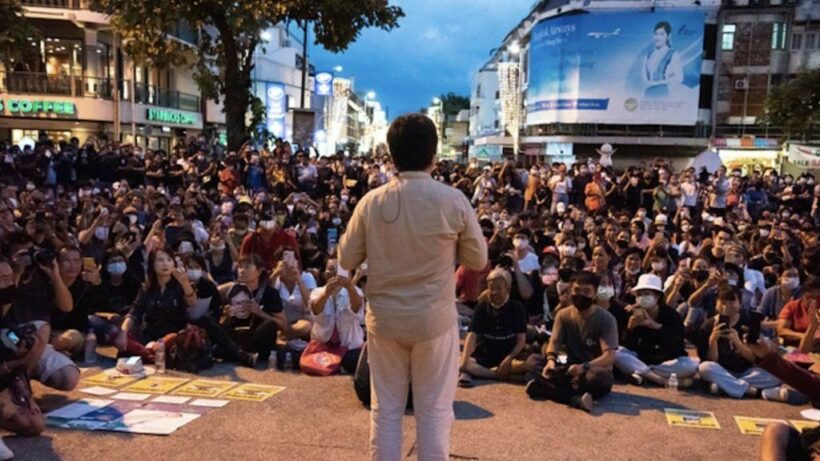 After being arrested in Bangkok early this morning, along with numerous other protesters, human rights lawyer and pro-democracy activist leader Anon Nampa is apparently being flown up to Chiang Mai to face sedition charges for allegedly criticising the Thai Monarchy at a past event in the northern province.
In Bangkok today, at least 20 protesters, who intended to camp out at the Government House for a few days to put pressure on PM Prayut Chan-o-cha to resign, were arrested after the State of Emergency was imposed early this morning.
Following his arrest, Anon wrote on Facebook saying that he had been denied a lawyer, a violation of his human rights. Thisrupt shared the post by Anon saying police had forced him in a helicopter to Chiang Mai and that he fears for his safety.
The activist's Facebook page was later deactivated. Journalist Andrew MacGregor Marshall posted on Twitter saying the situation is "extremely worrying."
"The Facebook page of protest leader อานนท์ นำภา aka Anon Nampha has been deactivated. He was arrested earlier today and taken to Chiang Mai. He is denied access to lawyers under the new emergency decree. This is extremely worrying."
BREAKING—The Facebook page of protest leader อานนท์ นำภา aka Anon Nampha has been deactivated. He was arrested earlier today and taken to Chiang Mai. He is denied access to lawyers under the new emergency decree. This is extremely worrying. pic.twitter.com/CBPbVRrxIC

— Andrew MacGregor Marshall (@zenjournalist) October 15, 2020
PHOTO ABOVE: With thanks to Will Langston
SOURCE: Nation Thailand
Keep in contact with The Thaiger by following our
Facebook page
.
Never miss out on future posts by
following The Thaiger
.
Chiang Mai tourism slowdown takes a toll on local businesses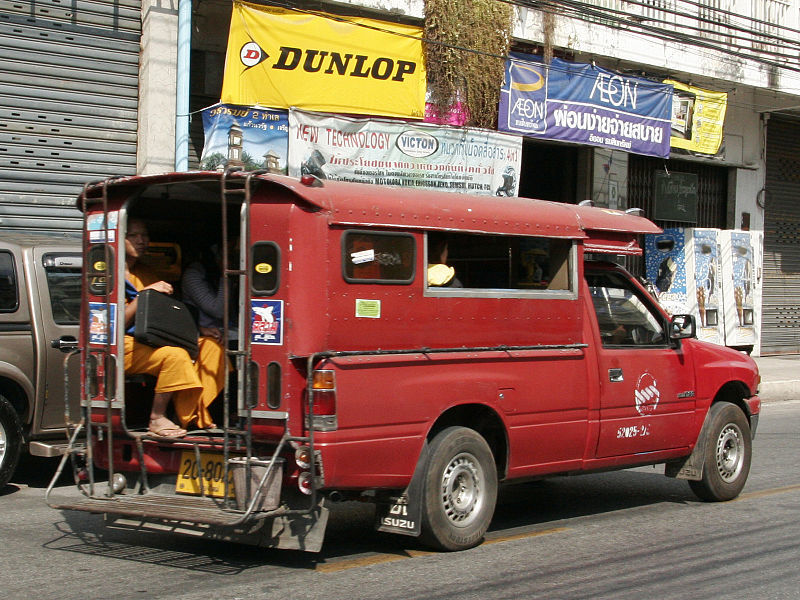 Chiang Mai's tourism industry has drastically slowed down from the lack of travel due to the affects of the Covid-19 pandemic – the lockdowns and the travel restrictions. Tourists "vanished" during the April lockdown, according to president of the Tourism Association of Chiang Mai, Anantorn Hochindarat. Now, as the chilly, cool season approaches, when the northern province is the most popular for locals, Chiang Mai's tourism sector is likely to remain "slow".
The impacts from reaction to the pandemic has effected various people and business groups in Chiang Mai. Only 35% of the hotels have reopened, and those that are open report lower occupancy rates, Anantorn says. Many tourism businesses like spas, souvenir shops and tour agencies remain closed. The drivers of the red trucks, known as songthaews, used to do 3 to 4 round trips per day. Now only 1 trip per day is the average, and that's with some drivers taking temporary leave.
"Over 1,000 tour guides are unemployed, while dozens of hotels have been put on sale after owners faced a liquidity crisis."
Last year, Chiang Mai recorded 100 billion baht in revenue from 10.8 million visitors. 70% of the visitors where Thais while the other 30% were foreigners. After domestic travel restrictions were lifted, local travellers were only 20% from the same period last year. There have been travel promotions and events to help boost domestic tourism across Thailand, but some Thai nationals are still hesitant to travel because of health safety concerns.
"As the international market is stalled, if Chiang Mai can simply get the same chunk of the domestic market back within a year, typically 70% of the total, we should be happy enough."
Apparently the slowdown of international tourists has been happening before the pandemic. After the 2018 Phuket incident where 2 tourists boats capsized in a storm, killing 46 people, tourist confidence was "shattered," according to the director of Tourism Authority of Thailand's Chiang Mai office, Pakkanan Winijchai. The Phuket tourist boats were carrying Chinese tourists, and many Chinese lost confidence in Thailand, she says. Chinese visitors make up one-third of overall international arrivals.
For the past 6 months, there has been a ban on international tourists, crippling travel destinations that relied on the foreigners for income. Thailand has been working on a way to get tourists in, but even the new Special Tourist Visa was a bust when authorities said they were preparing for a group of tourists from China to arrive in Phuket, but no one had actually applied for the visa. Even if the scheme does start up soon, Chiang Mai cannot benefit because it does not have any alternative state quarantine facilities to house the tourists for their mandatory 14 day quarantine upon arrival.
SOURCES: Bangkok Post | Wikapedia
Catch up with the latest daily "Thailand News Today" here on The Thaiger.
Keep in contact with The Thaiger by following our
Facebook page
.
Never miss out on future posts by
following The Thaiger
.
Chiang Mai woman arrested for allegedly hiring hitman to kill her ex-husband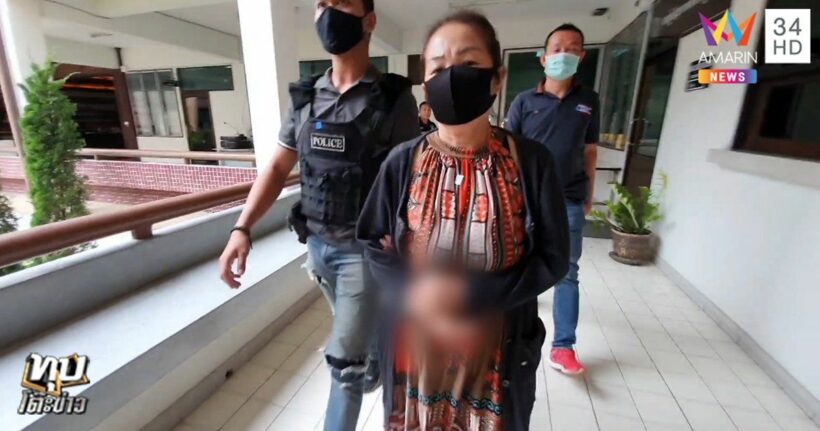 A 63 year old Chiang Mai woman has been arrested for allegedly hiring a hitman to kill her ex-husband because she wanted his life insurance payout. Bualoi Tala is also being investigated for her alleged involvement in other possible murders after a number of people died after being poisoned and Bualoi received payouts from their life insurance policies.
Police say that 58 year old Anan Thongmarn, Bualoi's ex-husband, was killed last week. His neck and face had been slashed. The alleged hitman, 48 year old Pankaew KhanKaew, has confessed to the murder, according to police. Phone records trace back to Bualoi, and police say they believe the woman hired a hitman to kill her ex-husband so she could claim the death benefit in the insurance policy valued at hundreds of thousands of baht, according to the Nation Thailand.
Bualoi told police she didn't want her ex-husband to die, she just wanted him to be hurt really bad. She told police she offered PanKaew 40,000 baht to kill her ex-husband was just a "joke," she just wanted him to maim her husband.
Police are investigating 6 other possible homicide cases where Bualoi was listed as a beneficiary for the deceased mens' life insurance policies. Police say the victims were all poisoned and Bualoi received life insurance benefits following their deaths.
SOURCE: Nation Thailand
Keep in contact with The Thaiger by following our
Facebook page
.
Never miss out on future posts by
following The Thaiger
.