Accusations, working off-script and walk-outs. Day one in the new Thai parliament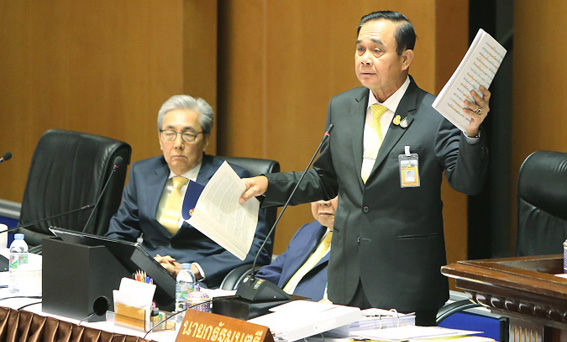 PHOTO: The Nation
One day down, another today. Thailand's PM had his first day in a parliamentary setting and, despite taunts and barbs being thrown at him in true Parliamentary style, he stood firm.
Sometimes working off-script and at other times visibly annoyed, PM Prayut Chan-o-cha barrelled through the formalities with a few "settle downs" coming from his right-hand man, deputy PM Prawit Wongsuwan.
The Thai Prime Minister delivered the new government's policy statement as the opening event on the first day's sitting of Parliament. He readily admitted he was new to a parliamentary setting and barged through tempers and emotional responses coming from the opposition benches. He was fierce and determined in his first display heading up Thailand's first elected government since the coup in 2014.
Here's a few of the highlights…
• PM Prayut started off-script, stressing what he considered to be important in his first speech. He told parliament that his government was considering implementing the policies that both the coalition and opposition parties had proposed and urged patience for the roll out.
• Opposition MPs took turns raising objections, demanding that parliamentary regulations required the premier to read out the policy statement word for word. House Speaker Chuan Leekpai agreed with the objections and asked the PM to stick to the script.
• Prachachart Party leader Wan Muhamad Noor Matha called the policies a "bundle of wishlists" lacking practicality and implementation.
"There's nothing in the policies. It's vague. It's lacking in clear vision."
• Wan, during part of the debate time, made a colourful outburst claiming that Prayut had revealed to him on the day of the military take-over in 2014 that he had been plotting the coup for three years. Wan quoted Prayuth as saying in a meeting with him and other government officials moments after the general announced the takeover on May 22, 2014. Wan said couldn't have faith in Prayut's pledge at the parliament today to uphold democracy.
"How can a coup maker uphold democracy? You tore the constitution to pieces. That's definitely treason."
• On the issue of the Government stocking up on arms and military weaponry, PM Prayut said it is necessary to buy weapons that can be used efficiently.
"As for graft allegations, go find evidence and sue. Several committees were set up to oversee purchases."
• Future Forward Party secretary-general, Piyabutr Saengkanokkul, said that the party upholds the royal institution as much as anyone else, fending off some accusations that FFP have been undermining the constitutional monarchy.
"It is wrong to accuse those who hold different views of being disloyal to the country."
But the PM finally ran out of patience late in the evening when the leader of Seri Ruam Thai Party, questioned his qualifications for the office of premier.
Prayut walked out of the house, forcing a 10 minute break.
Day Two in the first sitting of the parliament today.
Keep in contact with The Thaiger by following our
Facebook page
.
Thai coalition government may not last more than two years, experts caution
PHOTO: The Nation
Economic concerns and doubts over the government's legitimacy may mean it only maintains a grip on power for two years, according to academics.
The situation is not helped by Deputy PM General Prawit Wongsuwan being made chief strategist of the Phalang Pracharat party. According to Titipol Phakdeewanich, Dean of Ubon Ratchathani University's Political Science faculty, this only seems to strengthen the belief that the military is controlling the coalition.
Titipol says that when General Prayut Chan-o-cha, head of the junta-backed government, was confirmed as PM following the election, it sent a clear message that the military wanted to keep hold of the reins of power. He maintains the Deputy PM and his party will continue enticing more opposition MPs to join them, to boost the coalition's slim majority in the House of Representatives.
According to Titipol, Prayut needs to make good the mistake he made during the ceremony before he took office, where he was accused of not reading the entire oath.
"Prayut doesn't need to resign, and nor will the government collapse. Former US president Barack Obama had to be sworn in again after he made a similar mistake in 2009, when he took office for the first term."
Another political scientist, Somjai Phagaphasvivat, draws attention to Thailand's struggling economy and doubts over the coalition's legitimacy, citing these as two major challenges facing the government. He says that while Prawit's power combined with Prayut's charisma may be in their favour, failure to deliver will mean trouble.
He adds that the government must prove it stands by freedom of expression, a cornerstone of democracy.
Meanwhile, Gothom Arya, from Mahidol University's Institute of Human Rights and Peace Studies, says he reckons the government will stay in office for two years because politicians are not ready for another election.
He also called for freedom of expression to be restored, particularly given that Thailand has a civilian government. Gothom also agreed that the premier should take his oath again, "otherwise Prayut's reputation will be tarnished forever."
SOURCE: The Nation
Keep in contact with The Thaiger by following our
Facebook page
.
"Government stimulus package for Thai economy is unsustainable"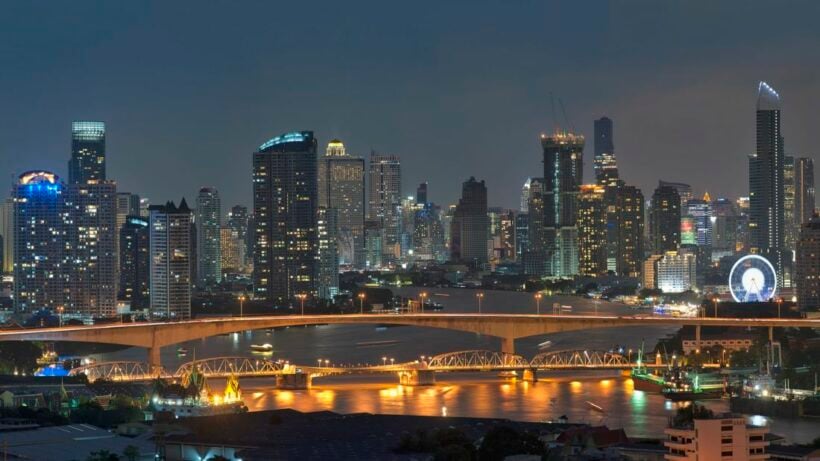 PHOTO: Wikipedia
Anusorn Tamajai, an economist from Rangsit University, says he expects the proposed package to make little difference and has declared it unsustainable.
The package, which should be approved this week, is worth 370 billion baht and includes cash handouts for farmers and low-income earners, grants for children, incentives for domestic travelers, and tax incentives for small businesses.
It's hoped to stimulate the economy by 3%, in the wake of domestic uncertainty and the ongoing US-China trade war. Last week, the Finance Minister said the aim of the package was to prevent growth sliding below 3% in 2019.
However, economist Anusorn Tamajai has his doubts.
"Short-term spending as part of populist policies will not help much, as the Thai economy is monopolised by big business."
He adds that most spending by low-income groups will end up as revenue for large businesses. However, he agrees with the plan to reduce the tax burden for small and medium-sized enterprises, which could lead to more private investment.
The government plans to offer generous tax reductions for those who import machinery to upgrade their production with a five-year depreciation allowance. The state-run Government Savings Bank and Krung Thai Bank will also provide combined soft loans worth about 100 billion baht.
The government also plans to direct a number of other state-run banks to provide soft loans to farmers and lower income groups, which Anusorn warns may not be sustainable as its effectiveness relies on public confidence in the future.
Thai governments often resort to state-run bank lending, quasi-fiscal measures that usually increase the burden for banks but translate into a burden for tax payers later.
SOURCE: The Nation
Keep in contact with The Thaiger by following our
Facebook page
.
PM calls for Thai Army's support on drought, security and tourist safety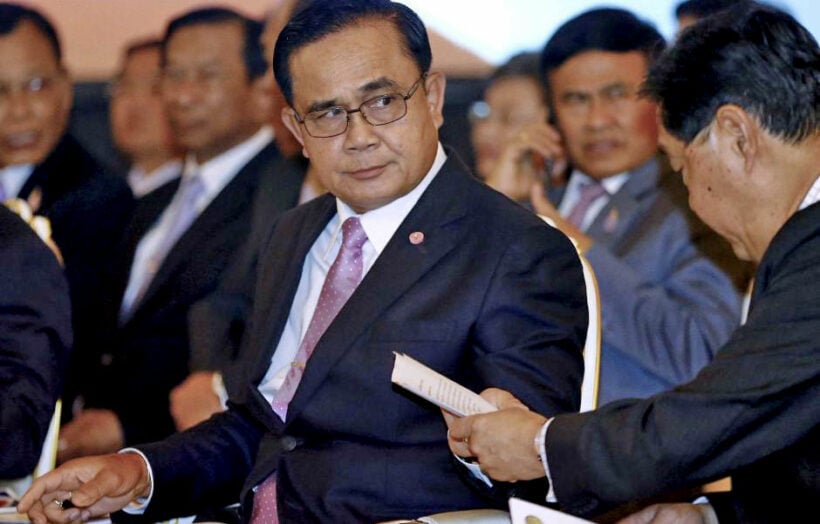 The Thai PM has chaired the first Defence Assembly session in his role of Minister of Defence, urging the armed forces to support the government's work in realising policies such as cybersecurity enhancement, drought mitigation, and tourist safety.
In the first Defence Assembly session, PM Prayut Chan-o-cha urged leaders of the armed forces and related departments to work in unison to support the government's policies, especially on cooperation with the Ministry of a Digital Economy and Society, the National Security Council, and other agencies, on the enactment of cybersecurity related bills. He called on them to come up with suitable responses to cybersecurity threats in the future.
The PM directed the armed forces to respond to natural disasters, particularly drought, and set up drought mitigation centers in affected provinces to work with related agencies.
Prayut then urged the defence agencies to implement measures to ensure tourists' safety in compliance with the government's policy promoting tourism as a means of distributing income to people in local provinces. He urged the Internal Security Operations Command, working with local government agencies and private firms, to create safety measures suitable for each area, especially in popular tourist provinces.
SOURCE: National News Bureau of Thailand
Keep in contact with The Thaiger by following our
Facebook page
.