Jealous boyfriend arrested over triple murder in Chiang Rai – VIDEO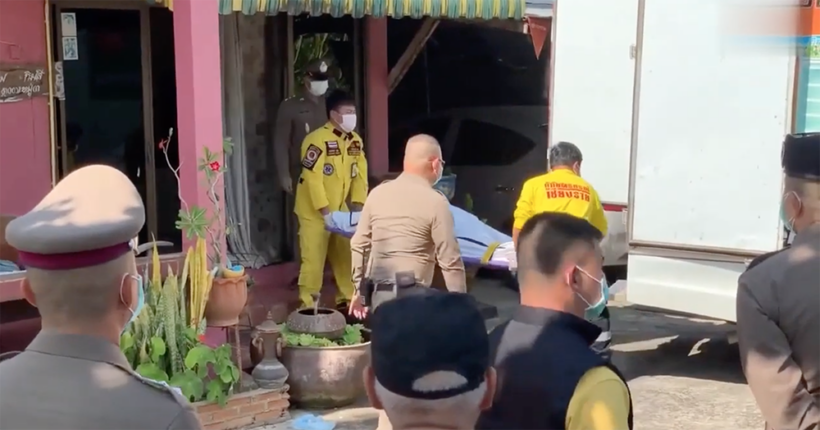 SCREENSHOT: YouTube
Chiang Rai police have arrested a man for the murder of his girlfriend and her parents, all found shot dead. 27 year old Nawaratorn "Nuan" Kunasangkam is currently in custody over the murders.
The victims were Udom Kimsi, his wife Nutcha Kimsi, and their 26 year old daughter Saowarot Kimsi, all from Chiang Rai. Their bodies were found by the mayor of Ban Du township, who went to check on Udom when he didn't turn up for work.
Police believe the bodies had been in the house since November 28. They say no weapon was found at the scene. Neighbours told police they heard gunshots on the night of November 28, but didn't think it was anything serious and paid little attention.
Police made the arrest after spotting the suspect's vehicle in front of a 7-Eleven in Chiang Mai. When he was caught he had a semi-automatic 9mm pistol and 14 bullets.
"Nuan" confessed, saying he acted out of jealousy. He told police his girlfriend had been communicating with an ex-boyfriend on the LINE app. He said after he killed Kimsi, her parents rushed to investigate the gunshots. Since they'd witnessed the murder, he killed them as well.
SOURCE: Chiang Rai Times
Keep in contact with The Thaiger by following our
Facebook page
.
Poor air quality in Bangkok and northern Thailand today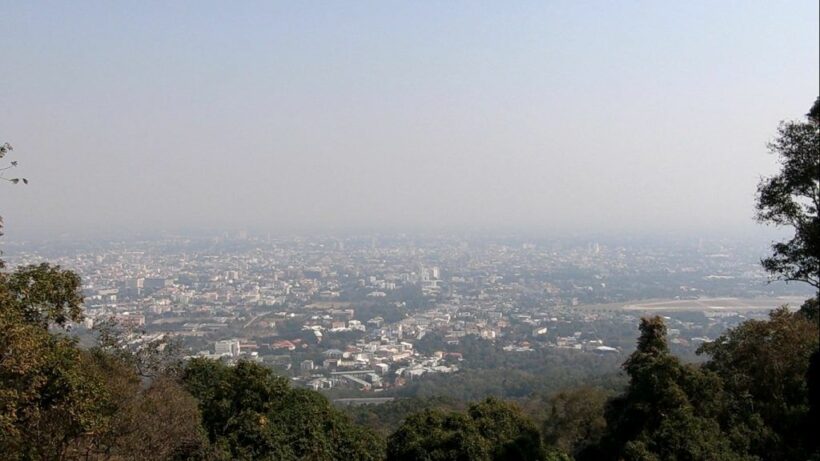 Poor air quality and persistent haze is plaguing much of Thailand's north today, with the worst pollution in Lampang province, just south of Chiang Mai in northern Thailand. Meanwhile, a bit further south, Bangkok residents had more of the fine-dust particles, aka. 2.5 microns, in eight of the city's districts yesterday.
The Pollution Control Department in the north has reported unsafe levels of pollution in 11 of the 15 air quality measurement stations – including Mae Sai district in Chiang Rai; City area of Chiang Mai; City and Mae Mo districts of Lampang; City area of Lamphun; City area of Phrae; and City area of Phayao.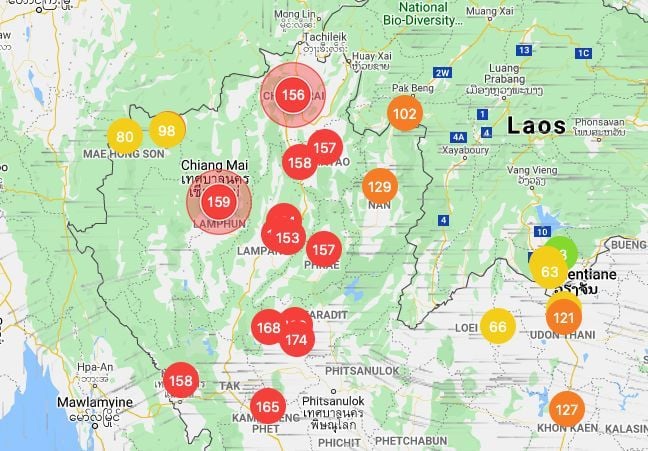 A business owner in Chiang Mai told The Thaiger today that the haze and smoke is at its worst for months. 'Neo' runs a flower and giftware shop in central Chiang Mai.
"We are seeing a lot of customers come in today with face-masks and everyone is talking about the problem. Most of us think it is coming from sugar cane plantation burn-offs."
The readings, in excess of 150mg in many locations around the north, are up to three times the Thai government's nominal upper-limit of 50 mg of 2.5 micron particulate per cubic metre, and over six times the upper safe limit from the World Health Organisation.
In the capital, the Bangkok Metropolitan Administration reported high PM2.5 levels in eight suburbs – Klong San, Bang Khlaem, Wang Thonglang, Phra Nakhon, Klong Toey, Laksi, Bang Khen and Bung Kum. The capital's most polluted air was in Bang Khen, according to the Bangkok Post.
SOURCE: Bangkok Post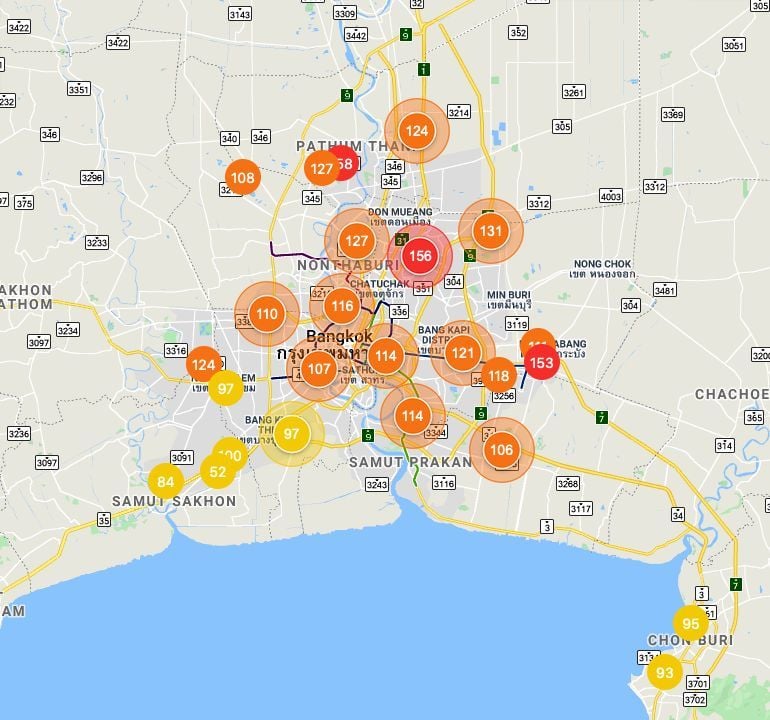 SCREENSHOTS: AirQuality.com
Keep in contact with The Thaiger by following our
Facebook page
.
Freak hailstorm causes blackouts, damages homes in Chiang Rai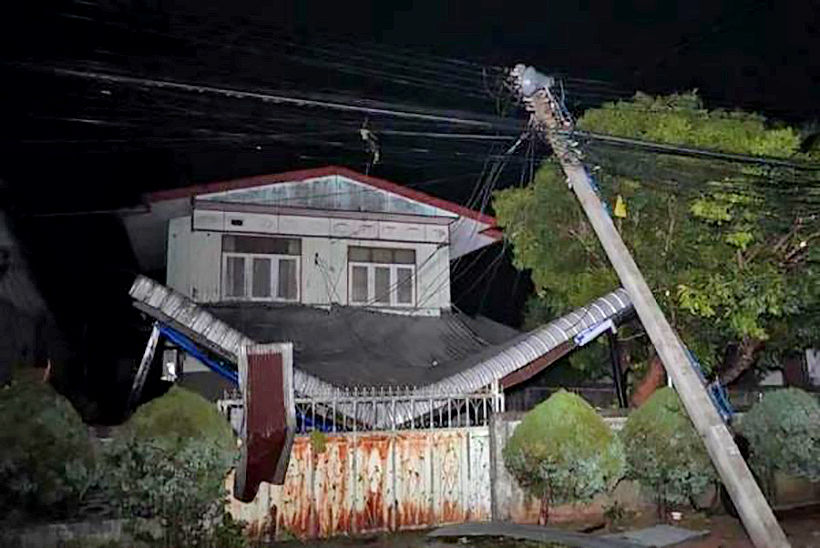 PHOTOS: Thai PBS World
Heavy rains and hail have damaged homes and caused widespread blackouts in the northern province of Chiang Rai. Strong winds knocked down trees in several districts, blocking traffic. Officials say the sudden storm, which struck Mae Sai, Chiang Saen and Mae Chan districts, lasted about 30 minutes and damaged several houses.
They say the relief operation was hindered by the blackout, which lasted several hours.
According to the local weatherman, the freak storm was caused by hot westerly winds over the northern region, drawing up humid air up the ground.
"This resulted in the formation of vertical clouds and subsequent storms."
The Thai Meteorological Department warns there may be other freak rain or hail storms in some areas of Mae Hong Son, Chiang Rai and Chiang Mai provinces today.
SOURCE: Thai PBS World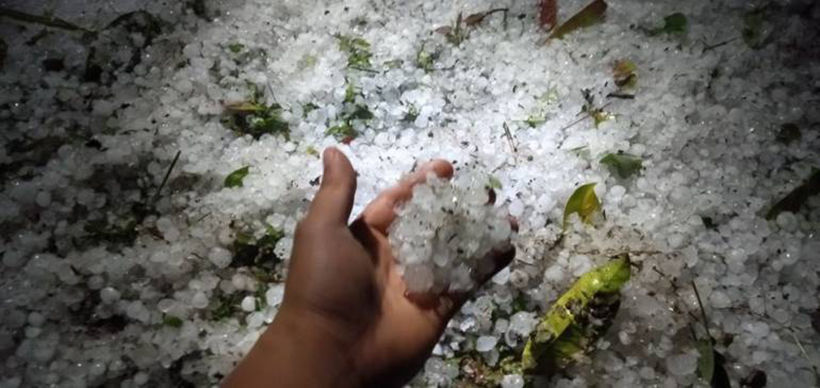 Keep in contact with The Thaiger by following our
Facebook page
.
Another hero dies as a result of Tham Luang cave rescue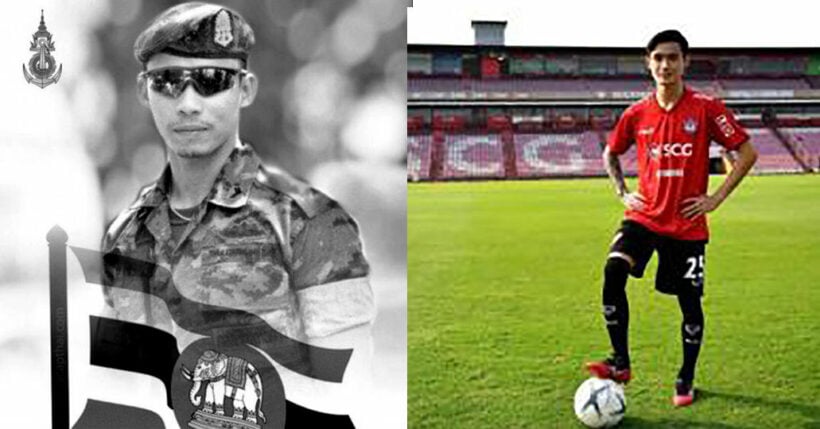 PHOTO: Thai PBS World
A second rescuer, who was part of the enormous international rescue effort to save the lives of 13 young men trapped in Tham Luang cave in June last year, has died. The Royal Thai Navy made the announcement yesterday.
The Bangkok Post reports that Petty Officer First Class Beirut Pakbara has succumbed to a rare blood infection that he contracted during the rescue mission. It's understood he had been receiving specialist medical treatment for over a year, but his condition had recently deteriorated.
A burial ceremony was held in Satun, southern Thailand, yesterday, and Sutipong Yousabuy from the Air and Coastal Defence Command says anyone who wishes to donate in Beirut's memory can do so by bank transfer to Bank of Ayutthaya account number 7701096971, under the name, "PO first class Suthipong A."
The deceased officer will be promoted to the rank of lieutenant and receive a royal decoration, with 465,000 baht being awarded to his family, in addition to any donations received.
He is the second rescuer to have died as a result of the risky endeavour that made headlines around the world. Navy Seal Saman "Ja Sam" Gunan died inside the cave as he was refilling oxygen tanks used in the mission. There is a statue in his memory now installed just outside the mouth of the Tham Luang cave.
Twelve young footballers aged between 11 and 16, along with their 23 year old coach, became stranded in the Tham Luang-Khun Nam Nang Non Forest Park, just out of Chiang Rai, in northern Thailand when the cave filled with floodwaters following heavy monsoonal rains.
The subsequent successful rescue of all thirteen by a team of Thai and international rescuers made headline news around the world and is the subject of several films and documentaries.
SOURCE: Bangkok Post
Keep in contact with The Thaiger by following our
Facebook page
.