Thailand takes over the chair for ASEAN next year. What's at stake?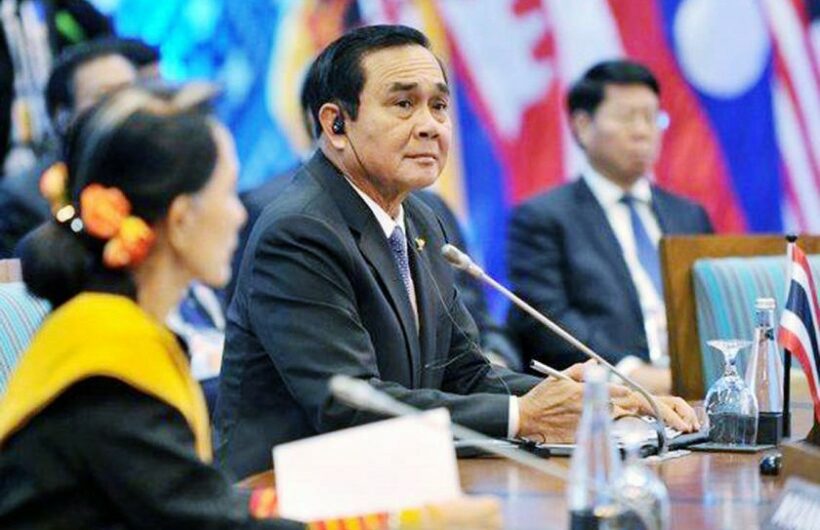 "As Thailand takes over the ASEAN chairmanship next year, it is important for the country to drive ASEAN forward to achieve the utmost benefits for Thais and peoples across the ASEAN region."
The integration story of Southeast Asian nations, widely known as ASEAN, began in 1967 and has since brought about significant changes to the Southeast Asian region.
For decades, ASEAN has played an instrumental role in maintaining political stability, fostering economic,trade and investment cooperation, as well as facilitating technology transferand greater mutual understanding among its member nations. It also serves as a cultural melting pot through intra-regional immigration. These have continuously driven forward the ASEAN community, which has a combined population of over 642 million.
Thailand's assumption of the ASEAN chairmanship in 2019 is critical to its role in the region.
"After 51 years, ASEAN may today be considered middle-aged with some experience, but a lot of work remains before us," said Dr. Suriya Chindawongse, Director-General of the Department of ASEAN Affairs, the Ministry of Foreign Affairs of Thailand
The late Dr. Thanat Khoman has been recognised for his significant legacy in initiating ASEAN and contributingto the regional stability and peacethat exists today. In terms of economics, the ASEAN Free Trade Area (AFTA) has driven economic growth and has been further developed into the ASEAN Economic Community or AEC, one of the three pillars of ASEAN.

Dr. Thanat Khoman and US President John F. Kennedy
"In the area of public health, for example, Thailand today enjoys tangible benefits from the close cooperation infighting pandemics with the ASEAN countries and ASEAN+3 countries, which include China, Japan and the Republic of Korea, and has put in place an efficient regional public health early warning system, although many people may not know about this. So far, cooperative projects in various fields among ASEAN members have been further developed and extended," Dr. Suriya explained.
Dr. Suriya pointed out that the most significant change in ASEAN was most probablyin the economic aspect, and was clearly reflected in thepromotion of regional and international connectivity and the development "Free Trade Areas" (FTAs) with external partners, such as China, Japan, the Republic of Korea, India, Australia and New Zealand.
"Thailand is strategically located at the centre of the region. The important question is "How can we benefit from this advantage?" This led to the establishment of 'the Master Plan on ASEAN Connectivity 2025,' which was initiated by Thailand. Likewise, an equally important issue that should not be overlooked is international connectivity and that is why it is important to connect the various connectivity strategies in the region," Dr. Suriyaadded.
The Director-General of the Department of ASEAN Affairs said that the integration of the 10 ASEAN countries had attracted the attention of the international community, in the form of diplomatic relations, trade and investment, tourism or multiculturalism,bolstering the region's resilience that would boost broader connectivity to other parts of the world.
"ASEAN has maintained friendly diplomatic ties with all parties and is a threat to none, so the major powers are ready to cooperate with us."
As Thailand takes over the ASEAN chairmanship next year, it is important for the country to drive ASEAN forward to achieve the utmost benefits for Thais and peoples across the ASEAN region.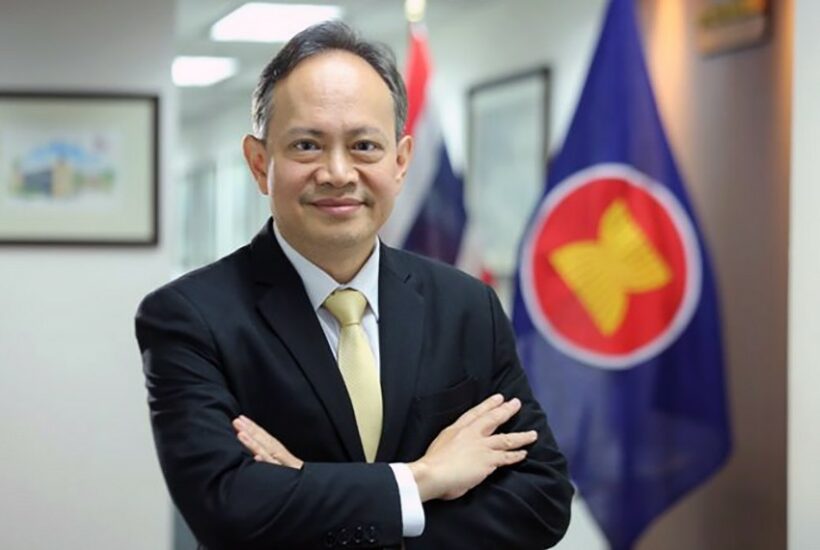 Dr. Suriya Chindawongse, Director-General of the Department of ASEAN Affairs, the Ministry of Foreign Affairs of Thailand
"Serving as the chair of ASEAN is a great honour. According to the ASEAN Charter, the chairmanship of ASEAN rotates annually by alphabetical order, so all members hold the ASEAN chairmanship once every 10 years. This year, Singapore holds the chairmanship of ASEAN, while Thailand and Viet Nam will take the helm in the following years respectively.
"We are determined to drive ASEAN forward in a direction that will most benefit the people of Thailand and of the whole region. Our philosophy is for all ten ASEAN countries to advance together for the betterment of the people of the region in order to create a people-centeredcommunity, that leaves no one behind and prepared for thefuture,"he said.
To Dr. Suriya, 'future' does not mean just three or five years, but at least 20 years,so sustainability in ASEAN policiesis very important.
"We have to hostat least 160 meetings throughout next year, dealing with both ASEAN issues and those beyond the ASEAN region.The meetings are not only confined to ASEAN but extend to its dialogue partners such as the United States, China, Japan, Russia, India, Australia and New Zealand. We will also welcome the foreign media to Thailand tocover events, which will provide a good opportunity for Thailand to showcase its strengths, such as in the areas of tourism, agriculture, industry, and culture to the world," Dr. Suriya explained.
According to Dr. Suriya, the chairmanship of ASEAN should not be the sole responsibility of the government, but should also engage all parties including the private sector, civil society, and the people, including the youth, so that we can all be good hosts as well as a proactive Chair next year.
The Ministry of Foreign Affairs, in conjunction with Silpakorn University, is holding a logo design contest for Thailand's ASEAN Chairmanship in 2019. Entries can be submitted from June 15 – August 15, 2018.
Further information is available at www.mfa.go.th/asean.
All in all, it is the peoples of ASEAN who will receive the greatest benefits from the growth and evolution of the ASEAN Community.
Keep in contact with The Thaiger by following our Facebook page.
Never miss out on future posts by following The Thaiger.


Find more SE Asian News courtesy of The Thaiger.

Broke? Find employment in Southeast Asia with JobCute Thailand. Rich? Invest in real estate across Asia with FazWaz Property Group. Even book medical procedures worldwide with MyMediTravel, all powered by DB Ventures.

Vietjet CEO, dreams to transform the world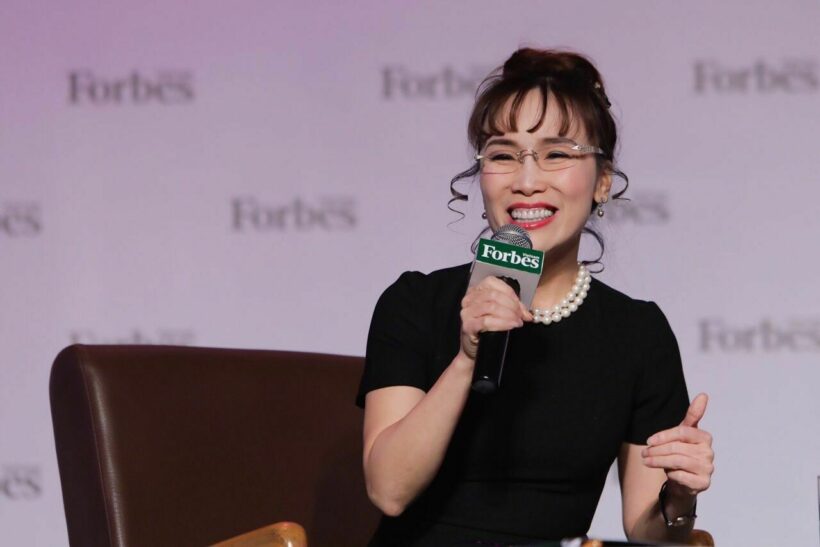 "Start-ups shouldn't 'save on' dreams but rather dream big and realise them by simple acts each day at your business or organisation."
Meet the tour-de-force behind the establishment of VietJet, one of the region's most successful aviation start ups.
SPONSORED CONTENT
Any first-timers meeting Vietnam's only self-made female billionaire Nguyen Thi Phuong Thao will be taken aback by the opposites she harbours. A petite woman with a bright smile always on her face, Nguyen will talk in her soft voice about her business motto… once you dream, dare to dream big.
'Dream big and realise them'
Nguyen has been popular in the business since her young days studying abroad. Her hard work has paid off when she became a millionaire at the age of 21 – not a usual dream for a college student. But Nguyen is different. She strives to be the pioneer of everything she does by bravely conquering all challenges.
Upon returning to Vietnam, Nguyen has quickly made her appearance widely noticed by her successful investments in the finance-banking and aviation sectors. She is now the CEO of Vietjet Air and the Vice Chairman of the Board of Directors of HDBank.
To many young Vietnamese start-ups, Nguyen is the big inspiration and a role model for them to follow.
"Start-ups shouldn't 'save on' dreams but rather dream big and realise them by simple acts each day at your business or organisation. We ourselves have turned the impossible into possible and made our dream come true. Millions for the first time have been able to fly and I'm extremely happy to learn that they are not only Vietnamese but people from other countries who have boarded a Vietjet flight for the first time."
The billionaire's motto has also inspired her own employees at Vietjet and HDBank to keep their dreams alive despite all adversities. Regardless of the Covid-19 pandemic's impacts on the economy, the staff at Vietjet and HDBank are confident of their company's new business strategy and solutions to overcome the pandemic.
Nguyen even envisions Vietnamese enterprises leading and creating a global sentiment by developing them into multinational, multicultural companies and integrating the most cutting-edge technologies.
"We need to be the pioneer of the digitalisation and automation trend in the industrial revolution 4.0 – the key factors for growth."
Her message is realised at Vietjet as the airline has recruited nearly 6,000 employees coming from 50 countries and territories on its way to revolutionise the aviation sector of Vietnam, the region and the world. HDBank, meanwhile, has particularly grown by more than 20 times in the last decade after 30 years of relentless innovation since establishment.
'An inspirer of kindness'
Recognised as a successful businesswoman, Nguyen though never thought of making money the ultimate goal of business. The values her company can create, especially for the sake of the community, is what truly matters to her. Nguyen also highly regards business ethics, stressing that "honesty will guide us to do the good things for the society".
Nguyen has initiated the "Wings of Love" program to grant scholarships and gifts to children at orphanages and poor families, as well as to give winter clothes to children in remote regions.
"I understand more about the responsibility of the company and that of each of us to the community every time being on a charity trip and realise how brilliant the idea of our CEO, Mrs Thao, is. We all call her an inspirer of kindness," a Vietjet employee said.
In addition to the "Wings of Love" program, HDBank has also supported the national chess sport via the HDBank Cup International Chess Tournament for the last 10 years, preparing the ground for the internationally famous chess players like Quang Liem and Truong Son. The bank has also organised the HDBank Futsal with a long-term goal of improving the physical health of young Vietnamese.
Despite unprecedented challenges due to the pandemic, Vietjet and HDBank are still committed to charity activities. The airline has helped to bring hundreds of thousands of passengers back to their home countries like South Korea, Japan and China, while operating hundreds of repatriation flights during the pandemic. It also gave 2.5 million of face masks to the people in the United Kingdom, France, Germany and the United States. Vietjet's aircrafts have transported thousands of tons of medical equipment and essential goods to the people under social distancing as well as urgently delivered relief cargo to the flooded Central region.
The female billionaire and her employees have cooked and distributed more than 100,000 meals to disadvantaged people like motorbike taxi drivers or street lottery sellers. HDBank has launched special credit packages in support of those who were affected by the Covid-19 pandemic, while granting 1,000 premium hospital beds to the Ho Chi Minh City Department of Health and another thousands of health insurance passes to the people.
The popular magazine Tatler has honoured Nguyen as one of the 110 Asian figures in philanthropic activities due to her lasting acts of kindness through years.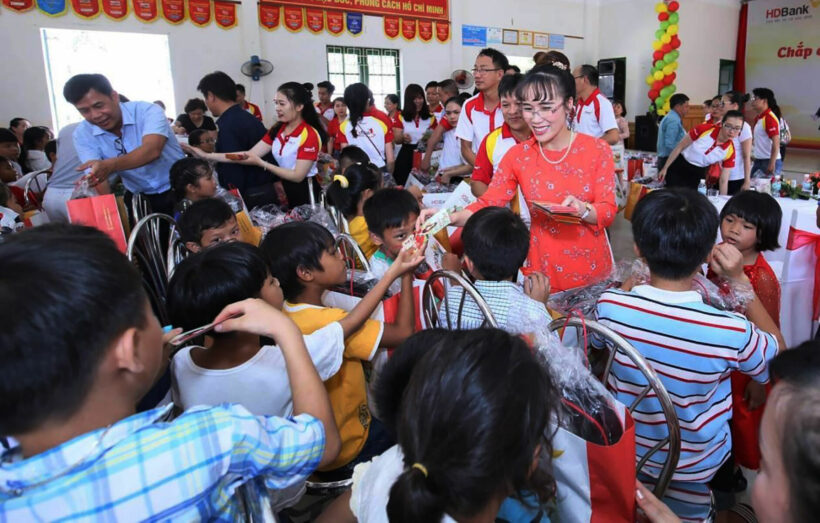 Keep in contact with The Thaiger by following our Facebook page.
Never miss out on future posts by following The Thaiger.
Cambodian dog slaughterhouse shut down, owner says he is "ashamed"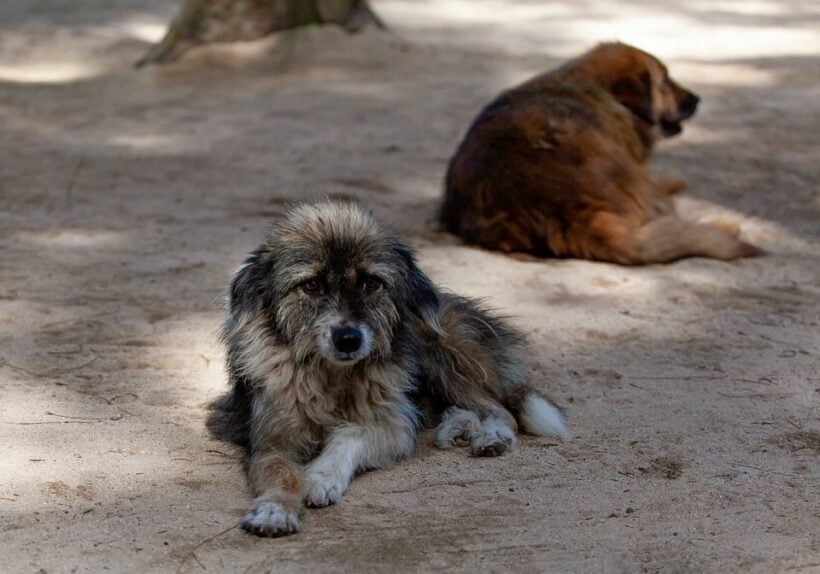 After increasing calls to end the dog meat trade, a Cambodian slaughterhouse is shutting down, with its owner saying he is "ashamed." Ouk Mol, the owner, says the dog slaughterhouse has killed more than a million dogs since opening in 1995.
According to Four Paws animal rights group, Cambodia slaughters between 2 to 3 million dogs per year, while offering the cheap meal of protein at more than 100 dog meat restaurants in Phnom Penh, its capital.
Mol's slaughterhouse is responsible for all the supply to Phnom Penh, but he says he will no longer be killing dogs, citing increasing pressure from animal rights groups and civilians alike. The 50 year old former soldier says he feels ashamed.
"But I want to quit the business because I am getting old and a lot of people have criticised me about the dog meat trade."
The operator was offered financial support from Four Paws to open a grocery store if they shut down their slaughterhouse with Ouk Mol's wife, Sao Phally, saying she is glad they have found a way out of the business.
"We were always worried about sin because of our killing. People looked at us in a bad way."
The slaughterhouse, which uses vats to drown the dogs, and blowtorches to remove their fur, slaughtered up to 200 dogs per day. Now, as of yesterday, the company has shut down, with the remainder of dogs being sent to animal charities for rehabilitation and placed for international adoption.
Phnom Penh is the 2nd city in Cambodia to follow increasing calls to close the dog meat trade, as Siem Reap banned the trade last year in a victory for animal rights groups. Until 2020, Siem Reap, Cambodia's largest tourist city, was known by rights groups as the "lynchpin" of the trade.
Despite Cambodia's efforts to begin closing down its dog meat trade, it is not the only Asian country that features dog meat as a cuisine. Consuming dog meat in Vietnam is more popular than in Cambodia, which shows the industry has a long way to go with regards to respecting animal rights.
SOURCE: Thai PBS World
Keep in contact with The Thaiger by following our Facebook page.
Never miss out on future posts by following The Thaiger.
38 people die "bloodiest day" since Myanmar coup – United Nations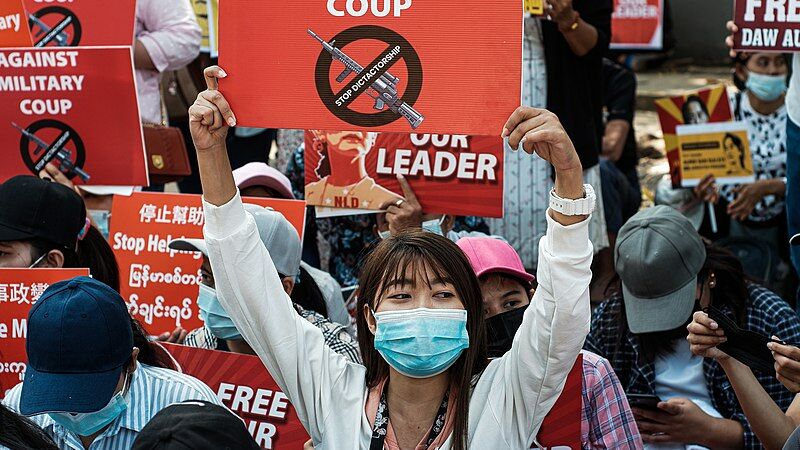 38 people died during Myanmar's anti-coup protests yesterday in what the United Nations is calling the "bloodiest day" in the country since the February 1 military takeover. UN special envoy for Myanmar Christine Schraner Burgener said the death toll is "shocking" and that the situation in the Southeast Asian country could lead to a "real war."
Since last month's coup, more than 50 people have died while many others have been wounded in protests against military rule. Witnesses say police and soldiers have opened fire with little warning. In a virtual briefing, the UN envoy said experts believe the Burmese police are using 9mm sub-machine guns to fire shots at civilians.
"I saw today very disturbing video clips. One was police beating a volunteer medical crew. They were not armed… Another video clip showed a protester was taken away from police and they shot him from very near, maybe one metre. He didn't resist his arrest and it seems he died on the street."
Burmese troops seized power of the civilian government last month, citing what they say was a fraudulent election, although the election commission said the vote was fair. A number of civilian politicians were arrested including democratic leader Aung San Suu Kyi, who had won the November election for state counsellor in a landslide.
Christine says more than 1,200 people are now under detention and many do not know where their loved ones are.
Keep in contact with The Thaiger by following our Facebook page.
Never miss out on future posts by following The Thaiger.