Thailand takes over the chair for ASEAN next year. What's at stake?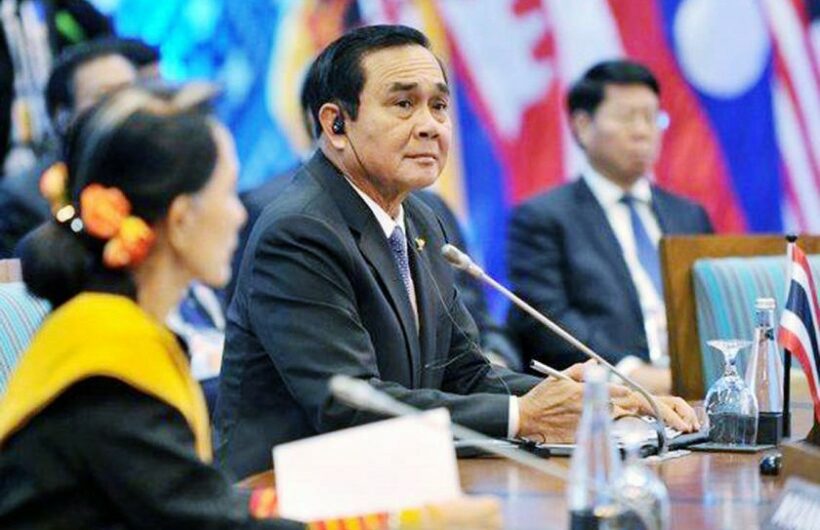 "As Thailand takes over the ASEAN chairmanship next year, it is important for the country to drive ASEAN forward to achieve the utmost benefits for Thais and peoples across the ASEAN region."
The integration story of Southeast Asian nations, widely known as ASEAN, began in 1967 and has since brought about significant changes to the Southeast Asian region.
For decades, ASEAN has played an instrumental role in maintaining political stability, fostering economic,trade and investment cooperation, as well as facilitating technology transferand greater mutual understanding among its member nations. It also serves as a cultural melting pot through intra-regional immigration. These have continuously driven forward the ASEAN community, which has a combined population of over 642 million.
Thailand's assumption of the ASEAN chairmanship in 2019 is critical to its role in the region.
"After 51 years, ASEAN may today be considered middle-aged with some experience, but a lot of work remains before us," said Dr. Suriya Chindawongse, Director-General of the Department of ASEAN Affairs, the Ministry of Foreign Affairs of Thailand
The late Dr. Thanat Khoman has been recognised for his significant legacy in initiating ASEAN and contributingto the regional stability and peacethat exists today. In terms of economics, the ASEAN Free Trade Area (AFTA) has driven economic growth and has been further developed into the ASEAN Economic Community or AEC, one of the three pillars of ASEAN.

Dr. Thanat Khoman and US President John F. Kennedy
"In the area of public health, for example, Thailand today enjoys tangible benefits from the close cooperation infighting pandemics with the ASEAN countries and ASEAN+3 countries, which include China, Japan and the Republic of Korea, and has put in place an efficient regional public health early warning system, although many people may not know about this. So far, cooperative projects in various fields among ASEAN members have been further developed and extended," Dr. Suriya explained.
Dr. Suriya pointed out that the most significant change in ASEAN was most probablyin the economic aspect, and was clearly reflected in thepromotion of regional and international connectivity and the development "Free Trade Areas" (FTAs) with external partners, such as China, Japan, the Republic of Korea, India, Australia and New Zealand.
"Thailand is strategically located at the centre of the region. The important question is "How can we benefit from this advantage?" This led to the establishment of 'the Master Plan on ASEAN Connectivity 2025,' which was initiated by Thailand. Likewise, an equally important issue that should not be overlooked is international connectivity and that is why it is important to connect the various connectivity strategies in the region," Dr. Suriyaadded.
The Director-General of the Department of ASEAN Affairs said that the integration of the 10 ASEAN countries had attracted the attention of the international community, in the form of diplomatic relations, trade and investment, tourism or multiculturalism,bolstering the region's resilience that would boost broader connectivity to other parts of the world.
"ASEAN has maintained friendly diplomatic ties with all parties and is a threat to none, so the major powers are ready to cooperate with us."
As Thailand takes over the ASEAN chairmanship next year, it is important for the country to drive ASEAN forward to achieve the utmost benefits for Thais and peoples across the ASEAN region.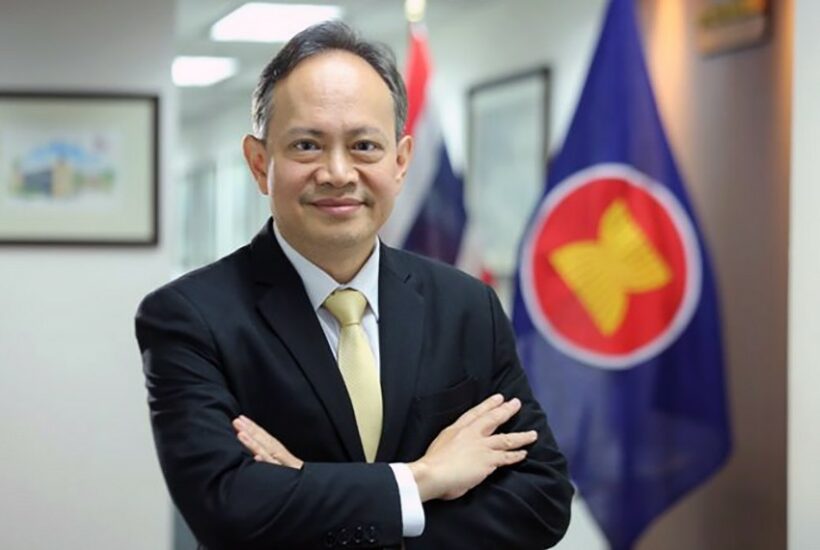 Dr. Suriya Chindawongse, Director-General of the Department of ASEAN Affairs, the Ministry of Foreign Affairs of Thailand
"Serving as the chair of ASEAN is a great honour. According to the ASEAN Charter, the chairmanship of ASEAN rotates annually by alphabetical order, so all members hold the ASEAN chairmanship once every 10 years. This year, Singapore holds the chairmanship of ASEAN, while Thailand and Viet Nam will take the helm in the following years respectively.
"We are determined to drive ASEAN forward in a direction that will most benefit the people of Thailand and of the whole region. Our philosophy is for all ten ASEAN countries to advance together for the betterment of the people of the region in order to create a people-centeredcommunity, that leaves no one behind and prepared for thefuture,"he said.
To Dr. Suriya, 'future' does not mean just three or five years, but at least 20 years,so sustainability in ASEAN policiesis very important.
"We have to hostat least 160 meetings throughout next year, dealing with both ASEAN issues and those beyond the ASEAN region.The meetings are not only confined to ASEAN but extend to its dialogue partners such as the United States, China, Japan, Russia, India, Australia and New Zealand. We will also welcome the foreign media to Thailand tocover events, which will provide a good opportunity for Thailand to showcase its strengths, such as in the areas of tourism, agriculture, industry, and culture to the world," Dr. Suriya explained.
According to Dr. Suriya, the chairmanship of ASEAN should not be the sole responsibility of the government, but should also engage all parties including the private sector, civil society, and the people, including the youth, so that we can all be good hosts as well as a proactive Chair next year.
The Ministry of Foreign Affairs, in conjunction with Silpakorn University, is holding a logo design contest for Thailand's ASEAN Chairmanship in 2019. Entries can be submitted from June 15 – August 15, 2018.
Further information is available at www.mfa.go.th/asean.
All in all, it is the peoples of ASEAN who will receive the greatest benefits from the growth and evolution of the ASEAN Community.
Keep in contact with The Thaiger by following our
Facebook page
.


Find more SE Asian News courtesy of The Thaiger.

Broke? Find employment in Southeast Asia with JobCute Thailand and SmartJob Indonesia. Rich? Invest in real estate across Asia with FazWaz Property Group or get out on a yacht anywhere with Boatcrowd. Even book medical procedures worldwide with MyMediTravel, all powered by DB Ventures.

China has the most atheists, Indonesia and Philippines the most believers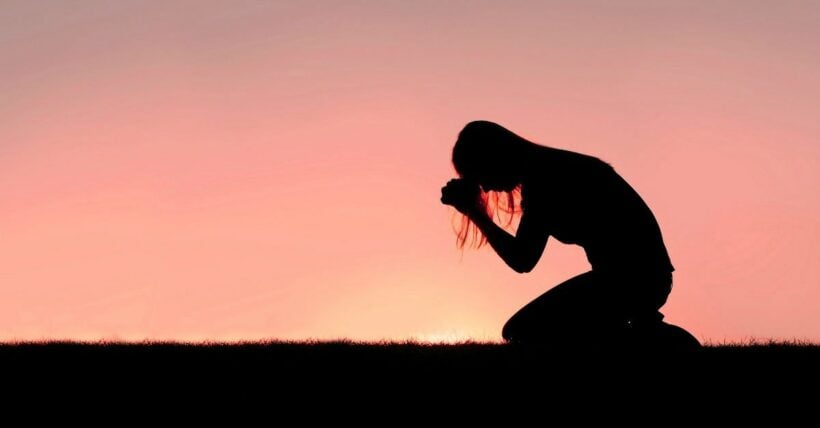 "According to the survey there is a connection between religiosity, beliefs and socio-demographic characteristics like age, income and education level."
China is the least believing country in the world but belief in a God gets 100% mention in countries like Indonesia, Bangladesh and Philippines, according to the survey by Gallup International.
According to the survey exploring religious tendencies of 66,000 people in 68 countries across the world, 62 per cent of people in the world define themselves as religious, 74% of people globally believe we have a 'soul' and 71% believe in a God. Another 56% believe in heaven, 54% in life after death and 49% in hell.
China has the highest percentage of atheists in the world with 67% not believing in any religion. Every seven out ten people are atheists, more than double than any other country. 23% consider themselves as non-religious. Less than 10% identify themselves as religious in China.
China's atheist percentage is followed by Japan, a long way behind in second place at 29%, Slovenia (28%) and Chech Republic (25%). Despite rapid industrialisation and urbanisation religion has stayed relevant in the South Korean region with only 23% identifying as atheist.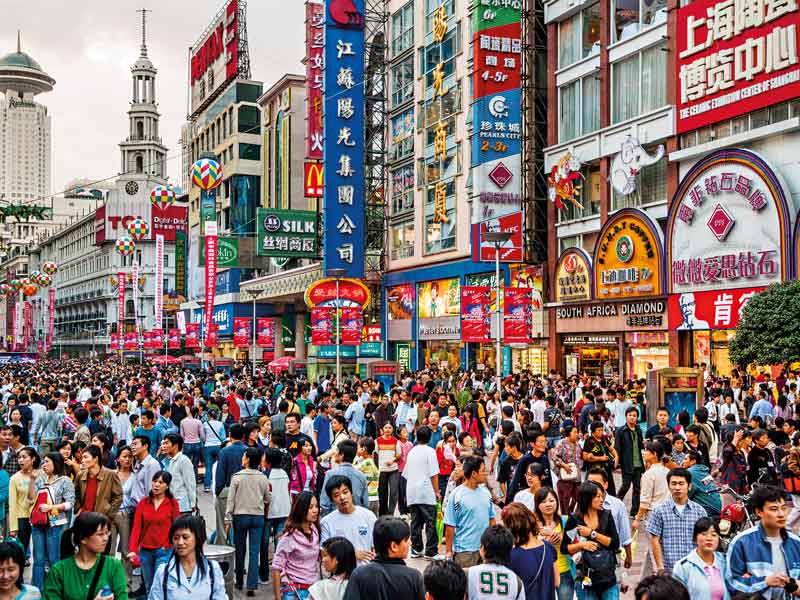 European countries like Belgium (21 %), France (21%) , Sweden (18%) and Iceland (17%) also have a large percentage of believing population.
Bangladesh, Indonesia and Philippines are the most believing countries with entire population claiming to believe in God, soul, hell and heaven. Thailand and Pakistan have 99% believing population, followed by India, Vietnam and Mongolia.
The survey shows that the levels of religiosity diminish as income and education levels increase. While 66% of people with low income affirm to be religious, this percentage drops to 50% among people with higher incomes. The same trend is verified in relation to education levels: 83% of people with lower education level are religious against 49% of higher level.
According to the survey there is a connection between religiosity, beliefs and socio-demographic characteristics like age, income and education level. As education and income levels grow higher, religiosity levels tend to go down. Also, the expression of different beliefs is higher among young people.
The level of education has a considerable influence on the perception of religion by the society. Women and young children show higher percentage for spiritual forces.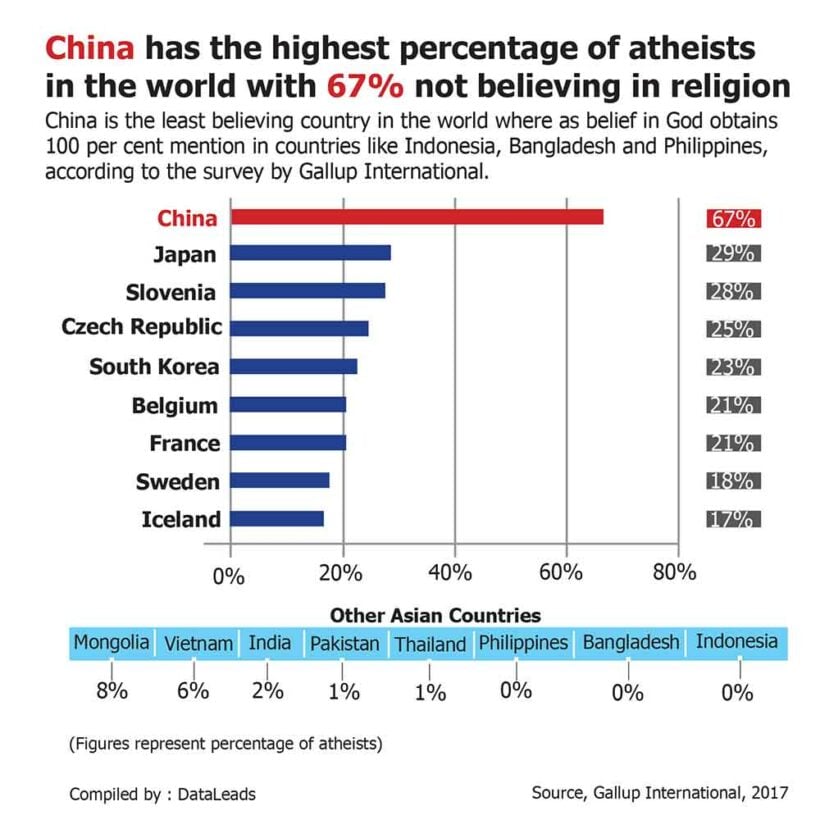 SOURCE: Data Leads
Keep in contact with The Thaiger by following our
Facebook page
.
Powerful 6.4 earthquake kills five in the Philippines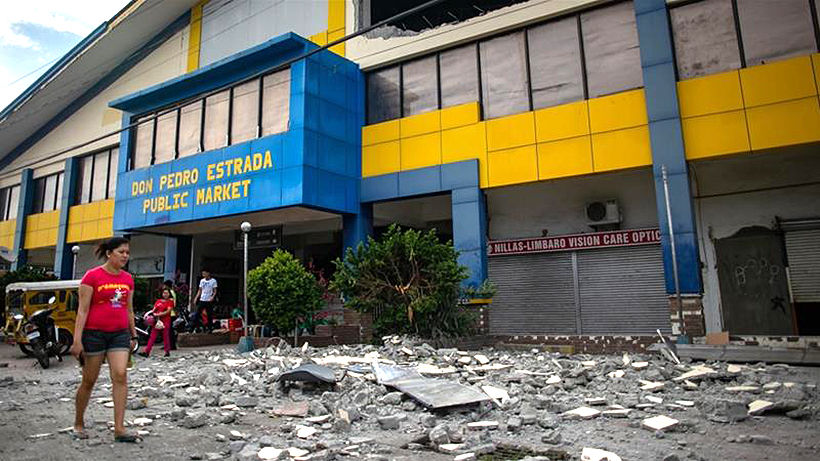 PHOTO: AFP
A strong 6.4 magnitude earthquake has struck the southern Philippines, killing five, including one child, destroying property and disrupting power supply. The death toll is expected to rise.
The powerful quake was felt across the Mindanao region, even causing a 3-storey shopping mall to burst into flames. Residents were evacuated and a child was killed when a house collapsed in the town of Datu Paglas.
AFP reports that the quake was 14 kilometres deep and followed by two aftershocks. The Philippines is part of the "Ring of Fire", a zone of constant seismic activity that stretches from Japan through Southeast Asia and across the Pacific.
Several injuries have been reported as a result of falling debris. The shopping mall that caught fire was evacuated when the quake struck, but it's not yet known if there were still people inside as the fire took hold.
The mall was still on fire three hours later as nearly 100 firemen battled to put it out.
Residents on the coast in Davao fled to higher ground fearing a tsunami, even though a government seismologist reassured people there was no tsunami risk as the quake had occurred inland.
It's understood that prisoners in the municipal jail in the town of Bansalan were also let out, but placed in handcuffs and held outside for the duration of the evacuation.
SOURCE: AFP
Keep in contact with The Thaiger by following our
Facebook page
.
Burmese surfing team head to SEAsia Games, a first for Myanmar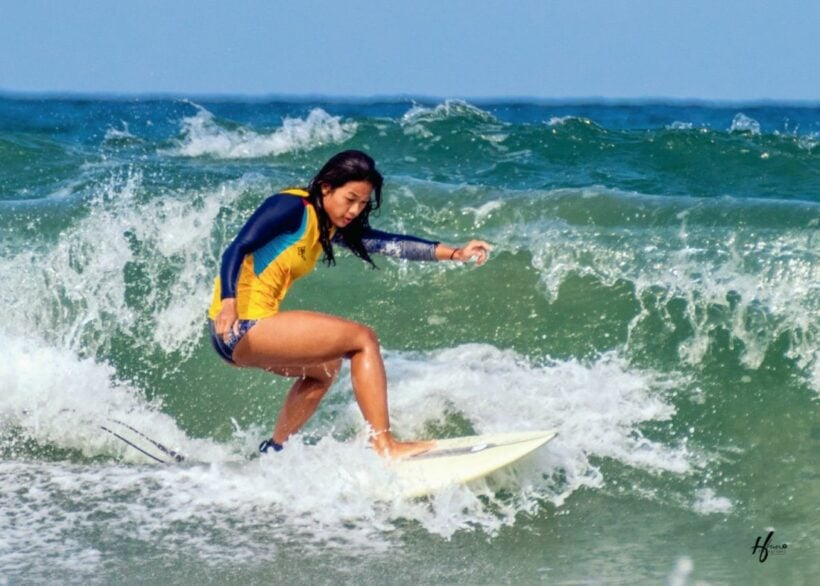 PHOTO: Burmese surfer Thwe Thwe Soe practicing off the coast of Ngwe Saung – Myanmore
Paddling hard and smiling, Thwe Thwe Soe flung herself up on the board just as a wave was breaking, spreading her arms out for balance before getting knocked off.
"I can't live without surfing. I did not expect to be chosen for the national team but I'm thrilled at the opportunity."
Thwe Thwe Soe was speaking after a day in the blue waters off the small coastal resort town of Ngwe Saung. Competitive surfing was barely known in Myanmar a few years ago but one local beach town is riding a wave of enthusiasm to the Southeast Asia Games for the first time ever.
The Southeast Asian country is flanked by surf-ready coasts to the west and south, but decades of military rule, lack of equipment and poverty kept aspiring athletes from testing the waters. The 25 year old encountered the sport while studying in southern California and has been hooked since, saying she "always feels happy" on the water.
Now she is going up against the region's giants at the December games in the Philippines. Thwe Thwe Soe has one of the best chances to medal among the handful of surfers going, but all are training hard.
"We surf for at least four to six hours a day," said American coach Robert Brickell, a 26 year old originally from New York.
The mild waves at Ngwe Saung present a paradox for competitive surfers – they are good to learn on but much tamer than the conditions in surfing hotspots. The team went to Bali in Indonesia for two months to get used to some "big wave surfing" and have made enormous strides in a short amount of time, Brickell said.
"My hope is that we can show everybody that people from Myanmar, we know how to surf, we know how to respect the ocean. And of course our hope is to win some meets."
The Surf Association of Myanmar was established only this year. The sport is slowly gaining prominence thanks to the impassioned surfers, most from a village near the beach and newcomers themselves. Ngwe Saung is the heartland of the growing craze and has now hosted several competitions.
"We hadn't heard of surfing before 2017. It will be a difficult competition but we will do our best for sure." said 19 year old Aung Min Naing.
SOURCE: Agence France-Presse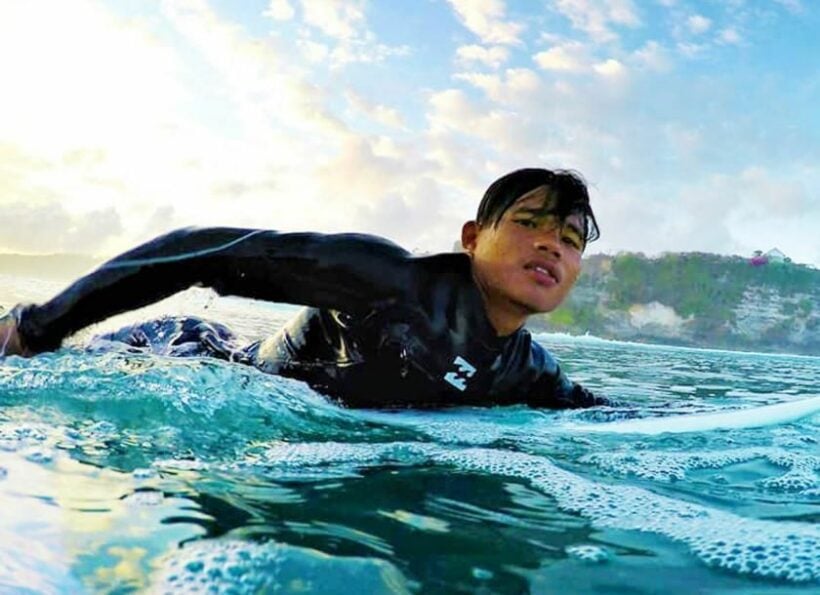 PHOTO: Aspiring new Burmese surfer, Aung Min Naing – MMTimes.com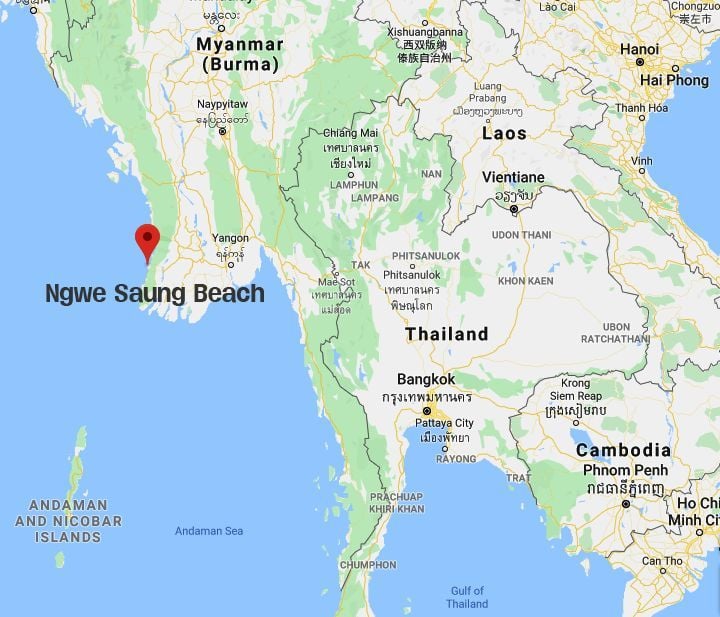 Keep in contact with The Thaiger by following our
Facebook page
.