Former Malay PM Najib to face up to 20 charges over 1MDB scandal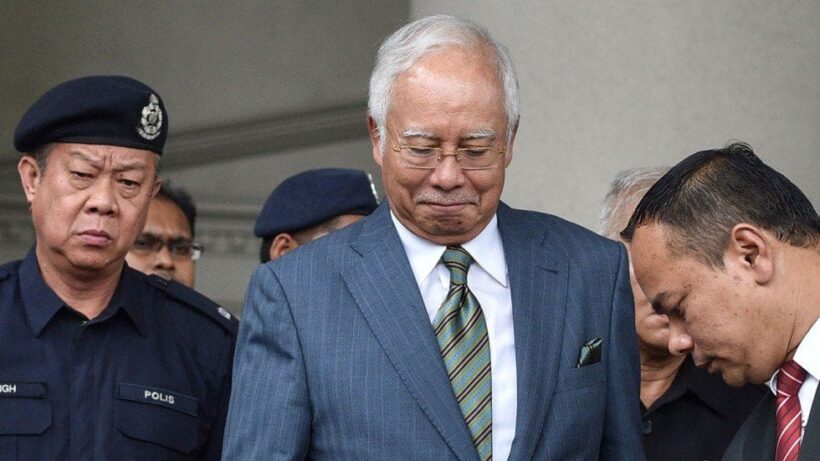 by The Star – Asia News Network
Former Malaysian PM Najib Razak is expected to face "nothing less" than 20 charges under the Anti-Money Laundering, Anti-Terrorism Financing and Proceeds of Unlawful Activities Act.
A mountain of legal challenges lies ahead of Datuk Seri Najib Tun Razak as authorities bring fresh charges against the former PM over the multibillion-ringgit 1Malaysia Develop­ment Bhd (1MDB) scandal.
Najib, who is already facing criminal breach of trust, bribery and money-laundering charges, is expected to face dozens more at the Kuala Lumpur Sessions Court today in connection with the deposit of 2.6 billion Ringit (20 billion Thai Baht) of 1MDB funds into his personal account.
This will be the third time that Najib is brought to court, the first being in July when he claimed trial to three charges of criminal breach of trust, and a fourth charge of receiving bribery of 42 million Ringit.
Last month, Najib was also slapped with three charges of money laundering.
It's been learnt that at least four charges under the Malaysian Anti-Corruption Act will be brought against the former prime minister today.
Sources familiar with the case said Najib is also expected to face "nothing less" than 20 charges under the Anti-Money Laundering, Anti-Terrorism Financing and Proceeds of Unlawful Activities Act 2001.
Highly placed sources in the Malaysian Anti-Corruption Com­mission (MACC) said that as at 6pm yesterday, prosecutors were still "counting the charges".
"If the said amount is 2.6 billion Ringit, you can imagine the number of charges he will face," a source told The Star.
65 year old Najb arrived at the MACC headquarters at 3pm after graft investigators asked him to be present to record his statement. He came accompanied by lawyers, officers and his son Nor Ashman Razak. An hour into the interrogation at 4.13pm, authorities decided to arrest him.
MACC deputy chief commissioner (operations) Datuk Seri Azam Baki confirmed Najib's arrest and that he would be held for the night.
This is not the first time Najib has spent the night in MACC's lockup – investigators also held him for a night when they first brought him to court back in July.
Read the rest of the story HERE.
Keep in contact with The Thaiger by following our
Facebook page
.
Never miss out on future posts by
following The Thaiger
.


Find more SE Asian News courtesy of The Thaiger.

Broke? Find employment in Southeast Asia with JobCute Thailand. Rich? Invest in real estate across Asia with FazWaz Property Group. Even book medical procedures worldwide with MyMediTravel, all powered by DB Ventures.

Malaysian PM proposes a state of emergency in a political move to postpone budget vote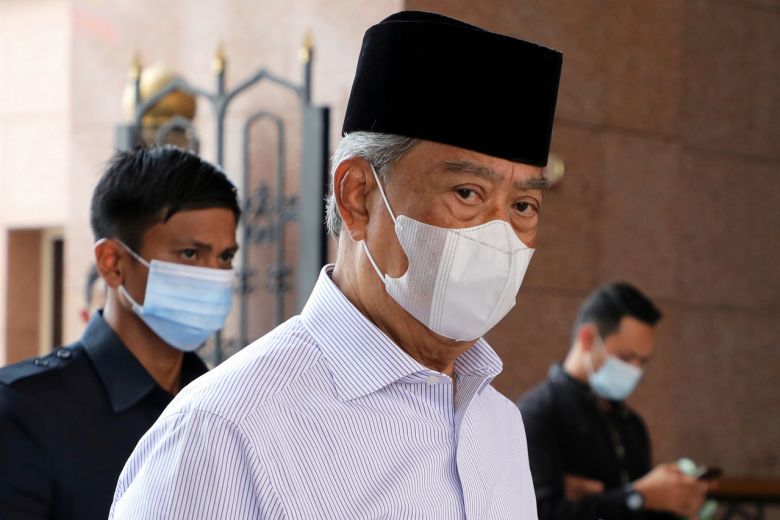 Malaysia's head of state is said to be consulting with the country's other hereditary rulers to discuss a proposal by Malaysian PM Muhyiddin Yassin, who has requested that the King declare a state of emergency. The Star newspaper is reporting that the country's rulers would meet at 2.30pm tomorrow, after which the king will deliver a decision to the PM.
Muhyiddin had an audience with King Al-Sultan Abdullah yesterday to formally request the rare state of emergency which would result in a suspension of the Malaysian parliament. On the face of the request is the need to take emergency measures to control a recent outbreak in new coronavirus cases. But opposition MPs say the manoeuvre is purely political and not related to the country's response to Covid-19. They say the country is well equipped to make decisions related to public health and the coronavirus outbreak
Opposition leader Anwar Ibrahim has denounced the move as a "power grab" by the country's PM. The Council of Rulers, which groups the heads of Malaysia's 9 royal houses, has the power to withhold consent from any law and deliberate on questions of national policy.
Malaysia is suffering a resurgence in Covid-19 cases, much more pronounced than the first wave in March and April. The move to apply for the dissolution of the Malaysian parliament is being read by commentators as a political stunt, unrelated to the coronavirus spike, since PM Muhyiddin faces a leadership challenge from opposition leader Anwar, who last month claimed majority support in parliament to oust the premier.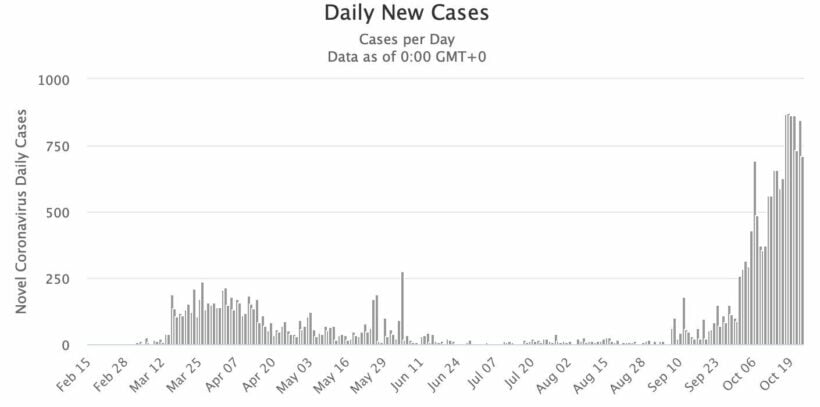 Meanwhile, the palace has not formally identified the specific recommendations made by the PM, and says the king will "soon" be discussing the motion with Malaysia's other heredity rulers.
"Al-Sultan Abdullah greatly understands the need for the country's administration to continue to tackle the threat of Covid-19."
Malaysia has suffered between 800 – 950 new cases per day over the past week, a spike in new cases, causing concern for the South East country that had largely contained the worst of the spread earlier this year.
As a background, the ruling government government is scheduled to propose its 2021 budget on November 6, and there have been questions over whether the PM can muster a majority to pass the supply bill. Defeat on the budget would count as a vote of no-confidence and could trigger an election. Any state of emergency, involving the dissolution of parliament, would postpone a vote on the forthcoming budget.
The government agreed at yesterday's special cabinet meeting that declaring a state of emergency would halt any attempts to politically destabilise the government, "allowing it to focus on containing the outbreak".
In a state of emergency, the Malaysian King is able to act on any important bills at his discretion.
SOURCE: Reuters | The Star
Keep in contact with The Thaiger by following our
Facebook page
.
Never miss out on future posts by
following The Thaiger
.
Governor halts movement of goods between Tak and Myanmar amid Covid fears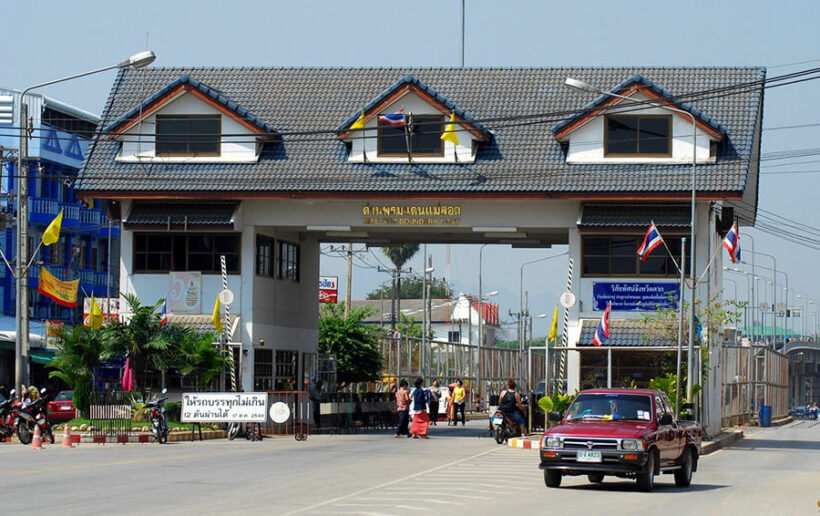 The governor of the north-western province of Tak has put a temporary stop on the transport of goods between the province and Myanmar, just across the border. The suspension comes amid increasing anxiety about the number of Covid-19 cases in the neighbouring country and is expected to remain in force until at least October 25.
Governor Pongrat Piromrat called a halt to the movement of goods after 3 Burmese truck drivers tested positive for the virus, followed by 3 Burmese workers, all members of the same family, who were living in the Mae Sot district of Tak. Last week, residents of Mae Sot gathered at a checkpoint by the Friendship Bridge, which spans the Moei River, and connects Mae Sot with the Burmese city of Myawaddy. They were protesting what they see as lax control of drivers crossing from Myanmar into the Kingdom.
Thai PBS World reports that the area where the latest infections have been discovered is now under 24 hour watch by village guards, with everyone entering and leaving having to undergo health screening, including temperature checks.
SOURCE: Thai PBS World
Keep in contact with The Thaiger by following our
Facebook page
.
Never miss out on future posts by
following The Thaiger
.
King Bhumibol Adulyadej – in remembrance of the "Father of Thailand"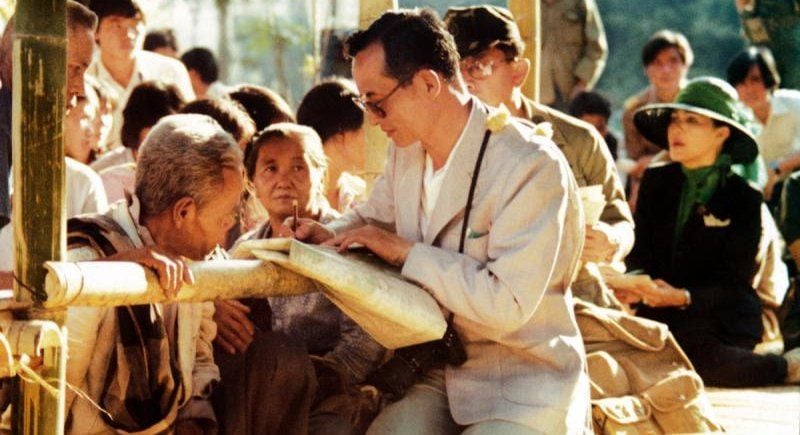 His Majesty King Bhumibol Adulyadej was Thailand's monarch for just over 70 years. At the time of his passing in October 2016, King Bhumibol was the world's longest-serving head of state and the longest-reigning monarch in Thai history. Amongst his many other gifts, he was was revered as a calming and compassionate influence, overseeing Thailand's stormy political history in the second half of the 20th century.
Four years later his enduring legacy casts a wide shadow over the Kingdom of Thailand with his influence shaping, not only Thai culture in the second half of the 20th century, but also Thailand's standing in the region with a deft avoidance of some of the more debilitating conflicts around South East Asia.
His Majesty King Bhumibol, Rama 9, the ninth king of the Chakri Dynasty, was born on December 5, 1927 and passed away on October 13, 2016 at the Siriraj Piyamaharajkarun Hospital in Bangkok. He had been living in and out of the hospital in the years before his passing.
Bhumibol's early days
It's a surprise to some, but Bhumibol Adulyadej was born on December 5, 1927, in Massachusetts, USA, not in Thailand. As the second son born to his parents, and because his birth took place outside of Thailand, young Bhumibol was never expected to ascend Thailand's throne. His reign came about through his older brother's mysterious death.
His father, Prince Mahidol Adulyadej, was studying for a public health certificate at Harvard University. His mother, Princess Srinagarindra, was studying nursing at the same time.
When Bhumibol was a one year old the family returned to Thailand, where his father took up an internship in a hospital in Chiang Mai. Prince Mahidol died of kidney and liver failure in September 1929.
Thailand's democratic revolution
In 1932, a coalition of military officers and civil servants staged a bloodless coup against King Rama VII. The Revolution of 1932 ended the Chakri dynasty's absolute rule and created a Thai constitutional monarchy, with an elected parliament. Princess Srinagarindra took her two young sons and daughter to Switzerland a year later where the children were placed in Swiss schools for their early education.
In March 1935, King Rama VII abdicated leaving his 9 year old nephew, Bhumibol Adulyadej's older brother Ananda Mahidol as Thailand's new monarch. But the child-king and his siblings remained in Switzerland due to his young age and nascent political developments in Thailand. Two regents ruled the kingdom in his name. Ananda returned to Thailand in 1938 but his brother Bhumibol continued his schooling in Switzerland until 1945 .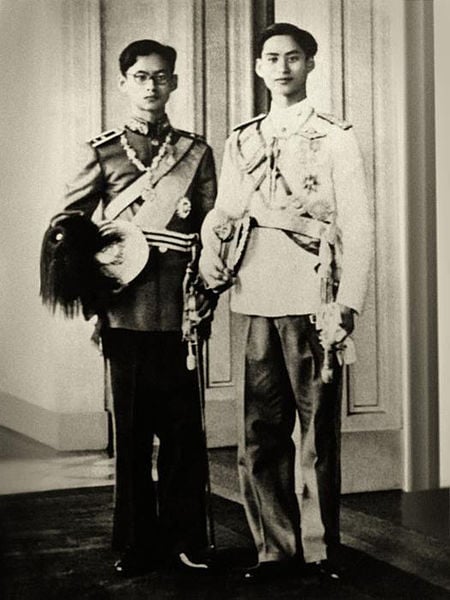 PHOTO: King Mahidol Adulyadej and his younger brother Bhumibol Adulyadej
On June 9, 1946, the young King Mahidol was killed in his palace bedroom from a single gunshot wound to the head. Two royal pages and the king's personal secretary were convicted of assassination and executed, although controversy still swirls around the incident. The young Bhumibol returned to the University of Lausanne in Switzerland to complete his degree and his uncle was appointed Regent, ruling in his place, back in Thailand.
Marriage to Queen Sirikit
The young King Bhumibol met the daughter of the Thai ambassador to France, a student named Mom Rajawongse Sirikit Kiriyakara, during a visit to Paris. Adulyadej and Sirikit began a courtship some time in 1946.
In October 1948, Adulyadej crashed into a truck and was seriously injured, losing his right eye and suffering back injuries. Sirikit spent a lot of time nursing and entertaining the convalescing king. King Bhumibol's mother encouraged Sirikit to transfer to a school in Lausanne so that she could continue her studies and spend more time with the young King.
Adulyadej and Sirikit were married in Bangkok on April 28, 1950. She was 17 and he was 22 years old. Bhumibol was officially crowned a week later to becmme King Bhumibol Adulyadej. Queen Mother Sirikit is still living in Bangkok and is frequently visited by members of the Royal Family.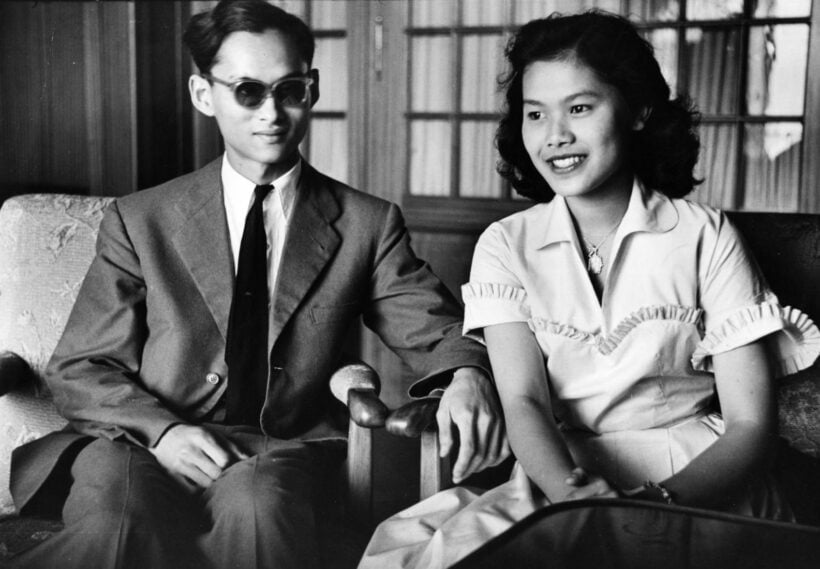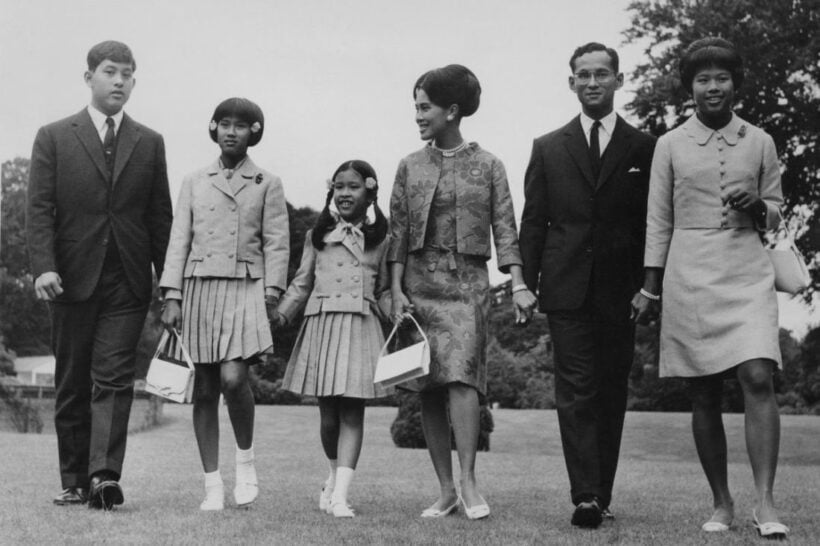 PHOTO: King Bhumibol Adulyadej, Queen Sirikit and his four children (a young Prince Maha Vajiralongkorn on the left)
Half a century of military dictatorships
In the early days of his reign, Thailand was ruled by a military dictator, Plaek Pibulsonggram, until 1957. Then the first of a series of coups, which would dog the Kingdom for the second half of the 20th century, removed him from office. The King declared martial law ending with a new military dictatorship formed under a trusted ally of King Bhumibol, Sarit Dhanarajata.
During the next phase of his rule the young King would revive many abandoned Chakri traditions, including the need for subjects and staff to kowtow – bowing and keeping their head below the monarch. He also started to make public appearances around the Kingdom – an activity which would become a hallmark of his reign, significantly reviving the prestige of the Thai monarchy and standing of the royal family.
Coups took place in 1963, 1977, 1980, 1981, 1985, and 1991 (and more in the 21st century). Although King Bhumibol worked hard to remain above politics, he refused to support the 1981 and 1985 coups, and was seen as a settling influence in the swirling political events, stepping in only when the situation needed to be diplomatically diffused.
Democratic governments
When a military coup leader was selected as PM in May 1992, huge protests broke out around Thailand. Known as 'Black May', the demonstrations turned into riots. Fearing a civil war, Kong Bhumibol called the coup and opposition leaders to a televised audience at the palace.
Adulyadej pressured the coup leader to resign. New elections were called and a civilian government was elected. This intervention was the beginning of civilian-led democracy that has continued, with a few military "interruptions", to this day, most notably the intervention of the military in a coup in 2014 when the National Committee for Peace and Order seized power. A quasi-democratic government, mostly made up of leadership from the 2014 Army coup, was elected in 2019.
King Bhumibol's image as an advocate for the Thai people, reluctantly intervening in the political fray to protect his subjects, became an enduring legacy.
Death
Since 2006, King Bhumibol suffered a number of health issues and was hospitalised frequently. He died at the Siriraj Hospital in Bangkok on October 16, 2016. Crown prince Maha Vajiralongkorn became the 10th King of the Chakri Dynasty, and his official coronation was held between May 4 – 6, 2019 in a grand spectacle watched on by millions of Thais.
Although Bhumibol was never intended to be Thailand's king, he is lovingly remembered as a successful and beloved Thai monarch, who helped calm successive political turbulence over the seven decades of his reign. Indeed, he is fondly referred to as the Father of Thailand, reigning for more than 70 years.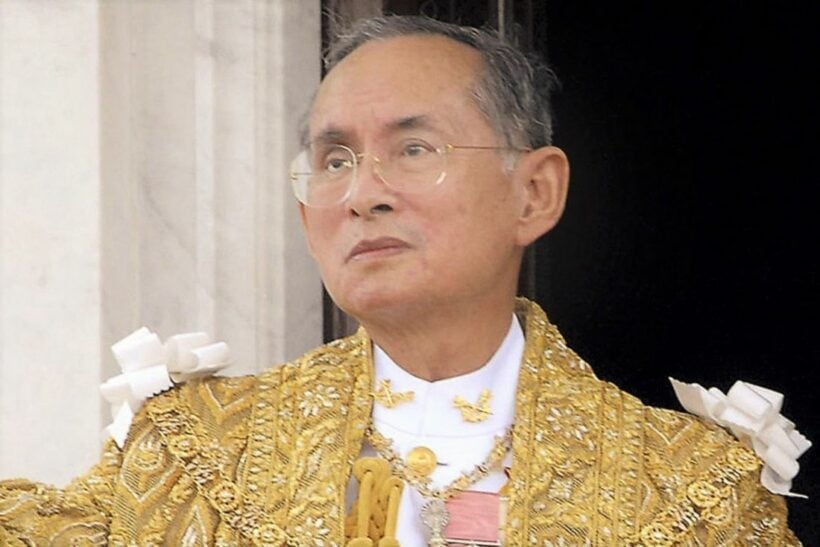 Keep in contact with The Thaiger by following our
Facebook page
.
Never miss out on future posts by
following The Thaiger
.