31 injured when bus overturned in Nakhon Ratchasima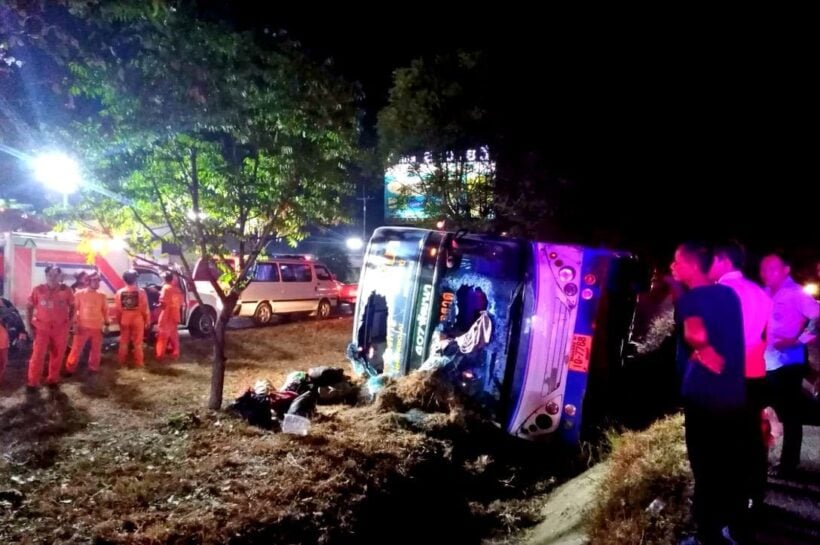 b

y Prasit Tangprasert
PHOTOS:โนนสูง "อาสา" ฐานหน้าโรงพยาบาลโนนสูง
Thirty one passengers have been injured, two critically, when a Nong Khai-Rayong inter-provincial bus overturned in Nakhon Ratchasima early this morning.
Police and rescue workers were alerted at 2.40am to the scene on Mitraparp Highway in Ban Don Tabaeng, Noen Sung district in Nakhon Ratchasima.
The blue and white air conditioned bus was carrying 41 passengers.
Police suspect that the driver, whose name has been withheld at this stage, dozed off behind the wheel.
This is the third major inter-provincial bus crash within a week around Thailand, that we know of.
Keep in contact with The Thaiger by following our
Facebook page
.
High speed railway linking Thailand and China takes another step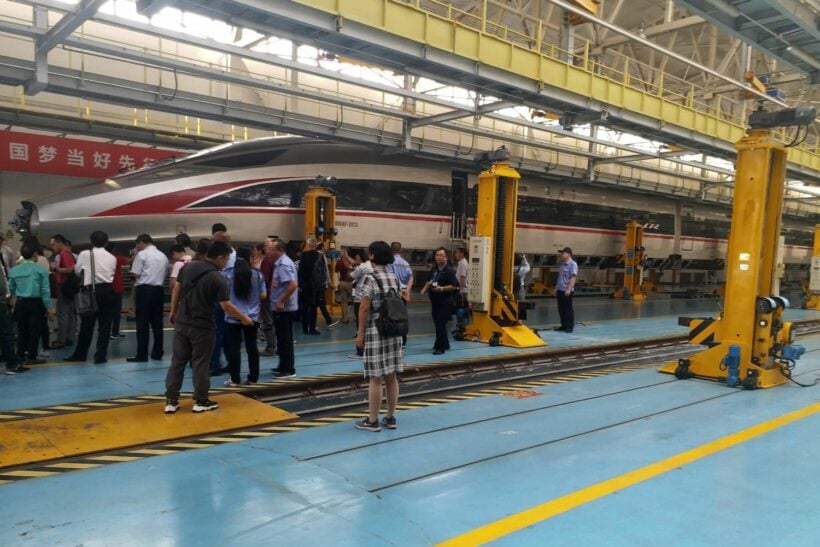 A high speed rail link between Thailand and China is closer to becoming a reality, according to Thai Transport Minister Saksayam Chidchob. The signing of "Contract 2.3″ for the Bangkok-Nakhon Ratchasima section is expected in October this year. China has become a major player in the railway industry and, as a result, many countries, including Thailand, are working with China to develop their own high speed rail networks.
Following the meeting of the 28th Thai-Chinese Joint Committee, Chidchob said the 2 sides agreed on the 50.6 billion baht draft contract including the content on signaling and operation systems. The 253 kilometre rail route from Bangkok to Nakhon Ratchasima in the northeast is part of a stage 2 project which will ultimately link Bangkok to NongKhai, bordering Laos.
The first phase covers a 125 billion baht link from Bangkok to Nakhon Ratchasima. The second, expected to cost 200 billion baht,will run 355 kilometres from Nakhon Ratchasima to Nong Khai. For the second project, Thailand is working with China's State Railway Group.
The projects form part of China's Belt and Road Initiative, launched by President Xi Jin-ping 6 years ago, according to the president of the All-China Journalists Association.
"This Belt & Road Initiative project will help China integrate with the rest of the world and link the Chinese dream with the global dream."
The Belt and Road Initiative was developed to bolster economic and social ties with 65 countries in Asia, Africa and Europe, covering an estimated population of 4.4 billion people.
"I think it is important. The project will help connect people in the two countries via Laos. It can help promote socio-economic development and prosperity in these two countries and also across the whole Asian region. China has made a lot of investments in Laos. Among them is the China-Laos Railway, running from Kunming to Vientiane."
Under Contract 2.3, 80% of the payment will be made in US dollars and the remaining 20% in baht.
The signing is scheduled for October or sooner before the 5 year project commences. PM Prayut Chan-o-cha will preside over the signing ceremony at Government House.
SOURCES: Bangkok Post | TNA
Keep in contact with The Thaiger by following our
Facebook page
.
2 dead, over 1,000 ill in Korat dengue fever outbreak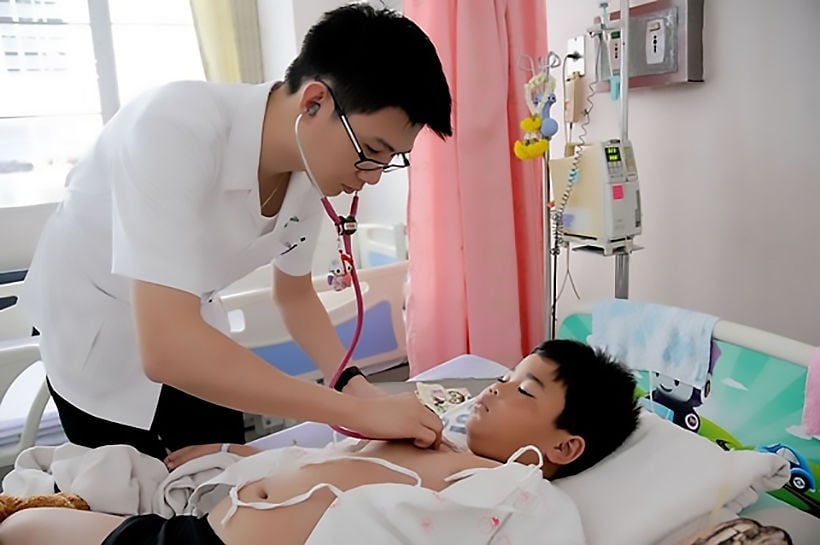 2 people have died and more than a thousand have fallen ill since the beginning of the year in an outbreak of dengue fever in the northeastern Nakhon Ratchasima province. The head of the provincial public health office yesterday said that all people in the province infected with Covid-19 have fully recovered and been discharged, and there have been no new cases. He also stated that the situation with dengue fever in northeastern Thailand is "under control" but described it as "worrying."
A total of 1,037 cases of Dengue were recorded in Nakhon Ratchasima, also known as Korat, from January 1 to May 24. There were 2 deaths. The first was a resident of Non Sung district, who died on March 10. The second was a 16 year old who died on March 22 and already suffered from a blood disorder before contracting dengue fever.
The province's Non Thai district had the highest number of cases, with 92, followed by Non Sung with 61 and Chok Chai with 50.
The public health chief advises people to ensure there is no stagnant water around their homes, as it can become a breeding ground for mosquitoes that carry the dengue virus. The area around their houses should also be fogged with insecticide by local health officials, to kill mosquitoes and their larvae.
SOURCES: Chiang Rai Times | Bangkok Post
Keep in contact with The Thaiger by following our
Facebook page
.
Alleged drug runner busted with methamphetamines valued at 18 million baht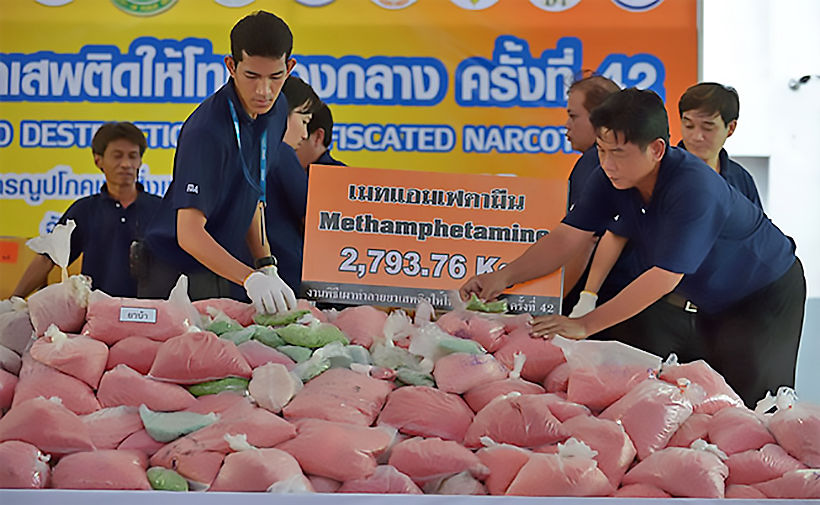 Police in Issan's Maha Sarakham province yesterday announced the seizure of more than 600,000 methamphetamine pills from an alleged drug runner making deliveries. Officers stopped and searched a man seen tossing a plastic bag from his car, and more more than 600,000 methamphetamine pills were found in more bags inside the vehicle. 43 year old Somphan Sri-ubon was arrested after police stopped his car at an intersection in Kantharawichai district on Monday.
The arrest came after investigators were tipped off that drugs were being delivered regularly along the province's Kalamasai-Kalasin road. Police teams were assigned to stake out and patrol the route. One team spotted the driver of a Mitsubishi slowing down about 10 kilometres from the downtown district of Kalasin. The driver threw a black plastic bag into some bushes on the roadside and drove away.
The bag contained 2,000 meth pills. Officers radioed another team to intercept the Mitsubishi. After stopping car police discovered several fertiliser bags containing a large amount of methamphetamine.
Including the 2,000 found on the roadside in Kalasin, a total of 610,000 meth pills were seized. Police valued the drugs at about 18 million.
Upon interrogation, Somphan reportedly confessed that he had collected the drugs at Wat Phum Manorom about 6:30am. He was meant to deliver the methamphetamine pills to 4 locations in Roi Et, Kalasin, Maha Sarakham and Khon Kaen provinces.
Somphan said a Lao drug trader offered him 140,000 baht for the job, to be paid after he completed the deliveries. The Bangkok Post reports that police have extended their investigation based on Somphan's information.
The regional methamphetamine epidemic has ravaged Thailand as prices are at an all-time low. It now costs as little as 40 baht to buy a pill, down from 200-300 baht a few years ago.
SOURCES: Chiang Rai Times | Bangkok Post
Keep in contact with The Thaiger by following our
Facebook page
.