Ekkapol Chanthawong – Parents are refusing to blame him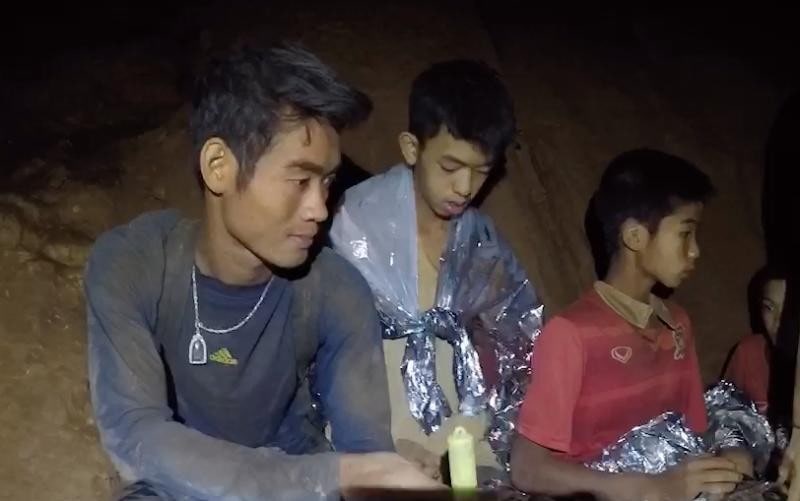 PHOTO: From video of Thai Navy Seals Facebook page
Eight out, five to go. But Ekkapol Chanthawong, the assistant football coach of the Mu Pa team, trapped in Tham Luang cave since June 23, is being credited with keeping his young team alive during their ordeal. He's 25, the rest of the young team are between 11 and 16 years of age.
Thai media, ever searching for the dramatic, has been in a lather over whether he deserves praise or is the devil in the story. Some media want to blame him for the team's predicament as he led the 12 football players on an excursion into the caves after scheduled training on Saturday, June 23. They'd been there before.
A torrential downpour, and subsequent flood waters flowing into the caves, forced them deeper into the bowels of the Chiang Rai mountains.
But parents and guardians of the teenagers who were under his charged will hear nothing of the criticism. They are refusing to blame the young man.

Ekkapol, or "Ake", was orphaned at 10 years of age and, by all accounts, had a rough time growing up. Firstly his seven year old brother died, then his mother and his father a year later. A disease swept through his village and ravaged many families.
His Aunt recounted to an Australian newspaper that he was then sent to a Buddhist temple for care and his education. She says her nephew is a "merciful man" who would do anything to assist others. She says he was devoted to his young team who were, in some cases, separated from their families or caught between the Burmese and Thai cultures (the Mu Pa team all live right on the border between Thailand and Myanmar). Some of them are regarded as 'stateless', a fact of life for many of the youngsters in this border region.
'The Washington Post' reports that Ekkapol left the temple to care for his ailing grandmother in Mae Sai in northern Thailand, the location of the Tham Luang caves. He spent his time working at the local temple and training the new Mu Pa (Wild Boars) football team.
The first two English divers say that when they finally found the team they were all meditating together.
The young team members told rescuers that Ake taught them how to meditate in an effort to help preserve their energy, control their breathing and not to panic.
'The Australian' quotes the Aunt… "I know he would be keeping the boys calm and happy. He loves those boys very much because he lost his father when he was very young."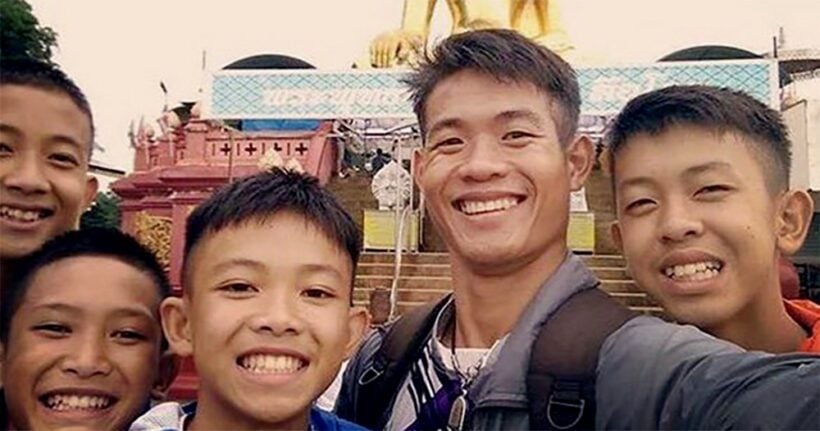 A friend of Ake says that he doesn't drink or smoke and that he was the kind of person who took care of himself and was a good example to the rest of his team.
One of Ake's friends at the temple said, "I know him, and I know he will blame himself."
Rescuers have said that Ekkapol (pronounced EKK-A-PON) is the weakest out of the whole group. They say that he was giving the trapped team members his share of the limited food and water resources they had with them. He taught them to meditate, relax and conserve their energy until they were found. He also got them to drink water from the walls instead of the rushing muddy waters flowing around them.
In an interview with Thai TV, the mother of one of the trapped, Pornchai Khamluang, said… "If he didn't go with them, what would have happened to my child? When he comes out, we have to heal his heart. My dear Ake, I would never blame you."
On Saturday some hand-scribbled notes were brought out of the cave by the rescue teams during their preparation for the rescue that started on Sunday morning.
Ake wrote this note to parents of the trapped children…
"To the parents of all the kids, right now the kids are all fine, the crews are taking good care. I promise I will care for the kids as best as possible. I want to say thanks for all the support and I want to apologise to the parents."
And to his own aunt and grandmother…
"To my aunt and grandmother, I am doing well, please don't be too worried about me. Take care of yourselves. Aunt. Please tell grandmother to make vegetable dip and pork rind. Once I'm out, I'll go eat. Love everyone."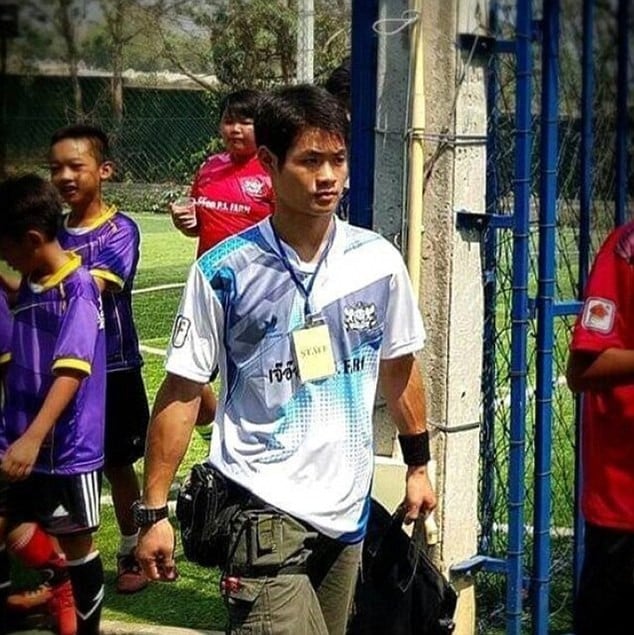 Keep in contact with The Thaiger by following our
Facebook page
.
Earthquake could hit Chiang Mai and Chiang Rai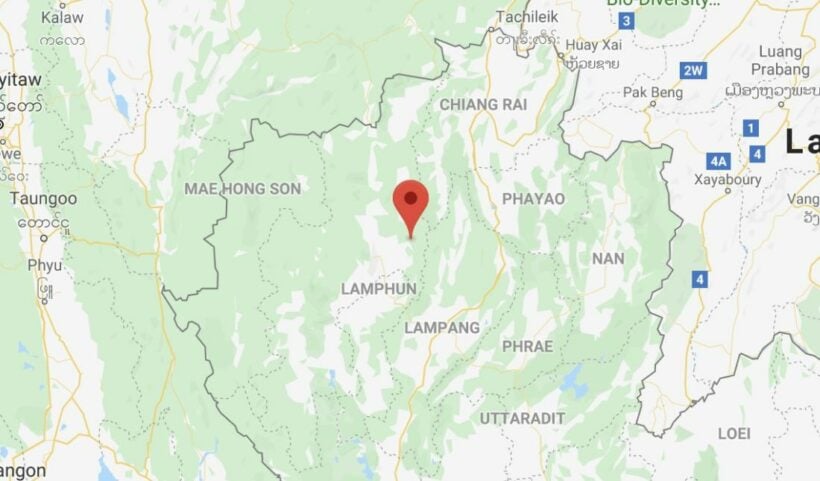 A magnitude 4.1 tremor shook seven districts of Chiang Mai and Chiang Rai on Friday night, prompting the Department of Mineral Resources to warn that the two northern provinces could face a magnitude 5 earthquake within ten years.
The prediction is based on analysis of movements in the Mae Tha fault lines, including the 5.1 ML quake in December 2006, centred under the Mae Rim district of Chiang Mai.
Geological studies in Ban Pong Samakkhi, Chiang Mai, indicate that the area experienced a 5.9 ML quake about 2,000 years ago.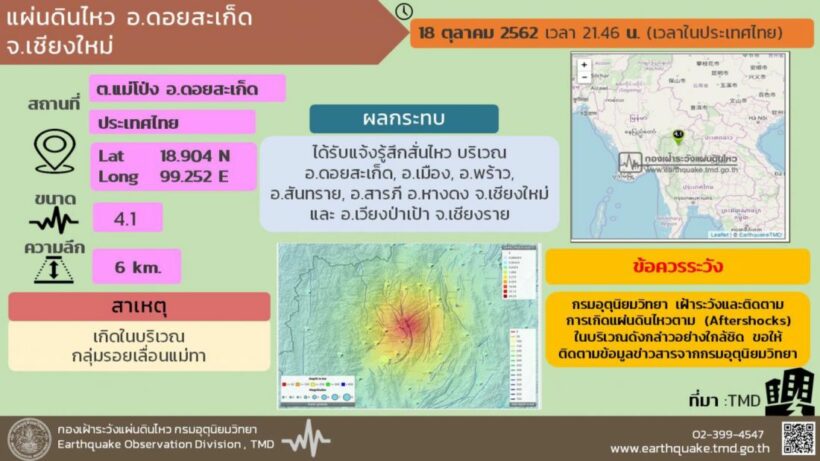 Photo : earthquake.tmd.go.th
Friday's temblor occurred at 9:46 pm, with its epicentre about six kilometres below the surface in Doi Saked district.
The tremor was felt in the Muang, Prao, San Sai, Doi Saket and Hang Dong districts of Chiang Mai and Wiang Papao district of Chiang Rai, though there have been no reports of casualties or property damage.
SOURCE: thaipbsworld.com
Keep in contact with The Thaiger by following our
Facebook page
.
Jump in national park visitor numbers as 'winter' arrives in northern Thailand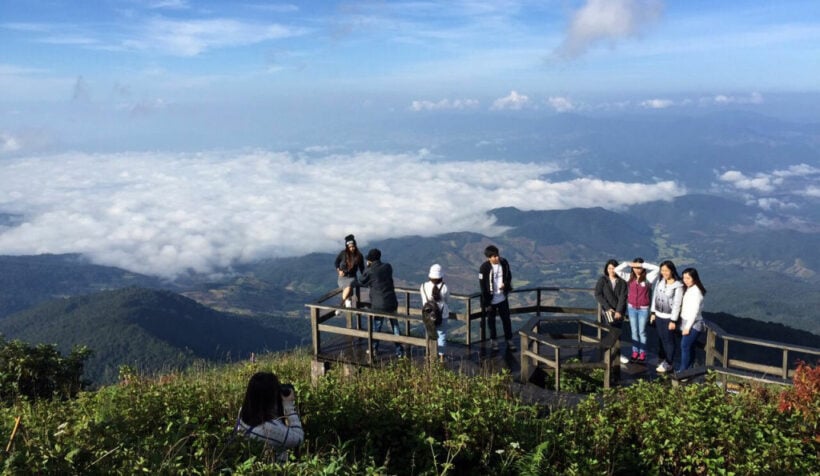 As northern Thailand moves into the 'cold season' (well, cold for Thailand) and temperatures drop, national park officials are reporting an increase in visitor numbers. Whilst the temperature is cooling down on the local northern mountain tops, the ground level temperatures are still around 30 (forecast below). But later in December the temperatures sometime reach as low as zero for places like Doi Inthanon.
The Bangkok Post is reporting that Kritsayam Khongsatri, Head of Doi Inthanon National Park in Chiang Mai says the park welcomed 21,994 visitors over the recent long weekend, over 7,000 a day.
Kritsayam says most of the visitors are Thais who enjoy camping in the colder weather, with average temperatures at the summit of Doi Inthanon, Thailand's highest mountain, being just 5-11 degrees Celsius.
Khao Yai National Park, north east of Bangkok, has also seen a significant increase in visitor numbers, with wild elephants coming out from the jungle to feel the warmth of the sun as temperatures dropped to below 20 Celsius yesterday.
"Visitors to the park are being asked to refrain from using car horns, or bright lights such as flashing cameras and full beam headlights to avoid disturbing the resident elephants."
Winter in northern Thailand typically sees a dip in temperatures and a decline in rainfall coupled with strengthening winds from the north.
SOURCE: Bangkok Post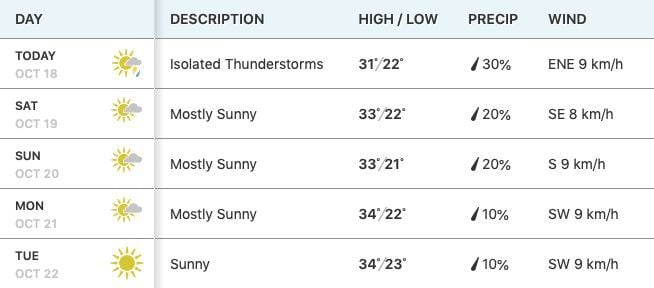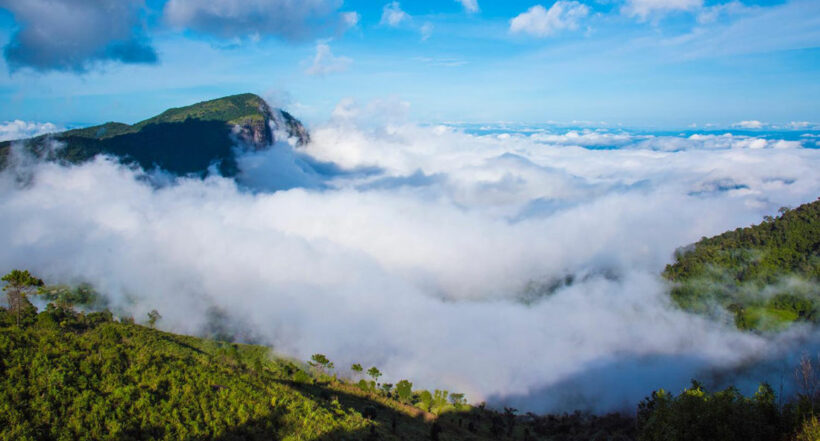 Keep in contact with The Thaiger by following our
Facebook page
.
Journey back to Tham Luang in 'The Cave' – VIDEO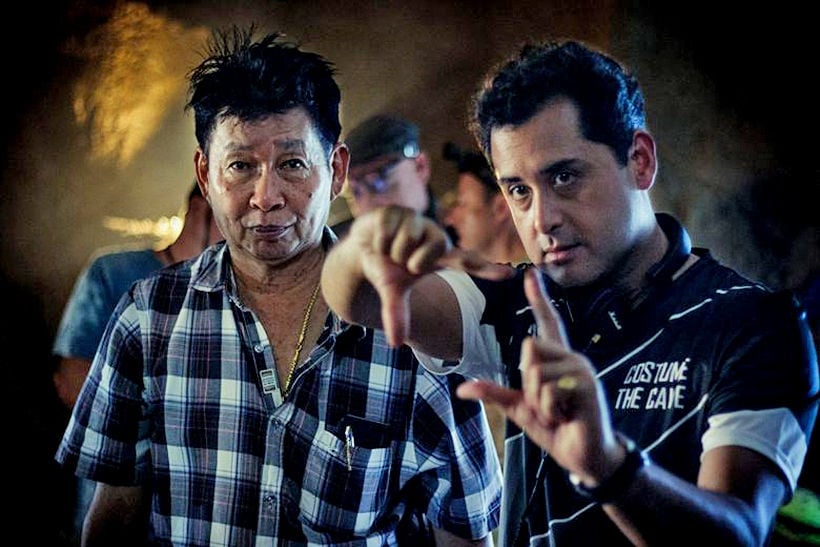 PHOTO: Tom Waller on site during the filming of The Cave – AFP
Determined divers racing against time. Rising waters threatening lives. 12 teenagers and their soccer coach trapped inside for two weeks. A remote cave that most had never heard of.
The stuff of a Hollywood drama, except that it's all true and happened in Chiang Rai last year. Now the first of several re-tellings of the story comes to the big screen in The Cave.
The ordeal in late June and early July last year had barely ended when filmmakers began their own race to get the nail-biting drama onto cinema screens. The first of those projects premiered at the start of October, when director Tom Waller's The Cave showed at the Busan Film Festival in South Korea.
The film was shot over three months earlier this year and has been in post-production since then. The 45 year old Thai-British filmmaker says the epic tale of the Wild Boars (Mu Pa) football team was a story he simply had to tell.
"I took the view that this was going to be a story about the people we didn't know about, about the cave divers who came all the way from across the planet."
The 13 young men entered the Tham Luang cave complex after soccer practice and were quickly trapped inside by rising floodwater. The boys were forced to spend nine nights lost in the cave, whilst Navy Seal and other diver searched frantically, before they were spotted by a British diver.
It would take another eight days before they were all safe, against all odds, in a risky mission.
Waller was visiting his father in Ireland when he saw television news accounts of the drama.
"I thought this would be an amazing story to tell on screen."
But putting the parts together after their dramatic rescue proved to be a challenge. Thailand's government, led by the military NCPO, became very protective of the story, barring unauthorised access to the Mu Pa team or their parents. Waller often feared his production might be shut down.
His good fortune was that the events at the Tham Luang cave in Chiang Rai province had multiple angles and interesting characters. Especially compelling were the stories of the rescuers, particularly the expert divers who rallied from around the world. He decided to make a film "about the volunteer spirit of the rescue."
Other people proposed telling the story from the point of view of the boys, and Netflix nailed down those rights in a deal brokered by the Thai government.
"I took the view that this was going to be a story about the people we didn't know about, about the cave divers who came all the way from across the planet. They literally dropped everything to go and help, and I just felt that that was more of an exciting story to tell, to find out how these boys were brought out and what they did to get them out."
Waller even had more than a dozen key rescue personnel play themselves.
Waller said they were natural actors, blending in almost seamlessly with the professionals around them, and helped by the accuracy of the settings and the production's close attention to detail.
"What you are really doing is asking them to remember what they did and to show us what they were doing and what they were feeling like at the time. That was really very emotional for some of them because it was absolutely real."
Waller says his film is likely to have a visceral effect on some viewers, evoking a measure of claustrophobia.
"It's a sort of immersive experience with the sound of the environment, you know, the fact that is very dark and murky, that the water is not clear."
"In Hollywood films, when they do underwater scenes, everything is crystal clear. But in this film it's murky and I think that's the big difference. This film lends itself to being more of a realistic portrayal of what happened."
Some scenes were filmed on location at the entrance to the actual Tham Luang cave, but most of the action was shot elsewhere.
"We filmed in real water caves that were flooded, all year-round. It is very authentic in terms of real caves, real flooded tunnels, real divers and real creepy-crawlies in there. So it was no mean feat trying to get a crew to go and film in these caves."
The Cave goes on general release in Thailand on November 28.
ORIGINAL ARTICE: Associated Press | Time.com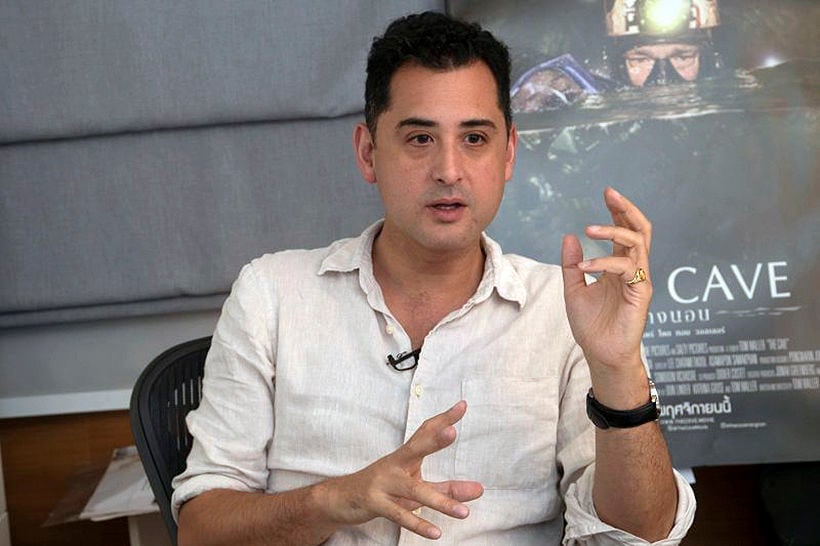 PHOTO: Tom Waller – Associated Press/Sakchai Lalit
Keep in contact with The Thaiger by following our
Facebook page
.