Profile: The Wizard of Oil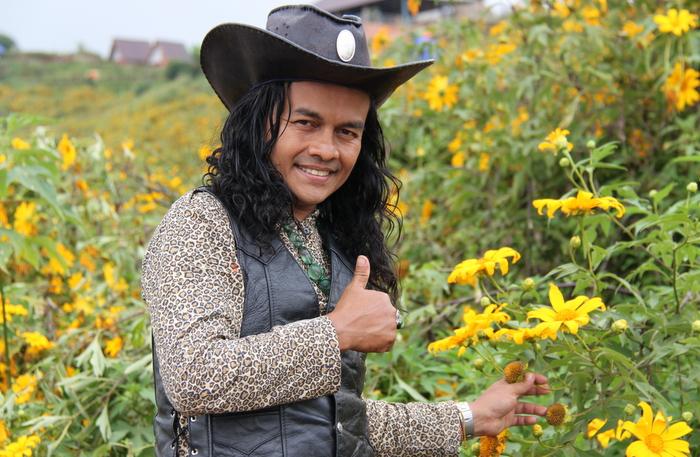 PHUKET: I first met the artist Watcharin Rodnit in 2007 when I went to prison in Phuket Town.
Perhaps I should explain that a little.
In fact, I visited the Phuket Youth and Child Penitentiary for an afternoon to write a story about a couple of artists who dedicated their time to teaching painting to young offenders behind bars, using their own money and resources to supply all the materials.
It was an inspirational experience to see such eccentric and colorful non-conformists bringing joy and hope to a group of young men who mainly came from broken homes. Many of them had also had serious drug problems.
The atmosphere during the teaching session was calm and collaborative. Halfway through the
afternoon, the artists produced an ice cream making machine to give the youngsters a little treat.
As Watcharin said at the time, "We saw the anger and hopelessness of these youngsters who no one cared for and who were shunned by society at large. We decided that teaching them art would be one small way of bringing at least one positive force into their sea of troubles."
I developed a firm friendship with Watcharin, which evolved into my taking art lessons from him at his flamboyantly creative art studio 'Rinda Magic Art' on Yaowarat Road.
As I grew to know more about him, I realized what a remarkable journey his life had been and started to understand a little bit more about the soul of this exceptional Thai artist.
Watcharin grew up in Surat Thani. "[It was] a long, long way away from art, or indeed a long way from anything," he says with his characteristically mischievous smile.
His father was a gardener and did a little sculpting as a hobby, but the main influence in Watcharin's life was his grandmother, whom he called 'mother' and who used to take him for long walks into the surrounding forest, pointing out various fruits and plants about which she seemed to have an encyclopedic knowledge.
Watcharin was enchanted – the extreme passion for nature he developed frames much of his current artistic oeuvre. But it wasn't always thus.
Like many artists, Watcharin went through his 'bad boy' phase, which he did in extremis while studying for his five year Bachelor of Arts degree at Silpakorn, Thailand's premier arts university, in Bangkok.
"I probably hated Bangkok deep down and loathed being away from nature, so my art in those early days was a dark and deadly brew of trash and violence," he says. "I wanted to use my painting to express the horror I felt inside for the urban wasteland I inhabited there."
After a generalized search for his favored mode of artistic expression, Watcharin eventually settled on painting, particularly with oils, as his way forward. He enrolled for a Masters Degree after his Bachelors and then taught art for three years in Bangkok. But he says his soul was still troubled by the urban intensity of the city.
On a whim, he visited friends in Koh Phi Phi and fell in love with the natural splendor of Phang Nga Bay. In 2001, he decided to relocate to Phuket and at first occupied small shop spaces in Patong and Kata as his studio. It was very tough as paying customers for his work were almost nonexistent. He was on the verge of returning to Bangkok when he met his wife-to-be and fellow artist, Jayda.
Although very different in many respects, these two artists were able to blend their individual qualities into a harmony that portrays their thoughts on the greater issues of life. "Everyone can live together happily in this world if we understand and accept each other's differences," the couple say.
Jayda persuaded him to stay and they opened small restaurants in Nai Harn and Rawai near the Shell Museum, with Jayda cooking and Watcharin painting and teaching art to kids.
They finally moved to old Phuket Town in 2004 and founded the charmingly eccentric Rinda Magic Art studio, where Watcharin still paints. The space became a colorful meeting place for all sorts of artists and acolytes – full of laughter, strange objects, plants and various adopted pets such as soi dogs with purple dyed fur.
Watcharin had by this time experienced an artistic evolution and gradually discovered his signature style of swirling colorful depictions of nature, forests, plants, trees and fruits. He often goes off into the forest on his own to meditate on nature's stunning bounty, then he paints en plein like the French Impressionists.
Monet and Chagall were certainly influences, but Watcharin says his is a very Thai interpretation of the mystical world of nature's endless complexities and colors, which he represents in his highly detailed abstract expressionistic paintings, overloaded with exotic hues and textures.
Watcharin conducts art classes at the gallery for those interested in improving their painting techniques. It is a revelatory experience to drop in and talk to this inspirational artist while strolling around his veritable magical cave of art and handicrafts. Visitors are always welcome and will meet a creative soul whose art is magical and who exemplifies a true Buddhist perspective on modern life. You will come away with a renewed belief in the possibilities of human willpower and creativity to make the world a better and happier place.
You can visit Watcharin Rodnit at the Rinda Magic Art Gallery at 27, Yaowarat Road in Phuket Town, Tel: 089-289 8852 or email: info@rindamagicalart.com
— Baz Daniel
Keep in contact with The Thaiger by following our
Facebook page
.
Never miss out on future posts by
following The Thaiger
.
Absent actress slapped with 33 year sentence for drugs by Appeals Court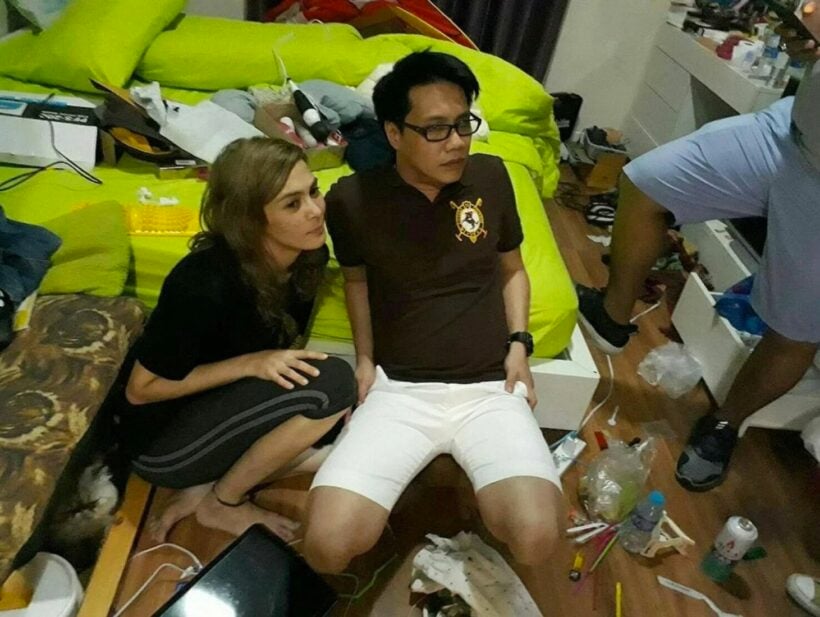 The Appeals Court has refocused attention on the case of TV actress and former Miss Teen Thailand Amelia "Amy" Jacobs, after handing down new sentences were much higher than the initial court's, with the defendant having reportedly fled the country last year. 30 year old Amelia, was originally sentenced to 3 months in jail, suspended for 2 years, and fined 5,000 baht by the Min Buri Court for taking drugs in August 2018.
On Thursday the Appeals Court revised the sentence and handed down life imprisonment and a fine of a million baht for the drug offence. But the court reduced the sentence and the fine to 33 years and 4 months and 666,666.67 baht, citing her useful testimony. The actress failed to appear for court's ruling and the sentence was read in her absence.
Amy reportedly flew out the country on August 22 last year, while the suspended jail term was still in effect. A warrant has been issued for her arrest, with the statute of limitations lasting 30 years.
In a Facebook post, high-profile activist Atchariya Ruengrattanapong said the actress left on August 22 last year for Dubai and never returned. The deputy Immigration Bureau chief said his office is looking into her whereabouts but could not disclose the information to the public.
Amelia was arrested along with her boyfriend, Punyawat Hirantecha, at a house in Bangkok on September 19, 2017, following the arrest of a man who claimed he bought drugs from Punyawat. Crystal meth was found in his possession.
SOURCE: Bangkok Post
Keep in contact with The Thaiger by following our
Facebook page
.
Never miss out on future posts by
following The Thaiger
.
Police: No foul play in Vorayuth witness's death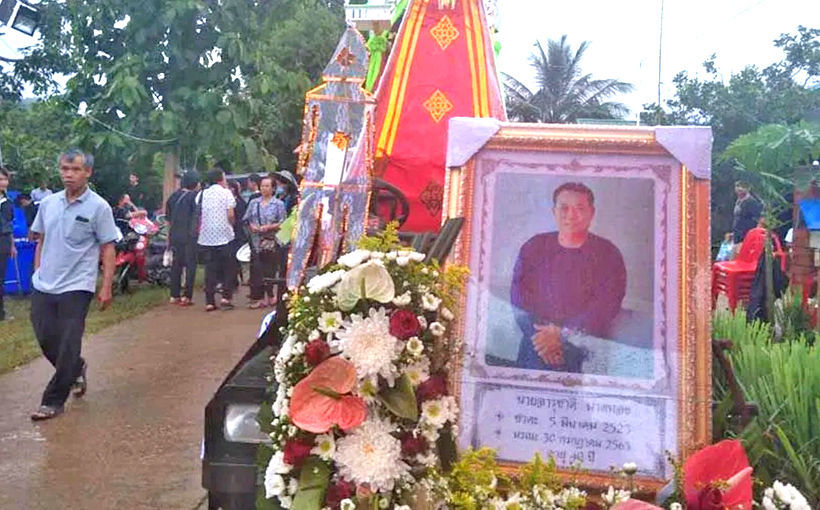 Police today ruled out the possibility of murder in the death of a key witness in Red Bull drinks heir Vorayuth "Boss" Yoovidhya's hit-and-run case. The regional police commander in Chiang Mai, where the witness died in a motorcycle incident last month, said new autopsy results found no trace of any suspicious substance apart from alcohol in Jaruchart Mardthong's body. Investigators ruled his death a drunk driving incident. A high concentration (218 milligrams) of alcohol was found in his bloodstream.
"All the evidence suggested that it was an accident. We also found no evidence which suggests the driver of the other motorcycle knew Jaruchart before they met."
The other motorcyclist was identified as Somchai Tawino, but no charges have yet been filed for his involvement in the incident, according to police.
Jaruchart was one of 2 witnesses who told investigators that Vorayuth was driving under 80 kmph when his Ferrari crashed into a patrol motorcycle, killing senior police officer Wichian Klanprasert in Bangkok in 2012. Their testimonies are believed to have contributed to prosecutors' decision to drop the charges against Vorayuth.
His abrupt death during renewed scrutiny over the case prompted many to believe a conspiracy was involved. PM Prayut Chan-o-cha himself instructed authorities to secure Jaruchart's body for further examination earlier this month, just hours before it was due to be cremated.
Investigators will also question Pasin Akaradejthanachot, an aide to the former Chiang Mai Senator Chuchai Lertpongadisorn, who stole and destroyed Jaruchart's phone from the hospital.
Pasin had said to police that he was concerned about the photos of him taken with Jaruchart, which could have affected his campaign for a local election.
SOURCE: Khaosod English
Keep in contact with The Thaiger by following our
Facebook page
.
Never miss out on future posts by
following The Thaiger
.
Panel says Boss Voovidhya arrest warrant still stands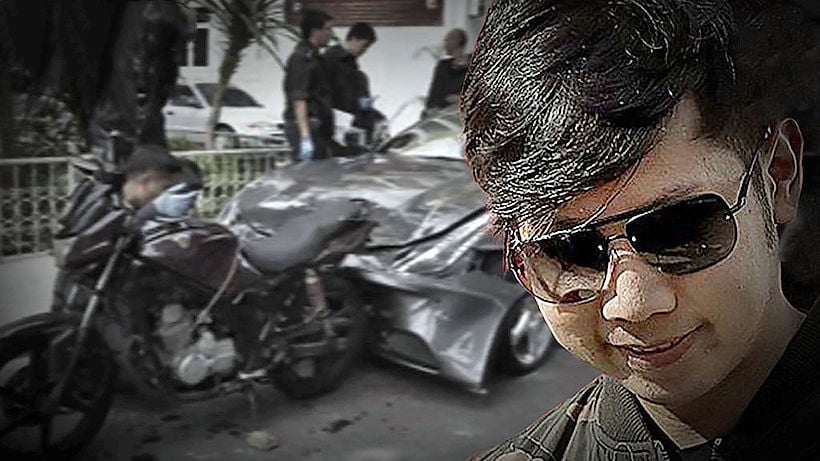 The arrest warrant for Red Bull scion Vorayuth "Boss" Yoovidhya remains in place, despite a request from police that it be withdrawn, according to the head of the independent panel examining the 2012 hit-and-run case. Vicha Mahakun, who chairs the panel, was speaking yesterday after a second meeting of the panel, ordered by PM Prayut Chan-o-cha amid public outrage over public prosecutors' decision not to indict Vorayuth.
The panel learned from the chief judge of Southern Bangkok Criminal Court that police had requested the warrant be cancelled but the move was opposed by a group led by former Bangkok senator Rosana Tositrakul, who petitioned the court against the police request.
The court therefore asked police to withdraw their request, which they eventually did, according to Vicha, who added that especially since the Office of the Attorney General has announced new evidence in the case and that a fresh probe is likely to be ordered, "the warrant should not be revoked."
Vicha says his panel is due to question the Attorney General's team.
The deputy chief of Bangkok's Thong Lor police station says investigators will question new witnesses as soon as they receive an order from the OAG. He was responding to the OAG's findings about a formal inspection of the speed of Vorayuth's Ferrari when it crashed into the rear of the motorcycle of 47 year old police officer Wichian Klanprasert, killing him, on September 3, 2012. It also referred to a medical exam on the suspect that found narcotics, including cocaine, in his bloodstream.
A member of the panel said Tuesday the new evidence involves statements by 2 experts about the Ferrari's speed at the time of the fatal crash. Prayuth Petchkhun, who is also a deputy spokesman for the OAG, told the House committee on Law, Justice and Human Rights yesterday that a new piece of evidence found by the OAG's panel showed Vorayuth's Ferrari was going as fast as 177 kmh.
The report was prepared by a physics lecturer at Chulalongkorn University's Faculty of Science. The discovery of narcotics in Vorayuth's body also justifies additional charges against the suspect and a new probe into the substances, according to Prayuth.
SOURCES: Chiang Rai Times | Bangkok Post
Keep in contact with The Thaiger by following our
Facebook page
.
Never miss out on future posts by
following The Thaiger
.